What's your curl type? From 2a to 4c, get to know your curls with this expert guide
Everything you need to know about curl type...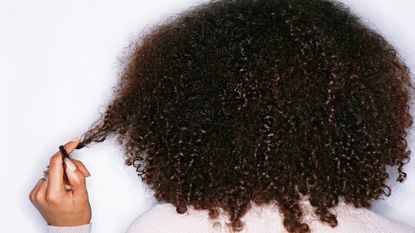 (Image credit: Getty)
woman&home newsletter
Sign up to our free daily email for the latest royal and entertainment news, interesting opinion, expert advice on styling and beauty trends, and no-nonsense guides to the health and wellness questions you want answered.
Thank you for signing up to Woman & Home. You will receive a verification email shortly.
There was a problem. Please refresh the page and try again.
Decoding your curl type can be complicated, but trust us when we say it's worth it. Understanding the natural pattern of your kinks, waves, and coils can help you care for them better, as well as encouraging increased bounce and spring.
It's worth noting early on that no two curls are created equal, and their texture can change from day to day depending on factors such as the health of your hair, the hardness of your water, and even the weather. Unpredictability is both the beauty of curly hair and the reason why it can be trickier to style. So, for this reason, don't worry if you don't feel your curls slot neatly into one curl type category or indeed are consistent across your head. "Most people have more than one curl pattern, and it's perfectly normal to have several," says Michelle Sultan, Creative Director and Brand Ambassador at Imbue.
Get ready to cancel that chemical straightening appointment, cast your best hair straighteners aside, and embrace your natural curl type.
How can start to figure out my curl type?
Your curl type will depend on the shape of your hair follicle. "The flatter or more oval-shaped the follicle, the curlier your hair," explains global hair artist Charlotte Mensah. "Curly hair strands cluster together and wind around the shape themselves in a spiral or looser curl."
Of course, we're not expecting you to know the shape of your hair follicle (unless you tend to have a microscope lying around). Instead, the best way to find out your curl type is to look at your hair when it's wet.
Examine the different curls around your head, and consider the shape of them. Nikki Krause, Director of Business Development at Ouidad, has broken this down into an easy-to-follow guide for us:
Loose curls and waves have a soft almost stretched "S" pattern
Curly hair has a true "S" pattern
Tightly curled hair has a "C" pattern
Coily and kinky hair has a "Z" or zigzag pattern
The key curl types and how to pinpoint yours
Now for the numbers (and letters) part. In order to best care for different curl patterns, many stylists and hairdressers like to separate them into curl types using a number and lettering system.
"The numbering system (2-4) will determine your curl type and whether you have wavy, coily, or kinky hair," says Michelle. "The letter classifications of A to C are based on the width or diameter of your wave, curl, or coil pattern. Type As have a wider pattern size, Type Bs medium, and Type Cs the smallest of the three."
Type 2A: The loosest of all curl patterns, 2A hair tends to look straight from the crown, developing slight bends you move along the strand.
Type 2B: Although type 2B also grows relatively straight from root, the wave starts closer to the crown than 2A. The best way to picture this is as beachy waves.
Type 2C: Moving closer to true curl territory, the 2C is the tightest wound of all the waves. They're also more prone to frizz, with increased body and thickness.
Type 3A: Big and bouncy, type 3A curls look like loose spirals. They're the widest of all curl types and tend to need little maintenance.
Type 3B: Slightly springier and more tightly wound than 3A hair, type 3B curls can sometimes be described as ringlets.
Type 3C: Boasting plenty of volume, 3C curls are tight, but not necessarily all the same diameter. You may find you have a blend of a few different textures.
Type 4A: Springy coils with definition, 4A hair can have a very tight "S" pattern or a slightly looser "Z". It could also be a mix of both.
Type 4B: 4B hair bends in more of a "Z" than "S" shape and the strands are closer together, creating plenty of volume.
Type 4C: With a 4C curl type the coils are even more tightly packed, which means the exact "Z" shape is not always visible. You're also likely to experience the most shrinkage.
Why is it important to know your curl type?
"It's important to know what type of curl you have because this will help determine how you look after your curly hairstyles best," advises Michelle. "To bring out their true potential, you should use products that are best for your curl type."
"If you are type 2, your hair may need a product to help the curl/wave as this hair type can be more flyaway and prone to frizz. Type 3 hair may need products to help define the curl and support the coil. If you have type 4 hair, you will need products that contain moisture-based ingredients."
The porosity and elasticity of your hair also have a part to play in the kind of products it needs.
"If your hair has a high porosity, then it may mean that your hair reacts differently to certain products than if it had a low porosity," continues Michelle. "Finding out the porosity of your hair is simply finding out your hair's ability to hold and retain moisture. Porosity can be determined by the condition of your hair. For example, if your hair has a larger amount of damage, it's likely to be more porous." You can spot damage by increased frizz, dullness, or dry texture. Low porosity hair tends to be shiny, doesn't need too much in the way of product, and can be prone to grease.
"Elasticity can also determine if your hair is damaged or not. If it's feeling a bit mushy or overly stretchy, then a protein treatment is likely to be needed."
Best products for your curl type
Best for type 2
Products to encourage waves into spirals and keep frizz at bay...
John Frieda Frizz Ease Dream Curls Air Dry Waves Styling Foam
John Freida has long been our go-to brand for taming frizz, and this foam is a worthwhile addition to your dressing table. Scrunch into hair to encourage and enhance your waves.
Bb. Thickening Dryspun Texture Spray
For waves that need a little help in the hold department, a texturizing spray is a worthwhile investment. This works to encourage hair's natural movement, as well as keeping bouncy blow-dry styles in place too.
Wavy hair is often also thick in texture, which comes with its own set of concerns. This is one-half of one of the best shampoo and conditioner sets we've tried, working wonders to smooth hair and reduce flyaways.
Best for type 3
Products to define curls and add extra moisture to hair...
Imbue Curl Energising Hydration Serum
The perfect antidote to curls that start to lose their definition and bounce after a couple of days, this styling serum keeps them at their best for longer.
Moroccanoil Curl Control Mousse
Mousse often gets a bad reputation for being crunchy and crispy, but this is none of those things. Instead, it leaves hair feeling soft and manageable, with curls defined.
Ouidad Advanced Climate Control Detangling Spray
Part of Ouidad's best-selling collection, this is your secret weapon against humidity. A must-try for the summer months, use to prime curls before heading outside.
Best for type 4
Products to nourish coils and kinks, keeping them at their springy best...
Charlotte Mensah Manketti Hair Oil
"Moisturising oils like Manketti, Argan, coconut, and other natural oils are great to seal in moisture and protect the hair," says Charlotte. Use as a nourishing overnight treatment or as a styling product to add definition to strands.
Twisted Sista Intensive Leave-In Conditioner
A hefty dose of moisture for thirsty curls. Slather on after washing and gently work through with a wide-tooth comb.
Cantu Avocado Curling Cream
Hair with curl type 4 is porous enough to take on nourishing creams without feeling weighed down. This is a hydrating treat for coils in need of some TLC.
Sign up to our free daily email for the latest royal and entertainment news, interesting opinion, expert advice on styling and beauty trends, and no-nonsense guides to the health and wellness questions you want answered.
Jess Beech is an experienced fashion and beauty editor, with more than eight years experience in the publishing industry. She has written for woman&home, GoodtoKnow, Now, Woman, Woman's Weekly, Woman's Own and Chat, and is a former Deputy Fashion & Beauty Editor at Future PLC. A beauty obsessive, Jess has tried everything from cryotherapy to chemical peels (minus the Samantha in Sex and The City-worthy redness) and interviewed experts including Jo Malone and Trinny Woodall.