Curly hairstyles: 30+ style ideas plus the expert tips and tricks you need
Looking for stylish curly hairstyles? We've rounded up the best hairstyles for curly hair to inspire a fresh new look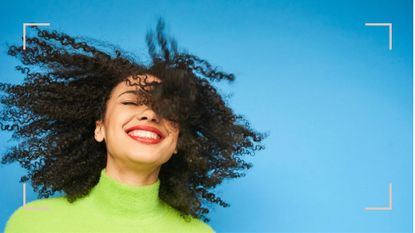 (Image credit: Getty images)
Embracing your natural texture and looking for curly hairstyles inspiration? You're in luck, as we have spoken to the world's top hairstylists and have all the tips and tricks you need to style curly hair.
Curls are unique and require a fair bit of care and attention, but finding that doesn't mean it's impossible to find easy hairstyles for curls. With a little know-how about your curl type (do you have waves, curls, coils, kinks, a natural hairstyle, or a mixture of all of the above?), you'll be on your way to bouncy and healthy curls in no time. Plus, there are so many famous curly-haired women to inspire you, from Tracee Ellis Ross to Sandra Oh and Andie MacDowell.
"The most important part of any choosing any style is taking face shape into consideration," says Zoë Irwin, Creative Director for John Freida Salons. "If you have a round face, then something lighter and layered is more flattering. If you have a longer face, long layers work well to lift and they work well with a fringe [bangs]. The main thing is not to have a style that cuts into the curls too much; razor cuts are terrible for curls. See a curl specialist so this doesn't happen."
How to choose the best curly hairstyles for you
As for the best hairstyles for curly hair? "A very classic '70s look with layers throughout, a heavy baseline and very rounded shape can look amazing on curly hair," Zoë explains. "Heavier, French bob hairstyles with a very long layers at the ends can also look really good."
"The cut that is right for you will depend on hair type and texture," explains Michelle Sultan, textured hair specialist and Creative Director for Imbue. "In the salon, you have to ask questions and have a thorough consultation, as together you can figure out what cuts would work best for your lifestyle and your hair. For example, if your hair tends to be quite fine, go for blunter or solid cuts, or layers that encourage lift through the hair and volume. That sounds like a contradiction, but it all depends on the hair!"
Hairstyles for curly hair inspiration
Short curly hairstyles
If you're looking for short hairstyles for curly hair, you are spoilt for choice for healthy cuts that make the most of your texture. Just make sure you take the time to nourish with deep conditioners and hair masks and, if you choose to blow dry rather than air dry, use one of the best diffusers for curly hair on a cooler setting. And if you're not naturally curly but want to recreate these looks, check out our best curlers for short hair guide.
---
1. The curly pixie cut
The curls and soft movement of this style keep it super flattering. Ask your stylist to keep plenty of length on top to prevent it becoming too severe.
---
2. The short natural curls
What could be more chic than a super short cut like this? Keep curls in great condition with the curly girl method then use shine serum for extra definition.
---
3. The French pixie cut
Very closely cropped at the sides with cute tendrils hitting the cheekbones, this gamine pixie crop is timeless and chic. Keep those sweet curls in place with a smidgeon of styling cream.
---
4. The short bob
This jaw-length bob is super flattering on curly or wavy hair. As your stylist for choppy layers around the front and sides, and wear it in a deep side part to enhance your bone structure.
---
Long curly hairstyles
The key with curly long hairstyles is keeping your hair strong and well-nourished. Go for regular curly cuts to keep your curls' health in check, and think about swapping heat styling for kinder methods such as dressing gown curls now and then. Lots of layers look great with long curly hair and this can really help to enhance that gorgeous natural volume.
---
5. The layered tight curls
The secret to this style is creating plenty of separation and definition between your curls. Use a curl cream and learn how to use a diffuser as you dry to recreate the look.
---
6. The wavy wrap pony
Ponytails don't come more glamorous than this. Backcomb hair at the crown then pull into a snagless elastic at the nape of your neck. Next wrap a piece of the ponytail around the band and tease hair out with your fingers to create texture.
---
7. Highlighted volumized curls
Bags of volume and root lift make this style ultra glam and flattering, rough dry upside down before getting your diffuser involved to follow suit.
---
8. The 70s loose waves
Loose, flowing waves with curtain bangs are both on-trend and a nod to the past. If your natural hair texture is very curly you may need to smooth it out with the best hair straightener brushes and re-tong in looser waves.
---
9. The curly shag bangs
This curly shag style is ultra trendy and also so flattering with the eye-grazing layers. Ensure your stylist cuts the bangs in dry so that they hit the right spot.
---
10. The corkscrew bangs
Super tight curls make this bob with bangs look fresh and youthful. The trick is asking for graduated layers through the front to keep it soft and flattering.
---
11. The curly curtain bangs
Bang hairstyles aren't just for straight hair, this style proves how cute and flattering they can be on curly girls too. Use a curl cream or a little bit of pomade to keep those curls well-defined.
---
12. The corkscrew curls
A beautiful natural curl type like this deserves to be shown off with the minimum of fuss. Create a deep side part and gently dry with a diffuser to show off natural bounce and volume.
---
13. Long highighted curly hair
Showing how beautiful highlights can look in curly hair, this style is beachy and modern. Ask for super-fine babylights to recreate this low-key lift.
---
14. The super long curls
The most important thing with hair of this length is condition, condition, condition. Use the best hair mask for curls regularly and lay off heat styling when you can.
---
Medium curly hairstyles
Along with the bob, medium hairstyles are here to stay as the most popular length in 2021. This style can work with lots of layers to add volume and help to frame your face shape.
---
15. The curly combed-over lob
The tousled texture of these curls makes them super relaxed and flattering. To recreate the look try a fine mist of texturizing spray and ruffle curls with fingers.
---
16. The layered curly bob
This flattering style is best on wavy rather than ultra-curly hair. Ask for eye-grazing layers at the front, which enhance cheekbones and make your eyes pop.
---
17. The box braid bob
Braided hairstyles are an alternative option for naturally curly girls. This sharp box braids bob is sophisticated and relatively low maintenance, needing top-ups every six to eight weeks .
---
18. The wavy-curly lob
These undone and natural-looking curls soften up a shoulder length bob. If you have naturally thick hair like this, ask for the bob to hit at your collarbone rather than jaw so the weight can 'pull' curls down a little.
---
19. The centre parted layered cut
Another style that utilizes layers to their best effect. Ask for eye-grazing curtain bangs to add a fresh and modern edge to a classic bob.
---
Natural curly hairstyles
If you have natural hair, there are so many curly natural hairstyles to choose from, including loads of protective options like box braids. Be sure to browse our guide to braided hairstyles when you're done here for even more inspiration to try at home (or to take to the expert hands of your braider!).
---
20. The short twists
Beautiful twists make for a contemporary and flattering ultra-short natural hairstyle. Use a spray based leave in conditioner a few times a week to keep them looking their best.
---
21. The twist out
The secret to maintaining this style is encouraging plenty of shine. Sleep with a silk scarf wrapped gently around your twists and keep hair well hydrated with a conditioning mist.
---
22. The Teeny Weeny Afro (TWA)
Gorgeous and low maintenance—what's not to love about this style? Received wisdom suggests you need an oval face to pull super-short style off, but we say it's all about the confidence.
---
23. The braided bob
This short sharp box braid bob is super stylish. Ensure your scalp gets the love it needs in this braided style by giving it a good old massage during washing.
---
24. The finger coils
Finger coils are created just as you'd expect—with fingers! Combining styling products can help coils to last, try a mousse when damp then finishing with a curling cream.
---
25. The half Bantu knots
Combining a few cute knots with natural texture offers the best of both worlds. Twist the hair into knots when wet then let air dry to give them the best chance of lasting.
---
Curly updos
There's something seriously chic about a curly updo, whether we're talking about an intricately braided style or a simple pineapple or top knot. We've handpicked some of the best updos for curly hair to inspire you to get practicing.
---
26. The plaited updo
Adding a plait or two into this curly updo gives it a romantic feel. There's no need to attempt tricky French braiding to wear this style, simply create two plaits, secure with clear bands and pin back into your chignon.
---
27. The classic ponytail
Natural curls add interest and texture to a low ponytail. Gently dry using one of the best hair dryers for curly hair, then pull up, lightly teasing the crown after securing to create extra volume, then pull out a few loose tendrils at the front.
---
28. The pineapple
An absolutely classic curly hairstyle, this high up do with plenty of va-va-voom is so easy to create too. Simply tip your head forward, gather the hair up, secure and pull out face-framing strands.
---
29. The half up curly hairstyle
Natural curls and texture give this half up hairstyle added interest. Pull back the front section from above the eyes, pin in place then gently push the pinned section forward with fingers to create a mini quiff.
---
30. The boho bridal
---
Tumbling curls have such a romantic feel. Up the ante by twisting and pinning back the front section and adding in a sparkly hair accessory.
31. The chilled chignon
This chignon would work just as well for a relaxed daytime event as it would an evening out. Pull hair back to the nape of the neck, pin in place and carefully pull out strategic tendrils around the face and top of the jawline. Easy-peasy!
---
Does curly hair get straighter with age?
This isn't an urban myth per se, but it works both ways, as your hair texture may change in either direction. "Some people do find that their hair becomes less curly and vice versa," Zoë explains. "Changes in your hair happen as you get older and go through life events, including having children and menopause."
"Hair tends to thin as we age, thus creating less density which can make it less curly," adds Michelle. "As hair starts to thin out we also gain gray hair, which can sometimes affect the texture and loosen the curl. Gray hair can often be quite fine."
What's my curl type?
'It's important to know what type of curl you have because this will help determine how you look after your curly hairstyles best,' advises Michelle. 'To bring out their true potential, you should use products that are best for your curl type.
The best way to find out your curl type is to look at your hair when it's wet. Examine the different curls around your head, and consider the shape of them. Many stylists and hairdressers like to separate them into curl types using a number and lettering system. "The numbering system (2-4) will determine your curl type and whether you have wavy, coily, or kinky hair," explains Michelle. "The letter classifications of A to C are based on the width or diameter of your wave, curl, or coil pattern. Type As have a wider pattern size, Type Bs medium, and Type Cs the smallest of the three."
How to care for curly hair
Michelle recommends following the curly girl method or a similar curl regime to keep your curls springy and hydrated all year round. "Frizz is just a dehydrated curl waiting to happen!" she says. She recommends a sulfate-free shampoo like Imbue's, and moisturizing conditioners. The new Kérastase Curl Manifesto range is also woman&home approved.
It's also important to load up on hydration, as the curlier your hair, the more prone it is to dryness. "I hair is dry, it's hard to get bounce and hair can get frizzy and look dull," Zoë says. "Hair masks are a must!"
Even if you're not following the curly girl method religiously, most curly-haired women find it beneficial to cut down on shampooing. "Look at skipping a wash, simply wetting and adding conditioner, and wash every other time," Zoë adds. You can then use a special microfiber hair towel or try plopping with a cotton t-shirt.
With all these curly hairstyles to choose from, plus our experts' tips and tricks, you're well on you way to embracing your curls in 2021. Happy plopping!
Beauty Editor, womanandhome.com
As woman&home's Beauty Channel Editor, Fiona Mckim has tried more products than she's had hot dinners and nothing makes her happier than raving about brilliant finds on womanandhome.com or her instagram grid (@fionamckim if you like hair experiments and cute shih-tzus). Fiona joined woman&home as Assistant Beauty Editor in 2013 under industry legend Jo GB, who taught her everything she needed to know (learn about ingredients and employ extreme cynicism). She has since covered every corner of the industry, from interviewing dermatologists and celebrities to reporting backstage at Fashion Week and judging the w&h Beauty Awards.