Medium hairstyles: celebrity looks to inspire your next cut
Need inspiration for your medium hairstyle? Take these pictures to your next salon appointment.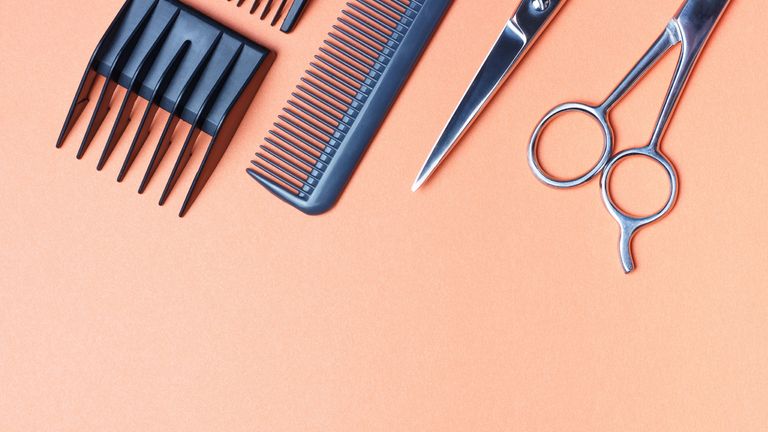 (Image credit: Getty Images)
Medium hairstyles may be the middle ground of hair, but that doesn't mean they're boring. Learn how to select the right hairstyle for you, then arm yourself with the best hair dryer plus a bit of styling know-how and the power to create exciting mid length styles will be yours.
You might be tempted to go for a short hairstyle after a certain age, and certainly there is a societal perception that short haircuts over 40 are the thing to do. But here at W&H we're all about sticking two fingers up to society's expectations and doing what makes us feel great instead. If you love medium hairstyles, or fancy having your long hairs chopped to mid length, get inspired by these youthful hairstyles and expert tips.
The benefits of a medium hairstyle
The joy of a medium hairstyles is their versatility. Long enough to sweep into a gorgeous up-do, but short enough to keep on top of those split ends with regular trims, there's a mid length style for everyone.
"I recommend a midi hair style, because at collarbone length the midi is longer than a bob, so you don't get that awkward flaring off the shoulder stage," recommends Melissa Timperley, stylist and director Melissa Timperley Salons
"Midi hair is more manageable and it's versatile, too," she says. "You can make a statement with a blunt look, but you can also have a layered, softened look. And the midi suits all face shapes; the length is flattering, and your stylist can add width and softness to complement your bone structure. Great celeb examples of the midi look are Michelle Obama and Reese Witherspoon."
Falling anywhere between the jaw and collarbone, medium hairstyles are incredibly flattering and can be very modern. They can be cut and styled in so many ways to create a flattering style for your face shape -Not to mention, a shoulder-length cut is much easier to manage than a long one, and it requires less maintenance than shorter styles.
The trick? To ensure your mid-length hairstyle is well kept and - most importantly - suits your face. Long faces can be flattered by face-framing layers and a side-fringe, while oval-shaped faces can take a heavy fringe. Got a rounder face? Opt for a long layers and gentle waves. And don't forget your hair type: For fine hair, create volume with soft curls; or for thick curly hair, embrace your natural hair type and create a multi-layered, tousled style.
How to care for medium hairstyles
Condition is important with any hairstyle. But as medium length hair generally requires more intensive heat styling than shorter styles (and the ends will have been with you for far longer) it's even more crucial to keep it in good nick.
Follow ghd ambassador Zoë Irwin's healthy hair commandments to nurture your medium hairstyle...
Freeze dry your blow dry: "Turn down the heat on your hairdryer and improve the condition of your hair. With a powerful hairdryer, like the ghd helios the powerful air flow means that you don't need to rely on heat for drying your hair, the power itself is enough. Always flash cool each section of your hair and dry with a round bristle brush to add moisture and shine."
Massage your scalp: "Massaging your scalp daily for 10 minutes has an incredible effect on the hair. It will relieve tension and increase the blood flow for thicker, healthier, longer hair. And it's so easy to do!''
Treatment layering: "Super charge your hair by layering hair treatments, this technique is equivalent to a facial but for hair. Simply apply a mask and leave it for 15 minutes, rinse off and towel dry, then repeat twice until you have used three masks in total. The secret is to start with a protein mask which helps to bind broken fibres together and strengthen fragile, damaged hair. Then follow with a conditioning mask and finish with a colour mask to retain and enhance colour and shine."
Bigger is better: "Swap small brushes for big paddle brushes. As you sweep the brush along the scalp it will lightly massage and increase blood circulation to the scalp, helping to stimulate healthy hair growth. Plus, the wide surface means that more hair is being brushed at once, so less brushing is needed overall and thus less stress is put on the hair.'"
Cold rinse: "By rinsing or washing your hair with cold water, you close and seal the hair cuticles which helps add extra shine and combat frizz. So always turn your shower to cold for a quick cold rinse before getting out. This also benefits your skin!"
Gently does it: "When hair is wet it is fragile and vulnerable to breakage so brush wet hair very gently. Use a wide tooth comb. The wide tooth design allows for delicate detangling on damp hair which is fragile and more prone to damage."
Medium hairstyles inspiration to take to your hairdresser
These celebrities with medium hairstyles are the perfect inspiration. Whether you prefer the choppy middle parting of Sandra Bullock, or the curly side parting seen on Princess Eugenie.
Ready for the new you? Scroll through our pick of the best medium hairstyles and be sure to print out your favourite and bring it with you on your next salon visit.
Tracee Ellis Ross
Tracee looks amazing with any style, but we particularly love these super-volumised natural curls that just hit her shoulder line at the back. In fact, the actor is so passionate about caring for curls she has her own haircare line, Pattern Beauty. Sadly it's not available in the UK yet but you can get a head start by investing in a rich leave-in conditioner, curl cream and wide toothed comb.
Catherine O'Hara
She steals every scene as Moira in Schitts Creek (if you haven't watched it yet - do) but here it's Catherine's glossy mid length hair that's the star of the show. The deep side parting and loose waves are ultra modern, and we love that silver flash mixed into her golden tones.
Aleesha Dixon
Aleesha is a fan of ultra sleek styles, and it's easy to see why with this mid length centre parted look. The key to looking this polished is begin with an ultra smooth blow dry. Then use a tail comb to get your parting perfectly straight and smooth down flyaways with a bristle brush misted in hairspray.
Lisa Snowdon
Another sleek centre-parted style, but this one has a bit of French girl messy-on-purpose je ne sais quoi going on. Begin with a hydrating mask and smooth blow dry then rumple it up with a bit of tousled root lift - texturising dust on the fingers and a manual zhush will do the trick.
Taraji P. Henson
How cool is this slick wavy look on Taraji? This style suits medium length hair perfectly, as anything longer could veer into mermaid territory. If you fancy trying a glossy wet look on your natural curls, finger dry with plenty of leave-in conditioning cream then tease a small section at the front of the roots back and fix with strong hairspray for flattering lift.
Claudia Winkleman
Claudia is a great example of someone who knows what works for her and sticks with it. Her signature heavy fringe and just past the shoulder hairstyle looks cool, modern and ultra flattering. Ask your hairdresser for a blunt fringe, choppy ends and a bit of shaping around the face to get the look.
Sandra Oh
Medium hairstyles are a great choice for anyone with natural curly hair, as they offer enough weight to keep that beautiful natural texture sitting nicely at the top, but are more manageable than ultra long curly hairstyles.
Salma Hayek
Actor Salma Hayek's medium-long hairstyle is pure class. A gentle side parting plus elegant bouncy waves that begin below the ears have masses of Hollywood glamour and flatter her enviable jawline.
Tess Daley
Tess always looks super glamorous, and this neat centre parted medium hairstyle blends 1970s glamour with contemporary style. The key to keeping this look modern are super neat ends and her golden but not brassy blonde shade. Regular trims and purple shampoo at the ready!
Kerry Washington
Kerry regularly mixes up her hairstyle, and this medium length curly look is another corker. It's almost all one length which helps it look super thick and lustrous, with just a few face framing layers around the front, accentuated by copper-toned balayage.
Konnie Huq
Konnie makes the most of her naturally thick hair with this medium length, tonged style. The deep side part the the front is tucked behind an ear to frame her eyes beautifully, then graduates to a centre parting towards the crown, which helps keep those voluminous locks manageably well balanced.
Gemma Chan
Actor and new L'Oreal Paris ambassador Gemma Chan has enviably silky hair, so you really don't need to do much to it to make it look great! Here she wears her medium hairstyle in easy relaxed waves with a hint of warmth at the ends. Try adding a wave in using straighteners and stock up on shine spray to copy the look.
Michelle Obama
The Former First Lady, author and businesswoman always looks chic. Here, her curls have bags of volume and definition with graduated balayage lights that settle on the shoulders, framing her face beautifully.
Reese Witherspoon
Reese's fine blonde hair suits bobs, lobs and medium blonde hairstyles perfectly. The blunt cut gently kicks out at the ends to create shape and is softened by a light side fringe. Gorgeous.
Sandra Bullock
Mimic the Sandra Bullock look with a choppy, layered cut and a bang on-trend middle parting. We also love how Sandra has livened up her brunette locks with some subtle blonde balayage highlights - this is a great trick for creating a new look if you're already rocking a medium-length hairstyle.
Margot Robbie
Margot Robbie nails the medium-length hairstyle here, with subtle, flowing waves made even more chic with the side parting and slicked down roots, which you can easily replicate at home.
Sophie, Countess of Wessex
If you're after a polished medium hairstyle, Sophie is a true inspiration. The Countess of Wessex styles her hair in a low ponytail at the nape of her neck, a soft side parting that hits at the arch of her brow opens her face up beautifully. If you're wondering how this simple style looks so chic, check the ends of the pony - this hair has been blow dried to perfection with a round brush before tying it up.
Rose Byrne
Try highlights at the front of your hair for an easy breezy look, personified here by Rose Byrne. The hairstyle also proves that curls look fabulous on medium hairstyles!
Charlize Theron
A long bob like Charlize's just about qualifies as a medium hairstyle, and it's incredibly chic and stylish. The volume has been taken out of Charlize's hair here to create an elegant hairstyle, with a side parting right at the arch of her brow and a few curls at the bottom adding something special to the look.
Jennifer Aniston
We've all envied Jennifer Aniston's hairstyles for well over decade now - she never looks anything less than amazing. Here, her layered, choppy front looks light and fresh and emphasises her killer bone structure.
Duchess of Cambridge
Who has better hair than the Duchess of Cambridge? Catherine rocks medium or longer hairstyles with equal aplomb. This classic medium hairstyle combines a sleek blow dry with some glamorous curls through the ends.
Jessica Alba
This look is all about volume. Jessica Alba has made this medium hairstyle work for her by flipping the front over into a face-framing side sweep, keeping the other side pinned back. All you need are a few clips and a curling iron!
Princess Eugenie
Princess Eugenie tends to favour a medium hairstyle and no wonder - it suits her perfectly. The side parting helps flatter her face shape while curling away from the face opens her features up.
Amanda Holden
Here, Amanda's glossy look proves yet again that medium hairstyles don't need to be overdone to look stunning. Simply wearing it down with a bit of root lift and blow dried flicks through the ends looks smart and glamorous.
Julia Roberts
Julia Roberts proves that medium hairstyles are anything but boring. Curls are the pick of the day when it comes to this medium cut - these ones are fairly tight which works on Julia's bone structure - ask your stylist what the best curl for your locks is if you're getting the chop.