The U-shape haircut is pro stylists' secret to thicker, fuller-looking hair
Hair pros explain why the U-shape haircut is trending in-salon - plus, browse our favorite looks to inspire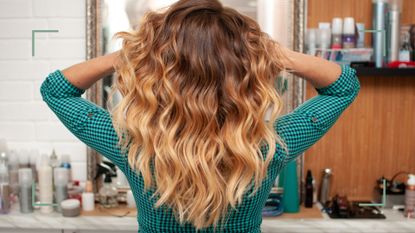 (Image credit: Getty)
Not exactly new, the U-shape haircut has been doing the rounds for some time. Yet in recent months, it's blown up on social media thanks to several TikTok users showing off their new, fuller-looking 'do. Now a popular style request in-salon, hairdressers confirm that this subtle shaping technique is an easy way to make hair instantly appear thicker.
Thick hair, like glowing skin, ranks high on many of our beauty wish lists. And while lots of us turn to the best hair thickening products to boost volume, a certain type of haircut can help, too. Enter: The U-shape haircut. "It has been extremely popular to have a one-length haircut for almost 8 years now," says Danielle Garner (opens in new tab), top hairstylist and founder of Wildflower, "but finally we're seeing a return to movement, natural texture, and softer ends – hence why the U-shape haircut is back in business."
Much like the trending C-shape haircut, butterfly haircut and Italian bob, the U-shape haircut works well on many hair types and is extremely versatile. Here, the professionals break down everything you need to know about the U-shape haircut – including what it is and what you need to ask for in salon.
U-shape haircut: what you need to know
What is the U-shape haircut?
The U-shape haircut is exactly that – a graduated cut that creates a soft U-shape from behind. "It's where the hair has been layered to remove weight from the sides and baseline of your hair," expands Garner. This results in a flattering curved shape that's full of movement and body.
"Imagine all your hair being one length and how chunky the ends would be," continues Garner, "by cutting it into a U-shape, you get a much softer finish." Of course, chunky ends have their place and work well if you're opting for a style like the boyfriend bob. But if it's movement that you're after (and a fuller-looking finish), the U-shape haircut may be the one for you.
What hair types suit the U-shape haircut?
"You can use this technique on all hair types and textures," assures Mark Smith, senior stylist for John Frieda Salons. If hair is thick, lots of layering through mid-lengths to ends will help reduce weight and add bounce. It's a great hairstyle for fine hair as this cut can add movement and thickness with longer layers.
As for length, "the U-shape works well on both long and short hair," says Smith. "For long hair, this shape will soften over the shoulders and curve inwards at the collar bone. Shorter hair looks great with a round outline – think French bobs that bring attention to the jawline."
Which is better, the U-shape haircut or the V-shape haircut?
While the U-shape is very similar to the V-shape haircut, the stylists agree that the U-shape has the edge. "My personal favorite is the U," says Garner, "as the V-shape haircut has a tiny tail in the center of your back that can sometimes look like shattered broken ends." Smith seconds this and says that "a rounded U shape looks much more modern and less awkward than a V."
How to ask for the U-shape haircut in the salon
"Ask your stylist for a more rounded shape where the front line is shorter than the back," says Smith. And to be more specific than that, "ask for medium to longer layers throughout, face-framing layers as well as a soft U-shape," adds Garner. Although most stylists will be familiar with this trend, it's always a good idea to bring along a visual reference of the look that you're after.
9 U-shape haircuts we love
1. U-shape haircut with long layers
A sophisticated hairstyle for long hair, ask your stylist for long layers and subtle shaping to recreate this look. When styling, use your best hair dryer brush (a rounded brush works best) to smooth strands while keeping body.
2. U-shape haircut on fine hair
The U-shape haircut is a great way to make fine hair appear thicker. To show off the graduation and layers (which are responsible for giving this look lots of volume), ask your stylist for super fine highlights or balayage blurring.
3. U-shape haircut on curly hair
A great cut for curly hairstyles, the long layers remove weight from the ends while showing off the hair's natural texture and movement. For a looser, bouncier finish, run a wide-tooth comb through your hair.
4. Tousled U-shape haircut
The hairstylists agree that this haircut works best with natural movement and wavy hairstyles. If your hair is naturally straight, create beachy waves using your best hair straighteners, rotating them as you move down the length of your hair.
5. Half up half down U-shape haircut
"The benefit of this haircut is that when you tie your hair up or go for a half up, half down hairstyle, it has some softness to the shape," says Garner. For an everyday laidback look, invest in a claw hair clip to secure half your hair up.
6. U-shape haircut on medium length hair
Not solely reserved for long hair, the U-shape haircut works just as well on short hair and medium hairstyles, too. If your hair is naturally thick, ask your stylist for lots of U-shaped layers through mid-lengths to ends to reduce weight.
7. Curly U-shaped haircut with bangs
A super versatile haircut, the U-shape works exceptionally well with curtain bangs or a full fringe - adding even more shape around the face. If hair is curly, apply a curl cream to add definition and shine.
8. U-shape shag haircut
If you're switching up your style and going for the shag haircut, ask your stylist to create a U-shape. The softer shape will add movement and compliment the short shaggy layers.
9. U-shape haircut on coily hair
Searching for natural hairstyles that will show off your hair's texture? Consider the U-shape haircut. The added movement and graduated shape will look effortlessly glam both down and tied up.
Emma Stoddart is a freelance beauty journalist and self-confessed skincare aficionado with over five years' industry experience. Emma has worked for some of the UK's top women's titles including Net-A-Porter, Stylist and Grazia. Her experience spans online and print as well as producing editorial shoots with some of the industry's biggest artists, including Val Garland. Asides from working with them behind the scenes, she's also had the chance to interview the likes of Patrick Ta, Pat McGrath, and Sam McKnight for all their insider tips and tricks.