Best hair thickening products to add volume, body and fullness in an instant
Discover our personal pick of the best hair thickening products with expert tips on bulking up fine strands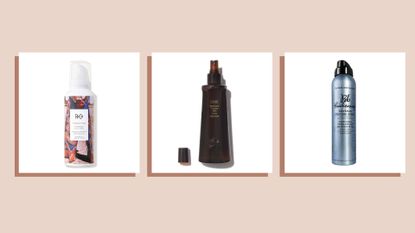 (Image credit: Future/Brands)
Want to add volume to your hair? Turn your head to the best hair thickening products that promise to boost body and fullness, fast. We've tested sprays, serums, creams, and foams to bring you an edit of the best hair thickeners that really do work. Promise!
If you're not genetically blessed with a full, thick head of hair, do not fret. Volume – or lack of – is a common haircare issue. Whether you're experiencing hair thinning due to lifestyle factors, or you've always had fine, flyaway hair, there are ways to boost volume fast. "There are lots of products available that add immediate thickness to the hair," assures Anabel Kingsley, Philip Kingsley brand president and consultant trichologist. "These products work in a couple of ways," adds Adam Federico, collective member and session stylist, "they can swell the hair or coat the hair, making it feel considerably thicker and denser."
It is, however, important to keep expectations realistic. "Though there are great thickening products available, they can't permanently change the thickness and density of individual strands," says Federico, "as soon as you stop using them, the fuller hair feeling that they deliver will be gone." Here, we round up the best hair thickeners to temporarily bulk fine hair – many of which help strengthen strands over time, too.
THE BEST HAIR THICKENING PRODUCTS, AS TESTED BY OUR BEAUTY TEAM
Why you can trust Woman & Home Our expert reviewers spend hours testing and comparing products and services so you can choose the best for you. Find out more about how we test.
1. Oribe Maximista Thickening Spray
Best overall hair thickening product
Specifications
RRP: $39/£36
Product type: Spray
Key ingredients: Watermelon, lychee and Elderweiss flower
Reasons to buy
+
Strengthens strands
+
Provides UV protection
+
Long-lasting fullness
Reasons to avoid
-
A little pricier than others
Stealing our number #1 spot is this luxurious thickening spray from Oribe. A godsend for fine and/or flat hair, this clever formula instantly adds lift and fullness thanks to thickening copolymers. Simply spritz all over damp strands before styling hair with a round brush to create a bouncy blow dry. As well as boosting volume, this hair mist strengthens strands over time, too. Watermelon, lychee, and edelweiss flower (aka the brand's signature formula) prevent the natural keratin in the hair from breaking down.
That's not all, this must-try mist protects hair from heat and harmful UV rays to minimize dryness and breakage. So while it's more expensive than several other thickening products on the market, this really is a multi-tasking hero that protects, strengthens, and bulks up hair. We were seriously impressed with the results and noticed a lot of lift at our roots. Oh, and it's safe for color-treated hair. Bravo Oribe!
2. John Frieda Volume Lift Root Booster
Best budget hair thickening product
Specifications
RRP: $7.47/£6.99
Product type: Spray
Key ingredients: Copolymers, hydrolyzed wheat protein
Reasons to buy
+
Budget-friendly
+
Adds volume and lift
+
Doesn't make hair feel greasy
If you're after a budget-friendly thickening spray, give this formula from John Frieda a whirl. While it may not look like much, this magical mist really does work. And by work we mean it lifts and volumizes the roots, adds texture, and delivers all-over fullness. Don't believe us? Just look to the countless rave reviews that praise this product for its volume-boosting benefits.
As for the formula, it's powered by a 'triple polymer system' (in other words, it contains copolymers) that lightly coat each hair to add volume and hold. It's also formulated with something called 'air-silk technology' which is why it's so lightweight. We can confirm that it has a featherweight feel and that it really boosted our roots but didn't leave behind a sticky residue. For best results, spritz all over towel-dried hair, concentrating on the roots, before styling with one of the best hair dryers.
3. Sisley Hair Rituel Volumising Spray
Best luxury hair thickening product
Specifications
RRP: $100/£72
Product type: Spray
Key ingredients: Boswellia gum, rice bran proteins, pro-vitamin B5
Reasons to buy
+
Long-lasting volume
+
Adds shine
+
Suitable for all hair types
Reasons to avoid
-
Won't suit everyone's budget
Not only does luxury cosmetic brand Sisley create some of the best face moisturizers in the business, this brand is also home to several haircare heroes – including this Volumizing Spray. Delivering long-lasting body and thickness, this nourishing formula totally transforms lackluster locks. Boswellia gum adds texture, rice bran proteins provide long-lasting volume while pro-vitamin B5 bolsters shine. Triple tick!
While this is another pricey product, it does feel ultra-luxurious. We love that it makes hair feel and look healthier, giving it a 'polished' finish. To use, spray all over damp hair, lifting sections as you spritz. After drying, we used one of the best curling irons to add even more body. It's also worth noting that the formula is humidity-resistant and smells sublime (like fresh florals).
4. R+Co Rodeo Star Thickening Style Foam
Best hair thickening foam
Specifications
RRP: $32/£26
Product type: Foam
Key ingredients: Vitamin E, kiwi fruit extract and Aloe Vera
Reasons to buy
+
Hydrates hair
+
No sticky finish
+
Lightweight foam
In the past, mousse products have received a bad rap for leaving hair stiff and crunchy. But this mousse, from R+Co, is a total mane-changer. Thick yet surprisingly lightweight, the foaming formula adds moisture and fullness to your hair without leaving behind a sticky finish. "It contains vitamins and minerals that nourish, strengthen and add a natural sheen to the hair," says Howard McLaren, hairstylist and co-founder of R+Co, "it's also formulated to absorb oil and impurities from the hair and scalp."
No one-trick pony, this hard-working formula goes above and beyond its thickening job description. "It can add definition and bounce to curls; plump up fine hair to boost volume, and provide hold for long-lasting styles," continues McLaren. We recommended working a small amount through damp or towel-dried hair before styling as usual. As for the results, we were blown away by how much height our hair had after using this – plus, it smelled divine (of pineapple, cardamom, and lavender).
5. Bumble and Bumble Thickening Dryspun Texture Spray
Best hair thickening product for texture
Specifications
RRP: $34/£27
Product type: Aerosol spray
Key ingredients: Silk powder, hydrolysed wheat proteins, zeolite and copolymers
Reasons to buy
+
Long-lasting texture
+
Hair remains soft
+
Easy to use
This is one of the best hair thickening products for curly hairstyles and beachy waves. Sitting somewhere between a salt spray and a dry shampoo, the lightweight mist adds real grit to the hair – making it appear fuller, thicker, and more tousled. We love the fact that it's designed to be used on dry hair, which makes application a total dream. Simply spritz all over strands whenever your hair needs a boost (it's also a great refresher for second-day hair.)
The only downside? We found that we got through this bottle quickly as each application requires a lot of mist. To save on wastage, we recommend saving this one for special occasions, like weddings or holidays, when you're after lots of lift and airy body. As for the formula, it contains active natural ingredients, including silk powder, hydrolyzed wheat proteins, and zeolite, that together add hold, texture, and shine to strands.
6. Living Proof Full Thickening Cream
Best hair thickening cream
Specifications
RRP: $29/£24
Product type: Leave-in cream
Key ingredients: Thickening molecule, emollient blend
Reasons to buy
+
Provides light conditioning
+
Long-lasting fullness
+
Lightweight formula
Reasons to avoid
-
Less volume than other products
On a mission for thicker hair? Turn your head to this lightweight cream from Living Proof that's specifically designed to plump up fine strands. Powered by the brand's 'thickening molecule', the clever (albeit mysterious) formula deposits small dots between each strand of hair, making it appear fuller and thicker.
Bounce and body are not the aim of the game here. If it's lift that you're after, we'd recommend looking elsewhere. But if you're experiencing hair thinning and want to add overall fullness, this is the pick for you. Apply a small amount onto damp or towel-dried hair before combing through and styling. We found that a little goes a long way and it's worth noting that this formula is suitable for colored and chemical-treated hair.
7. L'Oréal Professionnel Tecni.ART Pli Shaper
Best hair thickening product for hold
Specifications
RRP: $18/£17.15
Product type: Spray
Key ingredients: Copolymers, castor oil
Reasons to buy
+
Long-lasting body
+
Styling primer
+
Versatile product
Reasons to avoid
-
May leave hair feeling stiff
The TECNI.ART Pli Shaper by L'Oréal Professionnel is a backstage staple (and one of the best hair products around) that belongs in everyone's haircare kit. Seriously good, this fine mist acts as a priming product that will help build body and bounce while holding curls and waves in place. Simply spritz onto towel-dried hair, before using a hair dryer with a round, bristled brush. Next, style hair using a curling iron, or a waving tool (why not try our favorite Amika High Tide Deep Waver.)
Because this spray is heat-activated, it can only be used when heat styling hair. We found it works best when creating curls or waves, as opposed to straightening hair, because it keeps the curls in place while adding soft texture and movement. Top tip? Less is more when it comes to this thickening product – don't apply too much product as you may end up with stiff strands.
8. Philip Kingsley Maximizer Plumping Cream
Best hair thickening product for fine hair
Specifications
RRP: $29/£23
Product type: Cream
Key ingredients: Wheat protein and multi-vitamin complex
Reasons to buy
+
Noticeable results
+
Boosts shine
+
Lightweight cream
Reasons to avoid
-
May leave hair feeling sticky
In Philip Kingsley we trust. The mastermind behind our go-to hair mask Elasticizer, we were keen to give this plumping cream a whirl. Designed to be slotted into your post-shower routine, it can be applied straight onto damp hair – through mid-lengths to ends. Not to be used on the roots, this product doesn't add height or lift – instead, it gives hair an overall fullness without adding any extra weight.
Seriously lightweight, this cream is laced with volumizing wheat proteins alongside the brand's multi-vitamin complex to soften and smooth strands. The results? Fuller, thicker hair that's ultra-glossy. Our only word of caution is that a little goes a long way. On the first application, we applied too much product, which left our hair slightly stiff and sticky – so use sparingly.
9. Briogeo Blossom & Bloom Ginseng + Biotin Hair Thickening + Volumizing Spray
Best hair thickening product for oily roots
Specifications
RRP: $25/£22.50
Product type: Spray
Key ingredients: Biotin, maltodextrin
Reasons to buy
+
Strengthens strands
+
Promotes hair growth
+
Dissolves excess oil
As well as boosting fullness, this haircare hero doubles up as one of the best dry shampoos (thanks to lemon and witch hazel extract), dissolving excess oil and refreshing hair between washes. That's a win-win in our book. As for its thickening credentials, the formula stars something called maltodextrin – a natural sugar starch that coats each hair strand to boost fullness. The results? Voluminous, fresh hair that made us feel as though we'd just stepped out of the salon.
As well as delivering instant results, this hard-working product promotes healthier hair in the long term, too. Ginger and ginseng encourage blood flow to the scalp while biotin strengthens the hair follicle to support stronger, healthier follicle growth. A must-try product, this is the perfect pick for anyone with fine hair and oily roots.
10. Kristin Ess Hair Instant Lift Thickening Spray
Best hair thickening product for root lift
Specifications
RRP: $15/£13
Product type: Spray
Key ingredients: Copolymers, hydrolyzed keratin, chia seed oil
Reasons to buy
+
Affordable
+
Boots volume
+
Adds lift at roots
Reasons to avoid
-
Nozzle squirts instead of spraying
If it's lots of lift that you're after, give this Instant Lift Thickening Spray a mist. Described as a liquid mousse, the formula adds thickness without weighing hair down. Instead, strands look shiny and full. It's "an easy-to-apply alternative for those who have trouble using a traditional mousse, but still want to add thickness and lasting hold after styling," says founder, Kristin Ess.
For best results, spritz onto towel-dried hair, from roots to ends, before flipping hair upside down and blasting it with a hair dryer. We were blown away by the root lift – expect seriously voluminous results. Considering the affordable price point, this is a great pick. The only downside is the fact the nozzle squirts rather than sprays the product which makes application tricky.
---
How can I thicken up my hair?
"Hair is a very reactive tissue and is sensitive to lifestyle, health, and environmental factors," says Kingsley. Hence why, "there are multiple reasons for loss of hair thickness." If you've noticed recent changes to your hair's density, consult a GP to check if there are any underlying causes.
"Thankfully, there are several things you can do to add fullness," continues Kingsley. As well as maintaining a healthy lifestyle, seek out hydrating products, rich in oils and hyaluronic acid, to plump up hair from within. "Our Density range bolsters hair health from all angles, working to reduce and stabilize hair fall," adds Kingsley. Products containing proteins can also help strengthen strands.
Another top tip? Consider getting regular trims as this will make the ends appear healthy, blunt and thicker. If you're wondering how often should you cut your hair, a good rule of thumb is every 8-10 weeks.
Do hair thickening products work?
"Though temporary, thickening products can absolutely make fine, thin hair feel thicker, denser and fuller," says Federico. The key is finding the right product that works for you. Federico's favourite? "I like the R+Co Dallas segment – it can protect against heat damage which can cause fine hair to snap and break."
It's important to note that the benefits of hair thickening products are often temporary – "meaning it lasts for as long as you continue to use the products," explains Federico. With that said, many of the products can also prevent breakage. "Breakage can contribute to finer feeling hair, particularly in the mid-lengths and ends," he adds.