Hair thinning: triggers, treatments, and how one beauty editor finally tackled hers
Many women experience hair thinning or loss—but with the right regimen, products, and cheats, thicker, healthier hair can be yours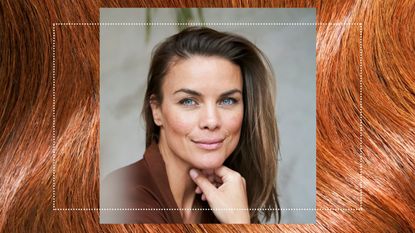 (Image credit: Future/Getty Images)
Hair thinning is something that many of us will relate to at some point in our lives, with over 40% of women experiencing hair loss or thinning.
It's a common problem for so many people, especially as we get older. But that doesn't make it any less worrying or stressful for you when you first discover your hair becoming thinner, your ponytail becoming smaller ('puny'-tail?), or your hairline becoming wider.
Whether you notice more shedding than usual when heat styling—even with the best hair dryer—or thinning around the temples, hair loss can bring with it a range of questions. For one thing, we can't help but wonder why it is that we have hair in places we don't want it, like our chin (causing beauty dilemmas about which hairs we should and shouldn't pluck), but where we crave it in abundance, like our heads, it's often sadly lacking?
The truth of the matter is, most of us will experience hair loss during our lives, so let's take a look at the common causes of hair thinning and what you can do about it from the inside and out.
What causes hair thinning?
Hair thinning is different for every individual; however, it's totally normal to lose up to 100 hairs a day. To put that into context, there are around 389,000 hairs on the average head, so don't panic if you notice a clump in the plughole or in your hairbrush. If yours is shedding more than normal, here are eight reasons why your hair might be thinning. Many of these factors can be managed with a few simple lifestyle tweaks, however, if your hair loss is significant or you have any concerns, you should consult your doctor.
Age: The scalp becomes drier as we get older, affecting growth, and the hair shafts become thinner in diameter.
Health: Polycystic ovary syndrome and general poor health can cause hair to drop out. Plus, some medications can trigger hair loss as a side effect.
Diet: Healthy hair starts from the inside-out, and crash dieting is bad news for your hair. Generally, a low protein diet lacking in iron can trigger lackluster hair. Biotin is another nutrient that contributes to healthy growth, meaning a deficiency can cause growth to stall. Top up either via your diet or biotin for hair supplements.
Stress: In extreme circumstances feeling anxious can cause hair loss and can contribute to hair thinning. Stress actually stops your body from absorbing the nutrients it needs, which can cause your hair to shed and appear thinner.
Genetics: If one or both of your parents suffered from hair loss, you could inherit the same gene. Contrary to popular belief, hair loss isn't just inherited from the mother's side—it can come from your father's side of the family, too.
Pollution, smoking, and UV exposure: We all know the sun is bad for us, however lovely it is, and it turns out that UV exposure can age your scalp and damage the hair shaft. Pollution and smoking can also affect the health of your hair.
Hormones: As estrogen decreases, it shortens your hair's growth cycle, so it doesn't grow as long. Plus, menopause increases androgens (the male hormone), which affects the thickness of each strand.
Thyroid: "Hair thinning can be caused by thyroid conditions," says Sally-Ann Tarver, a trichologist based in the Cotswolds. "Particularly hypothyroidism, which is seen in postmenopausal women. Left untreated, the condition can cause hair to thin and become dry." If any of these symptoms sound familiar, pay a visit to your doctor.
How to prevent hair thinning
Follow these trichologist's tips:
1. Tweak your diet
To address hair thinning, a balanced diet including a range of proteins, fats, and grains is key for the health of your hair as well as your general wellbeing, explains Eve Kalinik, nutritional therapist and gut health specialist. "Omega-3 essential fatty acids are important for providing healthy fats that we need to in-take through our diet; they provide oils that keep hair shiny and hydrated," she says.
Foods like oily fish—salmon, sardines, and anchovies—are high in these fatty acids, as are organic eggs and organic grass-fed meat. If you lead a plant-based diet, look for flaxseed, chia seed and walnuts, and grains such as quinoa and buckwheat. "Cheese and yogurt also provide protein, as well as vitamin A. Mixing this with plant-based sources such as lentils and chickpeas can help, especially if you are on a budget," says Eve.
2. Master the scalp massage
Spend a few minutes massaging your head with your fingertips while your conditioner is on. It will relieve tension and boost circulation to maintain peak scalp health, and is a common tip when experiencing hair thinning. Many women also like to combine this with products to nourish strands while stimulating the scalp, hence the popularity of scalp oil for hair growth on social media.
There are scalp tools designed for this very task. Use the Hair Story Scalp Brush to lather up your shampoo as the silicone bristles gently exfoliate your scalp. The massaging action stimulates your circulation to promote healthy hair growth.
---
---
3. Try a supplement
There are a lot of targeted supplements and vitamins for women on the market to address hair thinning. But hair has one of the fastest cell turnovers in the body, meaning it needs a ton of nutrients. When you consider that so many factors can contribute to hair loss or hair thinning, taking a supplement can give you an extra boost of nutrients, including Omega 3s, Vitamin E, iron, and zinc.
"I would say that for most people, a good probiotic would be a good idea as poor gut health can affect the quality of the hair," explains Eve. She also advises taking a vitamin D supplement in the winter months, as lack of sunlight can cause deficiency and lead to hair loss.
Or, eat your way to thicker, more voluminous locks with Viviscal Hair Growth Supplement. A smorgasbord of hair-loving ingredients such as biotin and zinc feed the follicle to give aging, flat, lifeless hair a helping hand.
---
---
4. Be kinder to your hair
Over-processed hair is under a lot of stress, which can lead to shedding. If you put your hair through the wringer with perms, bleach and hair colorants, heated styling tools, and even tight ponytails, braided hairstyles, and up-dos, this can affect hair thinning. At the very least, ensure you are using the best hair styling products (opens in new tab), including a dedicated heat protector spray before you style your hair. It also might be worth switching to the best hair dryer for fine hair that you can afford, as these picks can offer up volume and style with minimal heat damage.
How to make thinning hair look thicker
Pick the right cut
The blunt bob hairstyle is having a major moment right now, and it happens to be a fantastic cut for fine locks. "As a general rule, shorter cuts are the best option if you're looking to create the illusion of thicker hair," says Daniele de Angelis, Toni & Guy's International Artistic Director.
"Blunt bobs are a great option as the straggly ends will be chopped off, packing the style full of density, not to mention looking glamorous and chic."
Ask your stylist for a long bob snipped bluntly, so it's totally uniform with no layers. Dry shampoo will be your BFF (best fullness friend) and help bulk up flat, limp roots. Living Proof Perfect Hair Day Dry Shampoo is the best we've tried. Expect fresher hair and zero chalky residues.
---
---
Switch your shampoo
If you have fine hair, loading it with a heavy conditioner at the end of your shower will weigh it down and make it look flatter. So reverse your washing order, starting with conditioner to moisturize, followed by shampoo to remove all traces of grease, dirt, and product build-up so hair can be at its bounciest. Kerastase Densifique Bain Densité Bodifying Shampoo helps give heft to fine hair, plumping each strand from the inside out.
---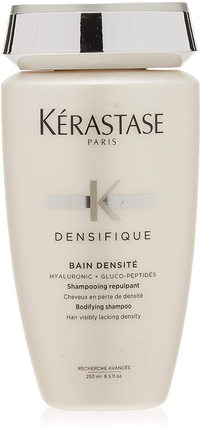 (opens in new tab)
Kerastase Densifique Bain Densité Bodifying Shampoo
Hyaluronic and gluco-peptides give this premium pick an extra fullness and shine boost. Users attest that it helped with fine hair, making it look fuller and healthier, and particularly helped regain some hair density post-partum.
---
Style with mousse
"Although serums are great at pumping your hair full of moisture, they can be too heavy for fine hair and weight it down," says Daniele. Instead, he recommends using an airy foam to achieve density, thickness, and volume. Apply Wella EIMI Extra Volume Strong Hold Voluminizing Mousse to damp hair at the root, then blow-dry for bigger, bouncier locks.
---
---
Try multi-tonal colour
Avoid monotone, Lego-person color and embrace a multi-tonal look, which will give the impression of depth and, therefore, fuller, thicker hair. Highlights and balayage are great ways to add dimension, texture, and volume. Ask your salon for a color consultation to work out a blend that works for your skin tone, hair cut, and face shape. Get the look at home with L'Oreal Superior Preference Ombre Touch to break up block color and add depth.
---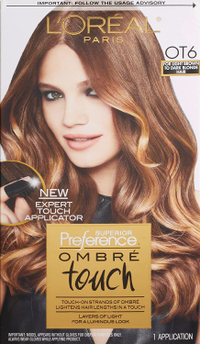 (opens in new tab)
L'Oreal Superior Preference Ombre Touch
It's all in the brush: This kit includes a special fingertip brush applicator that helps you self-streak hair in the most natural-looking fashion. We love the light brown to dark brown color pictured here, but they also have a medium-brown option that's equally glamorous.
---
Fill in with powders
If you notice any sparse areas, particularly around the parting and hairline, use an eyeshadow as close to your own hair color as possible to color in the gaps. Celebrity stylists often use this trick to make their clients' hair appear fuller. If you can't find a suitable eyeshadow, Color WOW Root Cover Up comes in 8 multi-dimensional shades and stays put until your next shampoo.
---
---
A beauty editor's hair thinning experience
Emma Gunavardhana—a.k.a. Emma Guns—is an award-winning podcaster and beauty journalist and one of the esteemed judges of our woman&home 2021 Hair Awards. She hosts The Emma Guns Show, one of the UK's Top 10 Health and Beauty Podcasts with over 10 million global downloads. Here, she shares her journey from thin and flyaway to full and manageable.
"Having thin, flyaway, difficult-to-manage hair was something I'd come to terms with. I knew how to part my hair, so the thinness of my hairline wasn't so obvious, knew just how to weigh my hair down with styling products so it'd stay put without going crispy, and had made peace with the fact my hair was something I had to spend a lot of time on just to get it to look 'ok.'
Of course, I knew about trichologists, but as someone who had hair and wasn't losing it in a fashion that was worrying, I had chosen, perhaps out of fear, to continue to stay on the cosmetic side of treating it. In the Spring of 2020, I had a consultation, via video call, with Anabel Kingsley at Philip Kingsley and received a diagnosis—androgenic alopecia—later confirmed in the clinic."
"I've been on a treatment protocol for nearly a year now and to say the difference is astounding is an understatement," Emma adds. "It's not just the fact my hair looks thicker, it's easier to manage, requires barely any effort, and doesn't need a fine cocktail of styling products. It's like having a completely different head of hair.
So, my ultimate advice for anyone concerned about hair that's fine or thinning is to take the time to let an expert look at you. There are so many incredible cosmetic hair products out there, but in the same way you'd seen a dermatologist or aesthetician for a persistent skin issue, I think it's vital we normalize and make accessible, seeing a trichologist for hair concerns."
woman&home thanks Sally-Ann Tarver (opens in new tab), Mark Blake (opens in new tab) of Nioxin, Eve Kalinik (opens in new tab), Daniele de Angelis (opens in new tab) of Toni & Guy (opens in new tab), and Emma Gunavardhana (opens in new tab) for their time and expertise.
Stephanie Maylor is a Beauty Editor working across five national magazine titles, with almost 15 years' experience in the industry. She has written for many brands, including woman&home, Grazia, Now, More!, Fabulous, NW, Woman, Woman's Own, Woman's Weekly, Essentials, Best, Chat, and OK! online.
In 2010 she launched her own beauty blog, which was shortlisted for Best Beauty Blog in the 2011 and 2012 Johnson & Johnson Beauty Journalism Awards. She has interviewed many high profile industry experts and celebrities including Alesha Dixon, Twiggy and Christina Hendricks.