These are the body hairs you should and shouldn't pluck—experts wade in on the dreaded chin hairs!
From chin hairs to nose hairs, we've grilled the pros to reveal the unwanted hair we should never pluck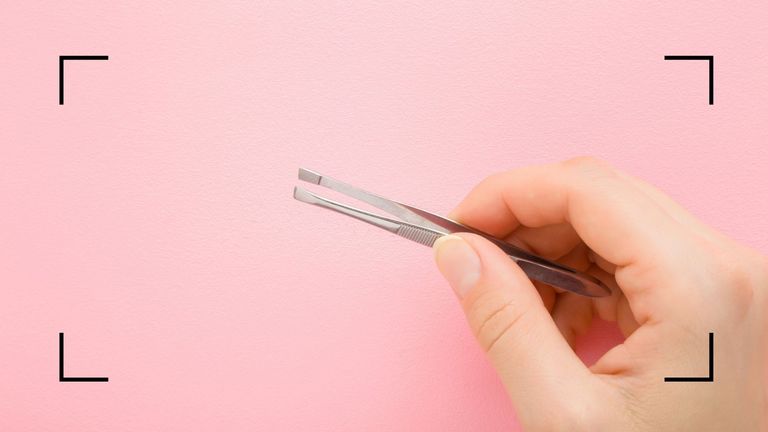 (Image credit: Getty)
According to the NHS, nearly 75 percent of women experience increased body hair as they age, especially after menopause. Yet with so many filtered images of baby-like skin on our social media feeds, it's tricky to know what's 'normal' in the body hair department.
The answer is: there is no normal. "Everyone is unique, and the same goes for body hair," explains Sofia, co-owner at The Naked Hare Group, a Treatwell salon partner. "The amount, texture, rate of growth, and likeliness to get ingrown hairs varies from person to person." And the decision to embrace it or remove it is yours entirely.
If you prefer to remove your body hair (which is totally fine), there are several methods available, including plucking. "I would recommend plucking for small surface areas only," says Sofia, "like shaping eyebrows or removing stray chin hairs." For larger surface areas, Sofia recommends waxing or using one of the best epilators for the area you wish to treat. To find out exactly where you should—and definitely should not—use tweezers, we've quizzed the experts.
Plucking body hairs: dos and don'ts
Body hairs you should pluck
Plucking chin hair
Spotted a stray hair (or two) sprouting from your chin? You're not alone. Many of us grow the occasional chin hair—it's totally normal and rarely a cause for concern. Genetics, age, and hormones can all play a role here. If you want to remove the odd chin hair, plucking is a good option that's perfectly safe.
Start by cleansing using one of the best cleansers for your skin type before rinsing it off with warm water to soften the skin. "Sterilise the tweezers by cleaning them with rubbing alcohol," says Yana Gushchina, brow specialist at Brow Bar London. "Then, pulling the skin taut, pluck one hair at a time and always pluck in the direction of hair growth to reduce the risk of the hair becoming ingrown." Notice excessive chin hair growth? Speak to your doctor as a sudden change in facial hair pattern can indicate a hormonal imbalance caused by a medical condition.
What if I am plucking my chin hair everyday?
"Pluck the hair successfully from the follicle and you shouldn't have to remove the hair every day," says Sofia. If you are removing chin hairs every few days, it could be that you're breaking the hair just above or below the skin's surface instead of taking it from the root. A decent pair of tweezers, as well as the correct technique, will both help in preventing the hair from breaking.
For anyone experiencing fast regrowth, it may be worth considering a different hair removal method. Waxing and sugaring, for instance, remove larger areas of unwanted hair, quickly. "Often hair gets broken when plucking, instead of being extracted from the root," says Tanja, owner of Sugaring London, a Treatwell salon partner. "Sugaring, where hair is taken from the root using a natural gel made from sugar and water, is a great alternative." For a more permanent solution, several IPL hair removal devices have been designed to remove facial hair, including chin hair.
Our beauty team recommends...
---
Plucking eyebrows
Another popular area to pluck is the eyebrows. "At Brow Bar London, we always recommend getting a professional brow stylist to shape your eyebrows or do an eyebrow tint," says Yana. "Tweezing them yourself could mean that you take too much hair away, resulting in thinner brows or a shape that doesn't frame your face well."
Maintaining bushy brows at home is possible with a few tips. "If you are going to tweeze your brows, decide on the shape you want them to be first before you start plucking," recommends Liarna Jessica Yearwood, brow specialist at Brow Brow London. "Lightly pencil in the shape you want your brows to be then only pluck away the hairs that are outside of the drawn template. To prevent over-plucking, allow the hairs to grow out before removing them again, which can take 2 weeks."
Our beauty team recommends...
---
Body hairs you shouldn't pluck
Plucking armpit hair
Thinking about removing armpit hair with tweezers? Think again. Asides from being time-consuming, there are so many other effective hair removal methods that are less labor-intensive. Waxing, shaving, or using one of the best electric razors for women are all good options.
"I would strongly advise against using tweezers to remove armpit hair," says Sofia, "not only is this area really sensitive but the angle is extremely awkward." As Sofia confirms, it is much more effective to pluck the hairs out when the skin is pulled taut. "This would be very difficult to do under the arms and would mean prolonged pain from repetitive plucking as well as probable ingrown hairs."
Our beauty team recommends...
---
Plucking chest hair
Similar to plucking armpit hair, if you have a large number of chest hairs you'd like to remove, go for a method that will eradicate more hairs at once. Using the best depilator is a good option here. "Plucking is not only time-consuming but can easily damage the skin if not done correctly," advises Sofia.
"However, if you just have a couple of stray hairs around your nipple (as many women do), then a simple tweeze may be preferred. Just make sure you are careful."
Our beauty team recommends...
---
Plucking belly button hair
Belly buttons can be a super-sensitive part of your body, so to avoid irritation, it's best not to pluck the hairs here.
If you're feeling sensitive about stray hairs in this area and it's knocking your confidence—don't despair. Sugaring, laser hair removal, or using a kind-to-skin depilator can all work. Or, visit a salon to have the area treated by a professional.
Our beauty team recommends...
Philips Lumea Prestige IPL Hair Removal Device | RRP: $599/£450
If you're on the hunt for a more permanent solution to reduce body hair, this could be the answer. The Lumea can be used on the body, underarms, legs, bikini, and face to zap away hairs using light. There are various strengths to choose from as well as attachments to suit different areas.
---
Plucking out grey hair
Plucking lone grey hairs doesn't actually invite two to grow back in their place (as many people think), but continuing to pluck hairs can permanently damage the follicle, resulting in bald patches. The choice is of course yours, but we do not recommend this as a way to avoid transitioning to grey hair.
Our beauty team recommends...
Josh Wood Colour Blending Brush | RRP: £19 (UK only)
If you have a gray hair color and have been tempted to pluck them out. Consider this blending brush instead. Available in several shades, it deposits color to conceal greys and will last up to three washes.
---
Plucking nose hair
Our nose hairs are extremely important. They act as a filter that prevents dust, pollution, and allergens from entering your lungs. As well as making your eyes water, plucking nose hairs can make you more sensitive to said dust, pollutants, and allergens. It can also lead to infections and ingrown hair.
Because of this, it is strongly recommended by experts to avoid plucking nasal hairs, and instead, if they're bothering you, opt for a hair trimmer. As with the best bikini trimmers, a good nose trimmer will trim hair without causing any nicks or cuts.
Our beauty team recommends...
---
Plucking hairs on moles
Contrary to old wives' tales, there is no evidence that plucking hair from a mole can cause it to turn into a cancerous mole. But it can cause the mole to become infected and result in inflammation and bleeding—which will draw more attention than a small fine hair.
Our beauty team recommends...
---
How to pluck hairs without causing damage
For pain and fuss-free plucking, follow Sofia's top tips…
DO invest in a good pair of tweezers: It's an absolute game changer! There's nothing worse for your skin than being picked and prodded at. An efficient pair of tweezers will swiftly and effectively remove the hair in one go.
DO tweeze after a bath or shower: The heat will open the pores and relax the hair making it easier to remove.
DO disinfect your tweezers: Use antibacterial soap, hydrogen peroxide or rubbing alcohol to clean your tweezers.
DO pull the skin taut: This will allow you to get a good grip on the hair with your tweezers. It will also reduce the chances of catching and irritating the skin.
DO pluck in the direction the hair grows: This will help prevent the hair from breaking and will reduce the likelihood of ingrown hairs.
DO NOT use AHAs or BHAs: After plucking the hair as the skin can be sensitive. Do, however, exfoliate before plucking to remove build-up or dirt around the hair follicle.
DO NOT pluck large areas: Prolonged plucking and repetitive plucking can irritate and damage skin. Use tweezers on small areas of skin, like eyebrows and chin.
Why do you get ingrown hairs?
According to the NHS, ingrown hairs cause red, often itchy bumps where hair has grown back into the skin. There is a wide range of reasons why ingrown hairs develop, as Tanja explains:
Hair is lying parallel to the skin instead of growing upwards: For hair to easily break through the skin, you need to gently exfoliate once to twice a week using one of the best body exfoliators or best facial exfoliator.
Hair is twisted in a ring: There are several reasons why this can occur: curly hair, hairs growing in different directions, removal against the hair growth. Plucking, waxing, or shaving hair against the natural direction of growth causes the hair to be cut at a sharper angle, making it likely to grow back under the skin and cause ingrown hair.
Lack of aftercare post-hair-removal: Ingrown hairs are often the result of sweat and dead skin blocking the follicle, trapping hair beneath the surface, so it grows back in on itself. Be sure to cleanse and exfoliate skin on a regular basis.
Not enough hydration in the skin: Body hair struggles to pop through if the skin is dry. The better moisturized the skin is, the easier it is for the hair to come through. Add one of the best moisturisers for dry skin to your daily regime, pronto.
Our beauty team recommends...
No7 Silver Illuminated Makeup Mirror | RRP: $35/£49.99
To help spot those ingrown hairs and remove them safely, invest in a magnifying mirror like this one from No7. Use one side of this illuminated mirror to see your face normally, or rotate for 5 times magnification. Light too bright? Adjust the dimmer switch to set it exactly how you want it. Ideal for plucking your brows and identifying ingrown hairs.
What happens when you pluck a hair?
"If carried out correctly, plucking will remove the entire hair from the follicle," says Sofia. While it's by no means a permanent hair removal method (like laser hair removal), hair will take longer to grow back if you pluck than if you shave. "If you continually remove the hair from the follicle with tweezers (or waxing, or sugaring), you may see a reduction in the amount of hair being produced in that area," adds Sofia.
Proceed with caution and be sure to invest in a really good pair of tweezers as unsuccessful attempts to pull hair out can damage the skin. "If your tweezers are not sharp enough, or you have to go over the same area multiple times, it can result in scraping and gauging the skin," explains Sofia. "This damage can lead to scabs and possible scarring."
---
woman&home thanks Sofia of The Naked Hare Group, Liarna Jessica Yearwood and Yana Gushchina of Brow Bar London, and Tanja of Sugaring London for their time and expertise.
Jess Beech is an experienced fashion and beauty editor, with more than eight years experience in the publishing industry. She has written for woman&home, GoodtoKnow, Now, Woman, Woman's Weekly, Woman's Own and Chat, and is currently Deputy Fashion & Beauty Editor at Future PLC.
She caught the magazine bug during a stint as Fashion Editor of her university newspaper alongside her English degree, and hasn't looked back since. As for the fashion bug, that came as part and parcel of growing up in the 90s, but the less said about that the better!
Jess' average day in the office is spent researching the latest fashion trends, chatting to industry tastemakers and scouring the internet to bring you this season's must-buy pieces - as well as advice on how to wear them. Weekends are equally fashion-focused, and Jess has been known to visit no less than five Zara stores in a single day in search of the perfect occasion dress.
The only thing that comes close to a buzz of finally tracking down that much-coveted dress is the joy of discovering a new beauty wonder product or hero ingredient. A beauty obsessive, Jess has tried everything from cryotherapy to chemical peels (minus the Samantha in Sex and The City-worthy redness) and interviewed experts including Jo Malone and Trinny Woodall.