How to shape eyebrows like a pro (no appointment required)
Everything you need to know about how to shape eyebrows.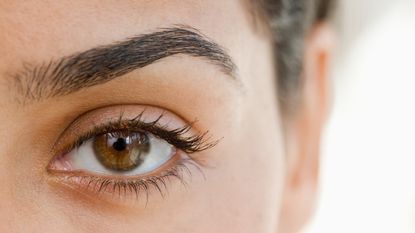 (Image credit: Getty)
Learning how to shape eyebrows is a fine art. Take too much away, and you run the risk of looking permanently surprised. Take too little away, and those bushy arches won't do your eyes justice.
Lucky for you, we've chatted to the best brow experts around to find out everything you need to know - from finding the right shape for you to keeping them groomed at home.
Here's how to quite literally brush up on your skills to get the perfect eyebrow shape, according to experts.
How to find the right brow shape for your face
Much like the best foundation or the perfect shade of lipstick, eyebrow shapes are a personal choice. It comes down to preference, as well as your facial features.
"The aim of a good brow shape is to lift the eyes open, and draw attention to them, whilst balancing the rest of the facial features," explains brow expert and founder of Nails & Brows Mayfair, Sherrile Riley.
"Different shaped faces suit different brows, and the best way of working it out is to see it as a balancing act," adds Vanita Parti MBE, founder of Blink Brow Bar. "If you have a longish face, then flatter brows with a low arch is perfect. If you have a heart-shaped face, then a raised Marylin Monroe type arch works brilliantly."
"Brows will always look their most beautiful and help balance all facial features if they follow their natural shape. The right shape and definition will frame your face instantly, make your eyes appear larger, and can take years off."
Should both eyebrows be the same shape?
Perfectly matching brows are not always possible, so aim for similar, not symmetrical. "You can do your best to ensure they look like a pair, but it is very hard to get them to match perfectly," says Vanita.
In fact, the quest for symmetry can often cause more problems, as you'll find yourself slowly chipping away at the shape of your brows. Step away from the tweezers, and remember you can always fix uneven eyebrows with products.
How to shape at home with eyebrow mapping
Mastering how to shape eyebrows is relatively easy, thanks to an expert-approved technique called eyebrow mapping. The specifics vary slightly from brand to brand and salon to salon, but the basic principles remain the same. By measuring the distance between a few key features, you'll be able to map out flattering, natural-looking brows.
Follow Vanita's step-by-step to avoid an at-home brow blunder:
1. Place a pencil at the edge of your nose, pointing upwards. Where it hits your eyebrow is where they should start.
2. Next, swivel the pencil from your nose to your iris (the colorful part of your eye). This is where the arch should be positioned.
3. Finally, swivel again from your nose to the end of your eye, and where the pencil hits the brow is where they should end.
Mark each of these points with a dot of eyebrow pencil as you go before repeating the process on the other brow.
How to shape sparse eyebrows
If your eyebrows are fair or few and far between - don't worry. It's surprisingly easy to recreate the appearance of fuller, thicker and darker brows with products.
"Start with a brow pencil that is color-matched to your natural hair tone and ensure that the pencil is well sharpened, like an artist pencil," advises Sherrile. "Use the point of the pencil to sketch hair-like strokes onto areas that are sparse, then use a brow brush to distribute pencil to prevent build up."
If you're happy with the effect, you can stop there. But, Benefit's Head of Artistry, Lauretta Power recommends, "using more than one product for added texture and a more lifelike finish. The best eyebrow gels will instantly make brows appear fuller."
For a longer-term solution, you might want to consider eyebrow tinting. The semi-permanent dye will pick up even the finest, lightest hairs, helping to make brows appear thicker and bolder. You might even want to splash out on having your eyebrows microbladed, a tattooing technique that uses super fine needles to create long-lasting, hairlike strokes.
The best brow shaping products to try
BBBLondon Ultra Slim Brow Definer
Natural-looking strokes call for tweeny-weeny nibs, and this ultra-slim pencil is just the ticket. Choose between five different shades to find your perfect match.
Beauty Edit Mayfair Brow Styler
Not only will a spoolie brush help you fluff up thin brows, making them look fuller, they're a great tool when shaping too - helping you see which hairs are out place.
(opens in new tab)
Benefit Gimme Brow+ Volumising Eyebrow Gel
Clingy in the best way, this tinted gel contains tiny microfibres that grip on to even the shortest, finest hairs, creating the illusion of fullness.
How to shape overgrown eyebrows
Taming bushy eyebrows can be a tricky task, especially if the shape has completely grown out. Ideally, it would be best to visit a salon at this stage, where an expert in how to shape eyebrows can work their magic. But, if you can't wait for a second longer, there are some tricks you can try at home.
"When you feel they have grown out to an unbearable point, use a brow tamer to brush the brows up," says Vanita. "You will immediately see where the natural shape is and where the arch falls. Try not to touch the core shape but pluck around this area to get rid of excess hair that doesn't lend itself to the shape."
"Outlining your brow shape with a brow pencil first is great for preventing over-plucking," adds Sherrile.
Of course, not letting your brows overgrow in the first place is the best way to maintain a professional finish at home. To stay on top of the shape, try and tweeze any strays once a week.
Products to try:
(opens in new tab)
Rapid Brow Eyebrow Enhancing Serum
If you really want to grow your brows out before your next appointment, this growth-accelerating serum is worth the investment. Apply a little before bed each night, and notice results in around 8 weeks.
(opens in new tab)
Tweezerman Brow Shaping Scissors & Brush
While we wouldn't recommend shaping your brows with scissors, sometimes a little trim is necessary. Go slow and only trim tiny snippets of hair at a time.
(opens in new tab)
Rubis Classic Slant Tweezers
Tweezers are pricey, but if you take care of yours properly (don't leave them on the bathroom side to garner rust), then they'll last for years. These are super precise and extra hardwearing.
Jess Beech is an experienced fashion and beauty editor, with more than eight years experience in the publishing industry. She has written for woman&home, GoodtoKnow, Now, Woman, Woman's Weekly, Woman's Own and Chat, and is a former Deputy Fashion & Beauty Editor at Future PLC. A beauty obsessive, Jess has tried everything from cryotherapy to chemical peels (minus the Samantha in Sex and The City-worthy redness) and interviewed experts including Jo Malone and Trinny Woodall.