Our beauty editor tried an at home eyebrow tint – here's what you need to know
Ever wanted to try an at home eyebrow tint? We put it to the test and here's every lesson we learned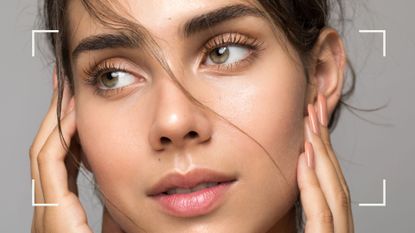 (Image credit: Getty Images/Canva)
If the thought of an at home eyebrow tint feels daunting, you're not alone. When I was researching this topic, I had a mild panic that I was about to experience a true beauty disaster. A disaster which would be happening on my face, of all places. I was nervous, to say the least.
That's because brows are serious business. At one time, all you needed to know was how to pluck eyebrows (although the less said about the '90s skinny brow trend, the better). These days, we know how perfecting your eyebrow shape can transform your entire face, adding definition and emphasizing cheekbones. You can use your best eyebrow pencil to cheat this, but in-salon treatments like tinting and eyebrow lamination will help you shape those arches with minimal effort - handy if you prefer a low-maintenance routine.
I always opt for brow tinting in the salon if I'm already there for a thread or a wax - it adds an element of 'done-ness' to my faded brunette brows. It's quick, easy, and usually around $10/£8. I never thought about at home eyebrow tinting - as I said, I was a bit scared of messing it up. But, having noticed more at-home eyebrow tint kits on the market, I was intrigued, tempted by the money-saving factor and potential time saved. So, how did the experiment go? Let's get into it.
At home eyebrow tints, explained
What you should know before brow tinting at home
Tint before hair removal: "When eyebrow tinting and shaping, you want to tint first," explains makeup artist Sara Sordillo. "Plucking or removing hair opens the follicle - if tint gets into this space it can cause irritation, infection, or ingrown hair."
Patch tests are non-negotiable: Just like dyeing the hair on your head, carrying out a patch test before your eyebrow tint is really important – especially as you're working so close to your eyes. Apply a small amount of product to the inner bend of your elbow or behind your ear and leave it to dry for between 48 and 72 hours. If you haven't had a reaction in that time, you're unlikely to. It's still never certain though, so look out for any potential signs after treatment too.
Pick the color carefully: "I'd suggest going for a shade that is one or two shades darker than your natural brow shade for a more believable color," says MUA Laurretta Power. "However, there's nothing to say you can't go darker if that's your style preference."
Everything is fixable: If you've gone too dark, don't panic, it's really easy to fix. "Tint isn't permanent, after the first wash, they normally fade about 30% and then gradually each time you cleanse your face. Using oil-based make-up removers will speed up the process too." Phew!
Skip the self-tanner: Ginger eyebrows are gorgeous, but not so lovely if you were aiming for brunette. For best results, steer clear of fake tan for 48 hours before and 48 hours after tinting to avoid distorting your shade.
w&h beauty editor tries DIY brow tinting
I'll be totally honest by telling you I really procrastinated on my first at home eyebrow tint. I felt quite nervous about it and thought it would be messy and take forever. How wrong I was! It was a maximum of 10 minutes, all-in, and the result was bolder, darkened brows without having to leave my bathroom.
After dutifully trying the patch test two days before application, I mixed up the color and the activator, brushed the mixture onto my brows, and waited. My at home eyebrow tint kit suggested leaving the formula on for 5-10 minutes, so I opted for a cautious 6 minutes. When I wiped it away, I was so impressed. My brows looked defined without being terrifyingly dark (as was my fear), with no need to use any other products for weeks afterward. I just opted for a swipe of my best eyebrow gel to keep my bushy eyebrows in place, and that's it!
I'm now totally converted to at home eyebrow tinting - I don't think I'll need to visit the salon again. The Eylure kit I used will give 12 applications, getting the cost-per-use down to pennies. I also love any beauty treatment I can do while staying in my pajamas, so getting this brow treatment ticked off my to-do list without having to leave my house is a huge bonus.
How to tint your brows at home, step-by-step
STEP 1: Remove any makeup or skincare from the brows and make sure they are completely dry.
STEP 2: Grab a barrier cream like Vaseline and apply it to areas around your brow you don't want the tint to stick to. Don't be tempted to put it too close to the brows but apply it a few millimeters away from the edges.
STEP 3: Using a spoolie, brush the mixed tint through the brows ensuring the brow hair is completely covered. Brush up, down, and left to right to ensure each hair is coated. Start your timer as soon as the first brow is coated, following the products' time guide to gauge how low to leave the tint on for.
STEP 4: Using a damp cotton pad wipe the first brow off. Keep wiping until no color appears on the cotton pad. Repeat on the second brow.
The best home brow tints, by our beauty editor
Best all rounder...
Best for commitment-phobes...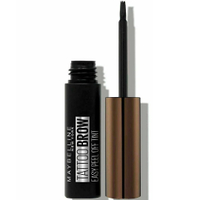 Maybelline Tattoo Brow Longlasting Tint|RRP: $18.99/£12.99
If you're worried about having a tinting disaster (if you follow this guide, I promise you won't!) this lasts just three days, for better brows without the fear. It's a great way of easing yourself into the world of at home eyebrow tints. The peel-off step is strangely satisfying too.
Best multitasker...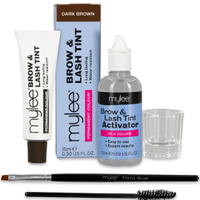 Mylee Brow & Lash Tint|RRP: £15 (UK only)
Designed for beauticians, this salon-quality kit has everything you need to tint your brows at home, and can also be used to tint your eyelashes, once you've mastered brows. Tinting your lashes means you'll have less need to use your best mascara daily, especially if you have light lashes.
Best for blondes...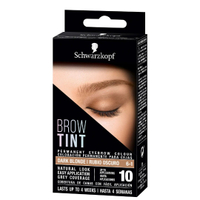 Schwarzkopf Brow Tint Permanent Eyebrow Colour in Dark Blonde |RRP: $16.29/£7
If you have very fair or blonde eyebrows, you can still tint them - just make sure you're using a specialized blonde buy, rather than trying to make a dark brunette shade work. This gives 10 applications and the tint lasts up to four weeks.
---
Can you use regular hair dye to tint eyebrows?
In a word - no. "The chemicals in hair dye formula are too harsh for eyebrow hair", warns Power. "I have a friend who used to used hair dye, needless to say it didn't end well." Yikes.
As your brows are so close to your eyes, you definitely won't want to mess around with those heavy chemicals. Stick to those specially designed kits, listed above.
How do you cover gray eyebrows?
Your at home eyebrow tint kits can be used to dye all hair colors, including grays. Much like a gray hair color, you may find that gray eyebrow hairs can be a bit stubborn to take a change in tone or pigment, so you may have to leave the tint on for longer in that case. Don't go over the time specified by your dye though - it's best to stick to the guidelines.
Jess Beech is an experienced fashion and beauty editor, with more than eight years experience in the publishing industry. She has written for woman&home, GoodtoKnow, Now, Woman, Woman's Weekly, Woman's Own and Chat, and is a former Deputy Fashion & Beauty Editor at Future PLC. A beauty obsessive, Jess has tried everything from cryotherapy to chemical peels (minus the Samantha in Sex and The City-worthy redness) and interviewed experts including Jo Malone and Trinny Woodall.