How to tint your eyebrows at home safely (and avoid a beauty diaster!)
Rule 3 is especially important!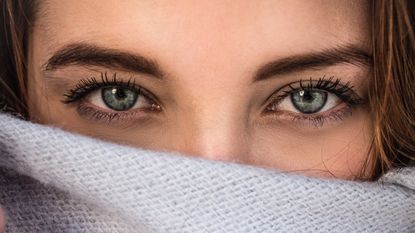 (Image credit: Getty Images/EyeEm)
Want to carry on your brow upkeep at home? We've compiled everything you need to know about eyebrow tinting. These tips and tricks will make it look like you've just stepped out of the beauty salon every time.
There's no shame in taking the time to keep up your regular beauty treatments when you can't get to the salon, like using home highlight kits, (opens in new tab) enjoying your own facial or recreating a professional pedicure. Though while many of us can live without a facial or pedicure, most women these days don't want to give up eyebrow tinting.
Why? Because full eyebrows have brilliant anti-ageing effects. So eyebrow tinting is a must for those of us who weren't blessed with naturally bushy eyebrows. It saves us precious time in the mornings that would otherwise be spent painstakingly pencilling in sparse sections and pesky gaps.
How does eyebrow tinting work?
It works its magic by capturing and colouring even fine, fair hairs to create the illusion of fuller, thicker brows.
How long does eyebrow tinting last?
One of the lowest maintenance treatments going, eyebrow tinting can take as little as two minutes, with results lasting for up to six weeks. But as with any beauty treatment, lots can go wrong, and it can be dangerous if precautions aren't followed.
Eyebrow tinting - the 5 rules!
#1. Tint before hair removal
"When eyebrow tinting and shaping, you want to tint first," explains Eylure's make-up artist Sara Sordillo. "Plucking or removing hair opens the follicle and if tint gets in to this space it can cause irritation, infection or ingrown hair."
#2. Patch tests are non-negotiable
Just like dyeing the hair on your head, carrying out a patch test before your eyebrow tint is really important – especially as you're working so close to your eyes. Apply a small amount of product to the inner bend of your elbow or behind your ear and leave it to dry for between 48 and 72 hours. If you haven't had a reaction in that time, you're unlikely to. It's still never certain though, so look out for any potential signs after treatment too.
#3. Never use hair dye on your brows
'The chemicals in hair-dye formula are too harsh for eyebrow hair, explains Benefit's Senior UK Make-up and Brow Expert Laurretta Power. 'I have a friend who used to used hair dye, needless to say it didn't end well.'
#4. Fake tan and eyebrow tinting doesn't mix
Ginger eyebrows are gorgeous, but not so lovely if it's brunette you were aiming for. For best results, steer clear of fake tan for 48 hours before and 48 hours after tinting to avoid distorting your shade.
#5. Pick your shade wisely
Not sure how what colour to use at home? 'I'd suggest going for a shade that is one or two shades darker than your natural brow shade for a more believable colour,' says Laurretta Power. 'However there's nothing to say you can't go darker if that's your style preference.' If you've gone too dark, don't panic, it's really easy to fix. 'Tint isn't permanent, after the first wash they normally fade about 30% and then gradually each time you cleanse your face. Using oil based make-up removers will speed up the process too.' Phew.
How to tint your eyebrows at home safely
We've enlisted the help of Sara Sordillo, make-up artist at Eylure for her top tips on tinting your brows at home…
Step 1 - cleanse and dry thoroughly
Remove any make up or skin care from the brows and make sure they are completely dry.
Step 2 - keep your skin clean
Grab some Vaseline and apply it to areas around your brow you don't want the tint to stick to. Don't be tempted to put the Vaseline too close to the brows but apply it a few millimetres away from the edges.
Step 3 - brush in different directions
Using a spoolie, brush the mixed tint through the brows ensuring the brow hair is completely covered. Brush up, down and left to right to ensure each hair is coated. Start your timer as soon as the first brow is coated. This helps you get a more event result as you remove the tint from the first brow first, accounting for the time difference.
Step 4 - wipe, wipe and wipe some more
Using a damp cotton pad wipe the first brow off. Keep wiping until no colour appears on the cotton pad. Repeat on the second brow.
Beauty editor recommended eyebrow tints to try at home
Eylure London Dybrow Permanent Tint for Brows (opens in new tab), £7.49
Easy to mix and apply for defined brows in minutes.
SHOP NOW: Eylure London Dybrow Permanent Tint for Brows, £7.49, Amazon (opens in new tab)
Maybelline Tattoo Brow Longlasting Tint (opens in new tab), £12.99
Worried about making a mistake? This lasts for just 3 days for better brows with no commitment.
SHOP NOW: Maybelline Tattoo Brow Longlasting Tint, £12.99, Boots (opens in new tab)
Mylee Brow & Lash Tint in Brown, £14.99 (opens in new tab)
Designed for beauticians, this salon-quality kit has everything you need.
SHOP NOW: Mylee Brow & Lash Tint in Brown, £14.99, Mylee (opens in new tab)
Enjoy your pampering!
Jess Beech is an experienced fashion and beauty editor, with more than eight years experience in the publishing industry. She has written for woman&home, GoodtoKnow, Now, Woman, Woman's Weekly, Woman's Own and Chat, and is a former Deputy Fashion & Beauty Editor at Future PLC. A beauty obsessive, Jess has tried everything from cryotherapy to chemical peels (minus the Samantha in Sex and The City-worthy redness) and interviewed experts including Jo Malone and Trinny Woodall.