How to maintain bushy eyebrows at home during lockdown
Maintaining bushy eyebrows has never been easier...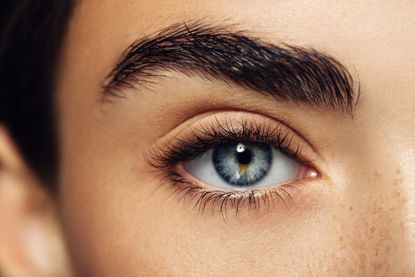 Big brows are here to stay.
Thick eyebrows that are beautifully bushy are widely desired by many women but maintaining bushy eyebrows - especially at home during lockdown - is no easy task.
Phoebe Waller-Bridge's Fleabag might have taught us that 'hair is everything', but for some of us, it's the hair that sits just above our eyes that's most important.
According to beauty bookings service Treatwell, the brow category grew by a healthy 62% at start of this year compared to last, with threading the most popular treatment and eyebrow tinting also growing in popularity.
With popping to the salon for a quick wax and tint not an option at the moment, it's time to take our brows into our own hands by maintaining bushy eyebrows at home. Thankfully, we have everything you need to keep them at their bushy best from the comfort of your own home.
Top tips for maintaining bushy eyebrows at home
1. Use two mirrors
Before getting to work, make sure you have one magnifying mirror and a larger one to hand. 'Use the magnifying mirror when tweezing but keep checking the 'bigger picture' in the larger mirror,' advises brow expert Shavata. 'It'll help you keep things even.'
2. Just tweeze a few hairs a day
Normally, the rule is not to touch your own brows between appointments, but the rules are out the window for now. Shavata recommends just, 'tweezing a few hairs a day, rather than trying to do it all in one go. That way you can easily stick to the shape, especially if you've had them done professionally recently.'
3. Only tweeze from the bottom
'It is not recommended to pluck hair from the top part of your brows as this can ruin the brow shape if you get a bit trigger happy with the tweezers,' explains Sara Sordillo, make-up artist at Eylure. 'Give your brows a good brush down and see if there is any hair growing away from the natural shape. If you spy some strays, pluck those and nothing else.'
4. Consider your natural brow shape
Want to map your brows like a pro? Follow Sara's top tips. 'Place the end of an eyeliner pencil at the inner corner of your left nostril and use the pencil point to mark the point at the top. Repeat on the other side. The space between the two points is the most you want to pluck between your brows, any more will create too much of a gap.'
5. Trim carefully
Trimming brows will help you regain their shape, but go steady. 'You'll need a spoolie brush and some straight scissors,' says Shavata. 'Brush all the hairs up – anything standing beyond the shape of your brow is what you trim. Make sure you use small snips, one big snip will give you a wonky line.'
6. Think about growing them out
If you don't quite have the bushy brows of your dreams just yet, now is a great time to grow them out. No one outside of your household will see the unruly phase, and you can get them shaped professionally when salons reopen. If you can get your hands on it, Shavata recommends applying castor oil to your brows everyday to help them grow 'thicker and fuller.'
Can I wax my eyebrows at home?
As with any beauty treatment that involves hot wax and your face, brow waxing is best left to the professionals. But, if you can't bear the thought of going without during lockdown, we've enlisted the help of Benefit's Senior UK Make-up and Brow Expert, Laurretta Power to give you some top tips…
How to wax eyebrows
Test the heat of the wax on your hand first, and only apply wax to the area of hair that you want to remove.
Stay away from the main shape of your brows. Use wax to remove the bulk of unwanted hairs, but tweezers for the shape.
Pull the skin taunt as you remove the wax strip. This will help prevent lifting the skin and ease the pain a little too.
Use Arnica to reduce any bruising after treatment.
If you do burn your skin, hold a cold compress onto the area to help it heal.
The best products for maintaining bushy eyebrows at home
If make-up is a distant memory for you, this kit helps you create fluffy brows with no added colour.
SHOP NOW: Iconic London Brow Silk, £20
Benefit Grooming Tweezer & Brush, £17
Invest in a good pair of tweezers for painless plucking. The built-in brow brush is an added bonus.
SHOP NOW:Benefit Grooming Tweezer & Brush, £17
Tweezerman Brow Shaping Scissors & Brush, £22
Ultra thin blades make light work of snipping strays.
SHOP NOW: Tweezerman Brow Shaping Scissors & Brush, £22
Happy plucking!
Jess Beech is an experienced fashion and beauty editor, with more than eight years experience in the publishing industry. She has written for woman&home, GoodtoKnow, Now, Woman, Woman's Weekly, Woman's Own and Chat, and is a former Deputy Fashion & Beauty Editor at Future PLC. A beauty obsessive, Jess has tried everything from cryotherapy to chemical peels (minus the Samantha in Sex and The City-worthy redness) and interviewed experts including Jo Malone and Trinny Woodall.