The best makeup removers—our all-time fave buys to remove dirt and grease
The best makeup removers to help you say hello to better-looking skin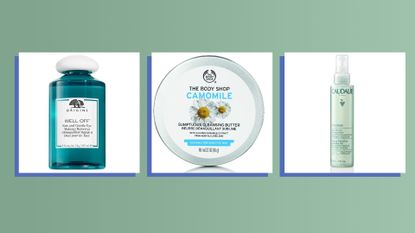 (Image credit: Future)
Feeling lost about the best makeup removers since the world decided wipes were a complete no-no? Or maybe you're not sure if you need to use a specific makeup remover as well as a facial cleanser? Well, whatever your conundrum is, we're here to clear things up—quite literally.
Whether you're a person who likes an easy makeup look so barely has anything on your skin most days, or you prefer to load on the best foundation you can afford and need something powerful to shift it, there's a makeup removal product out there for you. And yes those who need skincare for dry skin or skin barrier protecting products for sensitive complexions, we've got you covered too.
There is a makeup removing product and texture to suit everyone. From refreshing foaming washes to gentle creams and luxurious spa-like oils and balms. Once you've found the best makeup remover for your needs, shifting your makeup will stop being a pre-bed chore and feel like an enjoyable ritual. Here's everything you need to know to get your face perfectly clean but and well cared-for too.
The best makeup removers, as chosen by our experts
Why you can trust Woman & Home Our expert reviewers spend hours testing and comparing products and services so you can choose the best for you. Find out more about how we test.
1. Caudalie Cleansing Oil
The best makeup remover overall
Specifications
RRP: $28/£18
Key ingredients: Sweet almond oil, castor oil, grape seed oil and sunflower oil
Skin type: Sensitive, normal, combination
Reasons to buy
+
Doesn't sting your eyes
+
Removes makeup easily
+
Transforms into a milk
+
Can be used as a first and second cleanse
+
Isn't greasy
Want a product that easily removes makeup and can be used as both a first and second step to cleanse your skin? This is our ultimate find. Not only does it make our complexion feel soft and look glowy, but it's excellent at removing dirt and debris. Applied directly to dry skin, it breaks down eye makeup within seconds. Then once combined with water, the sumptuous oil transforms into a milky cleanser that leaves little-to-no residue on your face. Meaning you can use it to eradicate your base and then go back in with another coating to deeply cleanse your skin.
Plus, it's also fabulous for those who have sensitive eyes as the formula doesn't cause irritation, which some oils can do. To be honest, we were hard-pressed to find anything we don't like about this product, but at a push, we'd say it suits those who tend to wear a little less makeup. On the days when we wore a natural makeup look (the kind that requires more products than a statement one) we would either leave the cleanser on for longer or add in another cleanse and it got the job done.
2. Aurelia London Miracle Cleanser
The best luxury makeup remover
Specifications
RRP: $33/£22
Key ingredients : Baobab, kigelia africana, mongongo oil, probiotics, peptides
Skin type: All
Reasons to buy
+
Luxurious feeling and experience
+
Removes heavy makeup well
Reasons to avoid
-
Leaves a slight residue on the skin
Suited to those who have dry complexions and don't wear a lot of makeup, this delicate remover has a nourishing aromatic formula that you'll instantly fall in love with. It can eradicate most makeup or grime while caring for your skin at the same time. Once applied to dry skin, you massage the thick but non-sticky cream all over your face and then take a warm wet cloth and gently swipe the lotion, and dirt, away.
This is possibly not for people who wear a lot of budge-proof makeup as we struggled a little with how to remove waterproof mascara. But for daily use, it's perfect. It's gentle on your complexion, and the luxurious experience it creates means you'll never skip the process. The brand itself is famous for creating caring probiotic skincare. This particular complex works to protect the skin, leaving your complexion feeling soft, supple and looked after. It is excellent for aging skins as it doesn't strip away oils and instead works to support the skin barrier.
3. The Body Shop Camomile Cleansing Butter
The best budget makeup remover
Specifications
RRP : $6/£7.50
Key ingredients: Camomile
Skin type: Sensitive, normal, dry and combination
Reasons to buy
+
Melts into the skin
+
Quickly removes makeup
+
Can be used for a first and second cleanse
+
Suitable for contact lens wearers
Reasons to avoid
-
Can leave a slight residue behind
It was hard to just pick one star product from The Body Shop's Camomile makeup remover range because they're all great, and really which one you choose is entirely up to you and your lifestyle. We had to give this one a special mention because it's so darn good at breaking down makeup and face moisturizer with SPF, and it can be used all over the face, not just the eyes. Its quickness makes life a whole lot easier, especially when you just want to collapse into bed.
This is light enough to be used as a double cleanse and leaves your skin feeling so soft, clean and cared for. Once applied to your face it melts into the skin, transforming into a beautiful and gentle oil. You only need a tiny bit, which means it lasts a long old time and when used as a second cleanse it has enough slip to enable you to create a spa-like massage. Downsides? It is a little oily, so it might not suit spot-prone skins. But if that's you, we'd suggest using it as a makeup remover first and then going in afterward with a cleanser that leaves less residue behind.
4. La Roche Posay Make Up Removal Gel
The best makeup remover for redness
Specifications
RRP: $14.99/£12.50
Key ingredients: Thermal spring water, glycerin, ambophenol
Skin type: Sensitive
Reasons to buy
+
Alleviates redness
+
Cares for sensitive skin
+
Soothing and refreshing
+
Kind to eyes
+
No parabens or alcohol
Reasons to avoid
-
Struggles with heavy makeup
If the thought of taking your makeup off fills you with fear because your skin is likely to end up irritated, then you're using the wrong cleanser. Whether it's because of harsh weather conditions or your complexion is just a tad more sensitive than most, you need to seek out the best makeup remover to clean your skin without initiating a flare-up. There are lots of creamy, milky options you will get along with, but this cooling gel formula has been created to reduce redness, calm burning sensations and relieve sensitivity.
Containing a naturally derived ambophenal, an ingredient that helps neutralize long-term redness, it also contains soothing thermal spring water and glycerin to eradicate dirt while treating the skin simultaneously. Apply to a cotton pad and gently wipe over the face. No water is required. One thing to note is if you're wearing a lot of makeup, then you might want to combine it with a specific eye makeup remover as it takes a while to shift heavy grease and grime.
5. Elemis White Flowers Eye and Lip Make-Up Remover
The best eye makeup remover
Specifications
RRP: $34/£25
Key ingredients: White peony, vitamin B5, white tea extract
Skin type: Normal to sensitive
Reasons to buy
+
Great for sensitive eyes
+
Removes eye makeup quickly
+
Works on waterproof mascara
+
A little goes a long way
+
Not greasy
Reasons to avoid
-
Can't be used as a second cleanse
Need an eye makeup remover that dissolves mascara and doesn't sting your peepers? This is our ultimate go-to. Made to break down heavy eye and lip makeup looks, it contains a tiny amount of oil it works to melt away products without leaving the skin feeling greasy. Perfect for post-parties or before a swim.
Apply a tiny amount to a cotton pad, press over your lids or lips for a few seconds and then gently swish it away. There is no need to rub or clear up panda eyes, the formula grips on to grime so well that even the heaviest looks need one to two goes at most. The ingredients also help strengthen your lashes, and the addition of white tea helps cool tired eyes. It's also suitable for those who wear contact lenses and has been tested by an ophthalmologist. However it is not made to be used as a second cleanse on your whole face, you'll need another product for that.
6. Avene 3 in 1 Make-Up Remover
The best makeup remover for sensitive skin
Specifications
RRP: $20/£12
Key ingredients: Thermal spring water, triglycerides
Skin type: All, but mainly sensitive
Reasons to buy
+
Cares for sensitive skin
+
Anti-irritating
+
Good for winter
+
Supports the skin barrier
+
Can be used as a first and second step
Reasons to avoid
-
Takes a while to remove heavy eye makeup
If you want a makeup remover that you can trust to look after your skin while taking off the day, this light creamy cleanser will suit pretty much everyone who uses it. Entirely inoffensive, it glides onto the skin and soothes your complexion while gently breaking down dirt and grime.
Excellent for winter or for during pregnancy or menopause, when skin sometimes becomes more sensitive, it is clinically proven to soothe and reduce irritation. Once applied to the skin, it is removed via a pad needing to be rinsed away with water, which is another benefit. But what about heavy makeup? Well, we tried it after a big night out, and it did its best to break down mascara, but it wasn't an easy task. We ended up with a fair bit of product around our eyes and in between our lashes. If you like to whip your makeup off in a hurry, then we'd use another eye makeup remover first.
7. Q&A Rosehip Cleansing Oil
The best oil-based makeup remover
Specifications
RRP: $12/£10
Key ingredients: Rosehip oil, avocado oil, hemp seed oil, argan oil
Skin type: All
Reasons to buy
+
Brightens the skin
+
Quickly removes makeup
+
Caring formula
+
Supports a healthy skin barrier
Reasons to avoid
-
Leaves a slight residue behind
Firstly, can we comment on how affordable this product is? We found out the price after testing and couldn't believe it was so reasonable. It feels like a high-end product, melts off mascara (even waterproof versions) and the texture is so dreamy and light you don't feel like you're overloading your skin with product. If you haven't used rosehip on your skin before, then you'll be blown away by its natural brightening capabilities, but this formula uses a lot more than that to help care and clean your face. On the ingredients list, you'll find avocado oil, which is packed full of vitamins C, B1, B2 and D, and argan oil, which helps increase radiance and moisture.
Like most cleansing oils it is removed with a warm, damp cloth and as expected it leaves a slight residue behind, but it's light and shouldn't bother you at all. We actually liked the feeling as once we got into bed, we still had enough slip to give our face one last massage before sleep.
8. Garnier Micellar Milk
The best soothing micellar water
Specifications
RRP: $9.70/£6.99
Key ingredients: Glycerin, micellar water
Skin type: Sensitive and dry
Reasons to buy
+
Removes makeup well
+
Is suitable for sensitive complexions
Reasons to avoid
-
Leaves a light film
-
Needs a second cleanse
We love the best micellar waters for removing makeup. This one, a hybrid of a milky cleanser and micellar water, is brilliantly suited to dry or sensitive skin. It won't work as a second cleanse, but it is excellent at shifting makeup whilst being kind to your complexion.
The added benefit of the milky formula means your face feels less scrubbed at, and the grime just slides right off. It makes the removal process so effortless, and when paired with Garnier Micellar Reusable Makeup Remover Eco Pads the experience feels like a breeze. It does leave a light film on the face, but this can be removed easily when you cleanse the skin with your second step.
9. Origins Well Off Fast And Gentle Eye Makeup Remover
The best eye makeup remover for sensitive eyes
Specifications
RRP: $25/£19
Key ingredients: Rose damascena
Skin type: All, especially those with sensitive eyes
Reasons to buy
+
No greasy residue
+
Great for sensitive eyes
Reasons to avoid
-
You need another product to cleanse
-
Takes time to remove eye makeup
The biggest tip we can give to anyone using this product is to take your time. Patience will reward you. Quickly swiping this on and off won't give you the full benefits of its removing capabilities, and you'll end up looking like a panda. Trust us, it happened!
That said, it's only a matter of seconds that you have to wait before you scrub (we found 10-15 was the optimum amount) and then all you need to do is slide your cotton pad away and all eye makeup is removed. It doesn't sting your eyes and is suited to anyone who needs skincare for oily skin as there's no film or grease left behind. Plus, it's also ophthalmologically tested, so it will work for contact lens wearers too. And we know it's not all that important, but we really love the bottle. Seriously, why doesn't all our skincare look this swish?
10. Simple Kind to Skin Dual Effect Eye Makeup Remover
The best eye makeup remover for waterproof mascara
Specifications
RRP: $9.99/£3
Key ingredients: Vitamin B5, micellar cleansing water
Skin type: All, especially sensitive
Reasons to buy
+
Gentle
+
Refreshes the eye area
+
Works on waterproof mascara
+
Amazing value
Reasons to avoid
-
You need another product to cleanse
It comes as no surprise that this was already used and loved by many of our testers—it's an oldie and a serious goodie. It's also the perfect product to store in your beauty cabinet for when you need to remove a lot of makeup in a hurry. It is superior at breaking down stubborn mascara and even dissolves waterproof version, which is a mean feat for most removers.
It's incredibly kind to your face, and it doesn't sting eyes, create irritation, or dry out the skin. The formula contains complexion-caring Vitamin B5 and uses micellar water to grip on to dirt and grime. And once applied to a cotton pad and directed over the eye, you will find there's zero need for rubbing. A quick swish and your eye makeup is gone. Plus, have you seen the price? It's such a bargain! And, it's usually on offer, so well worth a try.
10. Face Halo Original Makeup Remover Pad
The best makeup removing pad
Specifications
RRP: $10/£7
Key ingredients:: n/a
Skin type: All
Reasons to buy
+
Good for the environment
+
Only uses water
+
Great alternative to wipes
Reasons to avoid
-
Heavy makeup takes a few swipes
-
Leaves a small amount of makeup behind
Miss makeup wipes? This innovative cleansing pad could be your saving grace. It can remove a good amount of dirt from your face with only a simple splash of water—no cleanser required. Yes we know, it doesn't sound possible, You could call it magic, which is what it feels like, but how exactly does it work? The brand says it's all down to their clever HaloTech fiber strands which draw out and trap makeup like a magnet. We were genuinely impressed, and shocked, by its effectiveness.
It works with cold or hot temperatures. Simply swipe it all over your complexion, no tugging required, and the makeup just slips off. It even works on eye makeup and stubborn mascara. However, we wouldn't say you could leave your face without a second cleanse as when we checked if everything had come off there was a little pigment left behind. But for a quick and easy way to eliminate your first layer of grime, it's great.
How to pick the best makeup removers for you
Before you buy and use your makeup-removing product, it's also worth considering your lifestyle. As skin expert and influencer Caroline Hirons says, "Do what you need to do to remove what you've done to your face". Meaning, if you wear a lot of makeup or live in a smoggy city you'll need to remove the dirt first and go in after with a second or double cleanse. If you're more likely to be at home all day with your best mascara still in the drawer then absolutely take it easy with one swipe—no lengthy removal required.
How to use makeup remover for the best results
If you were fond of a wipe before realizing that single-use wipes are a) not good for our skin, b) don't remove makeup very well, and c) are awful for the environment, you might be wondering how to wash your face now. Most people who liked the ease of having a pack of towelettes at their bedside have edged towards one of two camps.
The first have upgraded to soft muslin cloths or mitts and paired them with the best cleansers in balm, oil, or milky formulas.
The second has teamed cotton pads with makeup removers or micellar waters.
Both choices work to aid the breakdown of dirt, SPF and makeup on our faces, although they aren't bulletproof alone. "These products won't clean the skin completely, you'll need a second cleanse for that", says skin expert Michaella Bolder, "Your second cleanse is where you take off the last bits of makeup and dirt, which stops your pores from becoming clogged and spots forming. This step also helps with overall skin health and appearance. However, it's important to apply some common sense when it comes to cleansing, as you can overdo it and strip the skin barrier, removing important oils."
Types of makeup remover—a break down
Micellar water
Micellar water is a blend of water-based surfactants that work to draw out and remove surface-level grime and is always used as a first step, not a second cleanse. They are fast, easy, and generally suitable for those who have sensitive eyes and skin. Apply to a pad and then gently swipe upwards rather than down, as wiping down can cause you to rub the makeup around your face rather than off.
Makeup remover
Handy for those with sensitive eyes, these are for people who wear a lot of makeup and need to remove it before their second cleanse. If you've ever used a specific makeup remover and found your eyes became sore, sensitivity could be the fault of the formula, but you may have also rushed the process and rubbed away too soon or harshly. The longer you leave a soaked pad on your lids and lashes, the softer the removal will be. Try taking your time and see if that helps. It's also worth noting that most makeup removers don't have the same components that secondary cleansers have, so it's essential to use another wash for your skin afterward.
Cleansing oil and balm
Those who choose this option find it soothes both their mind and their skin, and yes, you do have to have a substantial supply of cloths in your locker, but it's worth it for the luxurious feeling you get. "As lovely as they are, some balms are a little clingy and tend to stick around on your skin, so you need to make sure you remove them properly", says Clinical Aesthetician Pamela Marshall of Mortar and Milk (opens in new tab). "Some lighter cleansing oils transform into a milky formula that leaves less residue. However, if your balm is quite thick and heavy, you might want to use a lighter creamy cleanse afterwards."
Cleansing creams
If the idea of cleaning your skin with a cream feels odd, think about your good old trusty bottle of CIF and how it's gentler on your household surfaces but still does the job. The same rule applies here. Cleansing creams look after your complexion as they clean it. "We have a belief system that we need tons of different cleansers, but a gentle milky cleanser is brilliant at removing makeup and debris and will suit pretty much every skin type," says Pamela. "They simplify your life and streamline your costings, as you can use them for both a first and second step".