Best retinol creams and serums for a youthful complexion
We bring you the best retinol creams and serums to buy now, as well as expert advice on this potent ingredient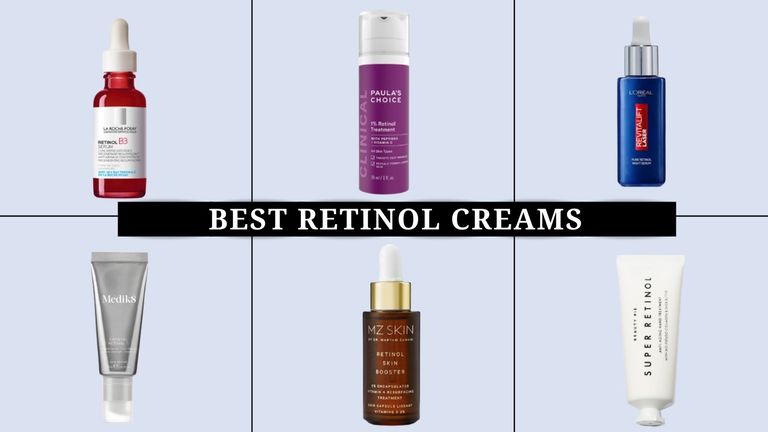 (Image credit: Future/La Roche Posay/Paula's Choice/L'Oreal/Medik8/MZ Skin/Beauty Pie)
Wish your skin could be firmer? Clearer? Brighter? Sounds like you're in the market for one of the best retinol creams.
Retinol is a hugely popular skincare ingredient, but one that's often shrouded in myth and miscommunication. So, what exactly is retinol?
"Retinol is a derivative of vitamin A, and one of the most widely researched and proven skincare ingredients available today," explains facial aesthetics expert and oculoplastic surgeon Dr. Maryam Zamani. "It is a powerhouse vitamin that promotes cell turnover, diminishing the appearance of fine lines, wrinkles, uneven skin tone and blemishes. It is also an important topical used in treating acne and decreasing sebum production."
How the best retinol creams work
As you might have already gathered, the best retinol creams are impressive and efficient multi-taskers. Retinol works in a number of different ways to improve the quality of your complexion, negating the need for even your best foundation.
To brighten and clear skin, it acts similarly to exfoliating skincare acids. "With age, skin's natural cell turnover decreases resulting in dull, uneven skin tone and rough skin texture," says Dr. Zamani. "Topical retinol creams help promote turnover of surface cells, which means dead skin cells are sloughed away faster, revealing visibly healthier and brighter skin. Similarly, this mechanism helps improve the appearance of blemishes by preventing dead skin cells from clogging pores."
To help plump and smooth sagging, crepey skin, "retinol reactivates our organic collagen production and simultaneously targets the enzymes that break it down," explains expert dermatologist Dr. Dennis Gross. "Thus, when delivered properly, retinol increases cellular turnover and treats premature signs of aging."
Due to the potency of vitamin A, it's not uncommon to experience some small-scale side effects. "Dryness, irritation, redness and sun sensitivity can occur when using a high concentration of retinol," advises Dr. Gross. "A tip to avoid sensitivity and irritation is to pair retinol with an all-physical SPF of 30-50. This is just another reason why regular SPF application is so important, as well as defending our skin from irritation, premature signs of aging, hyperpigmentation and skin cancer."
Retinol for skin: what does it do?
Yes, retinol creams really do work, and they have the studies to back them up. "Retinol is a good ingredient to incorporate into your routine because it is probably the most studied skin care ingredient, which we know delivers results backed by science," says GP and holistic aesthetics doctor Dr. Rabia Malik. "It is the first vitamin approved by the USA's Food and Drug Administration (FDA) as an 'anti-wrinkle' agent."
Whether you experience common side effects (redness and flaking) or see dramatic results will depend on the formulation of retinol you choose. It's worth taking time to consider the differences, in order to choose the best retinol cream for you. Here, Dr. Malik shares her classifications for vitamin A:
Tretinoin (all trans-retinoic acid) is the most bioactive form of topical vitamin A. It requires a prescription and is usually used to help manage acne and also some forms of pigmentation.
Retinol is the most frequently used form of vitamin A in cosmeceuticals because it is stable and usually well tolerated. However, it comes in different percentages and formulations, so I would recommend starting with a lower percentage and slowly building up.
Retinal is the oxidized form of retinol. It is stable and well tolerated but may not be as effective. Again, this depends on the concentration used and the formulation of the product.
Retinyl esters, such as retinyl palmitate and retinyl acetate, are commonly used in cosmeceuticals as they are very stable, but they need to be converted to retinol, and then into retinoic acid to be effective. So there is decreased effectiveness of anti-wrinkle properties compared with retinol and retinoic acid. *from Shelia M. O'Bryne and William S. Blaner on Retinol and Retinyl Esters.
Best retinol creams for all skin types
1. Medik8 Crystal Retinal 1
Best retinol cream for beginners
Specifications
RRP: $55/£39
Key ingredients : Retinol, hyaluronic acid, vitamin E
Reasons to buy
+Easy to use system+Gentle enough for beginners
Reasons to avoid
-The higher the strength, the more expensive it becomes
Nervous about incorporating retinol into your routine? Medik8 is a trusted, reputable brand with a fool-proof retinol system. Start off with their Crystal Retinal 1, a stable, gentle retinol cream that's suitable for even easily irked complexions. If you're happy with this and want to progress, then move up to the next strength for your next tube. Percentages span from 0.01%, through to a 0.2%, the latter of which is only available in clinic.
2. Skin + Me Personalized Skincare
Best retinol cream for acne
Specifications
RRP: $28/£19.99 per month
Key ingredients: Will depend on your skin's needs
Reasons to buy
+High strength ingredients+No need to physically visit the doctor
Reasons to avoid
-Not everyone will feel happy uploading images
Let us caveat this section by first saying that if your acne is severe, persistent and having an impact on your confidence, a visit to the GP is needed. They will be able to advise on the best course of action, prescribe medication and refer you to a dermatologist if needed. If you really can't make it to a doctor, Skin + Me is the next best thing. Upload your photo via the website, explaining your main skin concerns. One of Skin + Me's dermatology team will then design a personalized solution which is delivered to your door each month. You'll need to provide regular images so the prescribers can be sure the product is working. They do prescribe tretinoin, the most powerful form of retinol, but start you on a low dose to minimize the chance of side effects.
3. MZ Skin Retinol Skin Booster
Best retinol cream for wrinkles
Specifications
RRP: $156/£110
Key ingredients : Retinol, malic acid
Reasons to buy
+Leaves skin soft and plump+Lightens dark spots
Reasons to avoid
-High price tag
Almost eye-wateringly expensive? Yes. But does it work? Also yes. Dr. Zamani's Retinol Skin Booster has been clinically proven to reduce fine lines by 43% after 8 weeks. An impressive stat, and one that suddenly makes this serum seem like a much more reasonable investment, especially if you were previously considering going down the tweakment route. If that wasn't enough, it also boosts collagen production by 17%, and hydration by 18%, both within an 8-week period. Younger looking skin, here we come.
4. La Roche-Posay Retinol B3 Serum
Best retinol cream for sensitive skin
Specifications
RRP: $54/£38
Key ingredients : Retinol, vitamin B3, glycerin
Reasons to buy
+Suitable for sensitive skin +A little goes a long way
Reasons to avoid
-Have to wait longer to see results
If your skin finds heavy-duty ingredients difficult to tolerate, try a slow-release retinol. It works just as the name suggests, so instead of bombarding your skin in one go, it gently drip feeds it over a longer period of time. The results are not as immediate as they might be with punchier retinol products, but we all know that patience is a virtue. Vitamin B3 and glycerin help counteract any potential dryness by restoring the skin barrier and topping up hydration levels.
5. Paula's Choice 1% Retinol Treatment
Best retinol cream for hyperpigmentation
Specifications
RRP: $75/£53
Key ingredients : Retinol, peptides, liquorice root extract
Reasons to buy
+Impressive results +Helps keep breakouts and pigmentation at bay
Reasons to avoid
-Needs to be introduced very slowly
If your skin bug bear is hyperpigmentation, then retinol is an effective solution. By speeding up cell turnover, dark spots are reduced. Paula's Choice's 1% retinol is lightweight and a joy to use, absorbing quickly with no tingling. Retinol is supported by peptides for extra smoothing benefits, and licorice root extract to not only soothe skin but improve uneven tone too.
6. L'Oréal Revitalift Laser Pure Retinol Night Serum
Best retinol cream on a budget
Specifications
RRP: $35/£24.99
Key ingredients : Retinol, hyaluronic acid
Reasons to buy
+Really affordable+Nice texture
Reasons to avoid
-Can take skin a little while to adjust
Want to dip your toe into retinol without a hefty price commitment? We get it. L'Oréal's retinol serum rings in at a purse-friendly $35 (£24.99), and is formulated with a patent-pending, pure retinol. Both air and light can alter the effectiveness of retinol (which is why it's best applied at night) and L'Oréal have spent 22 years creating a stable formula that doesn't lose its efficacy as you use it. A clinical study of 103 women found a reduction in deep wrinkles for 77% of women.
7. Dr. Dennis Gross Ferulic + Retinol Eye Cream
Best retinol eye cream
Specifications
RRP: $96/£68
Key ingredients : Retinol, ferulic acid
Reasons to buy
+Makes light work of dark circles+Rich texture
Reasons to avoid
-Expensive
Retinol has long been considered too potent to use on the delicate skin around our eyes, but it's all dependent on the formula. This rich cream has been created especially to target crows feet, dark circles and crepiness beneath the eyes, for a brighter-wide-awake look. It's powered by retinol as well as ferulic acid, a potent antioxidant. There's evening primrose oil in this little tub too, helping to repair the skin barrier.
8. Beauty Pie Super Retinol Anti-Aging Hand Cream
Best retinol hand cream
Specifications
RRP: $11 for members, $57 for non-members/£7.84 for members, £40 for non-members
Key ingredients : Retinol, psuedo-collagen, shea butter
Reasons to buy
+Targeted treatment+Really nourishing
Reasons to avoid
-Need to be a member to get the best prices
Why should your face get all the good stuff? Hands can quickly develop age spots and wrinkles, owing to the fact that they're always on show, and sun cream tends to get washed off them pretty quickly. Enter this overnight treatment. It uses a gentle, micro-encapsulated retinol to blur pigmentation and reduce the appearance of fine lines. It's deeply moisturizing too, which will help to soften any rough patches and soothe redness caused by hand sanitizer.
9. SkinCeuticals Tripeptide-R Neck Repair
Best retinol cream for neck
Specifications
RRP: $155/£110
Key ingredients : Retinol, peptides
Reasons to buy
+Formulated especially for the neck+High-tech ingredients
Reasons to avoid
-High price tag
The neck is often left out of both body and skincare, meaning it takes the brunt of visible ageing. This sagging skin is the perfect candidate for retinol, and, although you could take your normal retinol down to your neck and chest, a targeted cream is a worthwhile investment. Skinceuticals have formulated this with a slightly lower dose than they would for the face, using 0.2% pure encapsulated retinol that is released steadily into the skin. It is gentle enough for everyday use, but we'd still recommend starting slow and building your tolerance week by week.
10. Liz Earle Superskin Alt-Retinol Skin Paste
Best retinol alternative
Specifications
RRP: £38
Key ingredients: Bidens pilosa, kigelia fruit extract, shea butter
Reasons to buy
+Suitable for sensitive skin+Leaves skin really soft
Reasons to avoid
-Results not as dramatic as with true retinol
Still uncertain about whether or not retinol is for you? Liz Earle have formulated an alternative, with impressive results and even less risk of redness or flaking. It relies on two ingredients. A skin-plumping plant extract called Kigelia sourced in Zimbabwe, and Bidens pilosa, another plant extract which works to smooth fine lines and wrinkles. This isn't retinol, so you have to manage expectations slightly when it comes to the results. However, from a user trial of 63 women who have tried a retinol before, 90% agreed this gave them all the benefits they'd expect from retinol without the irritation.
woman&home thanks Dr. Maryam Zamani of MZ Skin, Dr. Dennis Gross of Dr. Dennis Gross Skincare, and Dr. Rabia Malik of Skin W1 for their time and expertise.
Jess Beech is an experienced fashion and beauty editor, with more than eight years experience in the publishing industry. She has written for woman&home, GoodtoKnow, Now, Woman, Woman's Weekly, Woman's Own and Chat, and is currently Deputy Fashion & Beauty Editor at Future PLC.
She caught the magazine bug during a stint as Fashion Editor of her university newspaper alongside her English degree, and hasn't looked back since. As for the fashion bug, that came as part and parcel of growing up in the 90s, but the less said about that the better!
Jess' average day in the office is spent researching the latest fashion trends, chatting to industry tastemakers and scouring the internet to bring you this season's must-buy pieces - as well as advice on how to wear them. Weekends are equally fashion-focused, and Jess has been known to visit no less than five Zara stores in a single day in search of the perfect occasion dress.
The only thing that comes close to a buzz of finally tracking down that much-coveted dress is the joy of discovering a new beauty wonder product or hero ingredient. A beauty obsessive, Jess has tried everything from cryotherapy to chemical peels (minus the Samantha in Sex and The City-worthy redness) and interviewed experts including Jo Malone and Trinny Woodall.