How to use retinol for amazing skin benefits without irritation
Don't be scared! Learning how to use retinol is one the smartest tricks in the skincare book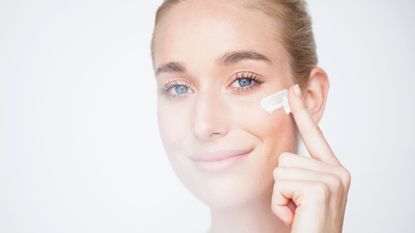 (Image credit: Getty Images)
woman&home newsletter
Sign up to our free daily email for the latest royal and entertainment news, interesting opinion, expert advice on styling and beauty trends, and no-nonsense guides to the health and wellness questions you want answered.
Thank you for signing up to . You will receive a verification email shortly.
There was a problem. Please refresh the page and try again.
Learning how to use retinol properly is like giving your skin a fabulous gift, one that will repay you tenfold in years to come. Retinol is the gold standard skincare active ingredient and the darling of the dermatology world with very good reason—in a beauty market that so often over-promises and under-delivers, this stuff really works. In fact, it works on just about every aspect of the way your skin looks and feels, and has been consistently proven to do so for decades.
Of course, there's no such thing as a miracle product, and if you've ever tried retinol you'll know even the best retinol creams should be incorporated into your skincare routine with one eye firmly on the rules. Unlike your favorite moisturizer or best eye cream, reactions are not only likely when using retinol, but they are almost guaranteed. Also, retinol isn't exactly easygoing in terms of the hows and whens. It needs to be introduced in a specific way, applied at a certain time of day, combined with particular products, and followed up with careful lifestyle choices.
Still, all that effort doesn't stop just about every skincare expert and dermatologist including retinol in their routine in one way or another, because the results are truly worth it. Read these skincare tips, play by a few simple rules and we'd argue it should absolutely be in yours too.
How to use retinol for beginners: What is retinol?
Retinols are the over-the-counter version of retinoids, which are vitamin A derivatives. According to Dr. Nazanin Saedi, a board-certified dermatologist, "the big umbrella term is retinoid, then retinol, and [other] retinoids fall under that." There are two sources of vitamin A, which are plants and animals. Carotenoids are where beta-carotene comes from, and retinoids come from animal protein. They both convert to vitamin A in the body.
Retinols are the ingredient of choice for skincare and acne control products as they increase collagen production and stimulate the growth of new blood vessels in the skin. Most users see improved skin color, fading age spots, and softened rough patches. A little patience is required, though, since results can take from six to 12 months.
Retinol benefits
Retinol was first used to treat and heal severe acne conditions, but it was later discovered that retinol was also a powerful anti-aging ingredient that could dramatically improve overall skin conditions when used in the right formulas. Retinols absorb deep into the skin, past the outer epidermis to the middle layer, the dermis, where it demolishes the free radicals that can make your skin look dull and dry. Without free radicals wreaking havoc in your skin, retinol helps promote younger, more youthful skin.
The most common benefits of retinol are:
Increased production of elastin and collagen: Retinol creates a plumped-up effect that minimizes signs of aging.
Promotes cell turnover in your skin: Dr. David Lortscher, board-certified dermatologist and founder of Curology, says that "cell turnover is the continuous process of shedding dead skin cells and subsequently replacing them with younger cells."
Pore refining: Retinol helps unclog pores, reducing the amount of dirt and oil that builds up and causes breakouts. It also reduces acne scarring.
What are the side effects of retinol?
As with any chemical compound, there are possible side effects. Retinol makes your skin more sensitive to the sun, and you're a lot more likely to get a sunburn if you're using retinol without good sunscreen or proper sun protection. It's normal for your skin to feel stretched, tight, and dry, though.
Some side effects require the attention of a medical professional to determine any severe impact that retinol is causing on your skin. Consult with your doctor if you experience any of the following:
Burning, redness, and irritation
Flaking or peeling skin
Increased skin sensitivity
How to use retinol—everything you need to know
When to start using retinol
Due to its powerful texture-improving properties, retinol is generally associated with mature skin and many people begin using it in their 40s. However, you don't need to wait till that age to get started with this powerhouse active. As long as you introduce it slowly and carefully, some skin types can benefit from using retinol almost as soon as they begin using skincare products.
Many people who begin their retinol journey early do so because of this ingredient's ability to speed up skin cell turnover. This boosts natural exfoliation and shedding, which has knock-on benefits for skin congestion and acne. In fact, dermatologists often prescribe strong retinoids such as Accutane and Retin-A to patients in their teens and twenties as a treatment for severe acne. For mild to moderate breakouts, over the counter retinol products can also be very effective for gradual improvements without the side effects.
If you don't have acne and want to start using retinol for it's many other skincare benefits, it's not a bad idea to get going with low dosage retinol from the mid twenties onwards. That's not to say you can't kick start your retinol journey in your 30s, 40s, 50s and beyond. Due to its powerful reparative qualities, it's never too late to get started with retinol and begin to enjoy the benefits.
Types of retinol explained
Retinol, or retinoids, as these vitamin A derivatives are technically known, were originally prescribed as a topical acne treatment, but doctors soon discovered that they work on nearly every other common skin concern too.
"Retinoids encourage collagen production and cell renewal, so they improve skin elasticity, firmness and fine lines," says Dr. Stefanie Williams, dermatologist and Eudelo Clinic founder. "They help reduce pigmentation and refine skin texture, repair sun damage, regulate overproduction of oil thus reducing breakouts, and improve the appearance of pores."
It's true there's no action without reaction and retinol is action-packed. Once retinol converts into retinoic acid in your skin and gets to work, dryness, sensitivity, redness and flaking are all possible side effects, so pick a formula with care.
Pure retinol: Pure retinol is the gold standard over-the-counter retinoid and is mid-level strength. Look out for it in your skincare products and you'll be onto a winner. It's powerful and comes in concentrations up to 1% without prescription. If you're new to retinol, start at 0.5% max.
Retinol esters: If you're sensitive or rosacea-prone, look for formulas that contain esters like retinyl palmitate, acetate, or linoleate. These go through more conversions in your skin to become retinoic acid, diluting both unwanted reactions but also the speed of any results. Retinyl palmitate is also the weakest of the retinoids and is what you'll find in a basic drugstore-brand anti-aging cream.
Adapalene: Adapalene is the strongest retinol you can get without a prescription. It's only recently been made available OTC and is popular for treating acne.
Prescription retinoids: Wondering what the difference is between retinol vs tretinoin? If you have severely sun-damaged skin or acne, try prescription-only tretinoin or Retin-A, which is retinoic acid that is ready and available for your skin to use. Both ingredients go harder, faster and stronger on the results front, often with visible irritation into the bargain.


How to use retinol without irritation
Wondering how often should you use retinol? Even mild over-the-counter retinol is powerful stuff, so dermatologists recommend starting slowly with your retinol regimen. Consistency is the key to gorgeous, fresh skin, but it takes time. Apply it at night, before bed, before your moisturizer. Start once a week for the first week, twice the second week, and ultimately every other night after that.
Dermatologist Dr. Julia Carroll recommends going slowly. "My first tip is to try the 'low and slow' approach," says Dr. Carroll. "Start with a very small, pea-sized amount on one night, and then wait a few days to evaluate your tolerance." If you have what's called tough skin in the dermo world, you can use it every night, but these skin types are not common.
Retinol makes your skin more sensitive to sunlight, so only use it at night before bed. Continue with your regular skincare routine in the morning, but be sure to include sunscreen with a minimum of SPF 50.
"The key is to start slow," agrees Dr. Jana Vogt, aesthetic surgeon at Mallucci London. "Begin using it two to three times a week. Increase gradually until your skin tolerates it every night without reacting." It's fine to have a break and start again if you need to. While irritation and minor reactions are par for the course, your face should not be painfully hot, cracking or screaming at you to stop in some other way.
You might also like
Apply your retinol product straight after cleansing so it penetrates unhindered. A pea-sized amount will do your face, chest and neck, and the backs of hands too. Old-school rules recommend not using retinol around the eyes, but experts now say it works wonders, as long as it's tolerated by your skin. Wait around 10 minutes before applying any other skincare products. Many users like to follow retinol with calming and hydrating products to counteract any irritation or flaking.
As with any active, retinol plays more nicely with some ingredients than others. "If you use an antioxidant like ferulic acid, it makes retinol even more effective," says Dr. Vogt. "I'd advise to not use acne treatments like salicylic acid or benzoyl peroxide at the same time, as the effect could be too drying for the skin." For supercharged effects, try using low percentages of skincare acids like glycolic between retinol days to help shift any flakes and boost radiance. As retinol increases cell turnover and pushes fresh skin up to the surface it is crucial to wear sunscreen or at the very least face moisturizer with SPF to protect those peachy baby cells.
How to pick a good retinol product
Unsurprisingly, with these kind of results, every brand wants a piece of the pie, creating a non-stop flow of product innovation on the market. Naturally, not all of these are as considered and effective as you would hope, so it pays to bear a few retinol rules front of mind when picking your product.
As well as paying attention to the type of retinoid included, consider texture and the packaging. Well-formulated retinol is rarely cheap or attractive, it usually has a chemical smell and ranges from sour milk to straw in color. The active bit is broken down by light and oxygen so only buy UV-protective packaging; tubes and tinted droppers are great, airless pumps are even better. Avoid clear jars or anything that repeatedly exposes the product to UV or oxygen in order to get maximum bang for your buck.
Failsafe retinol products
---
---
---
How long does retinol take to work?
None of the above is a quick fix, as that just isn't retinol's style. You might notice some improvements after a month, but for most of us, visible improvements will start to appear at around the 12-week mark. Go slow and steady with this advice and these smart formulas—the rewards are worth persevering for.
woman&home thanks Dr. Nazanin Saedi (opens in new tab), Dr. David Lortscher of Curology (opens in new tab), Dr. Stefanie Williams (opens in new tab) of Eudelo Skin Clinic (opens in new tab), Dr. Julia Carroll (opens in new tab), and Dr. Jana Vogt (opens in new tab) for their time and expertise.
Beauty Editor, womanandhome.com
As woman&home's Beauty Channel Editor, Fiona Mckim has tried more products than she's had hot dinners and nothing makes her happier than raving about brilliant finds on womanandhome.com or her instagram grid (@fionamckim if you like hair experiments and cute shih-tzus). Fiona joined woman&home as Assistant Beauty Editor in 2013 under industry legend Jo GB, who taught her everything she needed to know (learn about ingredients and employ extreme cynicism). She has since covered every corner of the industry, from interviewing dermatologists and celebrities to reporting backstage at Fashion Week and judging the w&h Beauty Awards.