5 skincare acids you need to know
If you're interested beauty, you've probably heard that skincare acids are some of the most highly regarded active ingredients around.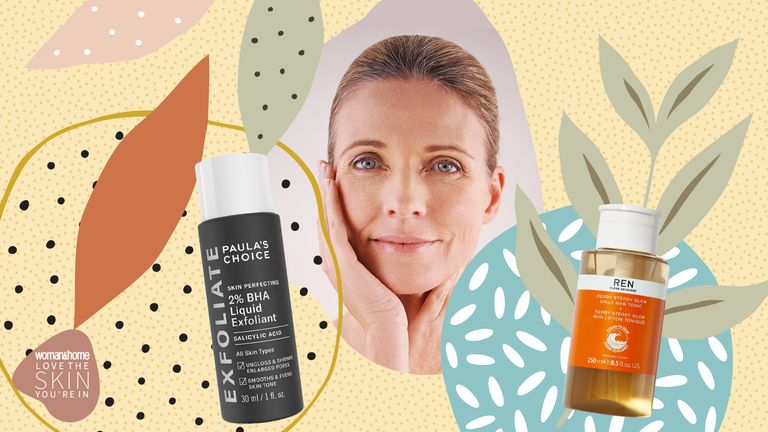 (Image credit: Future)
Regular users of skincare acid products will know they come in many forms. This can include exfoliating toners to peel pads, masks, mists and serums. Generally acids are used to exfoliate the skin, and depending on the acid they can also offer any number of other benefits from pore-clearing to brightening up pigmentation and hydration.
With countless types of skincare acid available (some of which aren't actually even acids, confusingly enough) each one with its own potency levels and effects on the skin, it can get confusing.
That's why we've decided to consulted the experts. And they don't come more expert than Dr Ifeoma Ejikeme, an aesthetic doctor, Medical Director of the award-winning Adonia Clinic and honorary guest lecturer on aesthetic medicine at Queen Mary University. In short, Dr Ejikeme really knows her stuff when it comes to the skin.
Read on to discover the five skincare acids worth knowing, the skin type they work best on and how you should use them. Plus, we reveal our top product pick for each variety, so you can get the most out of acids in your skincare routine.
Which skincare acids should I be using? Dr Ejikeme explains:
Salicylic Acid: For oily and acne-prone skin
"This is made from the same family as aspirin. It exfoliates and reduces excess oil in the skin, helping to reduce acne breakouts.
"Look for products with 2% strength and add to your evening skin regime when cleansing."
Our product pick: Paula's Choice 2% BHA Liquid Exfoliant
Glycolic Acid: For all skin types
"Coming from sugar cane, this is a really small molecule that penetrates into the skin, exfoliating and brightening.
"It is strong, so only use once a week as an exfoliator on the face with a product at 10% strength. It should also not be used long term, so take a break after a couple of months."
Our product pick: Boots Ingredients Glycolic Acid Toner
Lactic Acid: For dry skin and rosacea
"Coming from cow's milk, lactic acid is unusual in that it exfoliates but also hydrates the skin, by pulling water into the skin."
Our product pick: REN Ready Steady Glow Daily AHA Tonic
Mandelic Acid: Great for darker skin
"Glycolic acid is great for skin types 1-3 (very fair to medium-fair with golden undertones) but Mandelic acid is better for darker skin, yet is often overlooked.
"Made from almonds, the modules are larger which makes it good for brightening darker skin types without causing pigmentation."
Our product pick: Garden of Wisdom Mandelic Acid 10% serum
SHOP NOW: Garden of Wisdom Mandelic Acid 10% serum, £10, Victoria Health
Hyaluronic Acid: Not an acid
"This is not an active acid like the others above.
"It is a molecule found naturally in the skin. It acts like a sponge, holding a thousand times itself in water making it a great product to add into your skincare regime after cleansing and before putting on your moisturiser or other daily serums."
Our product pick: Vichy Mineral 89 Hyaluronic Acid Hydration Booster
Are acid peels god for your skin?
"Get expert advice," says Dr Ejikeme. "With clinics currently closed, there has been an increase in consumers buying at home skin peels that all contain different amounts of the acids above.
"Before applying these peels, it is best to seek medical advice from a skin specialist to ensure you are using the right peels for your skin type. Adonia Medical Clinic are currently offering virtual consultations to help people find the best acids for their skin and to apply them safely."
Feeling inspired to start using skincare acids? Read up on how you can incorporate acids into your night skin care routine, the best hyaluronic acid products to hydrate and plump your skin and discover the skincare ingredients you should never mix together.
As ever when using active ingredients that exfoliate the skin, there is one crucial point you must remember: After any acid treatment always wear a good broad-spectrum facial SPF to protect that lovely fresh skin you have just revealed.
Get ready for the best skin of your life...
As woman&home's Senior Beauty Editor, Fiona Mckim has tried more beauty products than she's had hot dinners and nothing makes her happier than raving about a brilliant beauty find on womanandhome.com or her instagram grid (@fionamckim if you like hair dye experiments and cute shih-tzus)

Fiona joined woman&home as Assistant Beauty Editor in 2013, working under legend Jo GB, who taught her everything she needed to know about the industry (clue: learn about ingredients and employ extreme cynicism).
In a previous life, Fiona studied journalism back home in bonnie Scotland and honed her skills as a features writer at publications including Junior and Prima Baby, with a brief and terrifying stint on the showbiz gossip pages of a tabloid newspaper in between. She's a skincare fanatic who can't resist adding an extra step to her routine if it's all the rage in Japan, loves fragrance, has fun with makeup and never turns down the chance to test a new hair tool. Basically, she loves it all.

When not slathering herself in self tan or squinting at a tiny ingredients list on a moisturiser, you'll probably find Fiona enjoying something to do with food - cooking it, eating it, cajoling her friends into trekking across London to try a hyped pop-up in a dirty car park.
Come to think of it, the hot dinners and beauty products are probably about even.