Is PHA skincare the key to exfoliating sensitive skin? We investigate the trending glow-giver
Experts explain PHA skincare's benefits, uses, and how to use this ingredient in your routine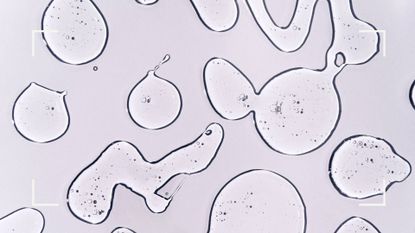 (Image credit: Getty Images)
woman&home newsletter
Sign up to our free daily email for the latest royal and entertainment news, interesting opinion, expert advice on styling and beauty trends, and no-nonsense guides to the health and wellness questions you want answered.
Thank you for signing up to . You will receive a verification email shortly.
There was a problem. Please refresh the page and try again.
PHA skincare promises exfoliation without irritation, which sounds pretty dreamy, right? This ingredient is surging in popularity – but is it right for your complexion?
Skincare acids such as PHAs are known to make some of the best facial exfoliators, which leave your skin looking brighter and clearer. When you drill down to the fine details of acids, you'd be forgiven for being confused by the jargony-sounding code names. What's a beta hydroxy acid? How do AHAs vs BHAs compare? When exactly should you use salicylic acid? And now there's a new one to incorporate?
Well, PHAs aren't new, but they've historically been the slightly lesser-known member of the exfoliating acid family. That doesn't mean this ingredient is not worth a space in your skincare routine – in fact, it could be the key to a gentler, friendlier exfoliation. Let's get into the details.
What is PHA skincare? Experts explain
What are PHAs?
You've likely heard of AHAs and BHAs, but what are PHAs? Doctor of dermo-pharmacology Dr. Colette Haydon (opens in new tab) explains. "PHA stands for Poly Hydroxy Acid," she says. "They are chemical exfoliants like AHA's and are also excellent antioxidants."
How do they compare to the others in the exfoliating acid family? Dr Haydon says, "They are a bigger molecule than a BHA or AHA, so they don't sink in as deeply into the layers of the skin. This means they're more gentle, but can take longer to give results, especially if you're used to stronger acids."
What are the effects of PHA on skin?
Dermatologist and registered general nurse Emma Coleman (opens in new tab) explains, "PHAs are exfoliants, so they remove dead skin cells from the surface of the skin," she says. This can yield skin smoothing results, but will also help your complexion look brighter and clearer. "They also allow other skincare ingredients to penetrate a little more deeply as well as stimulate repair and growth of new skin cells", says Coleman.
PHA skincare can also really come into its own in a skincare routine for acne - gently banishing excess oils, but without drying out your skin too severely, which is a common issue with a lot of blemish treatments.
Is PHA better than AHA?
This depends on what you mean by 'better'. AHAs like glycolic acid are more effective exfoliants – they're more efficient by sinking deeper into skin cells, but than come at the cost of irritation or stinging after use. PHAs, however, are gentler, which could be classed as better for you, especially if you have sensitive skin.
Coleman champions PHAs over other exfoliants for a skincare routine for sensitive skin. "PHAs don't penetrate as deeply, therefore they tend to cause less irritation - this makes them perfect for those with sensitive or dry skin," she says.
There's certainly a spot for both acids in your routine, PHA skincare could be your go-to for regular exfoliation, but then you could up the ante with AHAs and BHAs when your skin is in need of a more intensive slough.
Is it ok to use PHA every day?
You can if your skin's content with it, yes. "Because they're gentler on the skin than AHAs and BHAs, PHAs can be used every day but as with most acids, it's safest to start off gradually," Coleman advises. "Try a couple of times per week at first, and then build up from there." PHAs are available in lots of different skincare products, from cleansers to moisturizers, but Coleman says the best way to use the ingredient is in a serum or toner.
The answer to how often should you exfoliate your face is dependent on your skin type, but most experts advise between two to three times a week. No complexion really needs daily exfoliation unless it's dramatically oily, in which case the BHA, salicylic acid, might be your best bet. Start slowly, as Coleman advises, and then build up to a couple of times a week. If you're not seeing any difference, PHAs may be too gentle for your skin, so swap to an AHA or BHA.
What are examples of PHA skincare?
If you want to seek out specific examples of PHAs in your products, Coleman advises looking for:
Gluconolactone
Falactose
Actobionic
Or, if you're curious to try PHA skincare for yourself without scouring tiny ingredient lists, these are our senior beauty editor, Rhiannon Derbyshire's go-to suggestions.
Our Beauty Editor recommends...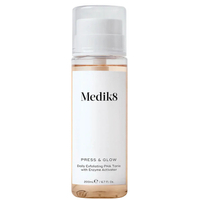 (opens in new tab)
Medik8 Press and Glow Tonic | RRP: $36.50/£28
This is a great entry-level exfoliant that I've recommended endlessly. It blends PHAs with hydrating aloe vera and prickly pear extract for a smoothing effect that's still soothing. I also love the press-down applicator that perfectly fits a cotton pad, which is incredibly pleasing.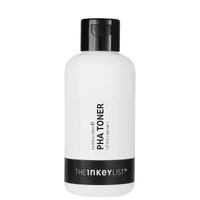 (opens in new tab)
The Inkey List PHA Toner | RRP: $12.99/£12.99
This straightforward toner is a great way of trying out PHA skincare without having to blow your budget. It blends 3% PHA with 3% niacinamide, to give skin a gentle buff while toning down any redness. Apply to a cotton pad and sweep over the skin after cleansing.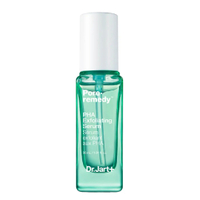 (opens in new tab)
Dr Jart+ Pore Remedy PHA Exfoliating Serum | RRP: $45/£35
I'm a huge fan of Dr Jart's range (the ceramide range is a particular favorite), and this serum is a real hero. It's a great way of keeping blemishes at bay, without leaving your skin thirsty and sore. I start using it whenever I get that spidey sense a spot is about to make an appearance – it works every time.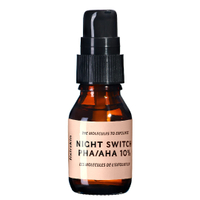 (opens in new tab)
lixirskin Night Switch PHA/AHA | RRP: $31/£24
Lixirskin has a BHA/AHA version of their bestselling night serum, but their PHA is a better option for sensitive skin. It's designed to be swapped to a retinoid (also in the Night Switch range), to help your skin cells regenerate more efficiently, keeping it working so it doesn't get too used to one system. Smart.
What ingredients should you not use with PHA?
You're right to be wary of layering clashing ingredients after exfoliating. According to Coleman, "Although PHAs are a very forgiving ingredient, combining them with AHAs, retinoids, and BHAs will be harsher to the skin and so potentially cause irritation."
We'd agree – combining too many ingredients is a surefire way to harm your skin barrier and leave your skin sensitive, sore, and blemished. Save all forms of exfoliation, including your PHA skincare for your evenings off retinoids, Vitamin C, and any other actives.
Rhiannon Derbyshire is the Senior Beauty Editor for Woman & Home and other publications.
She started interning for glossy magazines while working alongside her Fashion Journalism degree. There, she was lured to the beauty desk, seduced by matte lipsticks, posh shampoos, and every skincare product imaginable. 10+ years into her career, she can confidently tell you why the best mascaras are always high street, and why SPF is a non-negotiable all year round. Ask her about her curly hair routine, skincare minimalism, and how to find the exact right red lipstick