Here are the skincare ingredients that you should never mix together
Follow these golden rules and you won't go wrong.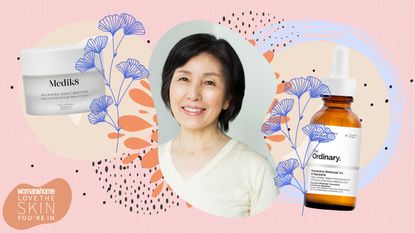 (Image credit: Future)
woman&home newsletter
Sign up to our free daily email for the latest royal and entertainment news, interesting opinion, expert advice on styling and beauty trends, and no-nonsense guides to the health and wellness questions you want answered.
Thank you for signing up to . You will receive a verification email shortly.
There was a problem. Please refresh the page and try again.
With beauty brands offering more active ingredients in skincare than ever before, we're all becoming our own at-home beauty mixologists.
But, without a chemistry degree or dermatologist-approved skincare routine (or night time skincare routine!), do you really know which skincare ingredients you should never combine? Especially when brands like No7 and The Ordinary have such broad ranges to mix and match.
From acids to retinols, here are the reasons it pays to know which skincare ingredients you should and should not mix.
How do I know if I'm mixing the wrong skincare ingredients?
Generally speaking, combinations of skincare ingredients you should never mix fall into two categories:
There are the ones that neutralise each other, making them less effective.
Then there are the ones that are too potent together, likely to overstimulate your skin and cause irritation.
The second combination is easier to spot—if you've started combining new products and your skin is red, tight, flaky or feels sunburn-like, you have probably aggravated it in some way. It's far less obvious if the products you are applying aren't doing their job effectively, as most active skincare like retinol and Vitamin C serums are very much a long game anyway.
That's why it pays to arm yourself with some expert knowledge to ensure those pricy creams and serums in your skincare regimen aren't going to waste.
Types of active skincare ingredients
There are as many skincare ingredients out there as there are faces to be slathered in them, but active ingredients tend to fall into three categories:
Ones that protect your skin
Ones that replenish it
Ones that renew it
A good skincare routine will include a mixture of these three types of skincare ingredients, e.g, protect with antioxidants, replenish with hyaluronic acid, renew with retinol.
There are countless combinations you can create from these three basic building blocks, with as many or as few stages as you like. For example, you can happily include several forms of each element to reach a full 10-step Korean skincare routine utopia. Equally, you can keep things really simple with one of each and still have a solid routine. The most important thing is using the right products for your skin and ensuring that nothing you apply is going to behave badly when mixed.
Which is where we come in! Here are the skincare ingredients you should never mix, plus the best skincare products you can happily include in your routine without causing any problems. Happy mixing!
The "base" of your product impacts what it can mix with
One simple consideration, to begin with, is the baseline, or carrier liquid of your products. "Basic science but oil and water do not mix,' explains By Lisa de-la-Plain, Professional Beauty Therapist and Co-founder of Beauty Flash."In fact, oil repels water, so when it comes to your skincare, using an oil-based product will leave a film on your skin which prevents water-based formulas from absorbing."
"Skin can be dry or it can be dehydrated and treatment for these two issues are different from one another. Dry skin lacks sebum oil, so it requires oil-based products to calm. Likewise, dehydrated skin is gasping for water to quench its thirst. Make sure you check the label on purchase so you know you're not going to miss out on the benefits the product can offer."
Can you mix Vitamin C + Acids in your skin care routine?
This combination isn't an absolute no-no but you need to be careful. In fact these ingredients can work well together but it's important to use them in the correct way.
Vitamin C is amazing at brightening, stimulating collagen and protecting against the causes of environmental aging, like pollution. "Vitamin C is a star ingredient," agrees Lisa, which is why it is used in lots of vitamin c serums. "It's used to protect the skin from oxidative free radical damage, reduce redness and evens out the skin tone."
"As it's effectively an acid, avoid mixing vitamin C with AHA/BHA acids such as glycolic or lactic acids. Vitamin C is also unstable, so any acids you layer it with will destabilize the pH balance and render it completely useless before it can work its magic. Vitamin C responds well to being mixed with other antioxidants, and Dermalogica Age Smart BioLumin C Serum combines two to use the skin's own defences to brighten and firm."
Most people who want to use both acids and Vitamin C together get around this problem by using them at different times. Vitamin C is a great morning product as it helps ward off environmental damage during the day, then use your alpha or beta hydroxy acid in the evening to make the most of overnight cell renewal.
What are the pros of mixing Vitamin C and Acids?
Vitamin C is a great protective ingredient, while acids renew the skin
Used carefully, they can be combined for powerful skin brightening
What are the cons of mixing Vitamin C and Acids?
Both have a low acidic PH, which can dry the skin out
Vitamin C can be irritating in high doses and this combination can exacerbate sensitivity
Our favourite products
---
---
---
Can you mix Exfoliators + Skin Brightening Treatments in your skin care routine?
Whether you use an acid toning lotion, peel mask or grainy scrub, exfoliators work by encouraging dry and dead skin cells to be removed—so that your brand new, baby soft skin can shine through. Despite marketing themselves slightly differently, brightening or pigmentation targeting products often contain some form of exfoliating ingredient, usually acids like lactic or glycolic.
"Alpha hydroxy acids (AHAs) are a great way to get healthy-looking skin, as they exfoliate the outer skin surface layers", agrees Consultant Dermatologist, Dr Nick Lowe. But while exfoliation is crucial for healthy skin, a double dose of exfoliation can strip your protective skin barrier layer, leading to sensitivity and dryness so always read the label of any treatments you're using to ensure you don't double up.
What are the pros of mixing exfoliators and skin brightening treatments?
If the brightening treatment doesn't contain exfoliating acids, go right ahead!
Brightening ingredients that play well with acid exfoliators are niacinamide and tranexamic acid
What are the cons of mixing exfoliators and skin brightening treatments?
Brightening treatments often contain exfoliating acids like glycolic and lactic
Double exfoliation can cause sensitivity, and weaken our protective barrier
Our favourite products
---
---
Can you mix Retinol + Acne Treatments in your skin care routine?
Retinols are incredibly effective on so many aspects of how your skin looks. "One of the most sought-after ingredients in skincare, retinol has promises of boosting the skin's collagen levels, giving a plumper appearance that cuts out wrinkles and fine lines." agrees Lisa Lisa de-la-Plain, Co-founder and Professional Beauty Therapist at Beauty Flash. "The only catch, it can be extremely irritating and exacerbate skin dryness and other ingredients can promote this, such as AHA/BHA acids."
"I would also recommend not using benzoyl peroxide as well as retinol as they cancel each other out rendering them less effective. With retinol, you should make sure you're using moisturizing ingredients like hyaluronic acid, which can be found in Medik8's Advanced Night Restore. It's specifically designed to be used after using retinol to moisturize the skin. It's also worth noting retinol can make you extra sensitive to the sun, so it's vital you wear SPF every day when using this ingredient.
What are the pros of mixing retinol and acne treatments?
Gentler skin-clearing ingredients can work well in tendem with retinol
Look for PHA acids, which gently exfoliate and have humectant qualities so draw moisture into the skin
What are the cons of mixing retinol and acne treatments?
Acne treatments containing salicylic acid can be very drying, as can retinol
Another popular spot treatment, benzoyl peroxide, has been shown in studies to deactivate retinol
Our favourite products
---
---
Can you mix Retinol + Alpha Hydroxy Acids + The Sun in your skin care routine?
Using retinol and AHAs together is another recipe for trouble. Both expose fresh skin cells that you should make it your mission to protect at all costs! Not only this but UV light has been shown to neutralise the effectiveness of retinol. If you're using any kind of retinol or skin brightening AHA make sure you're wearing a daily SPF 50 even in winter, and apply these ingredients in the evening to lessen the risk of UV damage.
What are the pros of mixing retinol, alpha hydroxy acids and the sun?
Very few! Prolonged sun exposure is bad news for your skin no matter which products you are using, especially so with powerful exfoliating actives.
What are the cons of mixing retinol, alpha hydroxy acids and the sun?
Unless you protect yourself, aggressive exfoliation + the sun = damaged skin
UV light has been shown to destabilize retinol rendering it ineffective
Our favourite products
---
Can you mix Retinol or AHAs + Hyaluronic Acid in your skin care routine?
When using retinol, AHA or other exfoliating product, it's important to replenish hydration back into the skin. Hyaluronic Acid is great for this, as it draws moisture into the skin and keeps it there helping it feel plump and comfortable. Apply your retinol or acid first, wait 10 minutes if possible then give your skin an instant hit of moisture with the HA.
Our favourite products
---
---
Can you mix Vitamin C + Vitamin E (+ SPF) in your skin care routine?
Up your dose of daily vitamins by using C + E together in your skincare. Both are protective antioxidants so work to limit UV damage but work particularly well together as they each have particular strengths. Studies have shown that Vit E is particularly good at wardIng off some of the unwanted effects of UVB while Vit C works against UVA damage. Naturally broad spectrum sunscreen is still crucial when wearing either—throw that into the mix with C and E and you've got yourself a top drawer skin-protecting cocktail.
Our favourite products
Finally, what about SPF?
"SPF is an everyday essential and should always be incorporated into your skincare, says Lisa. "It's the only way to effectively protect skin from cancer and environmental aggressors, which can lead to premature signs of aging."
SPF works well when layered over any other ingredient so there really is no excuse not to wear it, especially now that the best facial sunscreens are no longer greasy. However, don't mix your SPF with makeup or moisturizers, it should be applied as a single layer, otherwise, it could lose some of its protection factors.
5 things to remember when mixing skincare ingredients
Always apply retinol at night, and use an SPF in the day
Lock your skincare serums in with a moisturiser, don't moisturise first as some serums have smaller molecular size and won't penetrate through
Hyaluronic Acid is everyone's hydrating best friend
Only use one exfoliating treatment at a time
If your skin stings, feels tight or looks very red, take a few days off and only use replenishing ingredients. Once your skin calms down reintroduce actives one by one, and try using them at different times of the day
Beauty Editor, womanandhome.com
As woman&home's Beauty Channel Editor, Fiona Mckim has tried more products than she's had hot dinners and nothing makes her happier than raving about brilliant finds on womanandhome.com or her instagram grid (@fionamckim if you like hair experiments and cute shih-tzus). Fiona joined woman&home as Assistant Beauty Editor in 2013 under industry legend Jo GB, who taught her everything she needed to know (learn about ingredients and employ extreme cynicism). She has since covered every corner of the industry, from interviewing dermatologists and celebrities to reporting backstage at Fashion Week and judging the w&h Beauty Awards.