Retinol vs vitamin C: benefits, differences, and how to use each in your skincare routine
Get the lowdown on retinol vs vitamin C - plus our beauty editor's top product picks for each ingredient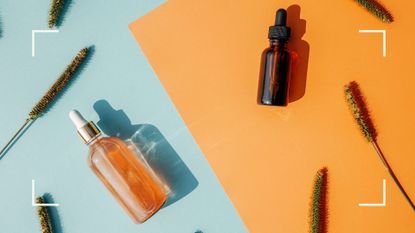 (Image credit: Future/Getty images)
If you're weighing up the benefits of retinol vs vitamin C, it's likely you're looking to address wrinkles, pigmentation, skin dullness, or acne. It's also likely you've heard whisperings that these are the two hottest active ingredients in modern skincare. Guess what? It's all true.
Both ingredients are found in a variety of beauty products, usually creams or serums, and are both vitamin-based. Retinol is derived from vitamin A and is used topically, as is vitamin C, but once applied they get to work in different ways. While the best vitamin C serums tend to focus on collagen synthesis, skin tone and clarity to shift pigmentation, the best retinol creams speed up cell turnover so can prove helpful in learning how to get rid of acne, softening lines, and for general textural improvements.
Both are highly effective skincare ingredients, and they can be included in the same routine if you follow a few rules. This guide will teach you to differentiate between retinol vs vitamin C so you can make the best decision and achieve your skin goals.
Retinol vs vitamin C: your expert guide
What are retinol and vitamin C
What is retinol?
Retinol is a hot topic in the skincare industry—and even within that topic people debate retinoid vs retinol. Essentially all retinoids are vitamin A derivatives, they just come in a few different forms, from pure retinol to prescription-grade retinoids and gentler derivatives. "Conventional cosmetics usually contain retinol esters called retinyl palmitate and tretinoin," explains Vanessa Thomas, cosmetic chemist and founder of Freelance Formulations (opens in new tab). "Your body converts these into an active form, retinoic acid, that can then be used by your skin cells."
What is vitamin C?
In skincare, the main function of vitamin C is working as one of our most effective antioxidants. "Vitamin C is a powerful antioxidant that works to neutralize free radicals in the skin," explains aesthetic practitioner and founder of Natali Kelly Clinic (opens in new tab), Natali Kelly. "It aids in your skin's natural regeneration process, which helps your body repair damaged skin cells." This gives it powerful protective and restorative properties when applied to the skin.
What are the benefits of each?
Retinol benefits
Whichever form of retinol you use, once your skin converts it into retinoic acid it will speed up cell turnover, so help shed dead cells and grow collagen, both of which contribute to skin smoothing and plumping. (find out more about this via our what is collagen guide) "Retinol can reduce the appearance of fine lines and wrinkles, improve an uneven tone and exfoliate the surface of the skin," says Thomas. Due to its ability to shift dead cells and build-up, retinol is often used in a skincare routine for acne and skincare for oily skin, as it helps purge the congestion that can lead to breakouts.
Vitamin C benefits
As well as the repair and regeneration of skin cells, Vit C helps ward off future damage too. "It works to fight free radicals and act as a shield against environmental aggressors. Not only that, but it has amazing skin brightening benefits and works to even out skin tone, promote collagen production and diminish the appearance of fine lines and wrinkles," explains Kelly. It can also work as a hyperpigmentation treatment and other tone issues caused by environmental damage.
Retinol vs vitamin C: The key differences
As well as the many similarities between retinol vs vitamin C, Savannah Grizzaffe, esthetician and owner of Southern Beauty Skin (opens in new tab), notes there are some key differences:
Environmental protection: "While both ingredients can help treat wrinkles, fine lines, spots, acne, and more, vitamin C is also known to protect the skin from harmful UV rays, pollution, and other harsh elements.
Strengths: Retinol can come in different concentrations and styles such as prescription retinoids and retinol esters. Vitamin C cannot, although the percentage to which it is included in a formula can dictate the potency of that particular product.
Potency: Retinol is one of the most powerful skincare ingredients. Vitamin C is more of a jack-of-all-trades. It has many of the same benefits — plus more — but the effects may not be as pronounced.
Who should use it: Vitamin C can be used while pregnant or breastfeeding, but retinol should not be used during this time."
How to use retinol and vitamin C
Vitamin C and retinol are both found in topical products, so you use them by applying them to cleansed skin like you would most skincare.
Vitamin C
"Vitamin C is generally used in serums to allow for better absorption," explains Thomas. It is a tricky ingredient to formulate, so ensure you pick products that are genuinely effective. "I would recommend a concentration of at least 10% and also to look for products containing ascorbic acid (also known as L-ascorbic acid), as this has the most skin research of any form of vitamin C and is shown to be effective," advises Kelly.
Retinol
Wondering how often should you use retinol? It certainly requires a little more caution. "It's really important to integrate retinol slowly and gently to the skin, as when used too frequently or if the formulation is too strong for your skin, it can irritate," says Kelly, who advises that, "low concentrations of retinol are great for those who are new to using retinol or those with sensitive or reactive skin."
How not to use these ingredients
At the wrong time: The application process of both products is fairly similar, but the main difference in how to use retinol vs vitamin C is the best time of day to apply them. "While vitamin C is best in the morning, retinol can increase your skin's sensitivity to the sun, so makes the best night serum instead," says Dr. Harold Lancer, dermatologist of Lancer Dermatology (opens in new tab). Wearing the best facial sunscreen is never a bad idea, but most experts particularly advise applying sunscreen in the mornings after using retinol the night before.
Layered up together: While using both in your routine should be tolerated by the skin, experts recommend not using vitamin C and retinol at the same time. "The skin can become irritated and the products' could be compromised if layered on top of one another," says Dr. Lancer. This won't create faster or more pronounced results and may lead to flakey, red, or irritated skin.
With AHAs: Thomas also recommends avoiding using either product layered up with "Alpha-hydroxy acids such as lactic or glycolic acid, as this can cause result in irritated skin." You can still use skincare acids in a routine with retinol and vitamin C but leave a day or so between use and build up slowly to avoid overstimulating your skin.
Retinol vs vitamin C: w&h verdict
Weighing up retinol vs vitamin C doesn't have to be an either-or situation. Certainly, they both have distinct benefits, and if your only goal is learning how to get rid of acne scars or other textural improvements, retinol might be the way to go. That is, however, as long as you don't have sensitive skin or are pregnant or breastfeeding.
If you want a product that will improve your skin's tone, collagen production, and general health, as well as protect it day to day, Vitamin C could be the answer. It's also relatively gentle, so all but the most fickle skin types should tolerate it well.
But as we say, you needn't choose. With careful use, combining both in a routine, with Vitamin C in the morning and retinol at night, you could achieve the best results of all.
Our top retinol and vitamin C buys
Budget picks...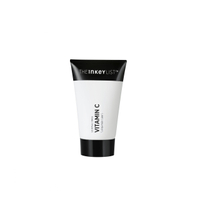 (opens in new tab)
The Inkey List Vitamin C Serum | RRP: $10.99/£7.99
Combining no-frills packaging with an all thrills formula, this contains a whopping 30% ascorbic acid, the most powerful form of Vit C. It's punchy stuff, so you might experience a little tingling, if you have sensitive skin start a few mornings a week and build up.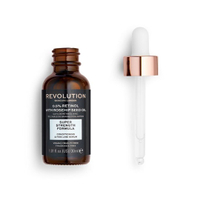 (opens in new tab)
Revolution Skincare 0.5% Retinol and Rosehip Seed Oil Smoothing Serum | RRP: $14/£10
This brand always surprises me with its excellent formulations. This is fragrance-free and contains 0.5% pure retinol, plus rosehip oil, for face (opens in new tab)-soothing and nourishing properties. The tinted dropper protects the actives from degrading, and it's under a tenner!
---
Mid range picks...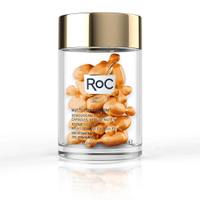 (opens in new tab)
RoC Multi Correxion Revive & Glow Night Serum Capsules | RRP: $32.99/£35.99
Putting Vit C in capsules is an inspired move, as it'll be in fresh, perfect, highly-active condition when you do decide to pop it out and apply. RoC has also included botanical antioxidants and nourishing glycerin in these little pods, plus they're perfect for travel.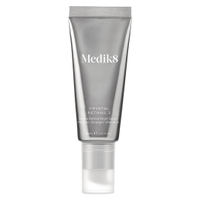 (opens in new tab)
Medik8 Crystal Retinal 3 | RRP: $62/£43
This brand is known for creating highly active skincare at not-bargain but not-terrifying-either prices. A little goes a very long way with this 0.03% retinal cream (a retinol type that gets to work a little quicker) The formula applies smoothly, smells a little like sugared almonds, and will improve your skin in as little as four weeks.
---
Luxury picks...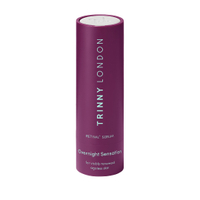 (opens in new tab)
Trinny London Overnight Sensation Retinal Serum | RRP: $95/£69
Trust skincare obsessive turned entrepreneur Trinny to formulate retinol with a doubled-down approach. This combines fast-acting retinal plus granactive retinoid, (which is known to be ultra-stable) in a very pleasant texture and totally light and air-proof packaging. Pricy, yes, but this will absolutely get things done.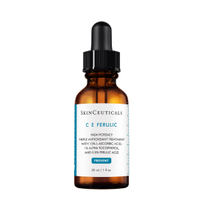 (opens in new tab)
SkinCeuticals CE Ferulic | RRP: $169/£145
If it's acceptable to call any serum iconic, then this has to be one of the few that make the grade. An OG vitamin C product, this is never far from my dressing table thanks to its watery-light texture, high concentration of ascorbic, and inclusion of ferulic acid, which is known to supercharge the effects of Vit C.
---
woman&home thanks Natalie Kelly Vanessa Thomas, Savannah Grizzaffe, and Dr. Harold Lancer, for their time and expertise.
Beauty Editor, womanandhome.com
As woman&home's Beauty Channel Editor, Fiona Mckim has tried more products than she's had hot dinners and nothing makes her happier than raving about brilliant finds on womanandhome.com or her instagram grid (@fionamckim if you like hair experiments and cute shih-tzus). Fiona joined woman&home as Assistant Beauty Editor in 2013 under industry legend Jo GB, who taught her everything she needed to know (learn about ingredients and employ extreme cynicism). She has since covered every corner of the industry, from interviewing dermatologists and celebrities to reporting backstage at Fashion Week and judging the w&h Beauty Awards.