9 alternatives to Botox that offer seriously impressive results
Our beauty team's favorite in-clinic procedures and home treatments for an effective alternative to Botox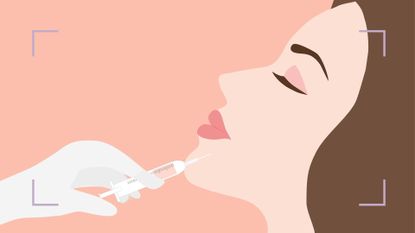 (Image credit: Future/Getty images)
Finding an alternative to Botox is a good move if you're not ready to hit the needle. And while injectable toxins are a powerful treatment with specific results on expression lines, there are plenty of other options that can smooth and plump skin very well too.
With an overwhelming amount of 'tweakment' options available, including the likes of natural Botox, it can feel like a confusing task to find safe and effective procedures that are on par with the real deal. But which ones are going to actually give us the Botox effect, minus the muscle freezing?
"It's no secret that many of us would love to look a little plumper, smoother, and sculpted but without expensive and invasive procedures like Botox," says Inge Theron (opens in new tab), Founder of Face Gym. "Until recently, there really hasn't been the option to achieve that." Luckily, we've done the hard work for you and narrowed down the best alternatives to Botox. These are the woman&home beauty team's go-to treatments and products that offer noticeable improvements, injection-free.
In-clinic alternatives to Botox
1. Hydrafacial
Hydrafacial is a non-invasive, 3-step treatment that uses Vortex Fusion technology (a suction tool) to cleanse, extract and hydrate the skin. The device smooths, refines, restores, and firms skin. Providing immediate plumping of fine lines and wrinkles, you'll walk out of the clinic with a face full of skin-loving ingredients and a much smoother complexion.
"Painless, and with zero downtime, these treatments can be customized with a range of boosters designed to boost collagen and elastin production, helping smooth the appearance of fine lines and wrinkles," explains, Lauren Gibson (opens in new tab), Hydrafacial UK & Country Manager. "This delivers an immediate result, a glowing complexion that looks and feels gratifyingly radiant and plump." And if you weant to know more our beauty editor's full Hydrafacial review is here.
Hydrafacials start from $200/£125 and are available globally
2. Face Gym Signature Sculpt Facial Workout
FaceGym's Signature Sculpt facial workout promises to lift and contour your face instantly with results that last up to a week. w&h Beauty Writer Annie Milroy booked in.
"The treatment started with a deep cleanse then my therapist got started on the 'muscle workout' straight away. She deeply massaged my cheeks and jawline to aid lymphatic drainage, to rid me of all my toxins. Next came the EMS (electrical muscle stimulation) part, which passed a powerful current through my muscle fibers to tone, boost circulation, and improve skin firmness. Not for the faint-hearted, this might be considered quite uncomfortable but my pain threshold just about managed to hold out
My therapist worked hard on half of my face first and I was shocked that I could see a visible difference between the two sides of my face. The side she had massaged (left, in the second image above) was tighter and less puffy with a chiseled jawline that I had never seen on myself before. I was truly impressed with how much firmer and sculpted my face looked post-treatment.
This has got to be one of the most effective alternatives to Botox out there. While the results won't last without getting another workout booked in, it's a great way of sculpting and firming up your face before a big event where you want to impress."
Face Gym (opens in new tab) Signature Sculpt Workout starts from $80/£80 for 45 minutes and is available in London, Manchester, New York, and LA.
3. Potenza
Combining radiofrequency with microneedling, Potenza is a bespoke system that lifts and tightens skin while resurfacing texture for a youthful appearance. It encourages cell regeneration and accelerates the production of collagen and elastin, resulting in a firmer, lifted appearance, and improving overall skin quality.
"This RF micro-needling treatment is great for someone who wants to improve skin elasticity and reduce pore size, fine lines, wrinkles, sun damage, and any scarring," explains Milena Naydenov (opens in new tab), Head Aesthetician at 111 Harley St. "Potenza has a single needle tip for added precision, alongside multi-needle settings for different areas of the skin."
The level of precision involved in this alternative to Botox means that you can target delicate facial areas of concern, like crow's feet, forehead lines, and lip wrinkles. Typically results can be seen immediately afterward, but the building of collagen and elastin can be expected to be peak anywhere between 4-6 weeks after treatment.
A course of three treatments starts from $3600 at SEV Laser (opens in new tab)in the US, a course of five costs £2300 in the UK at 111 Harley St (opens in new tab)
4. Sofwave Face-Lyft
Sofwave Face Lyft is an FDA-approved, non-ablative treatment that uses ultrasound to tackle fine lines and wrinkles. Another alternative to Botox, this needle-free, totally non-invasive aesthetic treatment improves lines, wrinkles and volume loss with proven efficacy, safety, and minimal to zero downtime.
"I have always been an advocate of ultrasound technology to help improve laxity, lines and wrinkles, and overall tone and texture," reveals Dr. Munir Somji (opens in new tab), founder of Dr. Medispa. "Sofwave has managed to achieve exactly what is needed to get optimal results with just the right amount of energy and depth."
A relatively new treatment to enter the industry, Sofwave is growing in popularity at a rapid rate. Due to its proven firming results, it's already picked up multiple Beauty Awards too.
Sofwave Face-Lyft from from $1,400 to $4,500 in the US, or £800 to £2395 in the UK at DrMediSpa.
5. Ultherapy
Ultherapy, a non-invasive treatment, goes deeper to stimulate the production of your body's own collagen and elastin, for natural-looking results without surgery or downtime. It's a tightening and lifting alternative to Botox for the full face, neck, and décolletage.
"Collagen is regarded as "scaffolding for the skin', it provides strength and structure to create optimum support. The results-driven non-surgical Ultherapy treatment enables the skin to naturally lift and tighten, so patients can achieve a lifted midface, a more defined jawline, and neck, or a natural-looking brow lift" explains, Dr. Tracy Mountford (opens in new tab), a dermatologist at Cosmetic Skin Clinic.
Offering lots of personalized options, Ultherapy can take as little as 30 minutes for an eyebrow treatment and 90 minutes for a full face. The treatment itself does involve discomfort, so make sure you've done your research beforehand. It's also important to check that your practitioner has a Cert ificate of Authenticity which they should be able to show you in their clinic. Need more convincing? Read our beauty channel editor's full Ultherapy review here.
In the US, Ultherapy at Dr. Colbert's practice in New York City costs $3,800 for the lower face and neck, while the décolleté costs $2,500. In the UK, Ultherapy with Dr Alexis Granite (opens in new tab) costs from £600 for the brow area to £2400 for the lower face, for more information visit
6. Laser resurfacing
Laser skin resurfacing can enhance skin tone, encourage the production of new collagen, and even promote collagen absorption in the surrounding, untreated areas. Results are noticeable immediately and continue to improve over time. Laser facials help to reduce the appearance of wrinkles, tighten pores, and even out your complexion, for skin that looks fresher in just one session.
"Our Baby Face Laser Resurfacing Facial is powered by the only laser in the world to create microchannels deep into the dermis," says Natasha Clancy, (opens in new tab) founder of Kichi Studio. "This allows up to 90% absorbency of serums, compared to the creams and serums we use at home, which can only penetrate 5%. This means you will continue to see results for months, not weeks."
As the Baby Face Glow really comes to life after a week post-facial, they recommend booking in ten days before an event. Most clients return for their next Baby Face laser facial every two to three months. But if you're fully committed and looking to significantly reverse signs of aging, the recommended plan is one per month for six months, then every three months for maintenance.
For laser resurfacing in the US, Skin Laundry (opens in new tab) Signature Laser Facial costs from $250 in six US locations, Kichi (opens in new tab)Baby Face Laser Resurfacing Facial, from £350 in the UK
7. Micro-Needling
Microneedling, also known as skin needling or collagen induction therapy, is a type of treatment that uses needles to cause tiny punctures in the skin. This process encourages the body to create a wound-healing response and renew skin cells. As your skin repairs, the production of collagen and elastin is triggered to give an immediate plumping effect.
Following treatment, it is likely that the skin will be red, slightly inflamed, tight, and hot, which generally subsides within days. The beneficial results of micro-needling can be seen as soon as redness has decreased, with skin appearing plumper and smoother. Changes to the texture of scars or the appearance of pigmentation happen in the weeks following microneedling and can be enhanced with further treatment Treating the skin with multiple sessions spaced at least one month apart can trigger an increase in collagen and skin elasticity.
Want to know more? See our beauty editor's full SkinPen Microneedling review. It's also important to avoid DIY microneedling, as at-home microneedling devices risk infection, bruising, and grazing of the skin, so leave it to the professionals.
Prices start from $350 at clinics across the US and £120 at sk:n Clinics (opens in new tab) nationwide across the UK
At-home alternatives to Botox
8. LED Masks
The best red light therapy devices are such an easy and effective way to keep your skin looking its best at home. Offering red, blue, and yellow light options, an LED mask promises to completely overhaul skin in several ways. Red LED light stimulates collagen to smooth lines and firm skin, while blue light kills bacteria to target blemishes and help fade acne scars, as well as prevent future spots from forming.
Using an at-home LED mask can help keep skin texture looking firm, clear, and radiant from the comfort of your own home. Whilst, undoubtedly an investment, after a few uses you will have got your money's worth, as salon LED treatments tend to cost around $300/£200. While it won't relax line-causing your muscles as Botox does, LED helps keep skin tight by boosting collagen production, which is the secret to plump, smooth skin.
Our beauty writer recommends...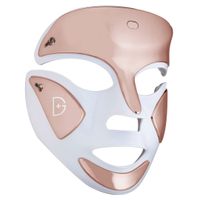 (opens in new tab)
Dr Dennis Gross skincare DRx SpectraLite FaceWare Pro | RRP: $465/£430
This beauty-team-approved mask has two powerful LED light settings. Red light aims to leave the skin feeling firmer, and blue light seeks to improve the appearance of blemishes and discoloration. With weekly use, you'll notice a difference in the firmness and radiance of your skin.
9. Lymphatic Drainage Massage
The power of lymphatic drainage can be totally transformative for your face. Helping to remove toxins, you can create a visible difference in puffiness at the jaw and cheekbones. While it won't work on wrinkles, lymphatic massage will give you a more 'lifted' and sculpted face.
"Lymphatic massage will definitely improve skin texture and quality in the areas influenced first by aging," explain Professor. Dr. Michael Detmar (opens in new tab) and Dr. Epa Gousopoulous (opens in new tab), Co-Founders of IRÄYE skincare. "but lymphatic activation needs to be combined with active ingredients such as hyaluronic acid, bio-retinol, Vitamin C, and Vitamin E to name a few to further support skin health."
Using a facial tool such as a Gua Sha, a Jade Roller, or just your hands, apply a serum and with gentle pressure, move your fingers out towards the side of the face, along the jaw, below the cheekbones, and down your neck. This motion will help flush out all the puffiness in your face and reveal a tighter and more sculpted appearance.
Our beauty writer recommends...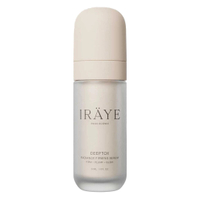 (opens in new tab)
IRÄYE Radiance Firming Serum | RRP: $92/£90
IRÄYE Radiance Firming Serum supports the lymphatic system to purify the skin, boost skin function, and protect skin structure from damaging inflammation and toxins. Apply a generous amount before your lymphatic drainage massage and you'll achieve a seriously sculpted face.
Annie Milroy is the Beauty Writer for Woman & Home and other publications.
She spent three years studying Journalism and English Language at the University of Portsmouth before starting her career in magazines in 2017.
After 5 years working as a Fashion & Beauty Writer, she refined her career and is now working at Future as a Beauty Writer.