Dr Dennis Gross DRx SpectraLite FaceWare Pro review: a beauty editor's thoughts
Our honest Dr Dennis Gross DRx SpectraLite FaceWare Pro review – is the LED mask really worth the big spend?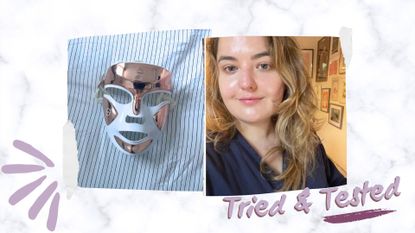 (Image credit: Future/Rhiannon Derbyshire)
I'll cut right to it – this is one of my top all-time beauty recommendations. I began treatment feeling cynical (and a little bit silly) but now I'm hooked, and can't imagine my routine without it. It's undoubtedly expensive, but if you can afford to invest, the difference it will make to your skin is truly impressive.
Reasons to buy
+

Incredibly easy to use

+

Noticeable difference within days

+

FDA-approved, medical-grade treatment

+

Three minute treatment time

+

Hands-free

+

Blue, red and combined light options
Reasons to avoid
-

The strap can be slippy

-

Not the most travel-friendly
If you're looking for a Dr Dennis Gross DRx SpectraLite FaceWare Pro review, you've come to the right place. This intensive LED treatment has become one of my holy grail beauty products – and as a skincare minimalist, that's no mean feat.
The intensive mask is known to be one of the best red light therapy devices on the market, and I can wholeheartedly concur. It was a truly game-changing light therapy for acne treatment when I was struggling with my skin. The difference it made was noticeable after the first few uses, with friends and near-strangers replying to my (shameless) Instagram stories asking what my new skincare routine was.
SPECIFICATIONS
Settings: red light, blue light, combination of both
Battery life: 1 charge lasts 8-10 treatments.
Warranty: 1 year
RRP: $455 / £465
Still, it's easy to take your favorites for granted. So I took a month-long break from using the mask before starting it up again for the purpose of writing this Dr Dennis Gross DRx SpectraLite FaceWare Pro review. Here's how I got on.
A beauty ed's Dr Dennis Gross DRx SpectraLite FaceWare Pro review
First impressions
I've had this mask for around a year and because I'm clutter-averse, I've thrown away the box. However, when you receive your shiny new mask, it'll come in a square box with a charging cable, a cotton bag, and some instructions. The mask itself is quite chunky, but stylishly white and rose gold with a silicone strap (more on that later).
There's no getting past this – you're going to look creepy in this mask. The vibe is Friday the 13th serial killer. The hockey mask look is a hard one to pull off, and in all honesty, it's not one I'd ever wear in front of house guests (or have pictured on the internet for all to see). It was bad enough when my horrified brother spotted it in the corner of a Facetime call. Well, half horrified/half gleeful that he had another thing to rib me for.
How the it feels to use the Dr Dennis Gross DRx SpectraLite FaceWare
The good news is that you only need to actually wear the mask for three minutes for a full treatment, and it automatically shuts off after that, which is handy. I use it in the mornings after cleansing, when I'm waiting for the kettle to boil, or picking my outfit for the day. Admittedly I always hope a passing neighbor doesn't see me, lest it terrifies the street. But for skin this great, that risk of embarrassment is a price I'm willing to pay.
When you switch the DRx SpectraLite FaceWare Pro on, it clicks onto the red light setting, you click it again to swap to blue light (which looks violet) then a third time to get to the final setting, which is a combination of both that glows a bright fuschia. It's pretty foolproof and easy to use.
As for the actual experience of wearing it, it feels fine and absolutely comfortable. Contrary to popular belief there's no heat emitted from LED light, so it just feels like being in front of a regular table lamp. The gripe that's often mentioned in a lot of Dr Dennis Gross DRx SpectraLite FaceWare Pro reviews is the silicone strap. The brand reasons that this makes it easy to adjust to fit every wearer comfortably, but it can slip, which isn't ideal for such an expensive item. Strangely, it often causes frizzy hair to form at the back of my head, so I usually wear it with my hair in a bun.
The FaceWare Pro Technology, explained
For a tool that's all about the tech, it's important to understand exactly how that tech works. And what better source than the inventor himself? Dr. Dennis Gross is a legendary dermatologist who's created some of the beauty teams' desert island skincare products. I asked Dr. Gross, what is red light therapy, and how does this mask harness that technology? "Red LED light calms inflammation and sends signals to the fibroblast to stimulate collagen production," he says. "Whereas Blue LED light connects to acne-causing bacteria, causing it to self-implode."
The DRx SpectraLite FaceWare Pro is fixed with 100 red lights, and 62 blue lights, and Dr. Gross says he did this so that the treatment was powerful and effective, but still safe to use at home. "Don't underestimate the power of what you can do at home to firm and strengthen skin," he explains. "An FDA-cleared LED device is safe to use at home and offers immediate and long-term benefits. The goal is to build collagen every day which is why you should incorporate it into your daily skincare regimen."
LED, he says, works just as effectively as your other skincare treatments. "Just as traditional skincare ingredients connect to receptors and stimulate collagen production, LED is a catalyst for stimulating our skin's own natural collagen production and reducing inflammation. I am thrilled to see people expand their understanding of what constitutes a skincare 'ingredient'."
Dr Dennis Gross DRx SpectraLite FaceWare Pro results – one year on
Dr. Gross told me that I should see a difference for acne after 3-5 treatments, and for signs of aging, usually between 3-4 weeks, which was pretty accurate. After a week my skin had almost totally cleared. As cliched as it sounds, I glanced in the mirror and had to double-take. My skin looked – no exaggeration – incredible. Clear, firm, and healthy. Colleagues and friends started remarking on my skin, asking what I'd changed. I did slightly cringe to admit it was a menacing-looking mask costing five times the price of my electricity bill.
After a couple of weeks, the results just kept improving and my skin had truly never looked better. Whenever I have to take a break while testing other things, I really miss my mask, and when I take a long gap, I notice the difference in the quality of my skin. Blemishes start to creep back in and I look, let's say, about 10% worse on the whole. Having taken a long break while I was testing intensive tretinoin, I'm firmly back on the LED train, hoping to remain on it.
I rotate between the red and blue light settings, sometimes opting for a combo of both to mix things up. When I have a breakout I stick to the blue setting until it clears, and use the red when my skin's looking content. It's something that really works for me, and I now can't imagine my skincare routine for acne without it. Whenever anyone asks me how to get rid of acne, it's one of the first things I mention.
Dr Dennis Gross DRx SpectraLite FaceWare Pro: our beauty editor's verdict
I always knew that my Dr Dennis Gross DRx SpectraLite FaceWare Pro review would be a gushing one, but having gone through the specs in detail even I'm thinking, yeah we get it - you love the mask. It's the running joke of the beauty team. I worry I'm beginning to sound like one of those people who marries the Eiffel Tower.
I can't overestimate how much I love this mask, and it's especially impressive considering how much of a skincare minimalist I am. I am anti-fuss, anti-faff and even the best skincare devices aren't normally my thing. I can't tell you the number of cleansing brushes, gua sha and facial rollers I've earnestly tried to pick up as a habit only for them to stay unused on my bathroom shelf after two uses. This has been the only tool that I've consistently used for more than a week, and that's purely down to the results.
But, as with any long-term love, I have to be honest about the downsides. I've seen other, foldable LED masks that are more travel-friendly, which is a factor to consider. This is bulky, thick, and unlikely to fit into your hand luggage unless you're an incredibly minimal packer (I am not). The elephant in the room is also the price. It's not hugely accessible, but if you're looking for a serious change in your skin, whether that's treating wrinkles or acne, it's an investment that can make a huge difference.
Is the Dr Gross LED mask worth it?
My vote would be yes. The results I've had from using it has far outweighed any other facial treatment I've had, often costing hundreds of dollars. If you don't have any really big skin concerns, I'd say you don't need this, so it wouldn't be worth it in that case, but to noticeably treat sagging skin, blemishes and wrinkles, this is absolutely worth the spend.
When you consider that most in-salon treatments cost upwards of $100/£100, you'll balance out the cost of this in five uses - which is still only about 20 minutes' use, all in. You could wait out for a discount code, or split it with a friend to cut down the price - but I can imagine you'll end up wanting full custody.
How often should you use SpectraLite FaceWare Pro?
You can use this every day, and I very much do. Because it takes just three minutes to work, it's an easy one to fit into your routine, popping it on during an ad break or while you're having a quick social media scroll.
You could probably still see results from using it a couple of times a week, but I think the more you use it, the more you'll see results, so every day is your best bet. And for such a big investment, you may as well use it as much as you can.
Rhiannon Derbyshire is the Senior Beauty Editor for Woman & Home and other publications.
She started interning for glossy magazines while working alongside her Fashion Journalism degree. There, she was lured to the beauty desk, seduced by matte lipsticks, posh shampoos, and every skincare product imaginable. 10+ years into her career, she can confidently tell you why the best mascaras are always high street, and why SPF is a non-negotiable all year round. Ask her about her curly hair routine, skincare minimalism, and how to find the exact right red lipstick