Why we get wrinkles - and what to do to combat them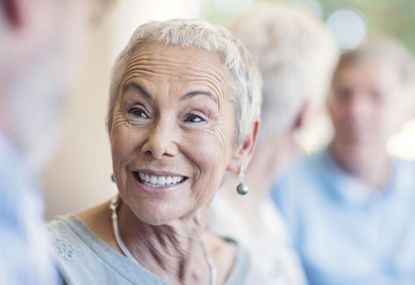 We all have them - but what are they really trying to tell us about our health, skin and the way we look after ourselves?
Let us start by saying that a lined face is often a sign of a life well-lived. If laughter lines are the price to pay for nights spent chuckling over wine with our oldest friends, we'll take them.
But while we're all for faces full of character, we also appreciate that that deeper wrinkles and sagging skin can affect confidence. So what can we do to keep wrinkles at bay without resorting to surgery - or limiting our facial expressions...
Why do wrinkles occur?
While some don't experience their first crease or line until their 40s, others will start to notice small lines and creases in their 30s - or even their 20s. The onset of wrinkles is a natural part of the ageing process, and is generally down to a lack of collagen fibre or injured elastic fibre as we grow older. However, that doesn't mean that we wouldn't all like there to be a little less of them!
But there are also environmental factors that can contribute to wrinkles worsening. Smoking, pollution, and sun damage can all affect the composition of our skin, and how many wrinkles we have. So ensure you cover up, douse your face in SPF 50+, and stay as healthy as possible, if you want to try and reduce the amount of wrinkles you have.
MORE: The best sheet masks for glowing skin
Dehydrated skin can also be more prone to developing wrinkles, so its important to stay hydrated both inside and out.
Dieting can also have an effect on the appearance of wrinkles. People who have lost drastic amounts of weight, or those who have yo-yo dieted throughout their lives, are likely to have more.
So why do wrinkles appear where they do?
Crows feet - aka laughter lines
Crows feet - one of the most well-known wrinkles - usually radiate out from the corner of your eyes. Most noticeable when you squint, they're actually caused by habitual squinting and laughter.
Other common causes include dryness around the eye area, given that the skin around the area secretes the least oil.
The skin around our eyes is of course much thinner too. In fact, some of the thinnest skin on our bodies is around our eyes. And so that, paired with the lack of sebum, is a hot bed for laughter lines.
So how can you try and stop them from occuring?
Retinol based products (opens in new tab) are some of the best on the market to help tackle crows feet. Retinol contains collagen-boosting properties, helping to plump up your skin and reduce the appearance of fine lines around the eyes.
Lines under eyes
Wrinkles under your eyes, as opposed to radiating out of your eyes, develop in similar ways. They can also be caused by continual creasing of the face, and regularly heading out in the sun without sunglasses.
But how to combat them? Serums specifically targeted for under-eye use can certainly be helpful, in that they can help keep the area hydrated and moisturised.
Frown lines
Frown lines - perhaps some of the most dreaded wrinkles there are. These pesky little things usually occur as lines across the length of our forehead. However, they can also put in an unwelcome appearance between our brows too.
Generally, when we're younger, these types of lines appear on our faces when we frown, but go away when we stop frowning. However, as we get older, many of us notice that these wrinkles take up a permanent spot on forehead, even if we aren't frowning.
While forehead lines are a natural part of getting older, many people assume that they come as a result of over-active facial expressions, such as by launghing, yawning, or, in fact, frowning. But actually, that theory is considered to be incorrect by most dermatologists.
However, frown lines can be made worse with various environmental factors. These specific wrinkles may be trying to tell you that your face has been exposed to too many adverse lifestyle factors. For example, it's widely known that smoking damages your DNA, meaning skin can't repair itself. Stress and pollution can also reduce the amount of collagen in your skin - a protein we need to keep skin looking smooth and supple.
So what can you do about forehead lines? If you're willing to undergo treatment for yours, there are a variety on offer. Botox and injectable fillers can of course be very effective methods. However, you can also opt for less invase treatments, such as chemical peels, laser skin treatments, and microdermabrasian. These all work to rid your skin of its top layer, allowing it to replenish itself.
However, more holistic treatments can also work. Some suggesting applying regular drops of castor oil to the area, or even an investment in a rich moisturiser.
Smile lines
Smile lines are the creases you see that travel from the outer edges of your nose down to the outer edges of our mouth. Generally smile lines become more pronounced as we get older, although they're often visible in younger people when they smile.
These wrinkles, like all others, comes from a lack of collagen and elastin in your skin as you age. Smoking and sun damage can also worsen these lines, making them deeper than they may have been.
As we age, we also experience a loss of volume in our face, meaning skin is more likely to sag and drop - which is what happens with the skin above our smile lines.
How to get rid of wrinkles
Unfortunately, there is no foolproof way to rid yourself of wrinkles completely - unless you are willing to resort to more extreme measures, such as botox.
Other than ensuring you stay hydrated, protect your skin from the sun and attempt to wipe away the effects of pollution at the end of the day, topical treatments such as creams and serums can help to reduce the appearance of fine lines.
Retinol, or skincare products which are rich in peptides and collagen-building proteins, are generally the best if you're looking to smooth out your skin. There are plenty of affordable options on the market, whatever you're budget. But, if you only do one thing for your skin, using an effective moisturiser every night will help considerably.
Anti-wrinkle products to try
Paula's Choice 0.3% Retinol + 2% Bakuchiol Treatment (opens in new tab), £53
Formulated for anyone with low-level ageing concerns that wants to start taking better care of their skin, think of this serum as entry-level retinol. Bakuchiol has been touted as a retinol alternative, but it plays to both their strengths to use them together. Bakuchiol is a potent anti-oxidant, improving skin tone and colour, while retinol communicates with existing cells to boost the production of collagen and elastin. Use a couple of times a week to begin with and build up slowly to avoid irritation.
SHOP NOW: Paula's Choice 0.3% Retinol + 2% Bakuchiol Treatment, £53 (opens in new tab)
(opens in new tab)No7 Advanced Retinol 1.5% Complex Night Concentrate, £34
With their sell-out Protect & Perfect serum propelling them to cult status back in 2007, No7 know a thing about how to create an anti-ageing buzz. Their latest launch ticks all the boxes, combining a 0.3% retinol with peptides, to refresh and renew skin while you snooze. The retinol is released slowly, helping to deliver maximum results with less irritation than traditional formulas.
SHOP NOW: No7 Advanced Retinol 1.5% Complex Night Concentrate, £34, Boots (opens in new tab)
Avon Anew Skin Reset Plumping Shots (opens in new tab), £18
A 7-day solution for lacklustre skin, these little ampules promise to restore a whopping seven years of collagen loss in a week. They work by increasing the amount of 'baby collagen' (the collagen we're born with that makes babies cheeks so bouncy) in skin, which in turn builds new 'adult collagen'. Skin is left plumper, with fine lines and wrinkles noticeably reduced.
SHOP NOW: Avon Anew Skin Reset Plumping Shots, £18 (opens in new tab)
Murad Environmental Shield Vita-C Glycolic Brightening Serum (opens in new tab), £72
There's no denying this is pricey, but hear us out. Tackling a number of skin ageing concerns in one swoop, this serum is a great all-rounder. Glycolic acid comes first, clearing the way for vitamin C, as well as reducing the appearance of wrinkles, by brushing aside surface level dead skin cells. The vitamin C complex is the real hero here, using three types of the potent antioxidant to tackle dullness and fade pigmentation.
SHOP NOW: Murad Environmental Shield Vita-C Glycolic Brightening Serum, £72 (opens in new tab)
The Ordinary AHA 30% + BHA 2% Peeling Solution (opens in new tab), £6.30
The Ordinary deliver hardworking ingredients at purse-friendly prices, so this is a great product to try without the fear of buyers regret. However, this is far from an entry-level acid. The percentages are punchy here, so work your way up it to it with lower strength AHAs, and limit your use to once a week. The peel works by using AHAs and BHAs to exfoliate away dead skin cells, revealing the fresher, younger skin hiding beneath. Not only will your skin be smoother in texture, but you'll find fine lines aren't as noticeable anymore.
SHOP NOW: The Ordinary AHA 30% + BHA 2% Peeling Solution, £6.30 (opens in new tab)
The Body Shop Skin Defence Multi-Protection Lotion SPF50+ (opens in new tab), £22
As with all things, prevention is always better than cure. And while wearing a daily SPF won't reverse existing damage, it will stop it from getting any worse. To get the protection factor promised on the tube, you need to apply plenty of sun cream, really carefully. We'd recommend opting for 50+ to leave yourself room for error. This is everything we want from an SPF – lightweight, non-greasy and non-pore clogging.
SHOP NOW: The Body Shop Skin Defence Multi-Protection Lotion SPF50+, £28 (opens in new tab)
The Inkey List Ceramide Night Treatment (opens in new tab), £14.99
When skin is dry, fine lines and wrinkles can be more pronounced, so keeping hydrated is really important. That's where ceramides, waxy lipids that make up more than 50% of our skin, come in. A bit like the glue that holds skin together, they form a protective shield on the skin barrier to stop water getting out and age-accelerating nasties like pollution particles getting in. This soothing night treatment sets to work as you sleep, delivering a hefty dose of hydration.
SHOP NOW: The Inkey List Ceramide Night Treatment, £14.99, Cult Beauty (opens in new tab)
Amy Hunt is an experienced digital journalist specialising in homes, interiors and hobbies. She began her career working as the features assistant at woman&home magazine, before moving over to the digital side of the brand where she eventually became the Lifestyle Editor up until January 2022. Amy won the Digital Journalist of the Year award at the AOP Awards in 2019 for her work on womanandhome.com.