Does light therapy for acne really work? Our beauty editor tried it and this is her verdict
Our blemish-prone beauty editor tests light therapy for acne, with (spoiler alert!) truly impressive results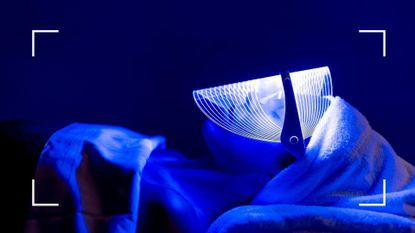 (Image credit: Getty Images / Canva)
I had been hearing about treatments involving light therapy for acne for years before I took the plunge. I couldn't decide if it seemed space-age and scary, or just a bit wild and nonsensical. Really, how much difference can light make to my skin? Well, to cut to the chase, I'm kicking myself for not trying it sooner.
Even the best red light therapy devices may not be the simplest thing to slip into a skincare routine, but when it comes to skincare routines for acne, it's likely you've tried everything else to keep the spots at bay. Swapping your best cleanser? Endless iterations of spot treatments? Painful at home chemical peels? I've done them all. I had basically resigned myself to always having some form of acne, and decided to be grateful that it wasn't worse. I was quite content to load up on the best drugstore concealers and be done with it.
Then, in a true rom-com meet-cute moment for my skin, one day everything changed. And without wanting to sound smug (or tempt fate) my skin has never looked better. My Instagram DMs have been going wild with questions about my complexion, and although this isn't the cheapest fix, it is incredibly simple. It's all down to light therapy.
Light therapy for acne: Our beauty editor investigates
What is light therapy?
I've had a few LED treatments at the end of posh facials, and have always enjoyed them but couldn't really pinpoint any difference it made to my skin - it was hard to differentiate what the light had done as opposed to all the other steps like massage, serums, and peels. The whole thing made me shrug if I'm honest.
Then I visited pro facialist to the stars, Shane Cooper. Cooper transforms the faces of A-listers like Sienna Miller, Phoebe Dynevor and Hannah Waddingham. I knew I was in safe hands (I practically dove onto his treatment bed from the front door), but it was when we started talking about light therapy for acne that everything started to click.
Cooper explains, "light therapy is great for boosting collagen and inducing elastin regeneration in the dermis layer of the skin. I use Dermalux LED light therapy - it's fantastic and has different settings so you can use it for psoriasis, pigmentation, redness, as well as acne, so you can completely tailor it to each person."
When it comes to light therapy for acne, Cooper says it's key. "Blue LED light therapy is fantastic for acne-prone skin as it helps kill the bacteria within the skin and balance excess oiliness, but I always combine blue and red together to stimulate hydration within the skin. The red LED light stimulates collagen which is great for helping to heal acne scars." Really, light therapy for acne is a no-brainer.
How does it work?
Time for the science bit. I spoke to Dr Dennis Gross, a dermatologist and dermatological surgeon who explained it simply. "Our cells have receptors for LED exactly like they do for other active ingredients like retinol." He continues, "Just how traditional ingredients connect to receptors and stimulate collagen production, LED is a catalyst for stimulating our skin's own natural collagen production and reducing inflammation."
Gross is an advocate of the benefits of light therapy for acne. "There are no downsides to incorporating LED into your routine! An FDA-cleared LED device is safe to use at-home and offers immediate and long-term benefits." He continues, "With at-home LED devices, the goal is to build collagen every day which is why you should incorporate it into your daily skincare regimen."
The various colors of LED lights each have a different use:
Red light: Sends signals to skin cells to stimulate collagen production, while also calming inflammation.
Blue light: A germ-killer, it connects to acne-causing bacteria and causes it to implode and vanish.
Purple light: A combination of both, which will do all of the above.
What happened when I tried LED light therapy at home
You don't have to visit a salon to get the benefits of light therapy for acne. If anything, the biggest transformation in my skin happened when tested LED at home, while writing a Dr Dennis Gross DRx SpectraLite FaceWare Pro review. By the end of week one my face looked brighter and clearer, and my acne scars had began to fade. Now, two months in, it just keeps getting better.
As with most skincare, consistency is the way to see results. So the occasional light therapy treatment at a salon is great, but forking out $100/£80 a go isn't sustainable for most people. Buying an at-home LED mask could be the answer to the question of how to get rid of acne, especially if you commit to using it daily.
What seems like a huge financial investment to begin with (I admit, I winced at the price of mine), does start to feel logical when you break it down. Spending money on the best skincare devices makes more sense than spending hundreds on luxe face cream. Creams, serums, and lotions are single-use, and expire, whereas you can use devices over and over for years. You could also split the cost with a friend, and share it if that would work better for you.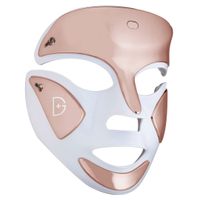 Dr Dennis Gross Spectralite Faceware Pro | RRP: $435/£430
This has been my skincare secret weapon over the last few months. It is, without a doubt, the product that's had the biggest impact on the clarity and brightness of my skin. My favorite thing about it is that it takes just three minutes to work, so you can pop it on quickly in a TV ad break, and voila - you're done. It's the best light therapy for acne treatment I've tried.
Light therapy for acne - our beauty editor's verdict
I truly believe that the best thing I ever did for my skin was using an LED treatment mask every day. What once began as a cautious, borderline pessimistic investigation turned into a game-changing, non-negotiable part of my skincare regime. Truly, it's the best skincare device I've tested, if not one of the best skincare products I've ever used.
I alternate between the red and blue light on my mask and occasionally use a mix of both for a bit of a change. My skin is bright, clear and I haven't had any acne for weeks, not even one zit! I can't overestimate how incredible that is, my skin hasn't been this flawless since I was a toddler.
If you're thinking about trying light therapy for acne, you won't be disappointed. Not only will it help reduce blemishes, but your skin will also look brighter, smoother, and radiant. Thank me later.
Rhiannon Derbyshire is the Senior Beauty Editor for Woman & Home and other publications.
She started interning for glossy magazines while working alongside her Fashion Journalism degree. There, she was lured to the beauty desk, seduced by matte lipsticks, posh shampoos, and every skincare product imaginable. 10+ years into her career, she can confidently tell you why the best mascaras are always high street, and why SPF is a non-negotiable all year round. Ask her about her curly hair routine, skincare minimalism, and how to find the exact right red lipstick