The best skincare devices for resolving specific skin concerns—from fine lines and acne to dark circles and more
We've compiled the best at-home skincare devices that replicate professional-grade results, including the beloved NuFace Trinity Facial Toning Device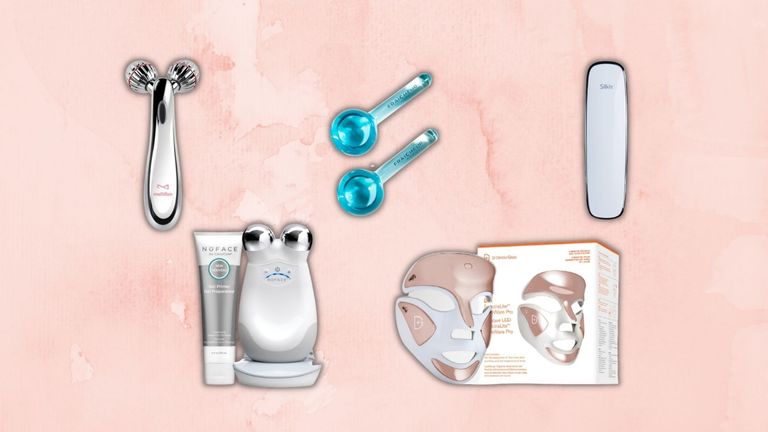 (Image credit: Future and Respective Brands)
In the world of DIY skincare, at-home skincare devices allow users to customize their treatments, targeting specific areas to produce bespoke, and most of the time, nearly pro-grade results.
Just as with everything else, current events have made their mark on our approach to self-care, and at-home skincare devices especially cemented their foothold in the wake of COVID-19 lockdowns and closures of cosmetic centers and dermatology clinics. Even as we return to normalcy, it's clear this tech-centric trend is here to stay. Recent research from the International Society of Aesthetic Plastic Surgery (ISAPS) underscores that the global skincare devices market is slated to grow to $28,157 million by 2030. 
At-home skincare devices represent the budding intersection of skincare and technology. Ideal for any skincare routine, these gadgets work jointly with other skincare products and deliver a bevvy of benefits, from skin-tightening to zit-zapping and nitty-gritty hair removal. 
However, finding the best options can be rather overwhelming for those new to the tech beauty space, and especially as more tools and newer, bigger, better claims come through the pipeline. Before scouring the market for cosmetic fixes such as the best foundation, consider revving up your routine with picks from our curation of top-rated devices, like the NuFace Trinity Facial Toning Device for lifting and the Dr. Dennis Gross Skincare SpectraLite Faceware Pro. We've also examined and detailed each one's efficacy plus included tips and techniques to help you get the most out of your tools.
Do skincare devices work?
Since skincare devices are relatively new to the beauty arena, the most common question among consumers is: do skincare devices actually work? The answer is more complex than a simple yes or no.
At-home skincare devices are generally considered to be less effective and specialized than their medical-grade, in-office counterparts. Nonetheless, experts concur that they're great alternatives, especially for those in a financial or logistical bind.
There are multiple types of devices and naturally, they function differently from one another. Ultimately, your results stem from how you use your device—more specifically, understanding how to get the most out of it.
To get to the crux of the matter, we spoke with Dr. Rachel Nazarian, MD, Assistant Clinical Professor of Dermatology at Mount Sinai Medical Center and dermatologist at Schweiger Dermatology Group for some practical dos and don'ts:
Figure out your desired end result: "Shelves are saturated with options," Dr. Nazarian says. "Hair removal lasers work by targeting pigment in the hair follicle; anti-aging lasers work in many different ways but primarily through controlled injury and collagen stimulation; and redness-control and rosacea lights work by using LED red light to decrease inflammation in the skin, among many others."
Set realistic expectations: "Many results are long term, such as permanent hair reduction and collagen stimulation. Others are temporary and often for chronic conditions, such as acne and rosacea, and should be continued regularly to maintain results. Wait at least six weeks before anticipating any noticeable clinical change."
Consider the side effects: "Depending on the device, there could be many limitations to what skin type can use them safely or to how often they can be used to minimize irritation. Those that are for anti-aging may occasionally inflame sensitive skin; targeting lasers, such as those for hair removal, can cause burning or stinging." In that case, you'll want to invest in a robust skincare routine for sensitive skin.
Patience is a virtue: "Consistency is key. Even if you're using a device less often due to sensitivity, using it long-term will yield better results. It's also important to determine if the device is appropriate for your skin, and this is where your board-certified dermatologist can help guide you. Also, not all effective devices need to be expensive: Look for those recommended by expert physicians, and follow devices baked by evidence, not just marketing. Lastly, read all the instructions thoroughly before using a device—many require prep to be effective, such as laser hair removal, which requires shaving beforehand."
Don't be afraid to reinforce with products: "Some are equivalent [to topicals], some are more effective. Many medical-grade devices can improve some skin conditions quickly—but even many topicals will have efficacy over time, although they typically require more time to produce a noticeable clinical result." 
Know its specs: Lastly, use common sense when taking a device to your skin, and make sure to properly read up on the manual and instructions. "[Mistakes include] using it on the wrong skin type or hair type, not using it for long enough, not adjusting frequency of use when faced with irritation, and not protecting the eyes or using eyewear when using devices that can damage vision."
What types of at-home skincare devices are available?
The at-home skincare device market is not a monolith. Rather, it spotlights a variety of bespoke tools with nuanced features, which work to refine specific areas and yield targeted results.
Light Therapy: Light therapy devices penetrate the skin to treat wrinkles, redness, acne, scarring, dark spots, and common signs of aging. Different color lengths impart different results—red lights spur collagen production and circulation, while blue lights tackle bacteria. Many light therapy devices are approved for at-home use by the U.S. Food and Drug Administration (FDA) (Ed's note: The FDA assess devices for safety, not for quality.) According to Harvard Women's Health Watch, it's unlikely that LED skin devices will harm your skin, as they don't have a lot of power. 
Microcurrents: Microcurrent devices, like NuFace Trinity Facial Toning Device, stimulate facial muscles and increase cellular activity. It's like a workout for your face: They increase circulation and lymphatic drainage, and reduce fine lines. There isn't much research on the efficacy of microcurrent devices; however, microcurrent treatments have been prominent for decades, emerging in the physical therapy arena circa the 1970s. 
Massagers: Be it jade roller, cylindrical wand, gua sha, or electric gadget, massage devices are there to depuff, firm, relax and tone, improve texture, and aid in product penetration. They also increase blood flow, which boosts collagen. Massage devices can be used with lotions, serums, and oils, feel luxurious and relaxing, and are relatively low-risk.
Dermaplaners: Compared to chemical exfoliators (like glycolic acid), dermaplaning devices are physical exfoliators that remove facial hair, peach fuzz, and dead skin cells with a wide scalpel. The scalpel scrapes the surface of your skin, giving a smooth base for makeup and anti-aging benefits, like reduced wrinkles and evened-out skin tone. Furthermore, these devices enable the skin to absorb active ingredients from skincare. 
Microdermabrasion devices: A professional-grade version of exfoliation, microdermabrasion devices are small but mighty vacuums for the face. They suction and slough off dead skin cells, increase blood flow, and revitalize the body's natural cell renewal process. Their purifying and anti-aging benefits are ever-spanning, as they're known to minimize fine lines wrinkles, dullness, dark spots, and rough texture—all while cleaning out blackheads and enlarged pores. That being said, experts agree that professional microdermabrasion treatments are more effective; however, if you have sensitive skin prone to breakouts, you're better off opting for a gentle at-home skincare device.
Microneedlers: According to the FDA, microneedling devices are defined as "instruments with technological features, such as many small needles, tips, or pins on the surface, which are repeatedly inserted and removed into the skin." By creating microchannels in the skin, microneedling devices produce new collagen and elastin, improve texture, and minimize the appearance of pores. In the long-term, microneedle devices significantly reduce facial acne scars, facial wrinkles, and abdominal scars.
Hair Removers: Hair removal devices are painless, safe-to-use alternatives to waxing, which can be painful and breed ingrown hairs. They function similarly to professional-grade laser hair reduction treatments, but are more labor intensive since they use less energy. Nonetheless, they're great for touch-ups, or if you want to test the waters before investing in a pricier remedy.
The best skincare devices as chosen by our experts
1. ReVive Revolve Contouring Device
Best skincare device for under-eye bags and dark circles
Specifications
RRP: $150/£108
Design: Tri-head roller
Device Type: Facial Massager
Reasons to buy
+Single streamlined tool that assuages fine lines and wrinkles, firming and volume loss, dark circles and puffiness, and uneven skin tone +Inspired by patented and Nobel Prize-winning science+Zamac metal creates a cooling effect
Reasons to avoid
-May transmit bacteria—users must always disinfect the device after each individual use 
Made of Zamac, an alloy material containing zinc, magnesium, and other elements, the ReVolve Contouring Massage Roller depuffs and contours the complexion, enhancing its appearance with continued use. This versatile device can also be used to massage the face, neck, eyes, shoulders, and décolletage. 
The roller's compact, dual-tipped head targets the delicate eye area: a game-changer in delivering anti-aging benefits. Unlike other parts of the body, the thin skin under your eyes is the first to reveal signs of aging, like wrinkles and dryness.
Not surprisingly, Dr. Nazarian says this device is one of her favorites. "I love the ones that have minimum risk for benefit," she effuses. "I like those that are great for all skin types sensitives, like LED red light (for calming skin and inducing anti-aging factors) and contouring devices."
---
2. NuFace Trinity Facial Toning Device
Best facial toning device for lifting
Specifications
RRP: $325/£234
Design: Interchangeable treatment attachments
Device Type: Microcurrent
Reasons to buy
+FDA-cleared for facial stimulation+Ergonomic, easy to use, simple to clean, and award-winning+Creates a cleaner line on the mid-jaw and start of the cheekbone+Multi-solution and clinically-tested gadget
Reasons to avoid
-Need to use this device often for long-term results
The NuFace Trinity Facial Toning Device sculpts, tones, and rejuvenates the complexion with thoughtful design and technology. Thanks to its interchangeable attachments, this tools delivers a high-quality, at-home microcurrent treatment, targeting sagging skin, loss of contour, and wrinkles. It's the ultimate skincare gadget for facial stimulation.
The science behind a microcurrent facial is worth noting: This treatment tightens and smooths atrophied muscles and connective tissues by boosting cellular activity. The non-invasive NuFace utilizes this soft-wave microcurrent technology with two wands: one positive and one negative. The synergistic duo generates electric current, which flows through the complexion and facial muscles. In turn, it tightens sagging skin and enhances facial contour. 
Experts recommend applying its corresponding NuFace gel primer beforehand, and use the device for five minutes per day, five days a week. The overall outcome: radiant, more supple skin—one of the best Mother's Day gifts that keeps on giving.
---
3. Dr. Dennis Gross Skincare SpectraLite Faceware Pro
Best skincare device for LED light skin therapy
Specifications
RRP: $435/£313
Design: Red and Blue LED lights
Device Type: Light Therapy
Reasons to buy
+FDA cleared and comfortable+Automatic shutoff after 3 minutes+1 year limited warranty+Suitable for sensitive skin+Optimal skin results occur after a 10 week course of treatment
Reasons to avoid
-Strap can be ill-fitting
If lockdown is giving you wrinkles and other skincare woes, you've come to the right destination.
The SpectraLite Faceware Pro is fueled by a combination of red and blue LED lights, a symbiotic pair that smooths wrinkles, firms the complexion, reduces discoloration, and clears acne and blemishes. It even reduces the appearance of sun spots, calms inflammation, and acts as a preventive measure against breakouts and flareups.
Users can select one of three treatment options: First, red light therapy, which stimulates collagen and elastin production to reduce wrinkles. Second, blue light therapy, designed to purify the complexion from bacteria and redness. And lastly, dual red and blue light therapy, which simultaneously targets wrinkles and acne. The device is intended to be used after cleansing, followed by your serum and moisturizer. As always, you'll want to know how to wash your face properly and score the best eye cream for wrinkles. 
---
4. Silk'n Titan Skin Tightening and Lifting
Best facial skin tightener for contouring
Specifications
RRP: $269/£194
Design: Titan technology
Device Type: Light Therapy
Reasons to buy
+Strengthens skin's deepest layers from the inside out+After five weeks of use: diminished wrinkles and reduced pore size+Titan harmonizes the benefits of three energy sources: Bi-Polar RF, LED light, and IR heat+Silk'n is a global authority backed by scientists and engineers
Reasons to avoid
-Silk'n Slider Gel is required to carry out your treatments
Even the best retinol cream has its limits, and baby Botox, a new, lighter version of traditional Botox, may bring asymmetrical results, bruising around the injection sites, and more. That's where the best skincare devices come in, particularly the Silk'n Titan. 
The Silk'n Titan is a master sculptor that reduces wrinkles, lifts facial contours, and chisels sagging skin. As a tightening solution, this gadget repairs collagen and elastin fibers, which help the skin look bright, tight, and youthful even as you age. It also reduces fine lines around the eyes, minimizes the appearance of age spots, and improves overall facial structure. Compared to other skincare devices, this tool is not limited to the face: You can also target areas around the neck. 
---
5. 3D Microcurrent Facial Roller
Best skincare device for puffiness
Specifications
Price: $24/£17
Design: Solar Power = no charging required
Special call-outs: Microcurrent and Facial Massager hybrid
Reasons to buy
+Affordable+Enhances facial contouring and tone+Helps produce collagen+Includes a mask brush and scraping tool+Don't have to apply gel before treatment+Sends soft, gentle waves of microcurrent through the tissues and down to the facial muscles to stimulate skin
Reasons to avoid
-More of a facial massage tool than a microcurrent treatment
The ergonomic Microcurrent Facial Roller gently works to energize facial muscles and improve lymphatic draining. This process, in effect, accentuates facial contours and tone, plus reduces fine lines, wrinkles, dark circles, and swollen, puffy skin. 
The V-shaped roller features compact acupoint balls on the end of the handle, which, with rolling, can target multiple pressure and acupuncture points at once. The attached ball grants greater, more precise control over setting the angle and thereby lifting the skin more effectively. You can replicate professional results—without having to make a costly investment.
---
6. GUGUG Skin Scrubber Skin Spatula
Best facial cleansing device for pore extraction
Specifications
RRP: $23/£17
Design: EMS pulse micro-current and durable scraper
Special call-outs: Microdermabrasion
Reasons to buy
+Easy to use; cleans and lifts the face+Compact spatula penetrates deeply into problem areas, like blackheads, clogged pores, etc.+Four modes allows users to control what they need for their skin+Suction doesn't leave marks+Spatula helps skin absorb nutrients and eliminates blemishes and blackheads
Reasons to avoid
-Can feel rough on acne-prone skin
For a deeper clean, this facial scrubber utilizes high-frequency vibration to collect stubborn dirt, grease, and grime residing on pores. The GUGUG Scrubber achieves this challenge with positive and negative ions. When generated, positive ions attract negatively charged impurities in pores and underneath the skin's surface layer. Negative ions enable the skin to absorb nutrients from whatever cream and/or essence you choose to use (Ed's note: Its exfoliation technology is only activated on wet skin.)
The spatula is made of durable stainless steel, and includes charging sockets that are compatible with mobile phone and computer chargers. There are four adjustable speeds available and two silicone covers, which are designed for cleaning and lifting the face. Before using this gadget, open congested pores with a face steamer or warm towel.
---
7. Fraîcheur Ice Globes
Best facial rollers for inflammation
Specifications
RRP: $60/£43
Design: Hypoallergenic industrial-strength glass and non-freezing liquid
Device Type: Facial Massager
Reasons to buy
+Perfect for a cold massage refresh+Licensed estheticians say they're great for post microdermabrasion, chemical peels, and extractions+Reduces the size of pores, puffiness, redness, and acne scarring+Provides relief from sinus issues through lymphatic drainage+Vegan; cruelty-free
Reasons to avoid
-Some shoppers say they're a bit large to handle
Hailed for its viral appeal, the Fraîcheur Ice Globes have, not surprisingly, become our favorite facial cooling globes on the market. Made of borosilicate glass, these facial tools feature antifreeze to impart an ideal cold facial massage. To lift and tighten the skin, move them upwards—then downwards to catalyze lymphatic drainage. They work in unison with other skincare products, like the best eye cream for dark circles or best moisturizers. Or, add in this new eye cream by Paula's Choice, designed to counteract dark circles and fine lines.
---
8. Dermaflash Luxe
Best skincare device for dermaplaning
Specifications
RRP: $199/£143
Design: Powered by Sonic Edge Technology
Device Type: Dermaplaner
Reasons to buy
+Recyclable packaging and refill available+Sharp razor +Helps skin feel buttery smooth; works well for coarse, dark facial hairs+Eliminates dead skin cells, built-up debris, and peach fuzz
Reasons to avoid
-Blade may feel rough
The award-winning Dermaflash Lush is an at-home dermaplaning tool powered by the brand's Sonic Edge Technology, which buffs away dead skin cells, debris, and hard-to-reach peach fuzz. Clinically proven and dermatologist tested, it comes with two speeds, Gentle or Enhanced, that allow users to customize their treatment. Using it is simple: Just glide it across your face, and watch build-up and facial hairs disappear. After one month of use, you'll notice a significant reduction in fine lines and wrinkles. Immediately, you'll have a flawless canvas for makeup, like best makeup primers and best drugstore foundations.
---
9. BeautyBio GloPRO Microneedling Regeneration Tool
Best dermaroller
Specifications
RRP: $199/£143
Design: Surgical stainless steel microneedles
Device Type: Microneedling
Reasons to buy
+Patented and award-winning device+Cruelty-free and free of sulfates, parabens, fragrances, phthalates, and more+Comes in recyclable packaging+Remedies fine lines and wrinkles, dark spots, dullness, and uneven texture+Also uses LED red-light therapy and microcurrent stimulation+Includes GloPRO® Storage Case, Sanitizing Spritzer, Instructional Guide, Power Supply Cord, and Power Supply Adapter
Reasons to avoid
-Hygiene is paramount: you must spray the head of your device with alcohol after each use
As one of the best skincare devices, the GloPRO Microneedling Regeneration Tool has evolved into a household favorite and top-tier media darling—with good reason. For a visibly firmer and smoother complexion, the nifty gadget uses tiny microneedles that glide over and stimulate the skin. In effect, the process promotes collagen production, restores volume to the skin's surface, and tightens sagging on the face. Moreover, it works in tandem with LED red light therapy and microcurrent stimulation to boost cellular turnover and amplify results. The device also supports topical skincare absorption, which delivers anti-aging benefits more effectively. 
It's recommended to use this skincare device 2-3 times per week after cleansing. Users should apply light pressure and roll the skincare device horizontally to targeted sections. (Avoid using the GloPRO on your eyelids, lips, or nose.) Once complete, your complexion will appear a bit flushed and may tingle, though you won't experience major pain. 
---
10. Tria Beauty Hair Removal Laser
Best hair removal device
Specifications
RRP: $459/£330.60
Design: Diode Laser Technology
Device Type: Hair Removal
Reasons to buy
+The only FDA-approved laser for at-home use+Easy to use+Safe on the eyes+Offers more control and precision
Reasons to avoid
-Laser eye is small and you have to overlap your zaps
The Tria Beauty Hair Removal Laser is powered by the same in-office Diode Laser Technology used by dermatologists. Unlike similar laser skincare devices, which rely on broad spectrum of light, the Tria laser is entirely authentic and powerful, leveraging high amounts of energy to bring long-lasting results. That being said, it uses less intense light emissions than medical-grade options, so it won't irritate your eyes.
To prompt facial and body hair loss, Tria lasers first target pigments in hair follicles, thereby disabling them and halting growth. As a result, you'll enjoy smoother skin for longer.
To avoid the risks of injury and burning, it's suggested to perform a small patch-test and see if any issues arise. And remember: You don't want to over-treat the same area. Focus on one section and don't go back in for touchups. 
---
woman&home thanks Dr. Rachel Nazarian of Schweiger Dermatology Group for her time and expertise. Research is from the Skincare Devices Market Research Report by the International Society of Aesthetic Plastic Surgery (ISAPS).
---
Dominique (Dom) is a very online shopping writer at Woman & Home, where she covers products, sales/deals, and market news across categories. Before joining the team, she penned stories as an editorial fellow at Insider Reviews, the affiliate commerce team at Insider Inc./Business Insider. The bespectacled NJ transplant specializes in commerce journalism, women's lifestyle content, and hoarding makeup—much to her mother's dismay. 
Her foray into storytelling began in the early aughts, the era in which she developed a passion for fiction writing and an aversion to math. This passion, along with many failed math exams, led her to Marist College, where she studied public relations, creative advertising, and English. 
Aside from writing, she doodles in notebooks, crafts memes, and sleuths for homes out of her tax bracket on Zillow. Follow her adventures via the web:
Instagram: @dominiquemcintee / @drugstoredomi
LinkedIn: https://www.linkedin.com/in/dominique-mcintee-3a32ab9a/ 
To connect: dominique.mcintee@futurenet.com