The 11 best skincare devices for collagen-boosting, de-puffing and so much more
Our tried and tested guide to the best at-home skincare devices that replicate professional results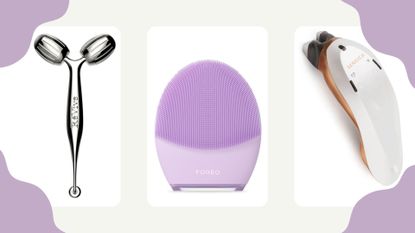 (Image credit: Future)
The best skincare devices allow you to effectively treat any number of skin concerns in the comfort of your own home. If regular trips to a beauty salon or clinic aren't feasible due to time or financial restraints, browse our list of expert-recommended at-home skincare devices.
These days, There's a gadget for every skincare routine, no matter how involved or minimal it is. Whether you need to rejuvenate dry skin, calm puffy eyes, or diminish lines, you'll be able to find an effective device that can help address your concerns. "Skincare tools and devices have bridged the gap between tweakments and what topical application of skincare can deliver," agrees qualified esthetician and skin expert Fiona Brackenbury (opens in new tab). "It's trouble-free to up the ante with skincare tools and devices as they are easy to use, non-invasive, and have no downtime. Even better, you have the luxury of using these tools in the comfort of your own home."
If that's an appealing thought, read our tried-and-tested list of the best skincare tech that's really worth investing in. As well as detailing each one's efficacy, we've included tips and techniques to help you get the most out of your tools. We've also consulted with top dermatologists for expert insight on how to select the right skincare devices for your needs.
How we tested the best skincare devices
There is a vast spectrum of skincare devices, from manual roller tools to high-tech LED masks and everything in between. Because of this, each device in this guide was tested differently, depending on its own specific treatment protocols and how long you have to use each to begin seeing results. As well as the effects on our skin, we also assessed each device on durability, ease of use, and value for money.

The best skincare devices, chosen by our beauty team
(opens in new tab)
1. ReVive Revolve Contouring Device
Best skincare device for puffiness
Specifications
RRP: $150/£108
Device Type: Facial Massager
Reasons to buy
+
Easy to use
+
No power, batteries or charging required
+
Inspired by patented and Nobel Prize-winning science
+
Zamac metal creates a cooling effect
Reasons to avoid
-
You'll have to keep it clean
Made of Zamac, an alloy material containing zinc, magnesium, and other elements, the ReVive Contouring Massage Roller depuff, drains and contours the face. This versatile device can also be used to massage the face, neck, eyes, shoulders, and décolletage.
The thing we like most about this is how easy and user-friendly it is. As a manual tool, there's no fussing around with wires, power sources, batteries, or charging. Plus the protocol is a simple daily 5-minute rolling ritual that's easy to fit in with your life and feels lovely. It's also incredibly weighty and has a luxurious feel in the hand, much more so than other facial rollers we have tried. The compact, dual-tipped head feels like it's really getting in there, deeply working facial contours, while the mini roller on the end targets the delicate eye area: a game-changer for puffy eyes. It's cooling, relaxing, and stimulating all at once - we're now addicted to ours and keep it in the fridge at all times for an ultra-cooling effect.
The experts are sold too. Dr. Rachel Nazarian (opens in new tab), MD, Assistant Clinical Professor of Dermatology at Mount Sinai Medical Center says this device is one of her favorites. "I love skincare devices that have a minimum risk for the benefit," she effuses. "I like those that are great for all skin types including sensitive, like contouring devices."
2. Foreo Luna 4
Best skincare device for clarifying the skin
Specifications
RRP: $279/£239
Device Type: Massage, exfoliate and cleanser
Reasons to buy
+
Gentle exfoliation for all skin types
+
Remedies dullness and uneven texture
+
Can be customized to your needs
+
300 uses from one USB charge
Reasons to avoid
-
An everyday device rather than intense treatment
It's no secret that cleansing tools have evolved from the harsh electric toothbrush-like gadgets many of us were addicted to scrubbing our faces with during the early 00s (guilty!) Case in point: the soft, sensitive skin-friendly Luna 4. This, the latest iteration of the popular Foreo range acts as a daily cleansing device and massage treatment in one. It comes in three iterations for sensitive, balanced, or combination skin, and the brand has also launched the Foreo Luna 4 Body, which gives us a chance to work delicious congestion-busting cleanse and massage into our shower or bath too. All of the above come in ultra-hygienic washable silicone.
And why bring a high-tech tool into your evening cleanse? Because it can dislodge dirt, makeup, pollution particles, and whatever else is on your face far better than your hands or a muslin cloth ever could. Plus, it's completely customizable via an app, and the aforementioned pulsating massage will boost circulation for a nice glow and de-puffing effect.
On testing, this was actually one of our favorite devices to use because it just feels so lovely. One of the upgrades between Luna 3 and 4 was even softer bristles and you can tell, although it still gives a satisfying clarified feel to the skin. You can switch between gentle, regular, and deep cleansing depending on what your skin needs, and we enjoyed playing around with the linked app to try various massage types, from shiatsu to lymphatic drainage. This is designed to be used long-term and certainly isn't a quick fix, but even after one go you'll get a bit of skincare bang for your buck. Our face was soft, bouncy, and beautifully prepped for our skincare products to absorb more deeply.
(opens in new tab)
3. NuFace Trinity Facial Toning Device
Best microcurrent facial toning device
Specifications
RRP: $339/£234
Device Type: Microcurrent
Reasons to buy
+
FDA-cleared for facial stimulation
+
Ergonomic, easy to use, simple to clean
+
Multi-solution and clinically-tested gadget
Reasons to avoid
-
Need to use this device often for results
The NuFace Trinity Facial Toning Device tones, and rejuvenates the complexion with thoughtful design and technology. Thanks to its interchangeable attachments, this tool delivers a high-quality, at-home microcurrent treatment, that targets collagen production and muscle tone.
Brackenbury is a fan of these types of devices, "Using microcurrents is a great way to give your facial muscles a workout. Be sure to use microcurrent devices frequently (ideally 5 days a week) to achieve the results, just like going to the gym consistency is key," She advises. "There are over 30 muscles in the face and microcurrent facial toning devices not only stimulate the muscles but also boost the skin's energy cells which is essential for skin protein (collagen and elastin) production." Sold.
While an at-home microcurrent treatment won't be as powerful as in-clinic, the science behind this one is worth noting. It utilizes soft-wave microcurrent technology with two wands: one positive and one negative. The synergistic duo generates an electric current, which flows through the complexion and facial muscles. In practice, we found using this to be a slightly strange sensation. Not painful, just a little bit tingly every now and then, but the included gel should prevent any 'zings' (and if it doesn't apply more.) After using it a few times a week we noticed the little folds beside our mouth appeared less prominent, but as Brackenbury says, we'll have to stick with it consistently for a good bit longer to enjoy the full results. To be continued.
(opens in new tab)
4. Dr. Dennis Gross Skincare SpectraLite Faceware Pro
Best skincare device for LED light skin therapy
Specifications
RRP: $435/£430
Device Type: Light Therapy
Reasons to buy
+
FDA cleared and comfortable
+
Automatic shutoff after 3 minutes
+
1 year warranty
+
Suitable for sensitive skin
Reasons to avoid
-
Strap can be ill-fitting
The SpectraLite Faceware Pro is fueled by a combination of red LED for collagen and blue LED light therapy for acne, a symbiotic pair that smooths wrinkles, firms the complexion, and reduces acne and blemishes. It can even reduce the appearance of sunspots, calm inflammation, and act as a preventive measure against breakouts and flare-ups.
This device is an absolute hit with skincare fans around the world, and after using it we can see why. It's one of the most comfortable LED masks we've ever tried, it's light yet robust feeling (you wouldn't worry about completely breaking it if you sat on it, as we have with flimsier models) We did slightly give up on the grippy rubber strap, as it didn't keep it in place all of the time. But we really enjoyed lying back with this on our faces for a few minutes every evening.
You can select one of three treatment options: First, red light therapy, which stimulates collagen and elastin production to reduce lines. Second, blue light therapy is designed to purify the complexion from bacteria and redness. And lastly, dual red and blue light therapy simultaneously target wrinkles and acne. The device is intended to be used after cleansing, followed by your other skincare products. It's warm, relaxing, and not in the least bit uncomfortable, and after two weeks of nightly use we felt our skin already looked brighter, with a more even tone. The brand recommends 90 days as the sweet spot when the best results will show, and we'll definitely keep going with it until then and beyond.
See our full Dr Dennis Gross DRx SpectraLite FaceWare Pro review
(opens in new tab)
5. FaceGym Brightening Active Roller
Best skincare device for instant glow
Specifications
Price: $65/£55
Device type: Microneedling
Reasons to buy
+
Instant glow and hydration
+
Non-invasive dissolving 'needles'
+
Sporadic use is enough for results
Reasons to avoid
-
You will need to buy replacement heads
This is microneedling, but not as you may know it. While there are pro-grade home devices available, experts generally advise against these."When it comes to microneedling, steer clear of 1mm needles and leave that to the professionals, as you can cause a lot of damage especially if used in the wrong areas of the face," advises Brackenbury.
That's why this is so genius, it's made with crystallized skincare actives that, instead of puncturing the skin, dissolve into it so those powerful ingredients are deeply delivered. This also means it isn't in the least bit painful to use. On the contrary, we enjoyed following the five-minute rolling protocol (watch the handy video by scanning a QR code on the included pouch) It hit that sweet spot of feeling like it was doing 'something' without being intense or uncomfortable. The main ingredients that make up the 'microneedles' are ascorbic acid (aka Vitamin C), hyaluronic and tranexamic acids - an excellent combo for glow and hydration, as we learned after rolling away for five minutes.
Our fairly reactive skin was only the tiniest bit pink afterward (as opposed to the fiery red of, say, Skinpen Microneedling) Instead, we observed that fresh glowing plumpness that usually only appears after having a professional facial. Which is good going for infinitely less time and a good deal less cash too. When you buy the original roller it comes with two heads, which then do need topping up at $65/£55 for four, but this is an every-now-and-then device rather than an everyday one, so you won't be forking out too frequently.
(opens in new tab)
6. Fraîcheur Ice Globes
Best facial rollers for inflammation
Specifications
RRP: $69/£60
Device Type: Facial Massager
Reasons to buy
+
Perfect for a cold massage
+
Great for post microdermabrasion, chemical peels, and extractions
+
Reduces puffiness and redness
+
Vegan and cruelty-free
Reasons to avoid
-
They're fairly large to handle
Hailed for its viral appeal, the Fraîcheur Ice Globes have, unsurprisingly, become our favorite facial cooling globes on the market. Made of borosilicate glass, these facial tools feature antifreeze to impart an ice-cold facial massage. To calm and temporarily tighten the skin, move them upwards—then downwards to catalyze lymphatic drainage.
We keep these in the freezer and use them on puffy face mornings (perhaps due to tiredness, or, you know, that last malbec before bed) They are fairly large, so we found them best suited to general massage rather than specifically targeting hard-to-reach contours, although you can give the undereye area a decent going over and we found they felt delicious on the jawline.
These can be used on their own as the condensation does give them a little bit of slip, but really they are at their best when working in unison with other skincare products. Slippery hydrating serums or essences are perfect bedfellows with these globes' cooling de-puffing properties, or combo them with the best eye cream for dark circles for double-duty effects on dark circles and fine lines.
(opens in new tab)
7. Dermaflash Luxe
Best skincare device for dermaplaning
Specifications
RRP: $199/£180
Device Type: Dermaplaner
Reasons to buy
+
Recyclable packaging and refill available
+
Works well for coarse, dark facial hairs
+
Eliminates dead skin cells and peach fuzz
If you've heard dermaplaning is a hot trend, you may also be wondering what is dermaplaning and if you should try it at home. The short answer is, yes. The slightly longer answer is, yes if you have the right tools for the job. This exfoliating method that also whips off unwanted facial hair is loved by many, but seeing as blades are very much involved, picking the best skincare device to do it with is key.
And the award-winning Dermaflash is indeed the best dermaplaning device we've come across. This at-home tool is powered by the brand's Sonic Edge Technology, which buffs away dead skin cells, debris, and peach fuzz without nicks or damaging the skin barrier. Clinically proven and dermatologist tested, it comes with two speeds, gentle or anhanced, that allow users to customize their treatment.
Using this skincare device is simple - we clicked in the guarded blade cartridge, flicked it on, and ran it across our face. It feels smooth and we quite enjoyed the gentle vibration as it went, as dead cell build up and fuzzy facial hairs disappeared in an instant. Our skin was ultra smooth leaving a flawless canvas that sat beautifully under our best drugstore foundation. We've been using this about once a week for top-ups and are very pleased with the skin-smoothing results. In terms of regrowth, there's nothing to fear. Yes, the hairs grow back, but no they were not thicker or darker at all, as the old myths would have you believe.
8. Sensica Sensilift
Best radiofrequency skincare device
Specifications
RRP: $350/£350
Device type: Radiofrequency
Reasons to buy
+
Stimulates collagen
+
Dual massage and radiofrequency
+
Can be used on many areas of the face and body
+
Bespoke treatment options
Reasons to avoid
-
Comes with a large price tag
Radiofrequency (RF) crops up a lot in professional treatments, and with good reason. This technology is excellent at targeting collagen production in deeper layers of the skin for a plumping and lifting effect, usually without pain or downtime. And while an at-home RF device will never be as powerful as a clinic treatment, this is an excellent way to gently boost your skin's natural collagen stores.
We love how this device looks, in chic white and rose gold, and found it super simple to set up. Simply plug it in to charge then switch on, choosing between three RF frequencies and massage intensities apiece. We applied the included base gel to test it on our hand first and were pleasantly surprised by the sensation, which was warm comfortable, and even fairly relaxing thanks to the two massage nodes (which help deliver the RF deeply into the skin) One treatment area takes just five minutes, or 10 on the forehead, which is easily done while sitting in front of a box set, as there's no light element that poses a risk to open eyes.
Looks and comfort aside, one of the best things about this device is that it can be used in so many places - the outer eye area, cheeks, chin, forehead, chest, and neck. Whatever your concern, this can target it. As collagen production is such a long game (it takes months for fresh collagen to reach the surface) we will have to report back on the finished results, but as it's such an easy-to-use, comfortable, well-made tool we'll certainly be sticking with it.
9. Tria Beauty Hair Removal Laser
Best hair removal device
Specifications
RRP: $459/£330.60
Device Type: Hair Removal
Reasons to buy
+
Only FDA-approved laser for at-home use
+
Easy to use
+
Safe on the eyes
+
Offers more control and precision
The Tria Beauty Hair Removal Laser is powered by the same in-office Diode Laser Technology used by dermatologists. Unlike similar laser skincare devices, which rely on broad spectrum light, the Tria laser is an actual laser. This means it's more powerful than IPL devices, leveraging high amounts of energy to bring long-lasting results. That being said, it uses less intense light emissions than medical-grade options, so it won't irritate your eyes (pro laser hair removal requires the wearing of safety goggles)
We found this relatively comfortable on testing. With any hair reduction, be it light or laser, you can expect a little bit of a zap or twinge, but this was a very tolerable one on balance. To prompt facial and body hair loss, Tria lasers first target pigments in hair follicles, thereby disabling them and halting growth. As a result, you'll enjoy smoother skin for longer but the effects do take a while to kick in, so you'll have to stick with it.
We definitely noticed less hair on our legs after four fortnightly sessions, but it can take 12 weeks to get the best results. To avoid the risks of injury and burning, it's also suggested to perform a small patch test and see if any issues arise. And remember: You don't want to over-treat the same area. Focus on one section and don't go back in for touchups.
10. Sarah Chapman Skinesis Pro Hydro-Mist Steamer
Best facial steaming device for cleansing
Specifications
RRP: $205/£119
Design type: Facial steamer
Reasons to buy
+
Restores moisture levels
+
Decongests pores and aids makeup removal
+
Nano-sized steam particles
Reasons to avoid
-
Need to use it often for best results
For the ultimate spa-like experience at home, invest in this Pro Hydro-Mist Steamer from expert facialist Sarah Chapman. Drawing inspiration from her clinical facials, Chapman is a big believer in the power of steam and its pore-purifying properties, saying, "I created this advanced facial steamer to enhance your daily skincare routine for professional results at home."
The portable device emits ionic, nano-sized steam particles to deeply cleanse and unclog pores while also restoring moisture to plump up and firm skin. Sounds good, right? So, how does it work? Very simply. We filled the water reservoir at the back with distilled water, pressed the on button, positioned our face in front of the nozzle, and relaxed there for five minutes. Afterward, our face felt super clean but also soft and ready for skincare, so we obliged and followed up with hydrating serums which our skin drank in.
This isn't the most futuristic or new technology on the list, but we're sold - there is something about steaming your face that transports you instantly to a spa environment, no matter where you are. We recommended using this device two to three times a week as an ultra-relaxing skin-clearing treat at the end of a long day.
11. Nurse Jamie Eyeonix Eye Massaging Beauty Tool
Best massage device for eye area
Specifications
RRP: $49/£36
Device type: Vibrating massager
Reasons to buy
+
Stimulates circulation
+
Fairly affordable
+
Brighten and de-puffs skin
+
Emits high-frequency vibrations
Reasons to avoid
-
Results more instant than lasting
It goes without saying that the eye area should be treated with care, so using a dedicated device that's designed for this fragile skin is a good call. Targeting the delicate eye area, Nurse Jamie's Eyeonix eye massaging tool is cordless and small in size, easy to maneuver, and travels light.
It combines sonic vibrations and a cooling tip to rev up circulation, improve lymphatic drainage, and generally wake up the eye area and we found this really delivered an instant eye-opening effect. We used it over a week where we had several early starts and really enjoyed the wide-awake effect it gave our eyes.
As well as helping flush away excess fluid, the vibrations feel super relaxing while the cold tip refreshes and soothes skin. While this is more of a temporary fix than a long-term treatment, we did love the results it gave when we needed it most. A big tick from us!
---
Skincare device FAQs, answered
What is the best skincare device?
Selecting the best skincare device for anti-aging depends on what aspects of the skin, you would like to target:
Facial steamers: Are useful for diminishing fine lines because they "help hydrate, clean pores, exfoliate, and allow for better absorption of skin care products into the face," says Dr. Thomas Griffin (opens in new tab) of Dermatology Associates of Plymouth Meeting.
Microneedles: Can help soften lines by creating tiny injuries in the skin to stimulate a wound healing response, driving collagen and elastin production. Best of all, you don't have to use a microneedle device all that often. Dr. Griffin suggests, "Once a week followed by a quality serum or mask can give a beautiful glow to the skin."
Dermaplaning: This is "sort of like shaving, but a little deeper," explains Dr. Griffin. Dermaplaning tools exfoliate the top layer of skin while also removing any unwanted fuzz, leaving skin smoother. It also primes the skin for optimal makeup and skincare product application.
LED light: Is deemed as a safe anti-inflammatory to stimulate collagen and yield smoother skin. "I am a fan of LED masks but just like the microcurrent devices consistency is key to see results and be sure to get a good quality mask and not all LED masks are created equally.," advises Brackenbury. Different colors impart different results – red lights spur collagen production and circulation, while blue lights tackle bacteria. Many light therapy devices are approved for at-home use by the U.S. Food and Drug Administration (FDA).
Microcurrent devices: Stimulate facial muscles and increase cellular activity to increase circulation and lymphatic drainage. It's like a workout for your face. There isn't much research on the long-term efficacy of microcurrent devices; however, these treatments have been prominent for decades. "Some microcurrent tools can put enough energy to lightly contract the muscles on the face, thereby strengthening them and giving a lifting effect," says Dr. Griffin.
Massage tools: Be it a jade roller, cylindrical wand, gua sha, or electric gadget, massage devices are a safe, inexpensive way to improve circulation, skin tone, texture, and aid product penetration. Massage devices can be used with lotions, serums, and oils and are low-risk. Using a cold jade roller will also reduce any puffiness around the eyes, since cold acts as an anti-inflammatory.
Laser and IPL: "Hair removal lasers work by targeting pigment in the hair follicle; anti-aging lasers work in many different ways but primarily through controlled injury and collagen stimulation," says Dr Nazarian. These function similarly to professional-grade lasers but are more labor-intensive since they use less energy.
Microdermabrasion: Are small but mighty vacuums for the face. They slough off dead skin cells, increase blood flow, and revitalize natural cell renewal. Which can help tackle dullness, dark spots, and rough texture – all while helping purge blackheads and pore congestion.

What to look for when shopping for skincare devices
Knowing what skincare concerns you'd like to target is only half the battle when it comes to selecting the right skincare device.
"When selecting a skincare gadget, you must research the product thoroughly. Look at the company, the product, and what you want," says Taya Amber, skincare specialist and founder of TA MediSpa, "If you want to avoid the time-consuming and expensive 'skincare trial and error', I recommend asking your trusted beautician or cosmetologist for product consultation. During this consultation, you should also ask which gadgets are suitable for you because, like skincare products and treatments, most beauty gadgets have contraindications."
Beyond that, Amber highly recommends doing your due diligence and researching everything you can about the product and the company itself. You'll want to answer questions such as: "Is [the] product FDA approved? How many awards or nominations has the product/company received? How many customers have bought their products and left reviews, [are they positive/legitimate]? Does the product suit your skin type and concerns?"
"This level of research and questioning may seem natural for some and overwhelming for others. However, in order to ensure that you are investing in a good product, it must be done. After all, the gadget will be in contact with your skin, and you want it to be safe as well as effective," says Amber.
Do skincare devices work?
"In general, at-home skin care devices are meant for long-term, consistent use. In the majority of cases, marked results are not achievable because these tools are relatively underpowered to avoid risk in untrained hands," says Dr Griffin, "They are best used as an adjuvant to real, medical grade, treatments as a means to maintain and enhance your results."
Dr. Griffin recommends finding a 'happy medium' when purchasing such tools. If you're considering dropping thousands on a skincare device, Dr. Griffin says, "It's worth spending that money for a trained physician who has the experience and the proper tools to get the best result." Amber adds: "Fine lines, loose, sagging skin, and other skincare concerns cannot be treated with gadgets. Beauty gadgets are great for maintaining your skin post-treatment, but they are not a substitute for professional technology used in clinics." Dr. Nazarian explains how you can maximize their benefits:
Stick with it: "Consistency is key. Even if you're using a device less often due to sensitivity, using it long-term will yield better results. Many results are long-term, such as permanent hair reduction and collagen stimulation. Others are temporary, and for chronic conditions, such as acne and rosacea, should be continued regularly to maintain results. Wait at least six weeks before anticipating any noticeable clinical change"
Reinforce with products: "Some are equivalent to topicals, some are more effective. Many medical-grade devices can improve some skin conditions quickly – but even many topicals will have efficacy over time, although they typically require more time to produce a noticeable clinical result."
Know its specs: "Read all the instructions thoroughly before using a device – many require prep to be effective, such as laser hair removal, which requires shaving beforehand. Use common sense when taking a device to your skin. [Mistakes include] using it on the wrong skin type or hair type, not using it for long enough, not adjusting the frequency of use when faced with irritation, and not protecting the eyes or using eyewear when using devices that can damage vision."
Essentially, it's key to manage your expectations accordingly when using skincare devices for anti-aging. Don't count on them to be the end-all-be-all solution to minimizing signs of aging. But by using them in conjunction with other tried-and-true methods, whether home-based or from a clinic, you can achieve results.
---
Emma Stoddart is a freelance beauty journalist and self-confessed skincare aficionado with over five years' industry experience. Emma has worked for some of the UK's top women's titles including Net-A-Porter, Stylist and Grazia. Her experience spans online and print as well as producing editorial shoots with some of the industry's biggest artists, including Val Garland. Asides from working with them behind the scenes, she's also had the chance to interview the likes of Patrick Ta, Pat McGrath, and Sam McKnight for all their insider tips and tricks.