The best skincare routine for rosacea: a go-to guide for care and products
We asked an expert for the best advice and skincare routine for rosacea, a common yet potentially distressing skin condition.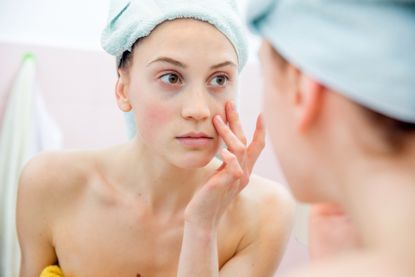 (Image credit: Getty Images)
In your pursuit for information on the best skincare routine for rosacea, you have probably stumbled across a lot of anecdotal recommendations that have absolutely no grounding in medical evidence. So if you're in need of a quick, easy to understand guide on what the best skincare routine for rosacea is, we've consulted the experts to help.
The symptoms of rosacea mean that you will likely need to adapt your skin care routine a little and carefully scrutinize formulas. For example, you may find that some of the ingredients typically found in products created for night skin care routines are too rich, or that they can even exacerbate the redness and soreness.
Dr. Ifeoma Ejikeme, medical consultant, skin expert, and founder of the West London-based Adonia Medical Clinic, says this medical condition is characterized by facial flushing, swelling, and acne-like breakouts, to name a few.
"Rosacea is a chronic medical condition characterized by erythema (redness), flushing, pimples or pustules, and sometimes burning sensations," Dr. Ejikeme explains. "It tends to have a waxing and waning course, with some periods of skin flaring. However, at other times, it can actually become dormant."
While there currently is no cure for rosacea at this time, Dr. Ejikeme says looking into skincare for rosacea (more on that after the jump!) can help manage your symptoms.
To help you identify the different types of rosacea, find rosacea-safe products, and adopt a better skincare regimen going forward, below is your need-to-know cheat sheet, sure to help you to manage your symptoms and keep your skin hydrated and healthy.
Types of rosacea
Finding the right skincare routine for rosacea definitely starts with identifying the four different types of rosacea, which tend to vary in appearance, according to Dr. Ejikeme.
"There are four main subtypes of rosacea," she tells woman&home. "These include erythemtolegantictic rosacea, papulopustular rosacea, phytamous rosacea, and ocular rosacea. If you are experiencing any of the warning signs below, the first step of action is to chat with your physician, who may start treatment or refer you to a board-certified dermatologist."
Subtype 1: Erythematotelangiectatic Rosacea
According to the American Academy of Dermatology (AAD), this form of rosacea causes redness, flushing, and visible blood vessels.
It is also the most common form of rosacea, according to Dr. Ejikeme, and typically is seen in the mid-face, cheeks, and nose areas.
Subtype 2: Papulopustular Rosacea
Papulopustular rosacea is characterized by central-face redness, swelling, and acne-like breakouts (or pustules), making it easy to confuse with acne vulgaris, according to the AAD.
However, there are key differences between the two, as unlike acne, papulopustular rosacea is a relapsing condition that affects the central part of the face, and can be triggered by sun exposure, heat, alcohol, and stress, according to an article published by the Stanford University School of Medicine.
Subtype 3: Phymatous Rosacea
Phymatous rosacea causes the skin to have a thick and bumpy texture, according to the AAD.
Similarly, Dr. Ejikeme adds that this form of rosacea also causes enlargement of the nose (with telangiectasia), and is usually more common in men.
Subtype 4: Ocular Rosacea
Defined by watery bloodshot eyes, Dr. Ejikeme says this form of rosacea causes stinging, burning, or light sensitivity in the eyes.
Additionally, it's also worth noting that ocular rosacea can also extend to the eyelid area as well, as the AAD states that it can cause the lids to appear red and swollen.
Symptoms of rosacea
Symptoms of rosacea differ depending on what specific subtype the person has. Typical symptoms include:
Flushing and redness
Visible blood vessels
Pustules
Enlarged nose
Swollen and irritated eyelids
The best skincare routine for rosacea
Over-the-counter skincare can be helpful in managing rosacea symptoms. However, you'll want to choose skincare for rosacea based on how your rosacea presents itself, Dr. Ejikeme explains.
Find a face cream with barrier-protecting ingredients
"Some people have rosacea and have very dry skin," Dr. Ejikeme adds. "In this case, you need to use ingredients that fortify the barrier function. These include hyaluronic acid, ceramides, niacinamide, and fatty acids."
Ed's tip: Be on the lookout for a face cream with moisturizing ingredients that help strengthen the skin's barrier, as this can help calm down redness and inflammation. We love the soothing cocktail chock-full of fatty acids present in Murad Intense Recovery Cream, which is a balmy, non-sticky moisturizer made for both face and eyes (!): shea butter and macadamia oil nourish any skin dryness, and mirabilis jalapa plant extract soothes irritation and redness associated with rosacea.
Integrate a salicylic acid product into your regimen
Though if the skin is very oily with evidence of enlarged pores and pustules, she advises using cleansers that contain two percent salicylic acid. However, it's important to use salicylic acid with caution, as while it is not named as a trigger ingredient, a 2012 article published by The National Rosacea Society warns that the ingredient can be too strong for some individuals, making it important to conduct a patch test before using it.
Ed's tip: Using a mask once a week during at formulated with salicylic acid during an at-home facial could help provide a deep cleanse and refresh and offer relief to oily skin that tends to break out, as long as you're not peeling or are experiencing sensitized/compromised skin. The Ordinary Salicylic Acid 2% Masque targets textural irregularities and signs of congestion with a one-two punch of salicylic acid together with charcoal and Amazonian clays, and is alcohol-, silicone-, paraben-, gluten-, and sulfate-free.
Try a face cream with azelaic acid
"Azelaic acid can be helpful with the inflammation and redness seen in rosacea," Dr. Eijkeme says.
Inflammation aside, since the ingredient also boasts antimicrobial, anti-inflammatory/antioxidant, and keratinolytic properties, according to a 1996 study published in the Cutis journal, it may be helpful in taming down pustules associated with papulopustular rosacea.
Ed's tip: A face serum with azelaic acid can be a highly effective step to integrate into your usual cleansing-toning-moisturizing routine. Paula's Choice 10% Azelaic Acid Booster touts visible dramatic results, from reduced rosacea redness to even maskne breakout relief.
Hydrate and cleanse with non-comedogenic and water-based products
Finally, Dr. Eijkeme advises sticking with gentle, water-based products, and products which are non-comedogenic, as they are usually non-irritating and can successfully hydrate the skin without clogging pores.
Ed's tip: A water-based cleanser with hydrating ingredients is great for skin that tends to dry out immediately after washing. We like the gentle moisture boost we get from oldie-but-goodie CeraVe Hydrating Facial Cleanser, which has hyaluronic acid and ceramides to help nourish and fortify the skin barrier while you're at it.
Always listen to your skin
Since rosacea is a chronic condition that can cause flareups throughout the year, Dr. Eijkeme advises using skincare for rosacea with caution.
"If the products you are using start to feel harsh, back off and move to more gentle products till the skin calms down," she explains.
And yes, over-the-counter skincare products can be helpful in managing your symptoms, but in some cases, prescription medication actually may be needed, making it important to schedule a visit with your dermatologist, if your skin isn't responding well to the products you are currently using.
Good luck!
woman&home thanks Dr. Ejikeme for her time and expertise. You may follow her on Instagram @dr_ifeoma_ejikeme or contact Adonia Medical Clinic.
Sign up to our free daily email for the latest royal and entertainment news, interesting opinion, expert advice on styling and beauty trends, and no-nonsense guides to the health and wellness questions you want answered.
Courtney Leiva is a seasoned lifestyle writer with nine years of experience under her belt. She graduated from The Ramapo College of New Jersey in 2012, and since graduation, she has been actively contributing to major news outlets such as Refinery29, Women's Health, Yahoo! Lifestyle, HelloGiggles, NewBeauty, and more.
Courtney initially started off covering beauty news, but as she has grown her career over the years, her health, home, and shopping pieces can now be seen on BuzzFeed, The Daily Beast, and Huffington Post.