The best sunscreens for sensitive skin that won't irritate or sting your eyes
Our expert guide to the best sunscreens for sensitive skin in every form – from creams to sprays and sticks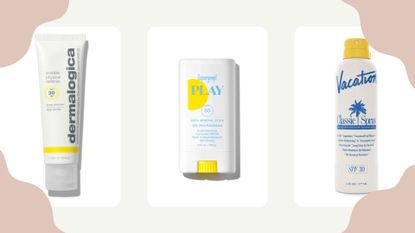 (Image credit: Future)
The best sunscreens for sensitive skin are tricky to find. Skincare experts and dermatologists across the board preach that slathering your skin with SPF is the best way to protect it from damage. But for those with sensitive skin, this can be a challenge.
While formulas for this skin type do exist, a large majority of SPF products can cause redness, itchiness, and breakouts. Not to mention, the white-cast, residue, and sticky feeling many of them leave behind.
Still, despite its often-irredeemable characteristics, Cindy Ha, lead esthetician at Fairmont Spa Century Plaza says that you should use the best facial sunscreen every day, rain or shine, indoors and outdoors. "Even if it doesn't appear to be sunny, there are always UV rays present," she warns, so it is crucial to find a formula that even the most sensitive skin can great along with. Below, we've rounded up the best sunscreens for sensitive skin types that'll protect your skin from more than just sun damage – they'll keep breakouts and redness at bay, too.
The best sunscreens for sensitive skin, chosen by our experts
Why you can trust Woman & Home Our expert reviewers spend hours testing and comparing products and services so you can choose the best for you. Find out more about how we test.
1. La Roche-Posay Anthelios UV Correct SPF 70 Daily Anti-Aging Face Sunscreen
The best sunscreen for sensitive skin overall
Specifications
RRP: $35 (US only)
Key ingredients: Senna Alata, niacinamide
Formula callouts: Non-comedogenic, oxybenzone-free
Reasons to buy
+
Won't clog pores
+
Lightweight feel
+
Non-sticky finish
There's a lot to love about this SPF from La Roche-Posay. First off, it's made without parabens or fragrances, so is less likely to irritate sensitive skin. It also comes in a simplistic, travel-friendly packaging and has an ultra-high SPF of 70 for maximum protection as well as acting as a preventative hyperpigmentation treatment..
One of our favorite things about the formula is that it doesn't leave behind a greasy feeling like other sunscreens do, which is a bonus if you're sensitive and prone to oiliness (as is the case for many) and need skincare for oily skin. We also love that the formula protects the skin from harmful UV rays and corrects existing damage with what the brand refers to as Cellox-B3 Shield technology. It has a sheer finish (no white-cast here) and is free of oxybenzone, which New York City-based board-certified dermatologist Dr Lian Mack says has been shown to cause toxicity to coral reefs. A gentle, sheer, and reef-safe sunscreen? All in all, this is a winning formula.
2. Dermalogica Invisible Physical Defense Mineral Sunscreen SPF30
The best luxury sunscreen for sensitive skin
Specifications
RRP: $45 / £49
Key ingredients: Green tea, bioactive mushroom complex
Formula callouts: Vegan, free of parabens, oxybenzone, and mineral oil
Reasons to buy
+
Sheer formula
+
Absorbs quickly
+
Gives a slight glow
Reasons to avoid
-
Takes a bit of time to blend
Despite being a mineral sunscreen, Dermalogica hit the nail on the head with this sheer formula. During testing, we enjoyed its invisible coverage and how well it layered underneath makeup. In addition to shielding against UV rays, this SPF also protects against blue light, free-radical damage, and pollution all thanks to the non-nano zinc oxide in its formula.
This is especially great for sensitive skin that's looking to have a protective formula that's all-encompassing. And, if you're the type that loves a radiant finish to the skin, you'll appreciate the slight glow this product has – it'll instantly add juiciness, much like skincare for dry skin, yet isn't too overpowering for oily skin.
3. Milani SPF BFF SPF30 Face Primer
The best budget sunscreen for sensitive skin
Specifications
RRP: $10 / £14
Key ingredients: Glycerin, vitamin E
Formula callouts: Vegan
Reasons to buy
+
Glowing finish
+
No white-cast
+
Blendable texture
With this bargain pick from Milani, there's really no excuse to skip SPF. It's affordable and boasts cheery packaging that'll give your morning an instant pick-me-up. Most importantly, it's made with skin-hydrating glycerin and anti-inflammatory vitamin E, two ingredients that bode well for sensitive skin.
This product is an SPF first, one of the best primers second, which means it looks great underneath makeup but can also be worn on its own (all while still reaping the skin-smoothing benefits). Our tester had dry skin and loved the dew that it left behind, but noted those with oily skin may want to powder it down (ideally with an SPF powder) to minimize the sheen.
4. Alo Daily Sun Shield Moisturizer SPF 20
The best dry-skin friendly sunscreen for sensitive skin
Specifications
RRP: $38 / £40
Key ingredients: Amla berry, squalane, vitamin C
Formula callouts: Broad-spectrum protection
Reasons to buy
+
Transparent formula
+
Gives skin a glow
+
Travel-friendly packaging
Reasons to avoid
-
SPF level could be higher
Alo may be everyone's favorite brand for Insta-worthy activewear according to your body type, but their skincare line is just as notable, as evidenced by the Daily Sun Shield Moisturizer.
The zinc-powered SPF features an impressive list of ingredients including brightening vitamin C, skin-protecting amla berry, and hydrating squalane. We love the fact that it provides a radiant glow when worn alone, yet acts as one of the best primers for dry skin and blurs imperfections underneath makeup, too. Plus, the bottle is so easy to throw into your gym bag – we wouldn't expect anything less from this brand.
5. Odacite Mineral SPF50 Drops
The best sunscreen for sensitive, oily skin
Specifications
RRP: $48 / £44
Key ingredients: Niacinamide, green tea, squalane
Formula callouts: Formulated without silicones, fragrances or nanoparticles
Reasons to buy
+
Lightweight feel
+
Protects against free radical damage
+
Soothes inflammation
Reasons to avoid
-
Pricey compared with others
Don't be intimidated by this formula's liquidy consistency – it blends like a dream into even the oiliest of skin types (and doesn't contribute to the grease). Green tea and niacinamide are the powerhouse duo that work together to fight against free radical damage and even out the skin tone.
Meanwhile, squalane keeps the skin barrier intact while calendula soothes any irritation that sensitive skin types are prone to. We found the formula feels extremely lightweight and airy on the skin, and enjoy the fact that it's moisturizing without feeling sticky to the touch.
6. Monat Sun Veil Daily Mineral Protection SPF 30
Best sunscreen for sensitive skin and hyperpigmentation
Specifications
RRP: $40 / £42
Key ingredients: Hyaluronic acid, arnica extract, niacinamide, red algae extract
Formula callouts: Reef-safe, vegan
Reasons to buy
+
Hydrates the skin
+
Combats pigmentation
+
No white cast
Dr. Mack is a fan of this sunscreen for several reasons. For one, it's a mineral sunscreen and contains zinc oxide, hyaluronic acid, botanicals, and antioxidants. "I love that this sunscreen is a physical sunscreen, meaning that it physically blocks the rays of the sun (unlike a chemical sunscreen that absorbs the rays of the sun and converts it to heat)," she says.
What's more, it's great for those who deal with uneven skin tone. "For people who suffer from pigmentary disorders like melasma or post-inflammatory hyperpigmentation, this product is my go-to." This also makes it one of the best sunscreens for acne-prone skin on our list, as it helps dial down that inflammation. One caveat? It does contain fragrance, so if you have a known fragrance allergy, it may be best to conduct a test patch.
7. Neutrogena Clear Face Liquid Sunscreen for Acne-Prone Skin
Best sunscreen for acne-prone and sensitive skin
Specifications
RRP: $14 / £10.99
Key ingredients: Helioplex Technology,
Formula callouts: Oxybenzone free, non-comedogenic
Reasons to buy
+
Available in SPF 30 and 50
+
Water-resistant
+
Won't clog pores
If you're looking to master how to get rid of acne, you're probably also looking for an SPF you're sure won't break you out. Turn to this one from Neutrogena, which is made without oil so you can rest assured it won't clog your pores. We love that it's water-resistant for up to 80 minutes, meaning it'll keep on protecting your skin during a pool swim, splash in the sea, or a long hot shower on not-so-sunny days.
The only downside to this formula is that it requires a lot of blending and can tend to feel heavy on the skin. That being said, you can use it on your entire body in addition to your face without worrying it'll lead to breakouts in areas that are prone to it (it's perfect for people looking for a solution on how to get rid of back acne).
8. Supergoop! 100% Mineral Sunscreen Stick SPF 50
Best stick sunscreen for sensitive skin
Specifications
RRP: $24 (US only)
Key ingredients: Olive fruit extract
Formula callouts: Water-resistant
Reasons to buy
+
Travel-friendly
+
Easy to apply
+
Water-resistant
Whether you're a regular traveler or you frequent outdoor workouts, a stick SPF is useful for ensuring you can nail how to reapply sunscreen while on the go. Cue this one from Supergoop!, a well-loved SPF brand that's earned an understandably dedicated cult following.
This stick sunscreen makes it easy to tackle hard-to-reach (and often missed) areas like the neck, backs of the ears, and even the lips. Like a few others on our list, it's water-resistant for up to 80 minutes, and has a light-as-air, breathable finish on the skin, making it great for those with sensitive skin. The best part? We didn't experience any stinging in the eyes, which means it's great for kids as well.
9. Vacation Classic Spray SPF 30 Sunscreen
Best spray-on sunscreen for sensitive skin
Specifications
RRP: $20 (US only)
Key ingredients: Coconut oil, aloe vera, banana extra, shea oil, vitamin E
Formula callouts: Reef-safe, vegan
Reasons to buy
+
Continuous spray nozzle
+
Transparent
+
Lightweight feel
Say it with us: the best sunscreens for sensitive skin (or any skin type) are the ones that are easy to apply. This one from Vacation makes applying SPF an enjoyable process with its skin-nourishing formula, exceptional scent, and continuous nozzle – meaning you just press and point on the areas you want to apply.
The formula contains aloe vera, which can help you nail how to treat sunburn and soothe redness all while providing hydration. It also has shea and coconut oil to keep the skin moisturized and soft. While we fell in love with the tropical scent upon application, some may find it overpowering, especially if you're not used to scents in your products.
10. Everyday Humans Rose From Above Mineral Sunscreen Base
Best tinted sunscreen for sensitive skin
Specifications
RRP: $25 / £23.50
Key ingredients: Rose oil, plant squalane, ceramides
Formula callouts: Reef-friendly, free of parabens, phtalates, and fragrance
Reasons to buy
+
Protects moisture barrier
+
Semi-matte finish
+
Natural-looking tint
Reasons to avoid
-
If you don't want a tinted sunscreen
A barely-there SPF that feels like second skin may sound too good to be true, but Everyday Humans proves that it is possible. This light-as-air SPF is also tinted, which is perfect for no-makeup days where you still want to even out your skin tone and protect your skin at the same time.
Our tester has olive undertones and a medium complexion and the formula blended seamlessly into her skin. We found that that this product made getting ready in the morning quicker and more efficient because we didn't have to layer on our best foundation or powder. Also, if you're not into overpowering scents, know that the rose perfume is there but it's subtle so won't irritate sensitive noses.
---
How to pick the right sunscreen for sensitive skin
There's a lot to consider when it comes to picking the best sunscreens for sensitive skin, but these are the two key factors, according to the experts:
Type of sunscreen: There are two types of sunscreens: chemical and physical. Chemical-based sunscreens use chemicals like octinoxate, avobenzone, and oxybenzone to absorb the rays of the sun and convert them into heat, says Dr Mack. Sunscreens that are chemical-based need to be applied to the skin 20 minutes before sun exposure so that they have a chance to absorb into the skin. In contrast, physical sunscreens (which use ingredients like titanium dioxide and zinc oxide) work by bouncing off the sun's UV rays. These sunscreens tend to have a white cast, though modern formulas have come a long way and many are easier to blend into the skin. "Chemical sunscreens are a bit more flexible and forgiving with makeup application, but mineral sunscreen is the way to go for protection and skin health," says Ha. They're also less irritating for sensitive skin, as they're less likely than chemical to cause a reaction or contact dermatitis, says Dr. Mack.
Ingredients: As with all things skincare, ingredients play a crucial role in the way your skin looks and feels. For those whose skin leans sensitive, it's more about avoiding certain ingredients that are known to cause irritation. "Fragrance is a blanket term for all essential oils and perfumes, so it's difficult to discern exactly what ingredients are being included and how your skin may react," notes Ha. Fragrance in skincare products can cause allergic contact dermatitis, which can manifest itself as red, blotchy, scaly patches that are itchy, says Dr. Mack. "Eliminating fragrance from a sunscreen reduces the risk of developing a contact allergy." Dr. Mack also advises looking for niacinamide, hyaluronic acid, and aloe to calm redness and inflammation. Generally speaking, look for a shorter ingredient list if you have sensitive skin.
---
Michelle Rostamian is a Los Angeles-based beauty writer with 10 years of experience in the beauty industry. She began her career as a publicist, content writer, and social media manager, representing beauty brands and industry professionals. Currently, she is an editor and writer on all things makeup, beauty, skincare, and lifestyle. Michelle graduated from the University of California, Los Angeles with a B.A. in Communications. She has bylines at Cosmopolitan, Elle, Marie Claire, Allure, The Zoe Report, HelloGiggles, Yahoo, Byrdie, Well+Good, Reviewed, Women's Health, Runner's World, The Girlfriend, and more.