Face moisturizer with SPF is a summer staple and these are our top picks
These expert-approved face moisturizer with SPF options will hydrate and protect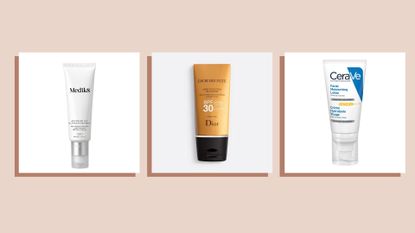 (Image credit: CeraVe, Dior, Medik8)
If you're interested in face moisturizer with SPF then you've probably heard roughly 1000 times that daily sun protection is non-negotiable. So it makes sense to find a multitasking product that offers both hydration and sun protection - day in, day out.
"Sunscreen is the one universal item that every dermatologist will agree needs to be part of your daily skincare routine," explains Dr Anjali Mahto (opens in new tab), Consultant Dermatologist at 55 Harley Street. "It has two main benefits, both of which are important. Firstly, sunscreen use will reduce your risk of skin cancer. Secondly, the sun's rays are responsible for about 80-90% of the features we associate with aging."
This probably isn't new information to you. But often, the issue with sticking to wearing even the best facial sunscreen is actually wanting to use it. If the expense or time spent applying sunscreen feels offputting, a face moisturizer with SPF could be a good solution. Whether you're looking to streamline your routine or add extra protection under your sun cream, it'll go a long way towards keeping lines, loss of firmness, and pigmentation at bay.
How we tested face moisturizer with SPF
With so many face moisturizers containing SPF landing on the market, we tested a wide range – spanning different textures and price points to see how they compared. To rank highly, the formulas needed to work effectively while also feeling comfortable enough to wear every day. Other factors we considered were how well they sat under makeup and how they made the skin look (greasy, hydrated, matte?) To make a fair judgment, we also tested the products on various skin types and skin tones.
The best face moisturizer with SPF, as chosen by our experts
1. CeraVe AM Facial Moisturizing Lotion SPF 25
Best moisturizer with SPF for normal to dry skin
Specifications
RRP: $18.99 / £13.50
Product Type: Cream for Normal to Dry Skin
Benefits: Lightweight Broad Spectrum Moisturizer
Reasons to buy
+
Fragrance-free and oil-free
+
Contains 3 natural ceramics and hyaluronic acid
+
Broad spectrum protection against UVA and UVB rays
+
SPF25
Don't be fooled by the no-frills packaging, as this is an impressive multi-tasker. A blend of three ceramides keeps even the most sensitive, driest complexions happy, while broad spectrum protection shields skin from UVA and UVB rays.
This product contains hyaluronic acid, helping the skin retain water to ensure maximum hydration. We found that the cream spreads easily and leaves behind a smooth finish. However, we did find that it left a touch of chalkiness on deeper skin tones. But, for its price, moisture-boosting, and texture, this fragrance-free AM moisturizer is a no-brainer for the upcoming summer months.
---
2. Murad Essential-C Day Moisture Broad Spectrum SPF 30
Best Vitamin C SPF moisturizer
Specifications
RRP: $68 / £65
Product Type: SPF 30 Broad Spectrum Moisturizing Cream with Vitamin C
Benefits: Protects skin from sun damage and environmental aggressors
Reasons to buy
+
Paraben, sulfate, phthalate, gluten-free
+
Suitable for all skin types
+
Contains Vitamin C to boost skin clarity
+
Broad spectrum UV protection
+
Easy application
Reasons to avoid
-
Use in small quantities to prevent oily residue
One of the most-asked SPF questions is how other skincare actives play with UV filters, and in the case of Vitamin C, the answer is very nicely indeed. SPF keeps the sun's rays at bay, while antioxidant vitamin C does more hard graft. It'll shield skin from free radicals, kick-start collagen production, and brighten lackluster complexions.
This chemical sunscreen moisturizer contains active ingredients which expel UV rays from your skin by converting them into heat, with broad spectrum protection to shield your skin from any UVA damage. On testing, we loved the summery fragrance and light texture, although as a chemical SPF it may not be suitable for those with very sensitive eyes.
---
3. Fenty Skin Hydra Vizor Invisible Moisturizer SPF30
Best makeup-friendly moisturizer
Specifications
RRP: $38 / £34
Product Type: SPF30 make-up friendly and ultra-hydrating cream
Benefits : Suitable for all skin tones
Reasons to buy
+
Non-comedogenic so it won't clog pores
+
Lightweight
+
Transparent on all skin tones
+
Perfect under make-up with no flashback
+
Limits dehydration, discoloration, and dark spots
Reasons to avoid
-
Formula can interfere with oily skin
Wearing face moisturizer with SPF won't feel like a chore when the formula is as silky as this. This cruelty-free product contains skincare ingredients such as glycerin plus hyaluronic acid to hinder dehydration while the niacinamide in the formula protects the skin from discoloration and dark spots.
We believe that the best thing about this cream is the texture. On testing, we found it to be silky-smooth and so easily absorbed, making it perfect for under makeup. Plus, the subtle rose-tinted finish is a nice touch for tired faces and the outer packaging is refillable—bravo, Fenty.
---
4. Liz Earle Environmental Defence Cream Mineral SPF25
Best mineral moisturizer with SPF
Specifications
RRP: £27.50 (UK only)
Product Type: Broad spectrum SPF25 cream to protect against aggressive environmental elements
Benefits : For all skin types and sensitive skin
Reasons to buy
+
Non-comedogenic formula to prevent clogged pores
+
Contains light-reflecting pigment for all skin tones
+
Cruelty-free
+
Strengths natural defense barriers of the skin
Mineral UV filters work hand-in-hand with potent antioxidants, blueberry, and lingonberry seed to boost the skin's natural moisture barrier and protect it from future damage. When we applied this we found it to be easily absorbed and played nicely with any makeup we put on top, from primer to foundation.
The 3-in-1 nature of this product ensures that your skin is protected not only against UV rays but also pollution and blue light as well, shielding your skin both inside and whilst you're outdoors. Being a mineral product it doesn't quite have the super elegant texture you might get from chemical filters, but then again it won't irritate sensitive skin either, so it'll be worth the trade-off for many.
---
5. La Roche-Posay Hyalu B5 Aquagel SPF30
Best gel moisturizer with SPF
Specifications
RRP: $31 / £34.50
Product Type: Hydrating gel for UVA and UVB protection
Benefits: Contains pure hyaluronic acid to guarantee maximum hydration
Reasons to buy
+
Non-greasy
+
Contains hyaluronic acid to limit wrinkles
+
Extremely hydrating
+
Contains Vitamin B5 antioxidants to restore skin texture
Reasons to avoid
-
Slightly tacky texture when combined with oily skin
Treading the line between SPF and skincare, this is a must-try face moisturizer with SPF if your skin is on the dry side. The addition of hydration hero, hyaluronic acid, makes for a fresh feeling formula that leaves skin plump and dewy. We loved the gel texture when we tried it on our hot, puffy morning skin. it would definitely make a great choice for anyone with oily or combination skin who finds traditional creams can feel suffocating.
Containing Vitamin B5 and antioxidants, this formula prompts the skin's repairing process to restore damaged skin cells. This means it acts as a pre-emptive strike that'll give your best aftersun lotion a helping hand should you unexpectedly catch too much sun. Well also found that it's fast-absorbing, refreshing, and bolsters radiance while keeping our skin protected in the sun.
---
6. Dior Bronze Beautifying Protective Creme Sublime Glow
Best SPF moisturizer with gradual tan
Specifications
RRP: $36 / £27.50
Product Type: Lightweight Creme
Benefits : Protects the skin against free radicals and UV rays
Reasons to buy
+
Hinders photo-induced aging
+
Non-greasy formula
+
Smooth finish
+
Tans the skin while protecting
Trust Dior to take face moisturizer with SPF and add an extra element of all-out glam gorgeousness. Like a luxury holiday in a tube, this delivers a buildable, gradual tan alongside SPF30 protection, plus hydrating skincare actives. We loved the light texture and summer holiday scent, plus the bronze that develops is definitely on the subtle side, which is a bonus if you plan to apply this regularly.
It's available in SPF50 too, if you prefer a higher factor, and is a firm favorite of Dr Anjali Mahto, which is a high endorsement indeed. Using a combination of UVA and UVB filters to protect the skin from sun damage, this lightweight moisturizer will ensure maximum protection and guarantee glowing skin.
---
7. Heliocare 360° Fluid Cream SPF 50+
Best for maximum SPF protection
Specifications
RRP: $32.99 / £31
Product Type: SPF 50+ cream with antioxidants, Vitamin C, E and Green Tea Extract
Benefits: A non-comedogenic formula which prevents clogged pores whilst simultaneously ensuring maximum protect
Reasons to buy
+
Glowy finish
+
Contains Fernblock, a plant-based antioxidant to encourage skin repair
+
Ultimate protection and hydration for dry and more mature skin
Reasons to avoid
-
May be too moisturizing for oily skin
Hate the stickiness that can come with wearing both SPF and moisturizer at once? Follow Dr Emma Wedgeworth's lead and give this hydrating lotion a go. There's no white cast, nor will it pill or bobble beneath make-up. The texture is fairly rich and creamy, all the better to deeply nourish dry skin, and while we found it comfortable on our combination skin it may be a little too rich for very oily types.
As well as SPF 50+, the active-rich formula promises maximum protection, designed for dry or more mature skin. This is done via UV and pollution-busting antioxidants derived from not one but three sources, green tea extract, vitamin E and C. These work together to encourage skin cell repair and a nice even tone.
8. Teoxane Advanced Perfecting Shield SPF 30
Best tinted moisturizer with SPF for daily use
Specifications
RRP: £52 (UK only)
Product Type: Ultra lightweight tinted moisturizer
Benefits : Great for everyday use to protect the skin against urban life
Reasons to buy
+
Ultra Lightweight
+
Dewy finish
+
Anti-ageing formula
+
Contains a fortified strain of hyaluronic acid
+
Compliments makeup base and cosmetic treatment
Reasons to avoid
-
None, we love this product
What's better than a face moisturizer with SPF? How about a face moisturizer with SPF that also offers a sheer, glowy makeup hit into the bargain? This ultra-lightweight tinted moisturizer ensures maximum hydration by incorporating the brand's trademark resilient hyaluronic acid into its formula to plump the skin, as well as a mix of amino acids and antioxidants. This ingredient blend is designed to protect your skin from UV rays and environmental aggressors to prevent premature skin aging and dullness
On testing, we loved this cream's light, BB cream-like texture, and sheer coverage. It looks like one of the best lightweight foundations on the skin, just covering enough but not overly pigmented. It has a dewy finish that sits perfectly under makeup but looks best on its own. Though it may need topping up after a few hours that can only be a good thing as you'll also be topping up your sun protection.
9. Nivea Cellular Expert Lift Pure Bakuchiol Anti-Age Day Cream SPF 30
Best rich moisturising cream with SPF
Specifications
RRP: $24.50 / £19.99
Product Type: Enriching anti-age cream
Benefits: Perfect for dry or mature skin
Reasons to buy
+
Rich formula, perfect for dry or very mature skin
+
Ultra-hydrating
+
Ensures skin elasticity
+
Prompts the regeneration of skin cells
Reasons to avoid
-
Not suitable for all skin types
This ultra-hydrating Nivea moisturizer prevents skin damage and prompts cell repair, restoring your skin whilst hindering the development of fine lines and wrinkles. It does this with a combination of ingredients, such as natural 'retinol alternative' bakuchiol, which helps speed up cell turnover to strengthen the elasticity of the skin. It also contains two forms of hyaluronic acid—micro and macro—to penetrate the skin at various levels for ultimate hydration. Plus, of course, it's got SPF30,
The texture of this cream is just light enough for day, but perhaps a little closer to a rich traditional moisturizer than some others on this list. On testing, we loved how instantly nourishing it felt, adding plumpness and softness to our skin, while also protecting it. While it may be a little too heavy for oily skin types, the creamy formula is the perfect option for those with dry skin who want to combat environmental aggressors.
---
10. Medik8 Advanced Day Ultimate Protect SPF50+
Best face moisturizer with SPF for skincare benefits
Specifications
RRP: £59 (UK only)
Product type : Moisturising day cream
Benefits: Broad-spectrum SPF, pollution shield and anti-blue light
Reasons to buy
+
Lightweight texture
+
Protects skin from environmental aggressors
+
Sits well under makeup
+
Youth-boosting formula
Reasons to avoid
-
None, we love this product
Seriously, is there anything Medik8 can't do well? Home to some of the best toners, retinals, and spot treatments around, the brand's extensive range is loved by all. And their latest product – a face moisturizer with SPF – does not disappoint. The lightweight day cream, featuring broad spectrum SPF 50, sinks into the skin quickly to deliver a veil of nourishing protection.
Inside, the formula contains something called carnosine which helps prevent signs of aging, as well as blueberry seed oil to protect against blue light and marrubium vulgare extract to ward off environmental aggressors. We found that it absorbs fast, feels ultra-comfortable, and sits so well under makeup. There's also no white cast left behind – a big tick.
---
11. Caudalie Vinosun Very High Protection Lightweight Cream
Best vegan face moisturizer with SPF
Specifications
RRP: $24.50/£19
Product type: Lightweight fluid
Benefits: Suitable for all skin types, including sensitive
Reasons to buy
+
Fragrance-free
+
Dermatologically tested
+
Vegan friendly
+
Lightweight and invisible
+
Hydrating formula
This face moisturizer with SPF from French skincare brand Caudalie ticks a lot of our 'must-have' boxes. First of all, it's fragrance-free which is a must for those following a skincare routine for sensitive skin. Secondly, the texture is lightweight – a little like milk – which means it melts effortlessly into the skin without leaving behind a sticky or greasy residue. Thirdly, it doesn't leave a white cast which is essential for darker skin tones. And finally, it nourishes and treats skin with vitamin E and spruce extract.
The only downside? We did find that the fluid has an unusual (and somewhat unpleasant) scent when you first apply it to the skin. But, with that being said, we found that the aroma gradually disappeared over the day. Overall, if you can get past the smell, we would highly recommend this pick for everyday use.
---
12. Institute Esthederm Bronz Repair Cream
Best face moisturizer with SPF for vacations
Specifications
RRP: $74/£57
Product type: Anti-ageing cream
Benefits: Supports natural tanning
Reasons to buy
+
Shields skin from UVA and UVB rays
+
Anti-wrinkle formula
+
Leaves skin smooth and radiant
+
Supports skin's natural tanning process
If you love to bask in the sunshine on holiday or during the summer months, this could be the face moisturizer with SPF for you. The clever cream promotes a golden glow while also protecting skin from harmful UVA and UVB rays – a win-win. What's more, it's lightweight in texture, has a beautiful sunny scent, and can be worn under makeup.
Out of all the products we tried, this one definitely acts as one of the best moisturizers for dry skin, too. We found that skin looks hydrated, nourished, and radiant after a single use. The major caveat of this cream is the fact that it doesn't clearly provide SPF information – instead of the usual number system (15, 30, 50), it has two sun symbols instead to indicate 'moderate protection'. Because of this, if you are naturally prone to burning and UV levels are high, we would advise to be cautious when using this cream.
---
13. Dr Sam's Flawless Gossamer Untinted SPF 50
Best hydrating face moisturizer with SPF
Specifications
RRP: $39/£33
Product type: Moisturising cream
Benefits: Offers next-level hydration
Reasons to buy
+
Weightless texture
+
Contains skincare ingredients
+
Super hydrating
+
Non-clogging formula
Reasons to avoid
-
Pump can be temperamental
If you're yet to dry Dr Sam's products, let us introduce you to the range with this skin-loving face moisturizer with SPF. A daily essential, this weightless cream will easily slip into your skincare routine and can even replace your current moisturizer. As well as effective UVA and UVB filters, the formula contains hydrating sodium hyaluronate (a derivative of hyaluronic acid), nourishing squalene, and moisturizing shea butter.
After testing this product for a few days, we saw that our skin looked healthier and happier with a glowing radiance that we normally only achieve with the best highlighters. We also love the fact that it's fragrance-free, non-comedogenic, and behaves well with makeup. A great all-rounder, we would highly recommend this product to everyone, especially those with sensitive skins. Our only complaint is that the pump can sometimes get a little stuck.
---
Is face moisturizer with SPF as effective as sunscreen?
In all honesty, it may not always be. This largely comes down to how we use face moisturizer with SPF rather than the product itself:
Quantity: "Often people don't apply enough of the moisturizer to give the labeled SPF," says Consultant Dermatologist Dr Emma Wedgeworth (opens in new tab), "A moisturizer's primary function is to hydrate, so this has been the main focus when formulating it. With sunscreens, the main focus is the protection against the sun."
Reapplying: "SPF in moisturizers is fine in the morning," says Dr Adam Friedmann (opens in new tab), consultant dermatologist for Stratum Dermatology Clinics. "But remember, sun cream needs re-applying every couple of hours, so you will need further SPF applications." Plus, SPF only protects from UVB burning while UVA protection is required to prevent premature aging. And if you're wondering does sunscreen prevent tanning, if it's broad spectrum then yes, it will.
Weather: "Using skincare with SPF in the winter is probably fine," explains Dr Anjali Mahto. "Due to our latitude, we get very little UVB between October and March. However, this isn't one size fits all. If you are regularly using skincare acids during the winter such as AHAs and BHAs, you are better off with a separate sunscreen. The same applies if you live in a sunny climate or close to the equator."
So, face moisturizer with SPF can protect as well as hydrate, but should only be one part of your UV-proofing plan. You will still need to reapply, and it's wise to use a dedicated sunscreen during summer.
---
Jess Beech is an experienced fashion and beauty editor, with more than eight years experience in the publishing industry. She has written for woman&home, GoodtoKnow, Now, Woman, Woman's Weekly, Woman's Own and Chat, and is a former Deputy Fashion & Beauty Editor at Future PLC. A beauty obsessive, Jess has tried everything from cryotherapy to chemical peels (minus the Samantha in Sex and The City-worthy redness) and interviewed experts including Jo Malone and Trinny Woodall.