Pigmentation explained – and the hyperpigmentation treatments that really work to resolve it
Treat and prevent sun spots with these expert-approved hyperpigmentation treatments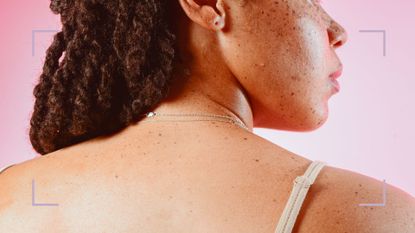 (Image credit: Future/Getty images)
woman&home newsletter
Sign up to our free daily email for the latest royal and entertainment news, interesting opinion, expert advice on styling and beauty trends, and no-nonsense guides to the health and wellness questions you want answered.
Thank you for signing up to . You will receive a verification email shortly.
There was a problem. Please refresh the page and try again.
Pigmentation is a common summer skin complaint and so hyperpigmentation treatments tend to be front of mind during the sunny season too. This is because pigmentation comes in many forms – sun spots, age spots, hyperpigmentation, and melasma – and most of us experience it to some degree.
A preventative skincare routine using the best facial sunscreen is better than trying to fix pigmentation that's already formed, but genetics and skin type play a role too. "Darker skin tones tend to be more susceptible to hyperpigmentation due to more melanin being present in darker skin," says Aesthetic Doctor Dr Tara Francis (opens in new tab). "But, all skin types can be affected." That's why we've looked at hyperpigmentation treatments for black skin specifically as well as treatment options such as chemical peels, specialist lasers and DIY options such as learning how to use retinol as a hyperpigmentation treatment.
Whether you want to pop in-clinic and have a pro pigmentation treatment or supplement your routine with the best retinol cream, these are the effective hyperpigmentation treatments experts swear by.
Your expert guide to hyperpigmentation treatments and pigmentation-busting products
What causes pigmentation?
"Hyperpigmentation is a common condition that makes some areas of the skin darker than others," explains Dermatologist, Dr Elif Benar (opens in new tab). "Extra melanin creates spots or patches that look brown, black, grey, red or pink. The areas are not painful, but they can make people self-conscious."
It's important to determine your pigmentation type, explains Nilam Holmes, skin specialist and Dermaspa founder. "Hyperpigmentation can be anywhere on the face and body. It's found at the surface of the skin and caused by factors such as sun exposure, skin inflammation, and acne, and affects men and women equally. As it is caused by external factors, it is relatively simple to treat and prevent."
"Melasma is deeper set than hyperpigmentation and usually presents itself in patches on the face," continues Holmes. "These are mostly seen on the cheeks, upper lip, and forehead in a symmetrical pattern and are often referred to as butterfly pigmentation." Pregnancy and menopause are key times when melasma may appear. "Because it is caused by internal factors like hormone changes, it only affects women and is harder to treat," explains Holmes.
According to Frances, pigmentation can also form as a result of other skin issues. "There are a few causes of melanin being excessively produced, but one of the main ones is inflammation caused by trauma to the skin, for example, severe breakouts, or wounds." This is known as post-inflammatory hyperpigmentation.
Are freckles pigmentation?
Essentially, yes, they are a form of pigmentation. But whether you see UV-induced melanin collections as freckles or pigmentation probably comes down to how long they hang around after sun exposure.
"Freckles usually occur in childhood and present as flat, round spots on the skin that are produced because of overproduction of melanin," explains skin specialist, Dr Emma Cunningham (opens in new tab). "They're produced by melanocytes in the skin that are responsible for pigment production and are in direct response to UV radiation. As we age, these can become larger and develop into something called solar lentigos which are more prominent and don't fade in winter. They're also referred to as skin abrasions as a result of an accumulation of pigment over the years in the response to UV damage."
What treatment is best for hyperpigmentation?
This depends on the cause and severity of the pigmentation, but also your skin tone and whether you have the budget to go pro. Consider the following:
Skin tone: "Those with lighter skin tones have fewer limitations when it comes to treatments for hyperpigmentation, as their risk to overproduce melanin is significantly less," explains says Dr Elif Benar, Dermatologist and founder of Dr Elif Clinic. Some treatments, including lasers, can worsen pigmentation if used incorrectly so ensure you're visiting an expert who knows what they're doing.
Type of pigmentation: UV-induced hyperpigmentation has the most treatment options, including skincare ingredients such as Vitamin C, laser treatments, and peels using skincare acids. Post-inflammatory pigmentation requires a careful hand, and specific anti-inflammatory treatments and ingredients. Hormonal melasma is the trickiest of all. "There is very little that can be done to remove melasma but it can be managed by balancing hormones and the effects can be limited by using certain treatments and sun protection," explains Holmes.
How to treat hyperpigmentation step-by-step
Step 1: Wear SPF, every day
Unsurprisingly, the single best thing you can do to tackle pigmentation is wearing sun protection and avoiding direct sun exposure. Even the best skincare products and hyperpigmentation treatments won't be worthwhile unless you're wearing sunscreen 365 days a year. No excuses!
Dr Francis agrees, "As most hyperpigmentation results from sun damage, the best way to protect your skin is by using daily sun protection all year round. Apply sunscreen with a minimum of SPF30, but ideally SPF50 every day." If you find daily SPF hard to stick with because you don't like the way most of them feel, you probably haven't found the right formula yet. These three products are reliable, lightweight, and no trouble to wear daily.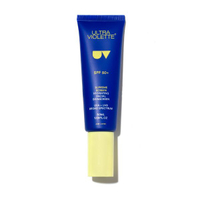 (opens in new tab)
Ultra Violette Supreme Screen SPF 50+ Hydrating Skinscreen | RRP: $44/£34
The brand to know for silky and skincare-like SPF products. This is a moisturizing hydrating formula, but there's also a mattifying cream, fresh gel, and serum-textured glow-boosting drops. All are worth a try.
Step 2: Use targeted active ingredients
Plenty of products claim to fade pigmentation but there are only a few ingredients that we really know work. A steady regime combining these with sunscreen should yield results in a matter of months.
Vitamin C
Using one of the best Vitamin C serums offers powerful antioxidant protection against UV light, among other benefits. "Vitamin C can reduce hyperpigmentation by blocking melanin production," says Dr Benar. "Vitamin C blocks tyrosinase, an enzyme your body uses to produce melanin, making it a natural skin brightener. Vitamin C is also a potent antioxidant, which means it protects skin cells from further damage either from the sun or outside pollutants."
Tyrosinase inhibitors
This group of ingredients work to subdue melanin in the skin by inhibiting the melanocyte cell from producing it in the first place. The most commonly used and well-researched of these include niacinamide (aka Vitamin B3), licorice root, tranexamic and kojic acid. According to Dr Benar, "Kojic acid also works by inhibiting tyrosinase enzymes. It also protects the skin from environmental toxins because it is high in antioxidants."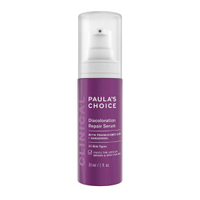 (opens in new tab)
Paula's Choice Discoloration Repair Serum | RRP: $48/£46
Contains a clever combination of tyrosinase inhibitors including niacinamide and tranexamic acid and a natural alternative to retinol, bakuchiol.
Acid exfoliators
These work to shift old cells and reveal fresh new ones for improved clarity. "Products that contain Alpha Hydroxy Acids (AHAs) help to exfoliate dead and hyper-pigmented cells to stimulate the production of new cell growth," says Dr Murad (opens in new tab), dermatologist and founder of Murad skincare. Look for glycolic acid, lactic acid, or for sensitive skin and post-inflammatory hyperpigmentation, gentler mandelic acid.
Retinoids
"Retinol, a derivative of vitamin A, helps the skin in so many ways. Skincare products that include retinol increase the cell turnover of the skin. As a result, retinol improves so many skin complaints including pigmentation," explains Dr. Zainab Al-Mukhtar (opens in new tab), facial aesthetic expert. The strongest retinoids, like tretinoin, are available on prescription for those with severe concerns. Over the counter, look for creams and serums that contain pure retinol at concentrations up to 1%.
Step 3: Try a professional hyperpigmentation treatment
The old adage that prevention is better than cure could have been invented for pigmentation. But that's not to say there aren't effective professional treatments that can really make inroads. "Dermatological procedures will work as the fastest way to get rid of hyperpigmentation. Chemical facial peels, laser therapy, microdermabrasion, or dermabrasion are all options that work similarly to rid skin of hyperpigmentation," says Dr Benar.
Holmes is also a fan of pro hyperpigmentation treatments. "Treatments such as IPL and microneedling are all very effective in reducing hyperpigmentation. I have found I can clear hyperpigmentation by at least 90% within two treatments using the Lumecca IPL system" (find about more about Lumecca in our tweakments guide). "Results can be permanent too if the clients protect themselves from future sun damage."
Dr Francis agrees IPL is the gold standard. "IPL involves the delivery of specific wavelengths of light that interact with red and brown pigments in the skin. These pigments absorb the light and are destroyed, often in one session."
"It is more complex to treat hyperpigmentation in darker skin tones that produce much more melanin," Holmes continues. "Because treatments tend to cause heat and inflammation there is a higher risk of increasing hyperpigmentation in these skin types. I tend to use treatments such as gentle peels, microneedling or skin rejuvenation such as Morpheus 8 in much darker skin tones."
Step 4: If all else fails, conceal
A solid skincare routine and a professional treatment can do a lot, but you're unlikely to completely eradicate dark spots and improvements do take time. In the meantime, one of the best drugstore concealer is absolutely the way to go.
Firm, pot-based concealers often have the edge for full cover (making them a lifesaver for the occasional blemish) but if you have larger areas of pigmentation a creamier formula that's spreadable and almost foundation-like in consistency will look more natural. Unlike your undereye concealer, which you may prefer a shade lighter to brighten, ensure concealer for pigmentation matches the area of skin with the pigmentation exactly. This means a bit of trial and error as testing on your hand isn't going to cut it.
If you haven't mastered how to apply concealer, picking a product with a doe foot applicator makes smooth application much easier. Dot onto the area you wish to conceal then follow the golden rule with any concealer—which is pat, don't rub. This ensures the coverage stays where you put it without blending away into nothingness. A dusting of setting powder on top will make it ultra budge-proof.
Emma North is a Beauty Writer who works for digital titles including woman&home, Woman, Woman's Weekly, Woman's Own, Chat and GoodtoKnow. Emma's career in beauty journalism began with internships at publications including Vogue, Elle, The Telegraph and Glamour. She was then taken under the wing of Funmi Fetto, Contributing Beauty Editor at Vogue where Emma assisted with Funmi's debut beauty book, Palette.