w&h's Beauty Editor Reveals What It's REALLY Like To Have Your First Face Peel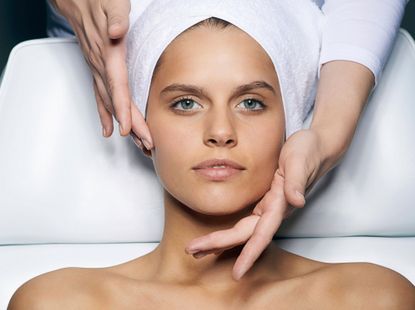 A facial peel sounds pretty alarming. But it's one of the hottest treatments in beauty, promising a new, smooth, baby-soft complexion in just a matter of weeks. Our beauty Editor, Fiona McKim, tries it out here - read on to find out what she thought...
"'So, how much do you want to shed?' asks Victoria, Head Of Education at AlumierMD. Tricky question.
My first medical grade peel comes with the self-imposed condition that I'll take it slow.
Sure, they're famous for unbeatable work on skin texture, pores and pigmentation, but we all remember Sex And The City's Samantha Jones, puce and cracking after her little 'freshen-up'. I'm scared.
Yet somehow the disarmingly friendly Victoria swiftly has me all in for a medium-depth Glow Peel.
MORE: The Seven Make-Up Tips You MUST Do After 40, According To The Experts
This lactic acid, salicylic acid and resorcinol blend deep cleans pores, detaching dead skin cells so healthy new ones 'push' them off. You can have them as often as every two-four weeks and the number of sweeps determines the level of shedding.
After one Victoria asks me to rate my discomfort and I give the fiery prickling a strong seven, so only my forehead gets another go.
"Some people go up to four," she says sagely, soothing my burning cheeks with neutralising solution and recovery balm.
I look in the mirror, and it's not pretty: I'm bright red. Actually I've gone way past red to scarlet and blotchy, but I'm reassured it'll go down quickly (it does) smothered in SPF (important) and sent on my way with strict instructions to avoid heat for the next eight hours.
And then? Nothing, until I wake up on day three with a beard of flakes, not noticeable unless you're really studying my face, which I do obsessively as my forehead, nose and cheeks take turns to shed over the next three days. Luckily I had a quiet weekend planned.
Once the final flake has fallen, studying turns to compulsive stroking of my eggshell-smooth cheeks. The full results come in on week four when that that fresh texture combines with bouncy new collagen and my skin takes on that indefinable 'ageless girl' veneer.
Even my nose, historically a hotbed of bumpy pores, is unusually silky. Compliments come in, which is notable because, as a Beauty Editor, people rarely comment as there's always something afoot, skin-wise.
I glow with pride, wear less makeup and start thinking ahead to a family wedding in June… I wonder if I could manage a third sweep next time?"
AlumierMD Glow Peel, available nationwide from £120, alumiermd.co.uk
So, will you be giving it a go?
Beauty Editor, womanandhome.com
As woman&home's Beauty Channel Editor, Fiona Mckim has tried more products than she's had hot dinners and nothing makes her happier than raving about brilliant finds on womanandhome.com or her instagram grid (@fionamckim if you like hair experiments and cute shih-tzus). Fiona joined woman&home as Assistant Beauty Editor in 2013 under industry legend Jo GB, who taught her everything she needed to know (learn about ingredients and employ extreme cynicism). She has since covered every corner of the industry, from interviewing dermatologists and celebrities to reporting backstage at Fashion Week and judging the w&h Beauty Awards.