Natural makeup looks: beauty inspiration to master a minimal face
Our favorite natural makeup looks and how to achieve them –from beautiful boy brows to rosy lips and cheeks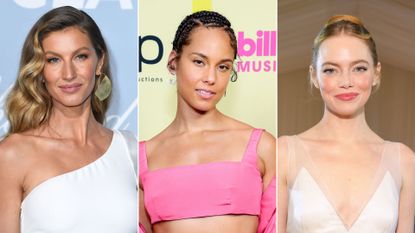 (Image credit: Future/Getty images)
You'd be forgiven for thinking that most natural makeup looks require minimal effort – a swift swipe of foundation, a dab of lip balm and you've basically nailed that "I just woke up like this" energy. But a no-makeup makeup look isn't as laissez-faire as it would appear. The key is knowing what to apply, and what to leave out.
There's no denying the instant gratification of a poppy-red lip or the alluring pull of a deftly-winged cat eye, but a no-makeup makeup look will enhance your features in a pared-back, virtually undetectable way. "Natural makeup looks are about allowing the makeup to really fuse with your face, your features, and your skin," explains Caroline Barnes, Max Factor Makeup Brand Ambassador. "Skin is slightly transparent so you can see pores, freckles, a little bit of pigmentation."
This isn't about hiding skin beneath a heavy, chalky mask, but enhancing it using the best foundation to suit your skin. "No-makeup makeup looks modern," continues Barnes. "Nowadays, we all want to achieve a healthy, fresh finish to our face, and wearing a lot of makeup, especially during the daylight hours, can be a little dated." And natural makeup looks don't stop at a glow-giving base, explains Barnes, who advises aiming for "brows that are tidy, lashes that are richly pigmented, and a little more amplification to your lips."
The rules of natural makeup looks
See-through skin: The first thing you should notice about a no-makeup makeup look? How fresh the complexion is. Use your best tinted moisturizer instead of your best cream foundation, or mix it with a dash of moisturizer or highlighter to deliver a fresh finish. If you find you need more coverage in certain areas, apply concealer where needed.
Brushed-up brows: Natural-looking brows still require a certain level of grooming to avoid looking unkempt. Avoid dark, heavily-penciled brows. Fill in gaps lightly where needed then brush the hairs up with gel to give eyebrows a bushier quality.
Pared-back color: Playing within the same color family (roses with pinks, peaches with corals, bricks with nudes) creates an elegant, understated finish on the lips, eyes, and cheeks.
Put in the prep: Aside from having little tweaks like skin boosters, the best way to encourage a natural glow is to ensure your skin is always well-moisturized - and the same goes for lips. "Beautiful lips start with hydrated lips so a gentle exfoliation, lots of hyaluronic acid and lock it in with a lip balm," suggests Barnes.
Inspiring natural makeup looks - and how to get them
1. Primed and ready
Your starting point for any natural makeup look should be hydration, hydration, hydration. Skin should have a natural radiance that appears to come from within. Alicia Keys is probably the most famous face of the no makeup movement. This look is less about faking a lit-from-within glow with makeup, and actually about investing in a solid skincare regime so that skin beams with health.
Whether you're going sans makeup or looking to prep the skin before applying foundation, give dry skin a big slurp of moisture with a sheet mask. Keep it in the fridge to help quell any puffiness first thing and tighten everything up.
Primer can also be useful here. The best primers traditionally work by smoothing out the skin and keeping your makeup on for longer and the latest wave is formulated with skincare-inspired ingredients that dial up the glow before you've even applied your base. Choose a primer with light-reflecting particles as well as ingredients like hyaluronic acid that keep the skin hydrated and fresh.
Our beauty editor recommends...
2. Fresh foundation
The cornerstone of a no-makeup makeup look is a virtually undetectable, glow-giving base. Softer, fresher, and geared towards enhancing rather than masking our natural skin, a luminous finish foundation, BB cream, skin tint, or tinted moisturizer, will provide an even, flawless veil of color. The beauty of this type of makeup is, you'd almost not know it was there at all.
If you have reasonably good skin with the occasional tone anomaly that you'd like to cover - pigmentation or rosacea, for example - try a light coverage foundation and spot-treat with a heavy-duty concealer only where needed. You don't want to mask the beauty of your own skin (pores, freckles and all) from shining through.
Our beauty editor recommends...
3. Boy brows
It will come as no surprise to hear eyebrows are one of the most important aspects of natural makeup looks. Microblading, brow laminating, and brow tinting are popular grooming treatments but when it comes to no-makeup makeup, eyebrows shouldn't be too 'done'. Instead, they should look full, feathered, and slightly fluffy.
By all means, fill in gaps and add definition to pale brows. Our tip? Forego pencil, which can be a little harsh, in favor of the soft definition you achieve with brow powders. Finish by brushing the hairs upwards using a gel to create a natural-looking, boyish brow.
Our beauty editor recommends...
4. Warm eyes
The boldest part of Irina's look is her smoldering eyes, which are defined using a soft bronzey shadow - a suits-all color choice that also makes a lovely day-appropriate mother of the bride makeup look. There's no need to blend three or four smokey shades here. Stick with one earth-toned shadow across the lids, then smudge out above the crease and outer eye to create a soft hazy look, finishing with a coat of natural-looking mascara.
Cream eyeshadows work well, and wear more naturally during the day. The best eyeshadow sticks for this will be metallics with a touch of shimmer, which will make your eyes look bright and wide awake.
Our beauty editor recommends...
5. A touch of blush
The most flattering cheek color is the shade your skin flushes naturally after exercise. For a lot of us, that's a soft, rosy pink. The secret to a natural flush? Forego foundation across the cheeks to allow your natural color to shine through and top up with dewy cream textures, which appear more realistic, as though the flush truly comes from within.
Apply it with a brush or use your fingers to blend across the apples of the cheek - imagine where your cheeks would flush naturally.
Our beauty editor recommends...
6. Rosy lips
For this look, steer clear of anything with a matte finish. "A sheeny, reflective lipstick is one that is going to flatter your lips," says Barnes. "You can always use a matte lip liner to shape your lips and create a beautiful mouth shape, then add a little bit of sheen over the top to create a nice smooth surface."
Whether you choose a formula that's juicy like a gloss or creamy like a classic lipstick, keep it in the rosy color family, something one or two shades deeper than your natural lip pigment for a flattering, bee-stung pout.
Our beauty editor recommends...
7. Fluffy lashes
Looking for the best mascara to complement natural makeup looks? Caroline recommends tubing mascara. "They're really thin and give great definition to your lashes. Another plus is they won't create any kind of staining under your eyes so you won't know that you've got makeup on."
The best tubing mascaras work by coating lashes in polymer films rather than loading on wax and pigment. Once set, those filmy tubes are completely smudge-resistant until you wash them off with warm water. The only downside is they can't deliver the bulk and volume of traditional formulas. But seeing as subtle is exactly what we're going for here, it's a win-win!
Our beauty editor recommends...
8. Heavenly highlight
Healthy skin has a luminosity to it and the most natural way to achieve this look is by using one of the best highlighters to create an ethereal glow. There are many highlighters on the market promising everything from a subtle sheen to dramatic kilowatt shine but, if you want it to look natural opt for something glitter-free. Dot a little across the tops of the cheekbones, temples, and down the nose.
Barnes also has a great tip for imbuing the skin with an all-over glow. "Freshen up your base by using a beautiful facial spritz. My favorite by far is from Tatcha but you can also use hyaluronic acid too. Apply to your fingers like an oil, rub it in, and just pat it into your skin, across the top plains of your cheeks. It will really hydrate the kin without looking too oily."
Our beauty editor recommends...
9. Subtle sculpt
Intense contouring is not the goal when it comes to natural, easy makeup looks. Instead, you want to aim for a barely-there bronzed glow à la Gisele Bündchen. A subtle swirl of bronzer (one without glitter) used in place of blush will make you look naturally sunkissed rather than overly made up.
If you already know how to apply bronzer, great! But, if you're weary of looking striped or muddy then start applying it slowly. Build up the color intensity in layers until you're happy and always look at yourself in natural daylight before finishing off. Choosing the best bronzer for your skin type, much like a highlighter, can make all the difference in the longevity of your makeup. Choose creamy bronzers if you're dry-skinned or powder formulas if you're oilier.
Our beauty editor recommends...
10. Softer liner
For a long time, we've been tricked into thinking that black kohl eyeliner was the only way to define eyes. But, paving the way for subtle definition and a more wearable approach to a smoky eye is the humble brown eyeliner. Not only does brown eyeliner soften your look, it actually enhances the color of blue and green eyes through its natural red tone. The most flattering eyeshadows for blue eyes are rich, orange-toned browns so why should your liner be any different?
Whatever your preference - kohl, gel, or liquid - keep the liner as close to the lashes as possible. This 'tightlining' technique (where eyeliner hugs the lashes) is not only helpful for those who lack a steady hand – a couple of coats of mascara will hide any little wobbles – but also gives the appearance of thicker, denser lashes at the root.
Our beauty editor recommends...
Sign up to our free daily email for the latest royal and entertainment news, interesting opinion, expert advice on styling and beauty trends, and no-nonsense guides to the health and wellness questions you want answered.
Emma North is a Beauty Writer who works for digital titles including woman&home, Woman, Woman's Weekly, Woman's Own, Chat and GoodtoKnow. Emma's career in beauty journalism began with internships at publications including Vogue, Elle, The Telegraph and Glamour. She was then taken under the wing of Funmi Fetto, Contributing Beauty Editor at Vogue where Emma assisted with Funmi's debut beauty book, Palette.