The ultimate natural makeup look - here are the products you need and our favorite looks to inspire
Want a fuss-free natural makeup look? This guide has got you covered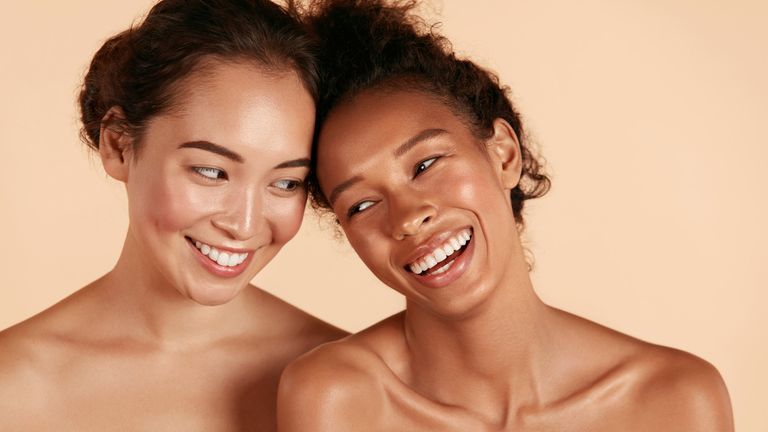 (Image credit: Getty Images)
There's definitely an art to achieving a natural makeup look. It's a well-known fact that so-called 'no makeup makeup' often takes more time, effort, and products to achieve than an obvious statement style like a bold red lip. 
But just because there's a bit of a knack to getting natural makeup look right, that's not to say it's only professionals or those with serious makeup skills who can pull it off. With some clever products and tips from the experts, making a face of makeup appear subtle and flattering can become second nature to anyone.  
From the best foundation for a fresh, glowing base to powdered brows, these are the latest natural-looking products, textures, and looks we're loving right now. 
The five products you need for a natural makeup look
1. Fresh foundation
"Lighten up your base for a natural look" is a beauty cliché, but it makes sense: Some of the most sophisticated bases out there are the sheer ones combining pigment with skincare, and not that many women truly need full coverage anyway. 
If you have reasonably good skin with the occasional tone anomaly that you'd like to cover - pigmentation or rosacea, for example - try a sheer foundation with heavy-duty concealer only where needed.
NARS Pure Radiant Tinted Moisturizer SPF30 is beloved by Beauty Editors everywhere - justly so -  for its silky and easily-blended formula, sheer to medium coverage, and glowing finish. The shade range has been upped to 16, meaning there should be something for everyone. 
A little bit lighter and a good deal more luxurious, Sisley Phyto Hydra Teint SPF15 shows how far tinted moisturizers have come. It's got just enough pigment, a polished finish, and the same antioxidants and hydrating botanicals as the brand's luxurious skincare, which explains the price. More shades would be great, but it's sheer enough to adapt. 
2. Powder your brows
As well as learning how to shape eyebrows, most women use pencils and gels for easy brow grooming, but you may just be converted by powder formulations. They give soft definition so you can avoid that scary 'scribbled with a Sharpie' look, plus your filled-in arches sit nicely all day without going gunky or flaking. 
Benefit Brow Zings Pro Palette looks a bit intimidating, but the vast selection of shades and textures is extremely useful. Press the end of the angled brush into a powder, or combine two for an exact shade match. Flick sharply through brow hairs to bulk them up, then set using the spoolie and wax.
If you prefer the control of a pencil, NYX Professional Makeup Eyebrow Powder Pencil has a soft, powdery nib that offers subtle definition without any messiness. It comes in an unusually large shade range for a brow product - nine - and the bargain price is a bonus too. 
3. Light lip textures
The lip trend pendulum has swung from high-maintenance mattes to glosses and stains. Great news for everyone who'd rather not check how their lipstick looks on the back of their knife 16 times during dinner. 
If shiny isn't really your thing, Hourglass Velvet Story Lip Cream is an absolute masterclass in a grown up, yet easy-wearing lip colour. The texture is mousse-like, so feels super light and comfortable on the lips, yet the colour lasts almost as well as a traditional lipstick. The tapered applicator makes top-ups easy, and as you'd expect from Hourglass the packaging is so noticeably luxurious your friends will be dying to know where it's from. 
Bobbi Brown Crushed Shine Jelly Stick is every bit as juicy and hydrating as it sounds. It's balm-like in texture but offers a bit more pigment than your average tinted slick. Honey, a pinky-brown nude, manages to somehow work on every skin tone, although it's particularly flattering on medium to deep skins.  
After something a bit more punchy, color-wise? L'Oreal Paris Brilliant Signature Shiny Lip Ink is just the kind of product you should be seeking out. It looks like a gloss and applies like one but lasts longer and lacks that irritating stickiness that attracts strands of hair on a windy day. There are tonnes of shades to choose from, but Be Brilliant, a fiery red-orange is particularly lovely. 
4. Easier eyes
Eye crayons are everywhere, and no wonder: They're fun, portable, and require no skill whatsoever—just draw along your upper lid, smudge a bit depending on the look you want, and that's that. The textures vary considerably, from sheer and sheeny to a more opaque rock 'n roll vibe, so there's truly something for everyone. 
An absolute classic is Charlotte Tilbury Colour Chameleon, a firm, chunky pencil that lays down lots of pigment without dragging. The shades, which are mostly glamorous metallics, are also designed to intensify your eye color and make for a lovely liner—or, if the end's a little blunt, a smoky shadow.
Skinnier, but no less versatile, is  Stay All Day Smudge Stick Waterproof Eye Liner. As The name suggests, you can use it as a traditional kohl pencil or smoke it out for a softer look. The formula is hardcore and - aside from any deliberate smudging you undertake before it sets - seems entirely smear and transfer-proof. 
5. Less-is-more lashes
Looking for the best mascara for a natural makeup look? It's a subjective and highly personal decision, but in terms of what's happening in the market, the arms race for bigger, fatter, faker-looking formulas is over, and there's a refreshing focus on lash health and subtle flutter. 
Tube mascara formulas are well worth considering if you're going for a natural makeup look. They work by coating the lashes in polymer films rather than loading on wax and pigment. Once set, those filmy tubes are completely smudge-resistant until you wash them off with warm water. The only downside is they can't deliver the bulk and volume of traditional formulas. But seeing as subtle is what we're going for here, it's a win-win! 
Kevyn Aucoin The Volume Mascara is one of the best-loved tubing mascaras on the market, offering restrained, natural-looking flutter and not so much as a suggestion of a smudge, even on hooded lids. 
Maybelline The Falsies Lash Lift does all of the above thanks to a fluffy, hourglass-shaped brush that gently pulls eyelashes upwards, as it coats them in the fiber-infused formula. This balance of lift and flutter without overloading the lashes makes this one of the best Maybelline mascaras of recent years. 
Natural makeup looks we love
Glowing skin
Glowing radiant skin is probably the most popular natural makeup look across the board. We love this look by Naomi Motunrayo, created using Laura Mercier Tinted Moisturizer. This tinted moisturizer is adept at creating that flawless no-makeup makeup look with a dewy finish. Use fingers or a damp Beauty Blender to lightly bounce the product over your skin for a similar effect, then comb your brows, curl your lashes, and be on your way.
Subtle contour
Contour is not what most of us would call a natural makeup look. But, done properly with a bronzer you can use contouring techniques to subtly enhance your cheekbones rather than chisel your face like a diamond. We recommend Tarte Amazonian Clay Waterproof Bronzer for a long-lasting glow. Ideal for anyone craving a tropical vacation - or at least the illusion of a day spent in the sun. Learn how to contour with a few tips from the pros for seamless, flattering results. 
Rosy cheeks
Let your rosy complexion do the talking with this layering hack from Joy Ebenspiff. Joy layered Merit Flush Balm Cream Blush over their Minimalist Perfection Stick for dewy coverage and a bright flash of color. Bright blush is the easiest way to make a tired complexion look perky and youthful, and once you've mastered how to apply blush for your face shape and skin tone, you'll be set. 
Curled lashes
Often, the difference between a natural and more obvious makeup look comes down to the lashes. Ultra bulked, spidery eyelashes have their place, but subtle they are not. For a believable flutter, use a curler like Tweezerman ProMaster Lash Curler to lift and open to your lashes and to prep them for a quick coat of mascara. 
Warm shadow
If ultra-natural just isn't your thing, you can ramp up the glamour while still using neutral shades by incorporating hues of warm pink or rose. Use a blending brush to sweep Dusty Rose or Rustic from the Anastasia Beverly Hills Soft Glam Eyeshadow Palette over your lid, then work a little of one of the darker shades into your crease. Use your ring finger to dab a tinted lip stain, such as Anastasia Beverly Hills Lip Stain in Dusty Rose, on your lips.
Natural highlights
In the wrong hands, highlighter can look so very unnatural - but influencer Caxs shows how it's done right here for Fenty Beauty. Begin with a blurring primer and a dewy foundation for all-over radiance, then go over select areas only with a  creamy warm-toned liquid highlighter -  the bridge of the nose, cupid's bow, and cheekbones. Using cream formulas and golden or champagne shades helps prevent that mucky silvery Tin Man look we sometimes see with power highlight. Fenty Beauty Match Stix Shimmer Skin Stick comes in an array of shades for all skin tones. 
Coral shadow
Using a brighter shadow but applying it as a sheer wash is a clever way to Incorporate color into a natural makeup look. A peachy blush, like Dior Backstage Rosy Glow Blush in Coral can be used on cheeks and lids for a fun yet pulled-together vibe. Use a larger fluffier than usual eyeshadow brush to apply, and tap off excess before sweeping and and forth to achieve that sheer skin-show though that keeps everything looking natural. 
Brushed brows
Fluffy, brushed-up brows are a great way to set off a natural makeup look. They're also the antithesis of extreme that power brow effect we've all seen as a result of popular treatments like microblading, brow laminating, and brow tinting. Instead, let your natural brow grow out as much as you like (or dare) then fill in any gaps and set in place by brushing upwards with Benefit Gimme Brow.