Natural makeup looks: how to nail fresh no-makeup makeup in minutes
Learn the art of natural makeup looks, from flawless skin to super-full eyebrows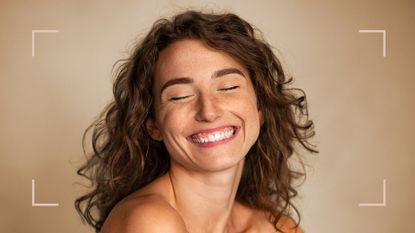 (Image credit: Getty images)
We've heard a lot of buzz around natural makeup looks recently. With no-makeup makeup always in style and a heightened focus on skincare, many of us simply want to look like ourselves but better for the stuff of life—from morning meetings to running errands or a bit of polishing up for an evening out.
The beauty of a barely-there face is that it only takes a minimal amount of great product to achieve a flattering end result. Whether it's picking up the best foundation for your skin type or switching from a powder to the best cream blush, nailing that no-makeup makeup vibe is all about the best products and the right techniques—then tying both together, ideally in ten minutes or less.
How could you resist? From glowing skin to fluffy eyebrows, we've pulled together our top natural makeup looks and the star products you need to achieve them, as well as a few expert tips to ace your technique.
How to achieve natural makeup looks
Most natural makeup looks rely on a few key fundamentals, get these right and the rest is easy:
See-through skin: The first thing you notice with an au naturel look? How fresh the complexion is. Sticking to lighter-wear foundations or even just tinted moisturizer with concealer where needed can be a smarter choice than a heavy base.
Brushed-up brows: The ideal texture with brows is that sweet spot between groomed and natural. The trend currently favored by purveyors of no-makeup makeup everywhere is boyish brows, which tend to have a thicker, bushier quality to them easily faked by brushing the brows up after filling them in.
Monochromatic color: Playing within the same color family (roses with pinks, peaches with corals, bricks with nudes) for lips and cheeks gives a clean, pulled-together vibe, and makes life easier as you can double up products.
Natural makeup for beginners: 10 looks to try
1. Sheer foundation
"Lighten up your base for a natural look" is a beauty cliché, but it makes sense: Some of the most sophisticated foundations out there are the sheer ones combining pigment with skincare, and not that many women truly need full coverage anyway.
If you have reasonably good skin with the occasional tone anomaly that you'd like to cover—pigmentation or rosacea, for example—try a fresh, sheer foundation and spot-treat with a heavy-duty concealer only where needed. The buzzphrase to remember: targeted, breathable coverage. Any higher on the pigment and you're veering into soft glam makeup territory (not that there's anything wrong with that)
---
---
2. Brow powder
It will come as no surprise to hear eyebrows are one of the most important aspects of natural makeup looks. With microblading, brow laminating, and brow tinting all on the rise, it's tempting to want to find an at-home DIY option. Most women use pencils and gels for easy brow grooming, but you may just be converted by powder formulations. They give soft definition so you can avoid that scary Sharpie look, plus your filled-in arches sit nicely all day without flaking or going gunky.
---
---
3. Warm eye crayons
Eye crayons are everywhere, and no wonder: They're fun, portable, and require no skill whatsoever—just draw along your upper lid, smudge a bit depending on the look you want, and that's that. The textures vary considerably, from sheer and sheeny to a more opaque rock 'n roll vibe, so there are truly eyeliner looks that suit everyone. For natural makeup looks, though, we're particularly smitten with warmer neutrals, as they efficiently brighten up the eye area with a few dabs.
---
---
4. Peachy-pink blush
The old adage is true: The most foolproof cheek color is your natural flush. Cream formulations blended outwards along the cheekbones definitely give you a bit of a dewy highlight as well. If you prefer traditional dry formulas, a powder blush lightly strobed on the cheeks with a slight extension towards the temples (a technique called "draping" that's a throwback from the '80s, but thankfully much more subtle this time around) is just as pretty.
---
---
5. Rosy lip color
The lip trend pendulum has swung from high-maintenance mattes to easy-wearing glosses and stains—great news for everyone who'd loves natural makeup looks and would rather not check how their lipstick looks on the back of their knife 16 times during dinner. Finishes can vary depending on your preference. But whether you choose a formula that's juicy like a gloss, creamy like a classic lipstick, or budge-proof like a stain, keep it in the rosy color family closest to your natural lip pigment to stick to a neutral feel.
---
---
6. Fluffy lashes
Looking for the best mascara for natural makeup looks? It's a subjective and highly personal decision, but in terms of what's happening in the market, the arms race for bigger, faker-looking formulas is over, and there's a refreshing focus on lash health and subtle flutter.
Tubing mascara formulas are well worth considering: They work by coating lashes in polymer films rather than loading on wax and pigment. Once set, those filmy tubes are completely smudge-resistant until you wash them off with warm water. The only downside is they can't deliver the bulk and volume of traditional formulas. But seeing as subtle is exactly what we're going for here, it's a win-win!
---
---
7. Subtle highlight
Healthy skin has a luminosity about it and the most natural way to achieve this look is by using one of the best highlighters money can buy. There are many highlighters on the market promising everything from a subtle ethereal sheen to dramatic kilowatt shine but, if you want it to look natural opt for something glitter-free.
A gentle glow is what we're aiming for and your perfect formula will depend on your skin type. Oily skins tend to suit powder highlighters as they have better wear time and dry skin types will prefer something liquid or cream-based for an extra boost of moisture.
---
---
8. Sculpting bronzer
Intense contouring is not the goal when it comes to natural, easy makeup looks. Instead, you want to aim for a barely-there bronzed glow à la Hollywood's golden girl, Jennifer Aniston. If you already know how to apply bronzer, great! But, if you're weary of looking striped or muddy then start applying your bronzer slowly.
Build up the color intensity in layers until you're happy and always look at yourself in natural daylight before finishing off. Choosing the best bronzer for your skin type, much like a highlighter, can make all the difference in the longevity of your makeup. Choose creamy bronzers if you're dry-skinned or powder formulas if you're oilier.
---
---
9. Brown eyeliner
For a long time, we've been tricked into thinking that black kohl eyeliner was the only way to define your eyes but, paving the way for subtler definition and a more wearable approach to a smoky eye is the humble brown eyeliner.
Of course, if you want drama the best eyeliner will be something along the lines of an inky black gel, but for natural makeup looks chocolate or warm-hued brown reigns supreme. Not only does brown eyeliner soften your look, it actually enhances the color of blue and green eyes through its natural red tone. The most flattering eyeshadows for blue eyes are rich, orange-toned browns so why should your liner be any different?
---
---
10. Radiant primer
Great-looking skin shouldn't be flat, it should have a natural radiance that appears to come from within. Enter, the primer. The best primers traditionally work by smoothing out the skin and keeping your makeup on for longer but, they can do a whole lot more for your complexion. For a juicy glow that doesn't look OTT, go for a primer with light-reflecting particles as well as skincare ingredients like hyaluronic acid that keep the skin hydrated and leave it looking fresh.
---
---
---