The 10 best cream foundations to hydrate and cover in 2023
Rich and deeply hydrating, the best cream foundations reign supreme for dry skin types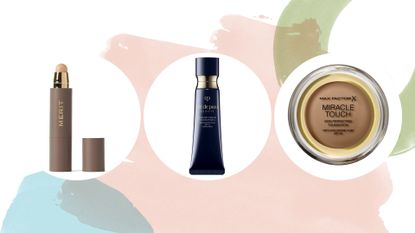 (Image credit: Future)
The best cream foundations combine a flawless, natural finish with bonus moisturizing benefits making them a godsend for dry, red-prone or mature skin. They may be less familiar than traditional liquid foundations but the perks of these rich and creamy bases are plentiful.
If you're looking for the best foundation to suit your skin's ever-evolving seasonal needs, or adjusting your makeup to suit your age, creams offer additional skin-loving ingredients that will treat as well as cover. "Cream foundations can be a beautiful choice for someone looking for great coverage with a natural, balmy skin-like finish," explains Jessica Kohn (opens in new tab), Lead Artist and Events Manager at Laura Mercier. "Because of its cream/wax base, cream foundation looks beautiful on dry skin types, skimming over any texture issues and nourishing skin at the same time." With all that hydration crammed in, you can expect a cream foundation to melt into skin without caking or pilling, and blend seamlessly with any cream blushers and bronzers you apply on top. The other perk is its immaculate coverage. From blemishes to hyperpigmentation and uneven skin tone, a cream foundation will easily veil your less-than-perfect complexion quirks. "The high pigment load within a cream foundation means that you can use a small amount of product to cover a variety of skin concerns," says Kohn.
Whether you prefer the easy application of foundation sticks, the mess-free, no-spill advantages of a solid cream or looking for a silky, squeezy liquid creme, this tried and tested guide will help you find the best cream foundation for your skin right now.
How we chose the best cream foundations
Why you can trust Woman & Home Our expert reviewers spend hours testing and comparing products and services so you can choose the best for you. Find out more about how we test.
I wore each of these foundations for at least one full day, some two to three days in a row, and others even more. I was keen to ensure that all budget levels were catered to, but what I have found is that the caveat to rich, indulgent cream foundations loaded with skincare-inspired ingredients, was that there were very few drugstore options to choose from, and most of the offerings came from mid-range and luxury designer names.
I whittled down the list based on the number of shades available, coverage level and finish. I made constant checks to see how each one was wearing throughout the day. Was it shiny or patchy in places? Were my blemishes still covered up? What is left is a selection of the best cream foundations for every skin type - even oily - and catering to all skin tones.
The best cream foundations, as chosen by a Beauty Editor
1. SUQQU The Cream Foundation
Best cream foundation overall
Specifications
RRP: $68 / £68
Shades: 23
Coverage: Medium
Finish: Radiant
Reasons to buy
+
Shades available in different undertones
+
Made with Hydrolyzed collagen
+
Glow gets better throughout the day
Great coverage and radiance don't always go hand in hand but this J-beauty buy prioritises both. You can expect SUUQU's cutting-edge tech and a luxurious-feeling formula, infused with 13 Japanese extracts, including silk protein and green tea, a powerful antioxidant.
I wasn't completely sold on the jar. I found it messier to apply from finger to back-of-the-hand to face. But having to scoop out the foundation did emphasise the formula's sensorial, silky texture. A few sweeps and my skin tone looked more uniform, and my dark circles were no longer visible.
The real USP for me is the sunlit luminosity. SUQQU calls it a 'self-renewing glow', meaning it gets better the longer you wear it. There are three stages. When the foundation is first applied, the immediate freshness comes from the moisturising reflection oils. As these sink into the skin, pearlescent pigments come into play, reflecting the light. As the day wears on, your natural sebum will mix with the foundation so you get more natural skin show-through. Think of it like the top, middle and base notes of a perfume, multi-facted and constantly adapting. It's probably not as suitable for blemish prone and oily skin, but it's a tonic for dry, lifeless skin.
2. Clé de Peau Beauté Radiant Cream Foundation
Best cream foundation for mature skin
Specifications
RRP: $130 / £108
Shades: 31
Coverage: Medium to full
Finish: Luminous
Reasons to buy
+
SPF 25
+
24-hour hydration
+
Improves skin over time
"Mature skin's lack of hydration is well-known, and thanks to their hydrating formulas, cream foundations are more suited to this skin type," explains Benjamin Puckey (opens in new tab), Global Colour Director for Clé de Peau Beauté. "The Radiant Cream Foundation features the Light-Empowering Enhancer (a technology which minimizes skin concerns by harnessing the play of light) and also provides long-lasting hydration for a youthful and radiant complexion."
The idea of foundation isn't to pad out wrinkles like Polyfilla but to simply even out the complexion. This one is our pick for mature skin for several reasons. Firstly, rather than being a foundation with added skincare, this feels more like skin cream with pigment and exceptional payoff. It marries Japanese tech with precious ingredients like platinum golden silk essence, and actually boosts skin repair and improves its natural brilliance over time. Secondly, the radiant, lit-from-within finish acts as a kind of airbrush filter, reflecting the light and making everything look smoother. It's because of all these lovely nourishing ingredients that the foundation bends with lines and creases rather than sitting in them conspicuously. The end result is radiant, healthy-looking and natural - in fact, it's hard to tell where your skin and makeup meet. Throw in solid sun protection, making this one of the best foundations with SPF on our list, and that's a home run.
3. Milk Makeup Flex Foundation Stick
Best on-the-go cream foundation
Specifications
RRP: $36 / £32
Shades: 36
Coverage: Medium
Finish: Naturally radiant
Reasons to buy
+
Glowy finish
+
Weightless, melt-in texture
+
Suitable for sensitive, red-prone skin
+
Impressive shade selection
Reasons to avoid
-
Not the best option for oily, spot-prone skin
Full disclosure - me and Milk's Flex Stick have had a little thing going for a couple of years now. My head's gone. All my eggs are in its basket, so to speak. It's the twist-up stick I chuck in my handbag or pack for a night away. It's just easy. I like to dapple it on across my face then use a brush to buff it in, but if you're in a bind and brush-less, it blends easily with fingers at your disposal.
As well as boasting a pleasingly broad shade range (making this one of the best foundations for dark skin on this list) the stick is creamy without being too slippery or completely dissolving on contact with the face. I've used foundation sticks that have just melted like a Whippy in 40 degree heat. Marshmallow root extract adds enough bend and flex to prevent creasing and caking. Elsewhere, there's blue lotus and chamomile, a calming combination, which dials down reactive, red skin from the inside. The coverage is buildable and good enough to even out patchy skin tone and a hint of redness. I'm sold on the glowy and radiant finish, but if your skin is on the oily side things could slip southwards.
4. Laura Mercier Silk Crème Moisturizing Photo Edition Foundation
Best photo-finish cream foundation
Specifications
RRP: $48 / £38
Shades: 12
Coverage: Full
Finish: Natural luminous
Reasons to buy
+
Long-wearing
+
Smoothes textural issues
+
Feels hydrating
Reasons to avoid
-
Watery if not shaken properly first
If great coverage and a flawless canvas are your goals here, this is a fantastic choice. Without feeling heavy the pigment-packed cream covers blemishes easily, and visibly evens out skin tone with a light layer.
"I like using the Laura Mercier Silk Crème Foundation to create a moisturised, even and perfected complexion that still looks like skin," raves Kohn. "My aim would always be to have someone compliment a client on their skin, rather than their makeup, and this cream foundation allows for just that. It is also particularly beautiful on brides as the texture photographs beautifully." I decided to test this theory and took a series of selfies wearing this foundation versus my regular glowy foundation of choice. I always think my naturally dry, dull-looking complexion needs maximum sheen to appear healthy, but in photos the Silk Creme Foundation looked loads better. My skin tone was even and spot-less. It's not dewy but my skin looked bright and alive.
5. RMS Beauty UnCover Up Cream Foundation
Best cream foundation for very dry skin
Specifications
RRP: $58 / £59
Shades: 16
Coverage: Medium to full
Finish: Luminous
Reasons to buy
+
Luxurious texture
+
Deeply moisturising
+
Calms irritation
Reasons to avoid
-
Not suitable for oily skin
If your skin is crying out for a big slurp of hydration, this foundation will pump skin with moisture. Enriched with organic coconut oil and wild-crafted buriti oil, it feels immediately quenching, like your loveliest, richest night cream. Except here you've got phenomenal colour payoff that immediately quashes dark spots and redness.
I enjoyed the dewy, light-reflecting finish. It made my skin look like it had just checked out of a 5* spa. I can't say whether it would have a soothing effect on reactive skin - mine is fairly hardy (*touches wood) - but what I can say is it's a fantastic foundation for particularly dry or mature skin types.
6. Max Factor Miracle Touch Skin Perfecting Foundation
Best drugstore cream foundation
Specifications
RRP: $18.61 / £14.99
Shades: 16
Coverage: Full
Finish: Natural matte
Reasons to buy
+
Enriched with hyaluronic acid
+
SPF30
+
Won't leak in your handbag
+
Light but long-lasting
It was bafflingly difficult to find cheaper, drugstore options for the best cream foundations but Max Factor's compact delivers on price point and formula. The case is sturdy, and the foundation solid, which means you can chuck it in your handbag without worrying about gloopy Air Pods. There's a satisfyingly squidgy sponge nestled neatly in the top section, with the cream-to-liquid base housed underneath. The sponge worked well enough for me, and dug right into the nooks and crannies of my face. The foundation applied nicely with my fingers, especially when targeting areas that needed extra concealment. It also diffused nicely with a foundation brush, so you can go with the method of application you're most comfortable with.
The cream-to-liquid formula is enriched with moisture-magnet, Hyaluronic acid, which keeps everything nice and bouncy. This is the most 'solid' of any of the creams on our list, so psychologically, I worried it would go flaky on my winter-battered skin. But it skimmed over dry patches without caking, blurred pores and seemed to flex with my facial creases. The online blurb was a bit misleading, using words like 'radiance' and 'glow' but for me the finish was definitely demi-matte - velvety, rather than dewy.
7. Ere Perez Oat Milk Foundation
Best cream foundation for sensitive skin
Specifications
RRP: $39 / £35.50
Shades: 8
Coverage: Medium to full
Finish: Natural matte
Reasons to buy
+
"Clean" foundation
+
Protection against free radicals
+
Long-wearing
+
Variable coverage
Reasons to avoid
-
Limited shade range
-
Not as hydrating for extremely dry skin
Ere Perez is defined by minimal formulas and high-performing natural ingredients. The brand's philosophy is, 'do more with less', and this cream foundation is the perfect example. There's no over-the-head techy speak here. Ingredients read more like a Whole Foods shopping list. Oat milk is added to balance pH levels and gently exfoliate, with peach to soothe and calm skin in freak-out mode.
I found the coverage more adaptable than others on this list of the best cream foundations. A light layer created a sheerer veil of colour, but was easily built on for fuller coverage. It wasn't quite as skin-quenching as some of the other cream foundations on this list, but it was airily-light and incredibly comfortable to wear. Combination and oily skin, this could be a winning formula for you.
8. Chantecaille Future Skin Oil Free Gel Foundation
Best cream foundation for oily skin
Specifications
RRP: $89 / £80
Shades: 15
Coverage : Medium to full
Finish: Naturally radiant
Reasons to buy
+
Smallest amount of product provides intense coverage
+
Oil-free
+
Soothing ingredients
Even the best cream foundations don't always play so well with oily skin. That's why we've included Chantecaille's award-winning base in our round-up. The oil-free formula and gel-cream texture work well for those with oily and combination skin types. This was one of the longer-lasting foundations I tried - it still looked pretty even and uniform at the end of the day.
Again, the jar, with its extra internal plastic lid that is always inevitably covered in foundation (you know what I'm talking about, right?) was a bit messy. But once applied it was easy to blend and melted into skin, probably attributed to the 60% water formula, boosted by a raft of natural botanicals like aloe and arnica.
9. MERIT The Minimalist Perfecting Complexion Stick
Best 2-in-1 cream foundation
Specifications
RRP: $38 / £40
Shades: 20
Coverage: Light to medium
Finish: Naturally radiant
Reasons to buy
+
Foundation and concealer in one
+
Can be used to contour
+
Crease-proof coverage
Reasons to avoid
-
Coverage might not be full enough for some
Since its US launch in 2021, Merit has stacked up a legion of unwavering fans, and it's just hit in the UK. Its yummy, luxury formulas are powered by vegan ingredients that actually improve skin from within. Everything in the range (there are only 10 SKUs in total) plays into that clean, glowy, no makeup-makeup aesthetic that's so hot right now. This foundation is one of their most fawned over products, offering mess-free application in a travel-friendly format, with the benefits of a foundation and targeted concealer in the one twist-up stick. It's got some great skin-loving credentials, enriched with plant-based squalane, vitamin B5 and antioxidants to keep skin soft and smooth, as well as sea daffodil to brighten up dark spots.
It has less dense coverage than others on our shortlist of the best cream foundations. It enhances rather than plasters over your natural-born skin. Although, the stick format means it is possible to build coverage on precise areas to hide imperfections to some degree. The stick itself is more 'solid' than Milk's twist-up foundation, and so I found this easier to blend out with a brush than using my fingers. If you thought stick foundations were heavy and cakey, this one will surprise you.
10. Estée Lauder Double Wear Maximum Cover Camouflage Foundation for Face and Body
Best long-wearing cream foundation
Specifications
RRP: $43 / £37.50
Shades: 15
Coverage: Full
Finish: Matte
Reasons to buy
+
Waterproof and 12-hour wear
+
SPF15
+
Covers up veins and dark spots on the body
Reasons to avoid
-
Feels heavy if over-applied
If you're looking for full, uncompromising coverage then meet your match. The long-wearing, waterproof formula, coupled with a matte finish, make this a great option for the warmer months. Not all of us have the confidence to switch to a sheer tinted moisturizer - this one will mask all those skin niggles without melting off or clogging pores. Speaking of imperfections, this probably offers the best concealment of any foundation on this list, erasing the appearance of acne scars, redness, dark spots and even varicose veins. It is, quite simply, a confidence boost in a tube.
With such coverage, expect this to feel a little heavier. I learned that a little goes a long way and it looks best applied with a makeup sponge, on skin that is well moisturized.
Is cream foundation better than liquid?
Liquid foundations are certainly more familiar to most of us than their lesser-mentioned cream counterparts. So what's the difference between the two? "As its name implies, cream foundation has a thicker consistency than liquid foundation," explains Rose-Marie Swift (opens in new tab), makeup artist and founder of RMS Beauty. "This usually means the ingredients are more hydrating than some liquid formulas."
The other difference is coverage. "Cream foundation often contains a higher pigment load than a liquid foundation or even a powder," explains Kohn. "Liquid foundations often have a more water-like base and therefore are thinner in texture and can vary in coverage from sheer to medium-buildable." Because of this, creams tend to lend themselves better to evening out skin tone.
How should you apply a cream foundation?
The difference in texture between liquid and cream foundations means that application may vary slightly. "Since cream foundations are slightly thicker, they may require more work to apply so if you aren't particularly good with blending, it's best to use a foundation brush or beauty sponge to apply these to your skin," says Swift.
Kohn likes to apply the Laura Mercier Silk Crème Foundation with her fingers. "This allows the warmth from your fingers to melt the product into the skin and means you use the smallest amount of product to get your desired result. This is important to prevent product overload and possible creasing throughout the day. I then take a damp sponge pressed over the top to make sure the product is diffused and blended to perfection."
Stephanie Maylor is a Beauty Editor working across five national magazine titles, with almost 15 years' experience in the industry. She has written for many brands, including woman&home, Grazia, Now, More!, Fabulous, NW, Woman, Woman's Own, Woman's Weekly, Essentials, Best, Chat, and OK! online.
In 2010 she launched her own beauty blog, which was shortlisted for Best Beauty Blog in the 2011 and 2012 Johnson & Johnson Beauty Journalism Awards. She has interviewed many high profile industry experts and celebrities including Alesha Dixon, Twiggy and Christina Hendricks.