The best foundation with SPF for a protected, perfected complexion
The best foundation with SPF will ace your base while shielding your skin from the sun – our beauty editor rounds up her favorites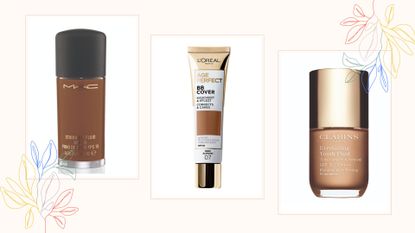 (Image credit: Future)
When looking for the best foundation with SPF there are a lot of factors to consider. What sort of coverage do you need? Is your skin goal natural and glowy or velvety and polished? Then crucially, there's the protection level. Will a higher factor result in a less appealing formula?
Ideally, the best foundations with SPF will help to protect the skin without compromising on a luxurious feel or flawless finish. We all know how important it is to shield skin from the damaging and dangerous effects of UV exposure, and a foundation with a sprinkling of SPF protection makes it easier to do this. Will it replace the best facial sunscreen? Absolutely not – a separate sun cream for the face is essential, as is applying each product correctly. "To create an even layer of your SPF foundation, use a buffing brush and apply your base in circular motions," advises Rose Gallagher (opens in new tab), makeup artist and ambassador for IT Cosmetics UK and Ireland. "For optimum results from your SPF, it's important not to do this, and instead to endeavor to create a full, even layer."
Think of foundations with built-in SPF as a beauty bonus, offering an added layer of protection on top of your dedicated sunscreen, the equivalent of a wide-brim sun hat for your complexion. More sun protection can only ever be a good thing. Here, I've rounded up my favorites.
How we tested the best foundation with SPF for this feature
Why you can trust Woman & Home Our expert reviewers spend hours testing and comparing products and services so you can choose the best for you. Find out more about how we test.
Since SPF can change the texture of a foundation, I wanted to make sure every foundation on this list felt comfortable on the skin. Each base has been worn by me for at least a couple of days to test the feel of the formula (particularly given the added UV filters) how well it fared throughout the day, and of course, how it looked on. I also wanted to assess value for money considering the coverage, finish, and level of sun protection.
As any beauty editor worth their salt will tell you, facial sunscreen is a non-negotiable element of a morning skincare routine. With that in mind, I tested all of these foundations on top of my usual sunscreen to see how well they layered. I can't speak to the standalone efficacy of the sun protection in each foundation, but applied on top of a separate sunscreen each of these gave me an extra insurance policy against sun damage.
The best foundation with SPF, picked by our Beauty Editor
1. Bobbi Brown Intensive Serum Foundation SPF40
Best foundation with SPF overall
Specifications
RRP: $75/£53
Shades: 18
SPF: 40
Finish: Radiant
Reasons to buy
+
Luxurious, weighty packaging
+
High factor
+
Deeply hydrating
+
Glowing finish
Reasons to avoid
-
One of the more expensive options
This is one of those makeup products that you can't wait to pick up in the morning. The opaque black bottle looks enticing and it's satisfyingly weighty. The pump action is smooth and the foundation is creamy, not runny so it doesn't trickle down your hand. I found half a pump was enough to cover my face and neck so one bottle, while undeniably expensive, lasts a while.
Reliance on my best retinol cream means foundation can stick to dry patches on my face but this foundation seemed to melt away. Its secret is 75% skincare-inspired ingredients. Something called a skin-energizing complex made with hot-right-now 'shroom, Cordyceps, is responsible for revitalizing skin in the long term. SPF40 is one of the most comprehensive on this list (the foundation also defends against free radicals, blue light, and pollution) but it doesn't affect the formula's silky texture. In fact, of all the foundations, this felt the most imperceptible, as if I wasn't wearing anything but a great skin cream.
On the topic of texture, the high content of skin-nourishing ingredients means this is on the lighter side of the coverage spectrum - it lets your natural skin, with all its pores, bumps, and blemishes, peek through. If you need something that completely masks your skin's quirks, this probably isn't the foundation for you. If, however, you're in the market for something radiant, healthy, comfy, and smooth, this has got the goods.
2. IT Cosmetics Your Skin But Better CC+ Nude Glow SPF40
Best CC cream with SPF
Specifications
RRP: $44/£36.50
Shades: 22
SPF: 40
Finish: Healthy glow
Reasons to buy
+
Brighter skin in 4 weeks
+
Formula is 90% skincare
+
Buildable coverage
Reasons to avoid
-
Coverage might not be full enough for some
Weighing up foundation vs CC cream? There's a common misconception that CC and BB creams lack coverage but anyone who's tried IT Cosmetics' award-winning CC+ Cream will attest to its flawless skin finish. This Nude Glow version offers slightly softer coverage than the original best-seller but corrects uneven tone like a real-life Instagram filter. This is the perfect example of a 'skin-dation' – a makeup base with skin-perfecting ingredients, that make up an impressive 90% of the recipe.
The skincare base contains niacinamide, revered for its brightening results, moisture-magnet hyaluronic acid, and antioxidant green tea extracts. Skin appears filtered, with a smooth, even-looking, and bright finish. It has a sweet, sherbety fragrance – it's subtle but makes application all the more appealing. For me, someone who sadly doesn't possess the skin (or confidence) to pull off a sheer skin tint, I found the coverage excellent and confidence-boosting. It ticks off many of my foundation non-negotiables including hydrating ingredients, a glowy finish, and decent, buildable coverage. A brilliant newcomer that's leaping up my best foundation with SPF list.
3. Chanel Ultra Le Teint Velvet
Best matte foundation with SPF
Specifications
RRP: $55/£42
Shades: 15
SPF: 15
Finish: Matte velvet
Reasons to buy
+
Long-wearing
+
Blurring effect
+
Suitable for combination skin types
Reasons to avoid
-
Blemishes may require more coverage
This foundation is quintessentially Chanel – chic, elegant, and the ultimate luxury. I found it looked best when applied with my fingers over a brush, as the warmth of my hands seemed to fuse the foundation with my skin and made everything a lot smoother and more even. For me, the coverage was ideal. The blurring effect powders helped to obscure any textural issues, redness, or patches of pigmentation in my complexion, without completely caking over my face. My skin still looked like my skin, only better. If you're looking to cover dark spots or acne, you might want to go in with a separate concealer.
Since my skin leans to the dry side, I usually steer away from a matte finish. Even the best matte foundations will latch onto flakes so my skin looks 'off'. Chanel Ultra Le Teint Velvet is a breathtaking anomaly. The result (which, by the way, has impressive staying power) is creamy, natural, and smooth without looking flat. It was the only foundation on this list to elicit a compliment from my husband on how 'pretty' my skin looked. In a word, wow.
4. L'Oréal Paris Age Perfect BB Cover SPF50
Best BB cream with SPF
Specifications
RRP: $12.72/£11.99
Shades: 6
SPF: 50
Finish: Fresh
Reasons to buy
+
High protection
+
Vitamin-enriched
+
Corrects dark spots
This is a recent find but one that I've been relying on as my daily base. Yes, I know it's technically a BB cream, but let's not dwell because this does everything you want a foundation to do, with the added 'blemish balm' benefits of protecting, and improving your natural-born skin. It also includes Vitamin B3, which helps to correct pigmentation the more you wear it.
Just for fun (this is like Wordle for Beauty Eds) I like to apply foundation to one half of my face, and take a look in the mirror to observe the difference, before going in on the other side. The difference between the two camps here is startling. In a good way. As I've said, I am not blessed with great skin, and yet this makes my complexion look smooth and (almost) poreless. Although the finish is fresh and natural, its coverage is buildable, and never seems to cake on areas that require a little more concealment. The fact that it has SPF50 is just another tick in an exhaustive list.
5. MAC Studio Fix Fluid SPF15
Best long-wearing foundation with SPF
Specifications
RRP: $39/£30
Shades: 67
SPF: 15
Finish: Matte
Reasons to buy
+
Impressive, inclusive shade range
+
24-hour wear
+
Controls oil
Let's get the negative out of the way. The foundation doesn't come with a pump. It's available to buy separately for £5, but if you don't want to drop extra coins on the attachment, then dispensing the foundation can be a tad messy and unpredictable. That being said, we applaud MAC for pushing sustainability. The beauty of buying the pump is once you've got it, you can re-use it with your next bottle.
This is a makeup artist's favorite for a reason. You can build up the coverage from medium to full, so blemishes and dark spots are easily swiped from view. It's a modern matte finish – polished and perfected, with a natural, healthy brightness that I really wasn't expecting. As well as an inclusive shade selection (making this one of the best foundations for dark skin on our list) The USP of this base is its staying power. This looked smooth, creaseless, and even for hours. MAC says it suits all complexions, it won't slip and slide on combination and oily skins but offers the hydration needed for dry complexions. It's also sweat- and humidity-resistant so if you prefer to stick with a full foundation during the warmer months, this base is going to stay exactly where you want it.
6. Clarins Everlasting Youth Fluid SPF15
Best foundation with SPF for mature skin
Specifications
RRP: $50/£37
Shades: 24
SPF: 15
Finish: Natural radiance
Reasons to buy
+
Firming effect
+
Anti-pollution
+
Collagen-boosting
+
Beautiful scent
Reasons to avoid
-
Not as luminous as you might expect
If scented products are a turn-off, look away now, because this has the most beautiful, fresh aroma that lingers on the skin so that every so often you catch a whiff of your own sweet-smelling complexion. Of all the foundations I tested, this was the thickest formula, and yet, it slipped across my skin effortlessly. I tend to use the back of my hand as a palette so having something slightly richer was easier to control. If you're expecting a baby-faced sheen, you might be left wanting. Everlasting Youth Fluid offers a healthy gleam rather than anything overtly dewy, in the way that bare skin might radiate freshness.
The perk here is that the combination of pigments and soft-focus powders help to conceal the bits of untouched skin you'd rather not reveal. The coverage is fantastic, and 'blurred' my freckles easily. But this is more than makeup. It smoothes and firms like a skin cream. Chicory is incorporated to create a denser collagen network, thereby improving skin luminosity and firmness. Then to shift any dead skin cell build-up impeding natural radiance, you have red jania extract. I'm intrigued to see whether I notice the long-term benefits of smoother, more refined skin. Until then, I'm thrilled with the instant gratification I get from wearing this flawless base.
7. Bareminerals Original Loose Powder Foundation SPF15
Best powder foundation with SPF
Specifications
RRP: $35/£37
Shades: 24
SPF: 15
Finish: Naturally luminous
Reasons to buy
+
Customizable coverage, from sheer to full
+
Long-lasting
+
Promotes healthier skin over time
+
Suitable for sensitive skin
Reasons to avoid
-
Loose powder may put some off
It's fair to say that this powder has racked up a faithful following. In fact, it's the number one mineral foundation in the U.S. If you're turned off by powders, stay with me. This one has earned its cult status as one of the best powder foundations with dial-up coverage that somehow never cakes on dry skin, clogs pores, or creases in fine lines. Titanium dioxide and zinc oxide provide a physical, mineral-based shield against UVA and UVB rays, which won't aggravate sensitive eyes or skin. It's particularly great for blemish-prone complexions, not only concealing current breakouts but helping to prevent future ones. In fact, a six-week clinical study found that 46% of testers noticed clearer-looking skin.
There's a unique method to applying loose mineral foundation. Unlike liquid foundation, the minerals need to be activated and warmed, transforming from powder to cream. It goes like this – tip a little powder into the cap then swirl it around with a flat-headed kabuki brush. Tap the excess then buff it into the skin in circular motions. If you need more coverage, repeat the process until you've got the finish you're aiming for.
8. Estee Lauder Futurist Hydra Rescue Moisturizing Foundation SPF45
Best foundation with SPF for dry skin
Specifications
RRP: $50/£38
Shades: 28
SPF: 45
Finish: Radiant
Reasons to buy
+
Intensely moisturizing
+
Buildable coverage
+
High factor
Reasons to avoid
-
Oily skin may find it slips
With one of the highest protection factors on our list, this is a solid makeup choice for extra defense against sun damage. And yet its formula is light, breathable, and deeply moisturizing. It promises a 12-hour radiant glow as if flicking on your complexion like a light switch.
Senior Beauty Editor, Rhiannon Derbyshire (opens in new tab) is always happy to heap praise on Estee Lauder's SPF base. "This is one of my all-time favorite foundations – it's lightweight but still has a nice buildable coverage, and gives a flattering, radiant finish. It's also really moisturizing, which is a bonus for my thirsty skin. To me, it's the perfect hybrid between a tinted moisturizer and a foundation – it feels super comfy to wear, but it still gives a flawless finish with great staying power. Truthfully I didn't realize it had SPF until very recently (some foundations with SPF can look a bit ghostly), but that just gives it some extra bonus points in my book."
See our full Estee Lauder Futurist Hydra Rescue review
---
Which foundation with SPF is the best?
So what should the holy grail of SPF foundation look like? Obviously, if you want your face to stay pillowy-plump and flawlessly toned, the higher the factor the better, but with this comes a formula kickback. "SPF will alter the consistency of a product and make it slightly denser in texture," explains Gallagher. To allow for this slightly heavier feel and enhance comfort, Rose recommends formulas with added skincare elements. "Look out for ingredients like niacinamide, collagen, and hyaluronic acid to allow for a fresh, hydrating finish."
If you're planning on putting your best face forward for a photo worthy of a spot on your grid (if you know, you know), it's also worth keeping in mind the type of filters used in your foundation with SPF. "When you use flash photography, SPFs can flash back in photos, essentially leading to your face looking much paler in the photo than it does in real life," says Gallagher. "A physical or mineral-only SPF means you won't see any flashback." To pick out a mineral block, often found in the best sunscreens for sensitive skin, look for zinc oxide or titanium dioxide listed in the ingredients on your foundation.
Does the SPF in foundation work?
Sunscreen isn't the preserve of family-sized bottles destined for long-haul flights. Nowadays you'll find UV protection in everything from face moisturizer with SPF to the best foundation with SPF. But is it enough to rely on makeup and moisturizers as your main source of sun defense? Abi Cleeve (opens in new tab), MD of Ultrasun, says not. "Many foundations with SPF only offer protection from UVB rays and not UVA rays, which penetrate the skin's surface and do long-term damage," she explains.
The other issue is the amount you'd need to apply in order to achieve the protection advertised on the bottle. "The official guidelines given by Colipa (opens in new tab)(the European cosmetic industry association) are 2mg/cm2 – approximately one teaspoon worth for the face," says Cleeve. If you applied that much foundation to your face and neck, you'd be pretty caked, as Abi acknowledges: "SPF foundations are applied a lot more thinly, thus not providing the same level of protection as 'pure' sunscreens." The message is clear: layer up your protective makeup with a separate sunscreen for rigorous protection against UV exposure. Abi recommends using a facial sunscreen of SPF30 or above. "Choose one with broad spectrum protection to prevent damage from both UVA and UVB rays."
However, while even the best foundation with SPF fails to offer the same level of broad-spectrum cover that sunscreens do, Abi sees SPF makeup as a positive. "SPF in the foundation is great as a bonus, and also contributes to the overall awareness of the need for UV protection, but a separate SPF is vital for long-term protection."
Our beauty editor recommends...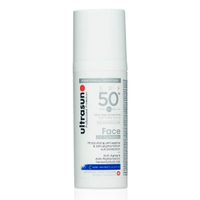 (opens in new tab)
Ultrasun Face Anti-Pigmentation SPF50+ | RRP $41.50/£32
Skincare meets suncare - you'll find the usual high-quality UV filters (Ultrasun combines physical protection with chemical absorbers) with added skin-improving actives. Take hexylresorcinol, which works on pigmentation to brighten the skin. An even layer provides a matte finish that sits nicely under makeup.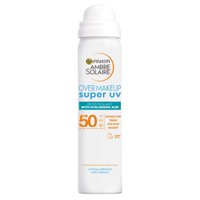 (opens in new tab)
Garnier Ambre Solaire Over Makeup Super UV Protection Mist SPF50 | RRP $7.30/£6
"If you wear a lot of makeup and want to top up your SPF through the day, you may prefer a spray SPF," says Gallagher. This mist is so light – like spraying your face with fresh morning dew – that it won't disturb your makeup in the slightest, and provides an even layer of protection. It also happens to be the perfect commuter-friendly size for on-the-go top-ups.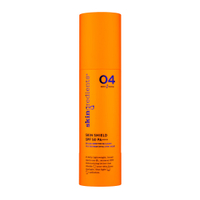 (opens in new tab)
Skingredients Moisturising & Priming Skin Shield SPF 50 PA+++ | RRP $56/£51
This sunscreen is a delight to apply, offering a fresh, peachy tint that works fantastically as a base for makeup or even just livens up a bare face enough to forego foundation on sofa Sundays. It provides broad-spectrum sun protection from UVA and UVB rays, with added defense against pollution and blue light.
Stephanie Maylor is a Beauty Editor working across five national magazine titles, with almost 15 years' experience in the industry. She has written for many brands, including woman&home, Grazia, Now, More!, Fabulous, NW, Woman, Woman's Own, Woman's Weekly, Essentials, Best, Chat, and OK! online.
In 2010 she launched her own beauty blog, which was shortlisted for Best Beauty Blog in the 2011 and 2012 Johnson & Johnson Beauty Journalism Awards. She has interviewed many high profile industry experts and celebrities including Alesha Dixon, Twiggy and Christina Hendricks.