Foundation VS CC cream: which is the best base for you?
Not sure when to use foundation vs CC cream? Pro makeup artists explain the key differences, benefits, and uses of each base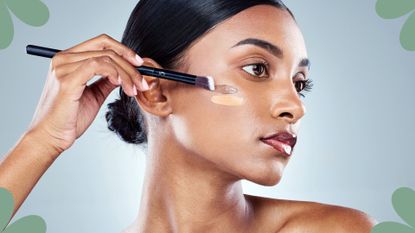 (Image credit: Getty/Canva)
woman&home newsletter
Sign up to our free daily email for the latest royal and entertainment news, interesting opinion, expert advice on styling and beauty trends, and no-nonsense guides to the health and wellness questions you want answered.
Thank you for signing up to . You will receive a verification email shortly.
There was a problem. Please refresh the page and try again.
Not all bases work in the same way, so when it comes to the conversation around foundation vs CC cream it can be tricky to know exactly which to use and when.
Even your best foundation may not be one you'll want to wear every day, so it's handy to have a few other options, like CCs, BBs, and the best tinted moisturizers in your kit. And much like the foundation vs BB cream debate, this one is all about weighing up what benefits you want from your base. Makeup artist and founder of Sculpted by Aimee, Aimee Connolly (opens in new tab) says, "Although they share similar functions, CC cream and foundation really do differ in results."
There's a time and a place for each base, but how does a foundation compare to a CC cream, and what exactly does it do? Which offers better benefits when it comes to coverage, skincare, or ease of application? Let's get stuck into the big foundation vs CC cream debate to find out.
Foundation VS CC cream: our expert guide
What are foundation and CC cream?
"Foundation tends to be the traditional option when it comes to complexion make-up and offers the highest level of coverage, to give you a flawless finish," explains makeup artist and co-founder of Delilah cosmetics, Rupert Kingston. "They're available in a range of coverage options, from the best lightweight foundation to the best full coverage foundation, and they tend to come in many shades and undertones, enabling you to find a close match to your own skin tone."
How about CCs? Kingston says, "CC creams tend to be a little bit lighter in consistency compared to a foundation. The CC in CC cream stands for color correction, and they are best for people who feel like they have more of an uneven skin tone but don't necessarily want a high level of coverage."
One point that often comes up in the foundation vs CC cream debate is the skin benefits that CCs contain. According to Kingston, "They're often marketed as a one-step or all-in-one product. CC creams may contain a combination of ingredients including SPF, pigments, and moisturizing elements. They tend to use light refracting technology that splits up the light as it bounces off the skin, reducing the appearance of redness or pigmentation, to give a more even finish to the skin, without the fuller coverage that foundation provides."
What does a CC cream do?
As Kingston says, CCs often have other benefits, like SPF protection, or moisturizing ingredients, but the main job of a CC cream is to neutralize the colors in your skin. Connolly agrees, "CC Cream, otherwise known as a color-correcting complexion product, acts as a color-correcting concealer and foundation on one. It neutralizes the look of your skin imperfections including redness or pigmentation."
Foundation VS CC Cream: Key Differences
While at first glance these two base options may seem quite similar, there are key differences that come into play when you get into the fundamentals of the foundation vs CC cream debate.
Color correction: The clue is in the name. A CC cream's job is to correct tones in your complexion - most often redness or dullness. Foundations can usually cover these tones, but they won't correct them in the way a CC can. This makes CCs an especially great option for people who suffer from redness and rosacea.
Skincare benefits: Foundations can be kind-to-skin, but that's not usually one of their main selling points. Connolly says, "CC creams are usually skincare-led and most offer SPF and moisturizing benefits."
Coverage: CCs tend to be lighter, so can be a bit more forgiving if you aren't quite sure how to find your foundation shade. And although they're often referred to as a concealer and foundation in one, they usually don't offer the amount of coverage that a thicker, more opaque foundation could. So, you'll still need to master how to apply concealer if you wear CC but have blemishes or dark circles you'd like to hide.
Staying power: Here's where foundation tends to win the foundation vs CC cream debate - because CCs are lighter and more moisturizing, this can mean that they don't stick around for as long. "Foundations are usually more long-wearing" agrees Connolly. "CC Creams are fantastic for quick coverage if you're not planning on wearing a full face but need to even out your skin tone. However, for a night out where I would require something more long-wearing, I would opt for a foundation."
When should I use foundation VS CC cream
This all depends on what you want from your base on any given day. If you're looking for a light base that you don't necessarily need to last 10 hours wear, go for a CC. If you're looking for something more durable with higher coverage, stick to a foundation.
Kingston agrees. "If you prefer a flawless finish or want a look that is going to last, such as for a special event, then a foundation is definitely for you. If you want to slightly correct the tone of the skin but aren't looking for coverage, then a CC cream may be the way to go." He continues, "Some people may choose to use both to suit different occasions. For example, whilst on holiday, a CC cream may be enough for you but if you're attending a special event, then the coverage and longevity of foundation may make more sense."
How to apply CC cream
Because they're often different textures and finishes, how to apply foundation will differ to how you'd apply your CC. Kingston explains, "CC cream application does differ from foundation because CC creams tend to be lighter and may also be more nourishing due to the skincare benefits."
He continues, "Depending on your skin, you may find that you don't need to moisturize as well before applying a CC cream. You may be able to easily apply it with your hands to get a fine layer across the complexion, before massaging it in with your fingers and down onto the neck."
You can of course still use your best foundation brushes to apply any base, but because of the lighter texture, using your fingers may help a CC cream sink in better, and look more natural.
Foundation Vs CC Cream: W&H verdict
So, having gone deep into the foundation vs CC cream debate, where do we stand? Really, both bases have their pros and cons, so it's hard to pick a winner, per se - but if I was pushed to pick one for life, I'd go for a foundation purely from a practical standpoint, for its durability and better coverage. However, I would miss using a CC cream if this very niche and dramatic choice were pushed upon me. Redness is one of my main skin concerns, so a good CC is a real hero in my makeup kit.
Kingston advises that beginners may be better off picking CCs. "A CC cream is a good introduction for somebody who isn't used to wearing, or doesn't usually like the feel of, makeup on the face. As a rule, the consistency of a CC cream can feel a little lighter and fresher on the skin, but it really depends on the specific concerns of the person and the finish they are aiming to achieve."
There is definitely a case for owning both a foundation and a CC cream (as well as BBs and tinted moisturizers). I personally tend to wear CC creams on more low-key days, like when I'm working from home or for weekends mooching around. I then use foundations for long, busy days when I'm out and about, and for events like parties and weddings. You can, of course, use concealer to amp up the coverage of a CC a little, but you can't beat the coverage and longevity of a good foundation.
Rhiannon Derbyshire is the Senior Beauty Editor for Woman & Home and other publications.
She started interning for magazines while working alongside her Fashion Journalism degree. There, she was lured to the beauty desk, seduced by matte lipsticks, posh shampoos and every skincare product imaginable. A first-language Welsh speaker, she can tell you why the best mascaras are always high street, why SPF is a non-negotiable all year round and how to find the exact right red lipstick in two languages.