8 of the best foundation brushes for beautiful skin every time
Get your kit on with our best foundation brush buys – ideal for creating a smooth, flawless finish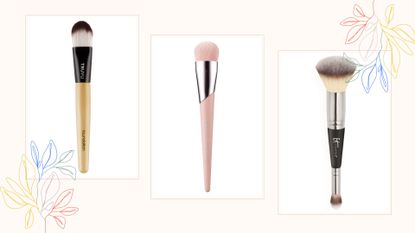 (Image credit: Future)
With the best foundation brush, you can achieve beautiful results. As the old adage goes, a man is only as good as his tools – and when it comes to makeup, never a truer word was spoken.
You could have the best foundation, beloved by makeup artists, beauty editors, and impossibly-flawless A-listers, but if your application game is flawed then your complexion may end up looking patchy, streaky and, well, a little bit off. A great foundation brush will make your makeup application faster, smoother, and more even – the secret to unlocking a flawless finish is knowing which one to use and when.
This depends on many factors, including the type of foundation you're working with. Are you applying your best full coverage foundation or a mineral powder? Do you need to mask blemishes or prefer a sheer finish? "Generally speaking, the larger the brush head, the softer the coverage will be," explains Rose Gallagher (opens in new tab), Makeup Artist and Ambassador for IT Cosmetics UK and Ireland. "For areas where you want to build up coverage, a smaller, denser brush head will pack makeup onto the skin rather than buffing it out." Time to brush up with our tried and trusted guide.
How we tested the best foundation brushes
Why you can trust Woman & Home Our expert reviewers spend hours testing and comparing products and services so you can choose the best for you. Find out more about how we test.
To narrow down my pick for the best foundation brush, I nominated the forever favorites that always have a place on my dressing table and in my makeup bag, as well as testing new brush shapes and brands. In the interest of absolute fairness, I tested each one of these brushes with the same foundation to assess how the coverage and finish adapted with each tool.
Price was also a consideration – as I have discovered, an expensive brush doesn't necessarily guarantee a more beautiful result. I was also keen to include vegan options since sustainability is an important factor for me. I have used each brush on this list (and others that didn't quite make the cut) multiple times to test the feel and density of the bristles, how well it applied my base and, of course, the finished look.
The best foundation brushes, according to a Beauty Editor
1. Morphe V102 Dense Edged Foundation Brush
Best overall foundation brush
Specifications
RRP: $20/£19
Bristles: Synthetic
Foundation type: Liquid and cream
Reasons to buy
+
Great for contouring
+
Professional-grade tool
+
Multi-functional head
Reasons to avoid
-
Better suited to medium and full coverage
The Morphe range first launched with brushes back in 2008, so it's no surprise that they've perfected the recipe for professional-yet-affordable tools, elevating amateurs to artists. If I'm using a foundation brush, I want my coverage to correct the weak spots in my complexion, like having a real-like Instagram filter in my hand. This is exactly what this brush does. However, the densely-packed bristles mean that it's harder to create a light, sheer wash of color. If this is your goal, you'd be better off with a makeup sponge or your fingers.
The brush head is different from anything on this list. The bristles are short-ish, with a subtle dip in the top, which allows you to pick up a lot of product and move it around the face with little effort. It's nice and wide too – you'll be able to produce a well-blended base in no time, like when ghd brought out the wide-plated ghd Max hair straightener. Time-saving, am I right? This brush is a real jack of all tools. It's sturdy enough that you can stamp on extra makeup where you need; slim enough to scooch into hard-to-reach places around the nose, and can be used to contour and sculpt. It is, hands down, the best foundation brush I've tried.
2. Bobbi Brown Full Coverage Face Brush
Best foundation brush for airbrushed skin
Specifications
RRP: $55/£36
Bristles: Synthetic
Foundation type: Liquid, cream and powder
Reasons to buy
+
Works with powder and liquid
+
Can be used damp or dry
+
Diffused, airbrushed effect
Reasons to avoid
-
More expensive than others on this list
Ever since I visited a Bobbi Brown counter for a makeup tutorial before my wedding in 2013, I have been fangirling their brushes. I would treat myself to a new brush every few months. That was a decade ago and my BB concealer, brow, and eyeshadow brushes are still in my daily rotation. I hadn't, however, tried any of their foundation tools until now. And I'm sold.
This is a one-and-done type of brush that would work as nicely whether you are applying foundation vs BB cream - but definitely performs particularly well at the fuller end of the coverage spectrum. It somehow manages to be both incredibly soft (I found myself mindlessly swishing it over my face without any foundation to apply) and sturdy, a rare combo that delivers velvety, high-definition, polished perfection. Somehow, my pores looked blurred and less shiny. The tightly-packed bristles get right into the curves of the face, from under the eye to down the sides of the nose. Definitely worth the hype.
3. Mii Cosmetics Perfect Base Brush
Best foundation brush for precision coverage
Specifications
RRP: $28.23/£22.95
Bristles: Synthetic
Foundation type: Liquid
Reasons to buy
+
Builds coverage where needed
+
Weighty handle
+
Tapered for precision
It sounds counterintuitive, but I actually like a bit of weight to my makeup brushes. This one certainly feels substantial, and somehow makes me feel as if I have more control over how to apply foundation with it. The tapered head allows you to apply foundation into every nook and cranny and offers precise coverage to those areas that need a little more attention. I found it particularly useful for targeting the little thread veins I have around the base of my nose.
The only downside was that the tightly-packed, dense brush head made it slightly more laborious when whisking foundation over larger areas like my cheeks and forehead. However, if you have blemishes, dark circles, and areas of pigmentation that need extra cover, this would be a worthy addition to your makeup bag.
4. So Eco Foundation Brush
Best eco-conscious foundation brush
Specifications
RRP: $8/£6.50
Bristles: Synthetic
Foundation type: Liquid or cream
Reasons to buy
+
Great price
+
Builds coverage where needed
+
Ergonomic handle
+
Vegan and cruelty-free
Reasons to avoid
-
Wooden handle not as grippable
You'll probably recognize this as a classic foundation brush. The flat, paintbrush-like shape offers control, precision, and a non-streaky finish. It also means you can get more product onto the bristles, which will help you layer up your foundation and achieve more coverage where you need it.
If sustainable beauty credentials are high on your list, you'll be pleased to know this is vegan and cruelty-free. Every material has been ethically sourced - the brush is made with synthetic bristles and comes in completely recyclable packaging. As if the green halo wasn't glowing enough, So Eco plants a tree for every 100 products sold.
The wooden handle wasn't quite as tactile and pleasing to hold as some of the others on the list - I didn't really use the finger indentations on the handle's ergonomic design, preferring to grasp the brush further up. Aside from that small gripe, this is a great classic foundation brush, with soft but sturdy bristles that smoothed foundation on larger facial zones evenly, as well as pinpointing fiddly areas under the eyes and around the nose. If like me, you have areas that require a little more concealment, this brush will allow you to pat on extra makeup where you need it to take the coverage from medium to full.
5. IT Cosmetics Heavenly Luxe Complexion Perfection Brush #7
Best 2-in-1 foundation brush
Specifications
RRP: $30/£36
Bristles: Synthetic
Foundation type: Liquid, cream, concealer
Reasons to buy
+
Made with award-winning synthetic hairs
+
2 brushes for the price of 1
+
Variable coverage
Reasons to avoid
-
One of the pricier options
Want to save yourself money and valuable real estate in your makeup bag? Of course you do. IT Cosmetics has built its reputation on achieving fresh, even, healthy-looking skin using its color-correcting bases and professional-quality brushes. This one gets stellar reviews, with a buffing brush to apply foundation and a precision concealer brush on the flip side. "It is large and domed, meaning that you achieve a really airbrushed, flawless finish," raves Gallagher, who always keeps this brush in her kit bag.
The bristles are lovely, like a hug in a brush, and buffed away streaks with a few effortless swirls. Another selling point: I found that the brush didn't soak up as much product as other brushes on the list so I was able to create medium coverage with minimal foundation. The dinky concealer brush worked well on my tired under eyes and got right into the sides of my nose to mask redness. A genius buy – and certainly, one of the best foundation brushes on the market.
6. Fenty Beauty Full-Bodied Foundation Brush 110
Best foundation brush for full coverage
Specifications
RRP: $20.40/£29
Bristles: Synthetic
Foundation type: Liquid
Reasons to buy
+
Attractive nude pink colorway
+
Smooth, velvety finish
+
'Paw' shape pats on coverage where needed
Reasons to avoid
-
Dense head makes it harder to blend out
With more than 140,000 feathery-fine bristles nestled into the tip, this brush feels full and firm – it's certainly less yielding than Morphe's brush. That's not to say it isn't soft. But this rigidity, teamed with the paw-like head, are crucial to creating full, seamless coverage. Breaking out? Press on and build up coverage until those red dots are hidden away.
The downside for me was that the rigidity of the brush made it a little more difficult to blend out the foundation across my face, so if you're looking for a light wash of coverage, this wouldn't be the best foundation brush for you. Rihanna's favored method of application is the press, roll-off, and repeat. If I'm going to take makeup tips from anyone, it's flawless RiRi. And yes, this technique gave my skin an extra airbrushed flourish, with great pore coverage and a velvety finish.
7. Truyu Foundation Brush
Best budget foundation brush
Specifications
RRP: $8/£6.50
Bristles: Nylon
Foundation type: Liquid and cream
Reasons to buy
+
Great price
+
Buildable coverage
+
Paddle shape gets into every nook
Reasons to avoid
-
Handle is a little slippery
A good ol' reliable paddle brush will dapple the product across the face quickly, with a subtly-tapered shape that targets specific areas of concern. This one is a decent option at an amazing price. The handle is a lot shorter than others on our list, but to me, that was a plus, since it didn't take up as much space in my makeup bag and gave me more control over the application.
I can say, hand on heart, that I have not once experienced any shedding with this, and it did a brilliant job of getting into tight spots and neatly tracing around my lips to create a pretty seamless finish. It might not be breaking any new ground, but it's reliable and purse-friendly. And proof that you don't need to blow your budget to get the best foundation brush.
8. Brushworks HD Buffing Foundation Brush
Best foundation brush for underpainting
Specifications
RRP: $8.50/£7.99
Bristles: Synthetic
Foundation type: Liquid, cream and powder
Reasons to buy
+
Works with multiple formulas
+
Vegan-friendly
+
Easy to grip, ergonomic handle
Reasons to avoid
-
Harder to get into awkward areas
'Underpainting' is a way of applying makeup where the contour, highlight, and concealer are applied before foundation to create a natural makeup look. The technique isn't new but the reason we're all obsessing over it is celebrity MUA, Mary Phillips."To me, it makes more sense. It's like laying down the bones under the skin: the contour and the highlight being the bones, and the skin is the foundation," explained Phillips explained in a video that has blown up on TikTok – and having tried it, it's now the only way I want to apply my makeup.
When applying foundation using this method, you don't want a brush that's too dense, as this increases the coverage and will mask rather than haze over your pre-applied contour and highlight. Step forward, the HD Buffing Brush. The large, stubby head helps you whisk base into your skin for a light, seamless, and natural finish. For such a brilliant price, I'll be honest, I was not expecting this to be as good as it was. The bristles are deliciously soft and buffed my foundation in with little effort. Just as I'd hoped, it didn't erase my contour but made everything look soft, natural, and seamlessly sculpted. If you're thinking about giving underpainting a go, this is the best foundation brush for the job.
---
What type of brush is best for liquid foundation?
Like choosing the best mascara or nailing your signature scent, finding the best foundation brush to use with a liquid formulation often comes down to personal preference. For Rose Gallagher, a larger brush reigns supreme. "I love to use a large, rounded brush with either a domed or flat edge," she says. "The soft shape means that you achieve a seamless finish without streaks," Rose says she can achieve anything from soft to full coverage using this type of brush. "If, however, full coverage is your main goal, switching to a flat edge buffing brush is great because you can not only whisk your foundation in, but you can also press this brush onto the skin and lay coverage flat onto any areas of discoloration."
It's not just the brush shape that makes a difference but the bristle type too. "I personally think synthetic brushes are much better when using liquid foundation," says Gallagher. "Natural hair bristles can go a little floppy when teamed with liquid – think of how your hair softens when you wash it. You can wield a synthetic brush with much more power."
How do I choose the right foundation brush?
Liquid or cream foundations: A flat, slightly tapered head, like a paintbrush, provides a more full-coverage finish, allowing you to build up coverage where needed. For a more natural, airbrushed effect, go for a larger, domed shape.
Mineral or powder foundations: Mineral makeup needs to be warmed and worked into the skin so a flat top buffing brush or kabuki style works well here. "A flat top means that you can pack product onto your brush, and you have complete control of each application," explains Gallagher.
How do I use a brush to apply foundation?
Now that you've sussed which brush is best for you and your base, it's time we discuss how best to apply it. Rather than applying foundation directly on the skin or even the brush head, Gallagher recommends using the back of your hand as a palette. "Instead of having a set rule of working from the outside of your face in or the inside of the face out, I would just tell you to begin with the area you want to look the most flawless and work outwards from there."
She continues: "I begin my journey in the areas that need the most cover – for me, that's my cheeks. I sweep a generous amount of coverage in these areas, then as my product starts to dwindle I take what's left on areas that don't need as much cover. Then, I will keep picking the foundation up from the back of my hand, building, blending, and repeating."
How often should you wash your foundation brush?
"Get into the habit of leaving your foundation brush by the dishes each evening – it's honestly the best thing you could do for your brushes, and will give you the most magnificent skin and makeup," says Gallagher. "If daily washing isn't doable, once a week is also great. You don't need to do this for every single brush but definitely foundation and concealer brushes." Here are her three simple steps for washing brushes like a pro.
Use warm water, never hot as this can melt the glue in your brush, causing the bristles to shed. Then massage a gentle amount of soap into the brush.
Rinse then towel dry, moulding the bristles into place.
Leave it to dry on a ledge so that 360 degrees of the brush head are exposed.
Stephanie Maylor is a Beauty Editor working across five national magazine titles, with almost 15 years' experience in the industry. She has written for many brands, including woman&home, Grazia, Now, More!, Fabulous, NW, Woman, Woman's Own, Woman's Weekly, Essentials, Best, Chat, and OK! online.
In 2010 she launched her own beauty blog, which was shortlisted for Best Beauty Blog in the 2011 and 2012 Johnson & Johnson Beauty Journalism Awards. She has interviewed many high profile industry experts and celebrities including Alesha Dixon, Twiggy and Christina Hendricks.