Best powder foundations: our fave picks for amazing finish and coverage for all skin types
We curate the best powder foundations, from matte to sheer to full and to light coverage, to hit all your complexion concerns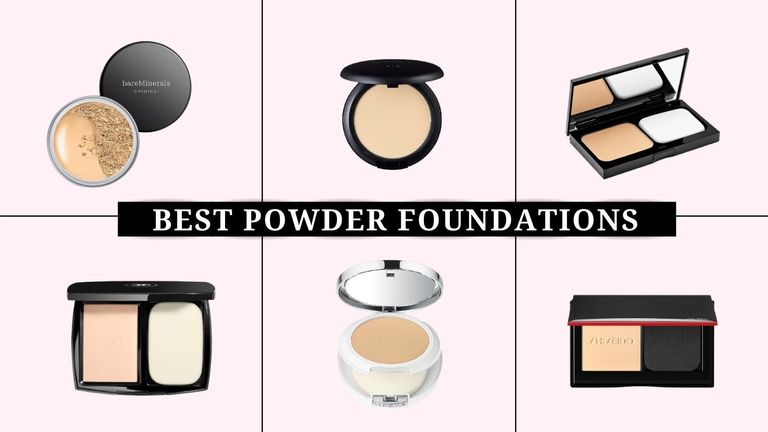 (Image credit: Future)
If you're on the hunt for the best powder foundations, we're totally on board: There's nothing quite like the convenience and practicality of having your trusty base with you while on-the-go, with minimal risk of spillage or mess. Whether it's for that lunchtime retouch, a freshening up before happy hour, or as a travel or wedding-day purse essential, a powder foundation helps solve a myriad of complexion emergencies and gets us look pulled-together in minutes.
And portability isn't the main draw of a powder foundation either (although it's up there in reasons why we love it!): Powder inherently neutralizes oiliness and helps blur imperfections, not to mention set any liquid makeup we have on and give our look the integrity to last the day ahead—sweltering hot summer days be damned.
The benefits of powder foundation
Unlike first-generation powder foundations which had dry, chalky formulas and limited shade ranges (Show of hands: Who else has some ghastly foundation mistakes captured for posterity in old photos?), today's powder foundations feature innovations that help create a flawless base with surprisingly substantial coverage, similar to what you can expect from the best foundation formulas in liquid or cream form. Experts also recommend the use of powder foundation because of the following:
Ease of use: If you don't usually wear foundation, many makeup artists recommend starting with powder; it's often easier to apply and won't leave any telltale streaks or visible lines. Most also include a sponge or puff, which makes things exponentially handier for travel or on-the-go. A lot of the best foundation brushes may also be seamlessly used on a powder formula.
Mattifying properties: Powder foundations are particularly great for oily or combination skin types due to their ultra-lightweight base. Powder absorbs extra oil and can easily be used to touch up and remedy any excess shine or grease spots throughout the day. "Foundation powder gives you a more matte finish and is really easy to use with a sponge," explains celebrity makeup artist Lisa Armstrong, who has launched an exclusive collection with Avon.
Sets and finishes: If you do have dry skin, don't be put off. You can pick up one of the best foundations for dry skin, or even still use powder foundations "if you need to set your makeup or mattify your T-zone," says Lisa. "I created my Fix Up Look Sharp Setting Powder for this reason—it will set your makeup without leaving your skin looking dry and powdery."
The best powder foundations
Our best powder foundations run the gamut across price points and coverage, including top-tier MAC Cosmetics Studio Fix Powder Plus Foundation and Chanel Le Teint Ultra Tenue Compact, among others. And, of course, we pay homage to bareMinerals, the leading brand in powder foundation with a cult following.
1. Bare Minerals Original SPF Foundation
Best overall powder foundation
Specifications
RRP: $32/£23
Shades: 30
Coverage: Light, buildable coverage
Reasons to buy
+Vegan formula, mineral-based+Customizable coverage (sheer to full)+Won't clog pores, settle into fine lines, or cause breakouts
Reasons to avoid
-May cling to dry patches-Could do better at covering hyperpigmentation
A real cult buy, mineral foundation suddenly became a makeup bag essential when Bare Minerals hit the UK from America. Bare Minerals Original SPF Foundation is still as good as we remember: Leveraging a vegan formula, this holy grail is buildable and won't look cakey, clog pores, cause breakouts, or settle into fine lines. Not to mention it has a diverse shade range (30 options to be exact), and it's hypoallergenic, which is ideal for sensitive skin types, albeit working well for all complexions.
Their Get Started Complexion Kit is great if you're new to mineral foundation, containing buffing brushes, two shades of foundation (plus two other brilliant products), and full instructions from the pros.
2. MAC Studio Fix Powder Plus Foundation
Best powder foundation for oily skin
Specifications
RRP: $33/£24
Shades: 53
Coverage: Medium-to-full buildable coverage
Reasons to buy
+Extensive shade range+Non-streaking, non-caking, non-settling+Sweat and humidity resistant+Non-drying and mattifying
Reasons to avoid
-Feels heavy on the face-Some say it accentuates pores
This powder foundation is a woman&home favorite—one that we'll wax poetic about and laud as the best foundation for oily skin. Unlike many creamier formulas, MAC's Studio Fix Powder Plus Foundation was designed with oily skin in mind, so the pigment is high and its coverage, strong—but without any of the pore-clogging heaviness you might be used to from compacts of yore.
3. Sisley Phyto-Teint Éclat Compact Powder Foundation
Best dewy powder foundation
Specifications
RRP: $130/£94
Shades: 6
Coverage: Light and natural
Reasons to buy
+Silky and second-skin texture+Smooth and buildable application
Reasons to avoid
-Expensive
Everything about this foundation—from the sleek claret compact to the incredibly finely-milled powder to the matte but somehow also glowy finish—says luxury. The price does too, of course, but if you've got a little more to spend and want a truly fabulous powder base, then this should be it. Use the soft peachy sponge to apply and blend the silky powder; the coverage is light at first, but you can build it up bit by bit where needed, say around the nose and under eyes, and leave a sheer look where you want skin to show through.
Sisley Phyto-Teint Éclat Compact Powder Foundation won't clog or look flat no matter how much you layer on; such is its lovely, light-diffusing effect. If you want a weightier look, you could wet the sponge to lay the powder down in a more robust way to offset a stronger smoky eye or lip look.
4. Clinique Beyond Perfecting Powder Foundation + Concealer
Best powder foundation for acne-prone skin
Specifications
RRP: $34/£25
Shades: 12
Coverage: Full coverage
Reasons to buy
+2-in-1 multipurpose makeup product+100% fragrance-free+Sweat- and humidity resistant+Smooth, blendable application
Reasons to avoid
-Feels heavy on the face
Compact foundation can be a very good thing indeed if you suffer from breakout-prone or oily skin, as the powdery formula easily absorbs excess sebum.
This silky, finely-milled compact from Clinique is a great choice if you're looking for medium coverage with a side order of skin-clearing ingredients. Featuring an oil-free formula, this foundation-concealer hybrid imparts a natural matte finish and lasts all day. It looks quite light at first, so don't be afraid to load up little by little with a sponge—and also don't forget to wash it between uses to avoid bacteria-friendly build-up.
5. Bobbi Brown Skin Weightless Powder Foundation
Best creamy powder foundation
Specifications
RRP: $52/£38
Shades: 17
Coverage: Medium to full buildable coverage
Reasons to buy
+Silky and oil-free formula+Doesn't look cakey+Great color match
Reasons to avoid
-Can feel drying and heavy
Trust base maestro Bobbi to come up with a beautiful, natural powder foundation that we immediately want to swap our regular liquid for. The main selling point of Bobbi Brown Skin Weightless Powder Foundation is the fact that it isn't pressed into the compact; instead, a liquid-powder mix is baked for 12 hours until set. The result? A formula that covers and evens skin tone without feeling heavy or drying it out. We couldn't feel anything on our skin at all, which is basically the holy grail—kudos for offering a wide range of skin tones too, from alabaster to espresso.
6. Shiseido Synchro Skin Self-Refreshing Custom Finish Powder Foundation
Best light coverage powder foundation
Specifications
RRP: $45/£33
Shades: 16
Coverage: Sheer to medium buildable coverage
Reasons to buy
+Heat, humidity, and oil resistant+Breathable formula+Won't crease or transfer
Reasons to avoid
-Feels drying at times-Accentuates imperfections
Weightless is a very apt description for this little beauty, which would suit you if you've got reasonably good skin and are looking for light coverage and a touch of radiance enhancement in the mix.
There's plenty of technology in here ("ActiveForce™") but what you need to know is that it goes on smoothly, blends easily, and makes your skin look a little bit blurred, a little bit Photoshopped, and a lot more luminous. The long-wearing formula helps skin resist heat, oil, humidity, and pollution. The outcome: Your complexion will sport a gorgeous natural finish for 16 hours.
7. Chanel Le Teint Ultra Tenue Compact
Best full coverage powder foundation
Specifications
RRP: $60/£44
Shades: 32
Coverage: Full and buildable coverage
Reasons to buy
+Velvety formula+Features double-sided applicator+Smooth application+Long-lasting wear
Reasons to avoid
-Can feel dense
Designed to be super long-wearing and launched alongside a liquid version, Chanel's latest foundation formula is impressive in many ways, but it won't be for everyone. If you love a classically 'done' look, then you'll love this. The coverage is high, purposely so, and covers pigmentation, rosacea, and other tone issues extremely well. The formula is soft and finely-milled, and despite an initial bit of buffing work required, it blends in very well set to a matte finish, then will not budge all day long.
As mentioned, it won't be for everyone: If you don't like or need full coverage or have very dry skin that needs to be saturated in emollients to look healthy, maybe pass. Also, the compact comes in fewer shades than the liquid, meaning less choice for darker skin, frustratingly. Otherwise, this is another excellent launch from Chanel in a chic compact you'll be proud to whip out on the train.
8. INIKA Mineral Foundation Powder
Best powder foundation for sensitive skin
Specifications
RRP: $45/£33
Shades: 7
Coverage: Light and buildable coverage
Reasons to buy
+SPF 25 +Won't clog pores+Vegan, organic, cruelty-free
Reasons to avoid
-May separate after long-duration wear
If you're looking for a cheaper alternative to a mineral foundation powder, INIKA provides full but natural coverage that can be built upon to cover uneven skin tone, acne, pigmentation, and rosacea. There are 12 options to choose from, so you're sure to find a shade for your skin tone. Shade names—which include 'Confidence,' 'Nurture,' and 'Fortitude'—indicate the ethos and inclusivity of the brand (it's also organic and cruelty-free).
9. Vichy Dermablend Covermatte Compact Foundation
Best matte powder foundation
Specifications
RRP: $21/£15
Shades: 5
Coverage: Medium-to-full buildable coverage
Reasons to buy
+Great for a variety of skin types: dry, oily, and combination+Long-lasting formula
Reasons to avoid
-Extremely limited shade range-May start to separate with long-duration wear
Vichy's Dermablend range creates bases built to last, making Vichy a particular favorite of makeup artists on shoots. Among the best powder foundations, this one certainly stood the test of time—we got from 7 am to 2 pm before feeling the need to touch-up our chins—and completely knocked any redness out of our complexions for that time too.
The finish is full but not fake-looking and melts nicely into skin without sitting on top, like some powders can. The sturdy compact with a built-in mirror and sponge will withstand any amount of handbag transit as well. Also, bonus points for a pretty embossed finish, which adds to that whole premium-level look and feel.
How to apply the best powder foundations
You may know how to apply foundation with liquid and cream versions; however, it's important to adopt a different approach with your best powder foundations. The process is quite simple:
Prep your skin: Use a cleanser and a toner, which will both prevent pore-clogging impurities from becoming trapped underneath your foundation. You'll also want to incorporate a serum, moisturizer, and primer to hold makeup in place for long-duration wear.
If you're using a powder brush: Powder brushes help deliver non-cakey, sheer coverage and finish. Dip your brush into your loose or pressed powder and gently tap off the excess. Apply product as you normally would with a bronzer, meaning in a circular motion, and then buff the powder into your forehead, cheeks, and the rest of your face. Or, if you want full coverage, focus on your T-zone first, working outward.
If you're using a Beauty Blender or makeup sponge: By design, sponges give more coverage. First, apply your cream products. Then, use a damp sponge to collect powder and tap/blot off any excess—both product and water—to prevent streaking and splotching. Lastly, apply the powder to the most shine-prone areas of your face and work outwards.
woman&home thanks Lisa Armstrong of Avon for her time and expertise.
Dominique (Dom) is a very online shopping writer at Woman & Home, where she covers products, sales/deals, and market news across categories. Before joining the team, she penned stories as an editorial fellow at Insider Reviews, the affiliate commerce team at Insider Inc./Business Insider. The bespectacled NJ transplant specializes in commerce journalism, women's lifestyle content, and hoarding makeup—much to her mother's dismay.
Her foray into storytelling began in the early aughts, the era in which she developed a passion for fiction writing and an aversion to math. This passion, along with many failed math exams, led her to Marist College, where she studied public relations, creative advertising, and English.
Aside from writing, she doodles in notebooks, crafts memes, and sleuths for homes out of her tax bracket on Zillow. Follow her adventures via the web:
Instagram: @dominiquemcintee / @drugstoredomi
LinkedIn: https://www.linkedin.com/in/dominique-mcintee-3a32ab9a/
To connect: dominique.mcintee@futurenet.com