The best foundations for dry skin: achieve even, flake-free coverage at any budget
These are the 10 best foundations for dry skin, from easy sheer tints to luxurious stay-all-day formulas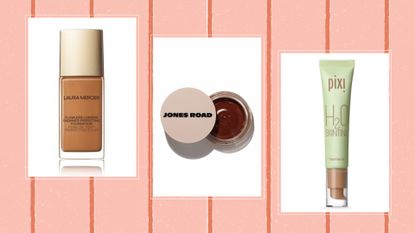 (Image credit: Laura Mercier, Jones Road, Pixi)
Forever searching for the best foundations for dry skin? You're far from alone. Most people experience some form of dryness in their skin and cold temperatures leave us particularly susceptible to the negative effects of a lack of natural oils.
The best foundations are the ones that cater to your specific skin type, and dry skin in particular benefits from using specialist products. However, it can be difficult to find a foundation formula that ticks all the boxes for dry skin. As well as hydrating, you also want a product that will offer lasting, even coverage that doesn't flake or settle into dehydration lines.
In order to give dry skin that extra boost it needs, there are a couple of key things to look out for. "I suggest foundations that are creamy rather than powder based, in order to protect the skin," says Emma Coleman, a dermatology and aesthetic registered general nurse. It also pays to look for hydrating ingredients, like glycerin, hyaluronic acid and Vitamin E. "Vitamin E is an ingredient often used in mineral makeup as it promotes proper skin healing, so is kinder to dry skin." By using a foundation that works in harmony with your skin type, patchy dryness will become a thing of the past.
How we tested the best foundations for dry skin
Why you can trust Woman & Home Our expert reviewers spend hours testing and comparing products and services so you can choose the best for you. Find out more about how we test.
In order to make your foundation look its best, you need to be working with the right type of product for your skin. That's why we thoroughly tested each foundation included in this guide to see how it applied, dried down, how it wore on the skin throughout the day, and if it clung to dry patches.
We also took a look at ingredients and price points in order to determine if each foundation was worth the price tag. Every foundation included in this guide was tried and tested for at least one whole day, often several, to determine which was the best of the best and make finding your perfect foundation match that little bit easier.
The 10 best foundations for dry skin, chosen by our beauty team
1. Jones Road What The Foundation
The best overall foundation for dry skin
Specifications
RRP: $44/£42
Number of shades: 12
SPF: No
Coverage: Light-Medium
Size: 35g
Reasons to buy
+
Extremely hydrating
+
Features skin-nourishing ingredients
+
Cruelty-free
+
Unique formula
WTF is certainly unlike any other foundations we have tried, as it comes packaged in a pot and performs almost exactly like paint. It may be unusual, but when it comes to the best foundations for dry skin, this is undoubtedly one of our absolute favorites. "This to me is a moisturizer meets a foundation," explains the brand's founder, Bobbi Brown. "It will absorb into the skin because it is an oil [and] oil is the best thing for dry skin."
When testing, we found that the smooth, lightweight consistency is extremely buildable, allowing for customizable coverage depending on your preference. Formulated with jojoba oil and sodium hyaluronate, it has a deeply nourishing consistency that we found really did compare to the best face moisturizers. We noticed that it doesn't cling to dry patches or accentuate any problem areas, so you can expect an even and healthy-looking base. For the best results, WTF should be applied with the hands and rubbed in, so it behaves like a skincare product. A little bit goes a very long way with this foundation, so you can expect it to last you a while.
We saw that it leaves an extremely radiant finish that will have you looking healthy and illuminated throughout the day, so it is definitely one for those who prefer the dewy look. However, if you lean more towards matte finishes, it can easily be toned down with a powder after application. If you are looking for beauty gift ideas that will impress the recipient, or want to try something totally new to rejuvenate your dry skin, this has our vote every time.
2. Guerlain Parure Gold Skin Rejuvenating Radiance Foundation
The best premium foundation for dry skin
Specifications
RRP: $68/£65
Number of shades: 14
SPF: 20
Coverage: Medium-full
Size: 35ml
Reasons to buy
+
Totally transfer proof
+
Skin looks healthy but not shiny
+
Dries down beautifully
+
Skincare-based
If you have a bit more money to spend and want a foundation that will truly transform your complexion, Guerlain Gold Skin should be at the top of your list. When struggling with how to fix dry skin, paying attention to the ingredients in your makeup products as well as just skincare can help. Gold Skin is formulated with white peony extract to strengthen and hydrate the skin barrier, which promises to provide 24-hour hydration.
Though we didn't wear this foundation for 24 hours straight, we did find that it is intensely nourishing on dry skin, and it provides a healthy, glowy look without being greasy or shiny. With nourishment to rival DIY face masks, flaky skin will be a thing of the past. The major downside of this foundation is the poor shade range. Currently, all 14 shades are for light-medium skin tones, with none falling in the dark/deep category. It is one of Guerlain's newest launches, so we'd hope to see more shades added to the roster pretty soon.
3. Pixi H20 SkinTint
The best lightweight foundation for dry skin
Specifications
RRP: $24/£24
Number of shades: 18
SPF: No
Coverage: Light
Size: 35ml
Reasons to buy
+
Extremely comfortable wear
+
Very hydrating
+
Natural finish
+
A little goes a long way
Reasons to avoid
-
Doesn't provide much coverage
This foundation is one of our all-time favorites for every skin type, particularly dry skin, thanks to the deep hydration it provides. The clue is in the name with this, as it really does feel like water, both when you apply it and once it's settled on the skin. Pixi describes it as a tinted face gel, but we think it has a thinner and more liquid texture than your typical gels, which we loved when testing. It glides on effortlessly, even over drier patches, and never clings. For the best results, we recommend applying this with your hands.
The coverage is on the sheer side; it will even out redness and cover small blemishes, but those who are acne-prone may want to use concealer underneath. But the best part is how lightweight it is, meaning it can be layered without feeling at all heavy. With a light, quenching formula to rival the best body creams for dry skin, it is ideal for those who want a foundation that feels more like skincare than makeup. The only thing it is missing is sun protection, but simply apply a face moisturizer with SPF before your foundation and you're good to go.
4. Clinique Even Better Glow
The best everyday foundation for dry skin
Specifications
RRP: $33/£31
Number of shades: 18
SPF: 15
Coverage: Medium
Size: 30ml
Reasons to buy
+
Gives a luminous glow
+
Includes Vitamin C to brighten skin
+
Buildable
+
Doesn't crack or crease
Clinique's Even Better Glow is a foundation that we return to time after time when we want our dry skin to look its best. We find that it is similar to Pixi H20 in texture, but provides fuller coverage and gives a more flawless finish. Plus, it is formulated with Vitamin C, one of the best skincare products for radiance.
The best foundations for dry skin should not accentuate or stick to particularly dry patches on the face, so we tend to look for thin, water-like textures that blend easily and aren't prone to caking. This is exactly What Even Better Glow has nailed, as it looks like a foundation whilst wearing like a thin, light moisturizer. We noticed a gorgeous glow whilst wearing this, so it is best suited to those who like a dewier finish, though it is not as shiny as What The Foundation and is easier to mattify with powder. We only wish it came in a slightly bigger bottle, as it is the perfect everyday foundation for dry and dehydrated skin types.
5. Maybelline Dream Radiant Liquid
The best budget foundation for dry skin
Specifications
RRP: $13.99/£8.99
Number of shades: 20
SPF: No
Coverage: Medium
Size: 30ml
Reasons to buy
+
12 hours of hydration
+
Buildable coverage
+
Easy to blend
+
Affordable
Maybelline makes so many excellent products - the best Maybelline mascaras are up there with far pricier designer buys - but this glowing base is undoubtedly one of the best. The texture appears a little bit thick when first pumped out, but thanks to a slippy water and silicone-based formula it spreads on easily without dragging or needing too much buffing into dry patches. This is key when shopping for the best foundations for dry skin, as products that cling to dryness are not only uncomfortable but also accentuate any skin issues.
We found that the coverage is medium (and could be built to full), but this is all achieved with a lightness of touch and a satiny finish that looks natural, glowy, and gorgeous. Upon testing, we noticed that it may not quite last the full promised 12 hours, but you should definitely get a good 9 or 10 out of it. And for a price this low, there really is no going wrong here.
6. Kiko Unlimited Foundation
The best long lasting foundation for dry skin
Specifications
RRP: $17.99/£14.99
Shades: 25
SPF: SPF15
Coverage: Medium to high
Size: 30ml
Reasons to buy
+
Transfer-proof
+
Comfortable lasting wear
+
Good shade range
+
Contains SPF
Reasons to avoid
-
Oil base won't suit everyone
Italian behemoth Kiko has an answer for every cosmetic conundrum within its vast array of wares, and although Unlimited Foundation is built for lasting power on any skin type, it will do the trick particularly well for dry, dehydrated complexions. Why? because it's packed with nourishing ingredients, like sea lavender extract and a blend of oils, so it feels comfortable, not chalky, from breakfast till bed. Even better, the formula has SPF15 and no fragrance, so sensitive types should love it, too.
We loved the experience of using this foundation on our dry skin, as it gave the made-up finish we wanted without the cakey look. In order to ensure the best wear possible, you will want to pay attention to applying some skincare for makeup that will ease tightness and flakiness before you apply your foundation. We recommend using a hydrating gel moisturizer prior to Kiko Unlimited to ensure that the matte finish still wears comfortably throughout the day.
7. No7 City Light Tinted Moisturiser
Best anti-pollution foundation for dry skin
Specifications
RRP: $14.49/£13
Shades: 3
SPF: SPF15
Coverage: Light
Size: 50ml
Reasons to buy
+
Lovely texture
+
Natural coverage
+
Features SPF
No7 makes some of the best budget foundations going, and though No7 City Light calls itself a tinted moisturizer, there is enough coverage here to create a nice even no-makeup-makeup look (unless you have major skin tone bugbears that you'd rather conceal). Working to reduce redness and even out tone, it is one of our top picks for those more casual days when you want to look your best without spending your whole morning doing a full face.
This is also an absolute bargain, thanks to its smoothing formula and pollutant-blocking powers. When testing we found that the texture is beyond lovely, like a light silky serum that sinks in quickly, leaving skin looking even, plumped, and glowing. We also noticed that your own natural glow will also get a boost from a blend of antioxidants designed to stave off the dulling effects of pollution. Use one of the best facial rollers to get your skin feeling its best, and follow up with City Light to look fresh-faced and healthy.
8. Mii Flawless Face Base
Best mineral foundation for dry skin
Specifications
RRP: £19.95 (UK only)
Shades: 6
SPF: No
Coverage: Light
Size: 30ml
Reasons to buy
+
Sheer coverage
+
Hydrating formula
+
Radiant without being shiny
+
Vegan friendly
"Mineral makeup tends not to contain pomades which can irritate sensitive and dehydrated skin," explains Coleman, which is why mineral foundations are some of the first we look at for combating dryness. When testing, we found that this light fluid lives somewhere between foundation and tinted moisturizer territory and would be spot-on for holidays, lazy weekends, or for anyone who needs only to enhance what nature gave them. If you've already mastered glass skin and just need a complexion product to lightly veil over your dewy complexion, we recommend Mii.
The formula is so light you can easily apply it with your fingers, and we noticed that it feels comfortable on the skin and doesn't dry up or burrow into fine lines as the day goes on. There are only six shades, and a few more at the deeper end of the spectrum would be welcome, but the sheer coverage does mean you can get away without an entirely precise match. Vegan-friendly and radiant, it is the ideal pick for low-maintenance beauty lovers.
9. Estée Lauder Futurist Hydra Rescue Moisturising Makeup SPF45
Best hydrating foundation for dry skin that lasts
Specifications
RRP: $50/£38
Shades: 28
SPF: 45
Coverage: Medium-full
Size: 30ml
Reasons to buy
+
Very hydrating
+
Lasting coverage
+
Flawless finish
+
Breathable
Reasons to avoid
-
Not for those who prefer a barely-there look
Estée Lauder foundations are renowned for their impressive coverage and comfortable wear, and this is no different. This combination of hydrating radiance and full coverage is unusual, but Futurist Hydra Rescue pulls it off. Expect to feel as good as you look after applying this to dry skin.
That soft and hydrating formulation includes glycerin, hyaluronic acid, and nourishing seed oils, which gives this its loose, easily blended texture. We found that once set, the coverage is anywhere between medium and full depending on how much you want to build it up, always with a juicy, radiant finish. High factor SPF45 is a great addition, and thanks to that full-cover pigment we found that it doesn't alter the coverage or finished look in any way.
See our full Estée Lauder Futurist Hydra Rescue review
10. Laura Mercier Flawless Lumière Radiance-Perfecting Foundation
Best radiant foundation for dry skin
Specifications
RRP: $49/£37
Shades: 30
SPF: No
Coverage: Medium to full
Size: 30ml
Reasons to buy
+
15 hours of hydration
+
Contains Vitamin C to brighten skin
+
Glowing finish
Lovely Laura Mercier is the queen of skin-loving cosmetics, and this foundation is no exception. When testing, we were struck by the healthy glow it gave our skin that looked totally natural and flawless. Providing 15 hours of hydration and medium-full coverage, it has all the best qualities of the brand's iconic tinted moisturizers with some added luminosity.
As well as the beautifully natural, healthy coverage you would expect, we found that this formulation is light and silky enough not to settle into wrinkles and works with the natural moisture layer in your skin's epidermis to prevent water loss. The vitamin C in the formula boosts your skin's luminosity gradually over time, to give your best Vitamin C serum a helping hand. With skincare and a flawless finish in one product, this is definitely one of the best foundations for dry skin on the market.
---
Which type of foundation is best for dry skin?
Oil and water bases: Foundations tend to be either oil, water or silicone-based, and the best foundation for dry skin is usually oil and water-based. This is because hydration is key. Water-based foundations will glide smoothly over dry patches, tend to feel loose and buildable, and are a good choice if you're generally happy with your skin tone and like only light, sheer coverage.
Lighter coverage: Heavy matte textures can drag over rough patches and sink into lines so it's best to stick to lighter coverage and then use concealer on areas that need it.
Skincare oils: Oils penetrate the skin far more slowly than water, so will essentially 'sit' on the skin, creating a lasting, nourishing layer that stops your foundation's pigment from settling into lines and flakiness from appearing throughout the day.
Dewy finishes: The finish you opt for is down to personal preference but dewy finishes typically work best to combat dry skin. Whichever type you go for, skin prep is the most important factor. "Regardless of your skin type, you should always apply moisturizer right before any makeup," explains Amy Anzel, beauty expert and CEO of Hollywood Browzer. l. "It is key for ensuring that your foundation and other base products sit on the top of your face."
Is cream or liquid foundation better for dry skin?
Both can work nicely as liquid foundations veil over dry or rough patches more easily, yet cream formulas often include nourishing oils that work to tackle long-term dryness. If you aren't sure which foundation is best for you, looking at the ingredients is a better call than solely thinking about texture.
We recommend looking out for glycerin, hyaluronic acid, and other hydrators, such as aloe leaf juice and coconut water. Glycerin is always good news on a label. It's a humectant, which means it attracts water to the skin's surface and bolsters the barrier function (the part of your skin that stops natural hydration from escaping).
Hyaluronic acid is pretty much universally loved by beauty editors and brands so look out for that too. Not actually an acid, this sugar famously draws in and holds onto up to 1,000 times its own weight in water, so smooths and plumps skin from within.
How can I make my foundation last longer with dry skin?
The key to achieving a long-lasting foundation look for dry skin lies in a few different places, but one of the most important factors is how you set your makeup. After applying your foundation, "continue with your concealer and powder in thin layers. This will give you more coverage without making your skin look cakey and also prevent any creases throughout the night," advises Anzel. "The trick is to try stippling powders on your face instead of buffing. The tapping of the products will keep your liquids from moving and lock them in all night."
Does dry skin need primer?
The best primers for dry skin can be extremely beneficial for hydration, increasing makeup wear time, stopping products from clinging to dryness, and forming a smooth and even layer for makeup application. However, they are not essential if you are prepping your skin correctly with skincare and using the best foundations for dry skin.
If you are looking for a lighter alternative to primers, Anzel recommends trying a toner or face spray. "If you have dry skin, the best way is to use mist toners. The refreshing sprays can keep your skin hydrated, dewy, and plump before applying moisturizer," she explains.
Amelia joined woman&home after graduating with an MA in Magazine Journalism from City University in 2022. She specialises in lifestyle journalism and throughout her undergraduate degree she wrote for a variety of student publications, where she developed a love for all things style, beauty and sustainable fashion. She has previously written for titles including OK! Magazine, New! Magazine and Notion before she started her career as a lifestyle journalist with woman&home after completing an internship with the brand.