The best foundations for dry skin: achieve an even, flake-free complexion with great buys for any budget
You don't have to spend big to find the best foundations for dry skin – one of our favourites is under £10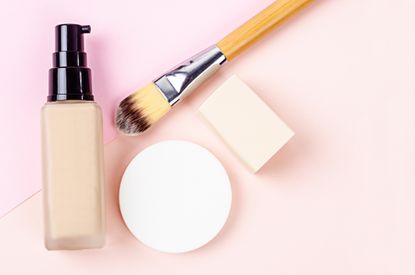 (Image credit: Getty Images/iStockphoto)
Forever searching the best foundations for dry skin? You're far from alone. Most people experience some form of dryness in their skin and mature complexions tare particularly susceptible. Around half of people in their 40s report having dry skin, a figure that leaps up to 75% once we reach 65 and over.
If you have naturally dehydrated skin, it can be difficult to find a foundation formula that ticks all the boxes. It's important to find something that hydrates as well as the best moisturiser, while also offering lasting, even coverage.
Luckily, brands are wise to these needs and continuously invest in foundation research and development, so the offer is improving. This is true even if you're on a tight budget – it's entirely possible to buy one of the best foundations for dry skin for £15 or less, as long as you know where to look.
How to choose the best foundation for dry skin
These days, many of the best foundations for dry skin target other skin concerns too, such as melasma and pigmentation, rosacea and tightness. The trick is finding one that is a perfect foundation match (opens in new tab) so it covers what needs covering yet also provides a natural-looking finish.
Foundations tend to be either oil, water or silicone based, and the best foundation for dry skin is usually oil and water based. This is because hydration is key. Water-based foundations will glide smoothly over dry patches, tend to feel loose and buildable, and are a good choice if you're generally happy with your skin tone and like only light, sheer coverage. They work well on dry-combination skin, as the water base will hydrate the bits that need it without overloading oilier areas.
If long-term dryness is a problem, oils will help give skin a dewy quality. Heavy matte textures can drag over rough patches and sink into lines so it's best to stick to lighter coverage and then use concealer on areas that need it.
With richer oil-based textures it pays to know how to apply foundation (opens in new tab) and prep the skin for a natural look, but generally they tend to suit very dry skin and those who are happy with medium to full coverage. Oils penetrate the skin far more slowly than water, so will essentially "sit" on the skin, creating a lasting, nourishing layer that stops pigment settling into lines and flakiness appearing throughout the day.
The best foundation for dry skin you can buy right now
(opens in new tab)
1. Maybelline Dream Radiant Liquid
The best budget foundation for dry skin
Specifications
RRP: £8.99
Number of shades: 19
SPF: no
Coverage: Medium
Size: 30ml
Reasons to buy
+
Buildable coverage
+
Easy to blend
Maybelline make so many excellent products (see also: Maybelline mascaras (opens in new tab)) But this glowing base is undoubtedly one of the best. The texture appears a little bit thick when first pumped out, but thanks to a slippy water and silicone-based formula it spreads on easily without dragging or needing too much buffing into dry patches.
The coverage is medium (and could be built to full), but this is all achieved with a lightness of touch and satiny finish that looks natural, glowy and gorgeous. It may not quite last the full promised 12 hours, but you should definitely get a good 9 or 10 out of it.
(opens in new tab)
2. Kiko Unlimited Foundation
The best long lasting foundation for dry skin
Specifications
RRP: £14.99
shades: 23
SPF: SPF15
Coverage: medium to high
Size: 30ml
Reasons to buy
+
Comfortable lasting wear
+
Good shade range
Reasons to avoid
-
Oil base won't suit everyone
Italian behemoth Kiko has an answer for every cosmetic conundrum within its vast array of wares, and although Unlimited Foundation is built for lasting power on any skin type it will do the trick particularly well for dry, dehydrated complexions.
Why? because it's packed with nourishing ingredients, like sea lavender extract and a blend of oils, so it feels comfortable, not chalky, from breakfast till bed. Even better, the formula has SPF15 and no fragrance, so sensitive types should love it, too.
(opens in new tab)
3. No7 City Light Tinted Moisturiser
Best anti-pollution foundation for dry skin
Specifications
RRP: £13
Shades: 3
SPF: 15
Coverage: light
Size: 50ml
Reasons to buy
+
Lovely texture
+
Natural coverage
No7 makes some of the best budget foundations going, and though No7 City Light calls itself a tinted moisturiser, there is enough coverage here to create a nice even no makeup-makeup (opens in new tab) look (unless you have major skin tone bugbears that you'd rather conceal).
This is an absolute bargain that's perfect for dry skin. The texture is beyond lovely, like a light silky serum that sinks in quickly, leaving skin looking even, plumped and glowing. Your own natural glow will also get a boost from a blend of antioxidants designed to stave off the dulling effects of pollution.
(opens in new tab)
4. Mii Flawless Face Base
Best mineral foundation for dry skin
Specifications
RRP: £19.95
shades: 6
SPF: 10
Coverage: Light
Size: 30ml
Vegan friendly: yes
Reasons to buy
+
Sheer coverage
+
Hydrating formula
This light fluid lives somewhere between foundation and tinted moisturiser territory and would be spot-on for holidays, lazy weekends or anyone who needs only to enhance what nature gave them.
The formula is so light you can easily apply with your fingers, it feels comfortable on the skin and doesn't dry up or burrow into fine lines as the day goes on. There are only six shades, and a few more at the deeper end of the spectrum would be welcome, but the sheer coverage does mean you can get away without an entirely precise match.
(opens in new tab)
5. Estée Lauder Futurist Hydra Rescue Moisturising Makeup SPF45
Best hydrating foundation for dry skin that lasts
Specifications
RRP: 36
Shades: 20
SPF: 45
Coverage: Medium-full
Size: 30ml
Reasons to buy
+
Very hydrating
+
Lasting coverage
This combination of hydrating radiance and full coverage is unusual, but Futurist Hydra Rescue pulls it off.
That soft and hydrating formulation includes glycerin, hyaluronic acid and nourishing seed oils, which gives this its loose, easily blended texture. Once set, the coverage is anywhere between medium and full depending on how much you want to build it up, always with a juicy, radiant finish. High factor SPF45 is a great addition, and thanks to that full-cover pigment it doesn't alter the coverage or finished look in any way.
See our full Estée Lauder Futurist Hydra Rescue review (opens in new tab)
(opens in new tab)
6. Laura Mercier Flawless Lumière Radiance-Perfecting Foundation
Best radiant foundation for dry skin
Specifications
RRP: £36
Shades: 30
SPF: no
Coverage: medium to full
Size: 30ml
Reasons to buy
+
Skincare ingredients
+
Glowing finish
Lovely Laura Mercier is the queen of skin-loving cosmetics, and this foundation is no exception.
As well as the beautifully natural, healthy coverage you would expect, this formulation is light and silky enough not to settle into wrinkles and works with the natural moisture layer in your skin's epidermis to prevent water loss. It moisturises for up to 15 hours and the vitamin C in the formula boosts your skin's luminosity gradually over time.
(opens in new tab)
7. Guerlain L'Essentiel Natural Glow Foundation
Best luxury foundation for dry skin
Specifications
RRP: £37.40
Shades: 30
SPF: 20
Coverage: light-medium
Size: 30ml
Reasons to buy
+
Light yet long lasting
+
Skincare ingredients
+
Radiant finish
When you think about it, there's a perfect high-low combination in every area of life: Spendy handbag, high street dress; organic steak, cheap chocolate. In beauty, budget mascara is pretty unbeatable, but it pays to spend on a sophisticated foundation like this sophisticated number here.
Not just a looker, L'Essentiel succeeds where so many bases fail in being both sheer and skin-like yet seriously hard wearing. It comes in 30 glowing shades, includes SPF20 and has been shown to deeply hydrate skin and brighten pigmentation over time, meaning you can lowball your concealer spend. High five to that.
The best way to apply foundation to dry skin
Key ingredients found in the best foundations for dry skin
Dry skin needs a bit more TLC than oily or combination types so always examine the label for skincare ingredients. We recommend looking out for glycerin, hyaluronic acid and other hydrators, such as aloe leaf juice and coconut water.
Glycerin is always good news on a label. It's a humectant, which means it attracts water to the skin's surface and bolsters the barrier function (the part of your skin that stops natural hydration escaping).
Hyaluronic acid is pretty much universally loved by beauty editors and brands so look out for that too. Not strictly an acid, this sugar famously draws in and holds onto up to 1,000 times its own weight in water, so smooths and plumps skin from within.