How to fix dry skin in six simple steps, according to the experts
Feeling parched? Learn how to fix dry skin with this easy, dermatologist-inspired routine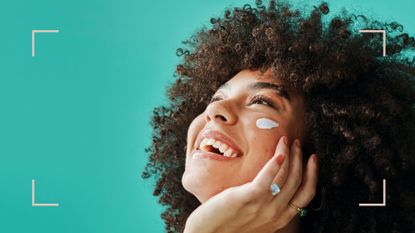 (Image credit: Future/Getty images)
It's one of the most widespread skin concerns, but learning how to fix dry skin is possible if you know how. With just a few key ingredients and expert-approved techniques, you can make a huge difference to the texture and appearance of this skin type.
If chronically dry skin is causing you strife, you've probably already tried swapping your skincare routine around. When you've spent time sourcing the best moisturizers for dry skin but you still feel tight and uncomfortable, or even your best foundation goes flaky or patchy after a few hours, it can get a little frustrating.
That's why it pays to seek out pro advice, as parched skin requires a multipronged approach, and using the wrong products could be making things worse. We've spoken with top dermatologists to bring you the tips and techniques you need to learn how to fix dry skin, once and for all.
How to fix dry skin in six simple steps
1. Learn these hero ingredients
"The key to treating dry skin is to try and restore your skin barrier, and hydrating moisturizers are key," says Dr Ben Esdaile, Consultant Dermatologist at Skin+Me (opens in new tab). "The best ingredients to include are hyaluronic acid, shea butter, ceramides, and glycerin, and using the right moisturizer for your skin will help it to tolerate other actives like retinol."
Ceramides: These fatty molecules, sometimes called lipids, naturally occur in the skin. They're what's known as an emollient so their primary function is to strengthen the skin barrier. It's essential to top up your ceramides with topical treatments containing plenty of this ingredient.
Hyaluronic acid (HA): This molecule famously holds up to 1000x its own weight in water and is perfect for rehydrating thirsty skin. As a humectant (an ingredient that pulls water into the skin) it attracts moisture from the atmosphere and is ideal for dry skin.
Glycerin: Another humectant ingredient, glycerin is very common in moisture-boosting skincare products. Like HA, it pulls moisture from the air and acts like a sponge to quench thirsty skin.
Shea butter: This skincare ingredient is occlusive, which means it forms a protective layer on top of the skin to seal water in and prevent transepidermal water loss (when moisture in the skin naturally evaporates.)
2. Use a hydrating cleanser
Your choice of cleanser is vital to learning how to fix dry skin. Cleansing isn't just about removing daily grime, it's also your first chance to work moisture back into your skin. Using cleansers that contain humectants and emollients will help to keep the skin in good condition while gently removing excess oil and impurities.
And contrary to what we are lead to believe, all skin types, including dry skin, can be prone to breakouts. If you happen to be breaking out, resist the urge to bring out the astringent, skin-stripping face washes of your teens and instead focus on rebalancing the skin. It's tempting to over-wash your face if you're suffering from spots, but morning and night is plenty.
Dr Sam's Flawless Cleanser | RRP: $22/£16
This cleanser was created by skin specialist Dr Sam Bunting and does an excellent job of removing impurities and keeping the skin soothed. Its PH-balanced formula is non-comedogenic, fragrance-free, and suitable for even the most sensitive skin types.
Liz Earle Cleanse & Polish Hot Cloth Cleanser | RRP: $29.25/£28
Enriched with soothing botanical extracts, this cream cleanser will take off makeup and keep the skin soft. It's best applied to dry skin and then taken off with a damp face cloth. It's routinely ranked one of the best cleansers (opens in new tab) around.
3. Layer up hyaluronic acid
Hero hydrator HA is perfect for anyone who doesn't like the feel of thick creams and balms as the best hyaluronic acid products tend to be light in texture. This also makes HA ideal for layering, thus building in hydration from the first stage of your routine. This ingredient suits every skin type but is especially useful if your skin is naturally combination or oily but in a dry spell. Using a hyaluronic acid serum before your normal moisturizer will give hydration levels a good boost.
Vichy Minéral 89 Hyaluronic Acid Hydrating Serum | RRP: $29.99/£25
Smother dry skin in this daily serum and you'll see a big difference. This no-frills formula feels like a drink of water for the face and plumps up fine lines instantly. It's particularly great for those prone to rosacea (opens in new tab).
4. Rebuild the barrier
Once your skin is clean, soft and quenched with HA, ceramides are next in the queue. Like hyaluronic acid, this skincare ingredient is naturally occurring in the skin and plays an important role in protecting your complexion from the elements.
Ceramides are essentially a type of fatty molecule called a lipid, which work to hold your skin cells together and maintain a strong skin barrier. Imagine the top layers of your skin as a mosaic floor. If your skin cells are tiles, ceramides are the grout keeping everything held together. Our natural ceramide supplies dwindle with age, which can cause sensitivity and dehydration as water escapes, but you can replenish supplies with ceramide skincare to maintain moisture levels.
Drunk Elephant Lala Retro Whipped Cream | RRP: $60/£52
Containing a combination of oils and ceramides, this ultra-moisturizing cream turns dry skin soft and soothed upon application. It sinks in well and makes a great base for natural makeup looks (opens in new tab).
5. Exfoliate (but do it gently)
Confused about how often should you exfoliate your face? It might sound counter-productive to exfoliate when your skin is feeling sensitive, dry and in need of extra TLC, but hear us out. The right product for the job not only buffs away dead skin cells leaving your skin satisfyingly smooth, but it'll also be able to better absorb any moisturizer you slather on.
Don't use anything too abrasive (harsh acids and large-grained scrubs are off the menu) instead opt for low doses of enzymes or gentle polishes.
6. Avoid hot water
Ever been tempted to 'open your pores' with hot water while you cleanse? You might be doing more harm than good. Washing your face with hot water can actually strip your skin barrier of its natural oils and exacerbate dryness. It's also worth mentioning that, contrary to popular belief, pores don't actually open and close - using warmer water or hot steam only really works by softening the gunk inside pores, making it appear as if they're opening and clearing more effectively.
When washing your face It's best to keep the temperature of your tap lukewarm rather than hot. Too-hot water can also irritate rosacea, so you're also likely to notice an improvement in flare-ups when washing with cooler temperatures.
---
Dehydrated vs dry skin: what's the difference?
A question that people often ask is whether their skin is dry or dehydrated. But according to Dr Stefanie Williams, Dermatologist and founder of Eudelo (opens in new tab), there isn't much difference between the two. "The two terms dry and dehydrated skin can't really be separated, as the lipid and water content of the skin are interwoven," explains Dr Williams.
"The underlying cause for dry skin can be insufficient production of natural lipids (oils) and/or water-holding substances in the skin and thus, an impaired skin barrier. The consequence of this is that our skin can't hold on to its natural water content sufficiently and loses too much water via evaporation. As dermatologists, we, therefore, tend to not distinguish between dry and dehydrated skin, as the mechanisms are so interwoven and can't be strictly separated."
Emma North is a Beauty Writer who works for digital titles including woman&home, Woman, Woman's Weekly, Woman's Own, Chat and GoodtoKnow. Emma's career in beauty journalism began with internships at publications including Vogue, Elle, The Telegraph and Glamour. She was then taken under the wing of Funmi Fetto, Contributing Beauty Editor at Vogue where Emma assisted with Funmi's debut beauty book, Palette.