The best foundation for every skin type, chosen by our beauty team
These are the 19 best foundations on the market right now (and we've tried hundreds)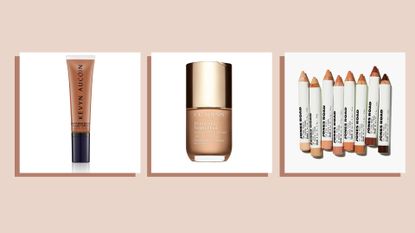 (Image credit: Future)
Finding the best foundation is arguably the most important element of your makeup routine. As the name suggests, base is the bedrock of your whole beauty look. Get this first step right and every other product you layer on top of it will look better too.
The best foundations tend to offer a combination of natural-looking coverage and skincare benefits. Do you want hydration and sheen, breathable coverage, or a polished matte finish? That probably comes down to your skin type. "It is really important to understand your skin texture and if it tends to become dry or oily throughout the day. Then you can determine the best foundation formula for you," agrees NARS senior artist Rachel Hardie (opens in new tab).
Whether you need the best full coverage foundation to stay put on combination skin or the best tinted moisturizer to hydrate and plump, our tried and tested guide will help you find the ideal base for your skin right now. Plus we answer all your foundation FAQs, from picking a formula to perfect shade matching.
How we tested these foundations
Each foundation in this guide has been extensively tested by our beauty team, on a variety of skin tones, types, and textures. We assessed each product on their shade range, and how these translated to a realistic skin match. We also researched their ingredients lists, checking for beneficial active ingredients and how well they lived up to any skincare claims.
On testing, we assessed the convenience and ease of packaging plus how easily each base could be applied and blended, plus how pleasant they felt on the skin. On wearing the foundation we checked their durability on warm and rainy days as well as their ability to work as the best foundations for mature skin by remaining natural-looking without caking, drying out, or settling into lines.
The best foundations, chosen by our beauty team
1. Hourglass Ambient Soft Glow Foundation
Best buildable foundation
Specifications
RRP: $58/£46
SPF: No
Shades: 32
Coverage: Medium, buildable
Finish: Glowy
Base: Water
Skin type: All
Reasons to buy
+
Easy to apply
+
Good shade variety
+
Lasting formula
+
Sweat-resistant
First impressions
Hourglass foundations have a strong reputation, so we expected big things from this. The good news is, we weren't disappointed. With a non-comedogenic, vegan, and cruelty-free formula, this foundation promises to blur imperfections whilst also protecting against free radicals. The packaging adds a premium finish, coming in a frosted glass bottle with a metal lid that can be recycled.
Trying and applying
Despite being water-based, the formula is not overly liquidy or runny - great for those who like a buildable product. One pump is enough product for the whole face if you like a light and natural finish, however, it is effortless to create fuller coverage. Immediately after applying, we saw an instant glow that wasn't overly shiny and kept our skin looking like skin. It does take a few minutes to properly sink in, so be sure that you give it enough time before layering other products on top.
What's it like to wear?
This is one of the most adaptable foundations we have tried due to its buildable formula. It didn't crease or cake up on dry patches, even with a couple of layers. It dries fairly matte whilst retaining some glow and is also truly transfer-proof, which is a must in the warmer months. Though at the pricier end of the scale, the formula is unique among the many that we tried due to its weightless feel whilst still providing good coverage.
2. Pixi H20 Skin Tint
Best gel foundation
Specifications
RRP: $24/£24
SPF: No
Shades: 18
Coverage: Light
Finish: Dewy
Skin type: Normal to dry
Base: Water
Reasons to buy
+
Lightweight
+
Easy to apply
+
Fragrance-free
+
Vegan
First impressions
Pixi has mastered the look of your skin-but-better products with everything from foundation and concealer to bronzers and glowy blushes. This sheer tinted water-based gel is hydrating and breathable, formulated with green tea, rose water, and lavender to soothe and hydrate the skin. This is definitely advertised as more of a tinted, lightweight product than a high-cover foundation, but the dewy results speak for themselves.
Trying and applying
Best applied with the hands and patted in like a moisturizer, the formula has a watery texture compared with other foundations on this list. This means that applying with a brush or sponge could cause too much of the product to be absorbed into the tool rather than your face. However, we found fingertip application totally effortless and was done in seconds, making this the ideal product if you want something quick and easy that will enhance the skin. It's worth bearing in mind that this is designed to even out the complexion and add radiance, as opposed to cover imperfections.
What's it like to wear?
The gel-like formula is both cooling and hydrating and doesn't take much blending to cover the face. It is extremely lightweight and feels akin to a gel moisturizer after sinking in, which is ideal for humid weather when heavy products can feel suffocating. Throughout the day it continued to sink in slowly without compromising on color or becoming dry. If you suffer from flaky skin or products tend to cling to certain patches, you won't find that to be an issue with this skin tint. The only thing that would make this a better foundation would be SPF, however, this is certainly an easy-to-layer product that would work with sun protection worn underneath.
3. Kevyn Aucoin Stripped Nude Skin Tint
Best everyday foundation
Specifications
RRP: $42/£36
SPF: No
Shades: 10
Finish: Radiant
Base: Water
Skin type: All
Reasons to buy
+
Adaptable shades
+
Good to layer with
+
Radiant without being shiny
First impressions
The simple yet sophisticated packaging of this foundation attracted us from the off. It has a handy pump applicator that gives you just the right amount of product for one layer of coverage, ensuring there is nothing wasted. The glow it provides is clear from the outset, as even swatching it on our hand provided a dewy finish that didn't look overly shiny or greasy.
Trying and applying
Despite describing itself as a skin tint, this has slightly fuller coverage than other watery bases on this list such as Pixi and Sisley. It works well to eliminate redness but won't accentuate fine lines, even after several hours on the face. If you have any freckles or beauty marks the texture of this foundation is ideal as it allows subtle marks like these to peek out whilst keeping your overall skin tone even. It also works well when combined with powder products such as bronzer. We found that the foundation retained its dewy finish even with matte products applied over the top, and worked well when combined with our best setting powder to soak up any excess oil in the T-zone.
What's it like to wear?
This foundation is breathable and by far one of the most comfortable we have tried. It can also be used as a base product to sit underneath concealer or another, high-coverage foundation for those who need a little something extra. With ten shades, it could definitely benefit from extending its range, however, the light formula means that shades are fairly adaptable and can work for several different skin tones.
4. It Cosmetics CC+ Cream with SPF 50
Best color correcting foundation
Specifications
RRP: $42/£33
SPF: 50
Shades: 14
Coverage: Medium to full
Finish: Dewy
Base: Water
Skin type: Normal to dry
Reasons to buy
+
Full coverage
+
High SPF
+
Applies smoothly
+
Buildable
Reasons to avoid
-
Will be too heavy for some
First impressions
It Cosmetics has developed somewhat of a cult following in recent years, almost all thanks to this superstar CC+ cream. The formula includes collagen, peptides, niacinamide, and hyaluronic acid which work to combat redness, imperfections and dark circles whilst keeping the skin hydrated and plump. In sleek silver packaging and with a no-mess pump, we got a good feeling from this right away.
Trying and applying
This product really does live up to its name, as it feels like a CC cream but performs like a full coverage foundation. The formula does initially feel slightly thicker than traditional CC or BB creams, but as soon as it is blended it feels light and breathable. You won't need to layer up thanks to its color correcting properties and full coverage finish. If you prefer a natural look and think this foundation might be too much for you, fear not. We found the finish dewy and illuminating, our skin maintained a natural radiance despite its powerful blemish-covering properties.
What's it like to wear?
This foundation didn't crease or lose coverage through testing on a long day. Plus, it contains SPF 50 - an essential for keeping skin protected no matter the time of year. If you are prone to blemishes or dryness, this will mask them effortlessly without needing to reapply throughout the day. Due to the full coverage it could do with a few more shades, but its blendable texture means it is fairly adaptable.
(opens in new tab)
5. No.1 de Chanel Revitalizing Foundation
Best foundation for most people
Specifications
RRP: $70/£55
SPF: No
Shades: 20
Coverage: Light-medium
Finish: Dewy
Base : Water
Skin type: Any, especially dry or dull
Reasons to buy
+
Hydrating
+
Dewy finish
+
Skincare ingredients
+
Luxurious
+
'Clean' and eco friendly
Reasons to avoid
-
Won't cover major imperfections
First impressions
A new foundation from Chanel is always worth a look. As well as being ultra-desirable generally, this brand creates some of the most intelligent bases on the market. This is part of a collection called No.1 de Chanel that, uniquely for Chanel, includes skincare, makeup, and fragrance all tied together by the inclusion of red camellia flower and a focus on sustainability.
Trying and applying
And what's the foundation like to wear? She's an absolute beauty. On pumping out, the creamy liquid looked fairly firm, so the ease with which it blended and spread onto the skin came as something of a surprise. Truly, this stuff just melts away, leaving behind an illuminated, skinlike finish with zero dragging or tidemarks. This could be down to the inclusion of coated pigments and film-forming ingredients, which Chanel promise gives a "second-skin effect." It certainly feels comfortable, and after six or seven hours of wear wasn't collecting or sinking into pores one little bit.
What's it like to wear?
The coverage is fairly light and you can build it up where needed, but this isn't hardcore high pigment stuff, so if it's that you're seeking, look elsewhere. Everyone else should continue looking this way, not least because that camellia oil quenches skin and gives a dewy makeup look without being too slick on oily skin. The packaging has been considered carefully, with recyclable glass, no cellophane or booklet and organic inks used. Obviously, this sort of quality doesn't come cheap, but as long as budget isn't a barrier this should be at the top of your shopping list.
6. Charlotte Tilbury Beautiful Skin Foundation
The best foundation for lasting hydration
Specifications
RRP: $44/£34
SPF: No
Shades: 30
Coverage: Medium
Finish: Radiant
Base: Water
Skin type: Normal to dry
Reasons to buy
+
Very moisturizing
+
Excellent shades
+
Light, handy pump tube
+
Environmental protection
Reasons to avoid
-
Higher coverage than expected
First impressions
You can tell a lot about a foundation from its name, and this one says it all: Pop the satiny, medium-coverage base on, give it a little buff and you will indeed have some very beautiful-looking skin.
Trying and applying
But while there are no surprises based on the name, we did find the texture of the foundation unexpected compared with the look of the product. Generally, a foundation in a lightweight pump-action tube like this, boasting of 'radiance' and 'hydration' on the box, will be a pretty sheer and watery-light affair. This however is a little thicker and certainly offers more coverage than expected. That's not to say it feels heavy or looks obvious, it really doesn't, but don't mistake this for a tinted moisturizer because it is far closer to a trad foundation, just with a lovely fresh and modern finish.
What's it like to wear?
Another great thing about Beautiful Skin is that it's absolutely rammed with skincare ingredients, which you can feel working their magic on your skin as you wear it. As well as nice hydrating things like hyaluronic acid and coconut extract, it's also got tone-enhancing rose flower oil plus moisture-binding cassia angustifolia seed. Extra points for thoughtful touches like the aforementioned tube being recyclable and a vegan-friendly formula.
7. Code8 Day to Night Foundation
Best comfortable foundation
Specifications
RRP: $65/£46
SPF: No
Shades: 15
Coverage: Medium
Finish: Radiant
Skin type: All
Base: Water
Reasons to buy
+
Light fresh feel
+
Skin-improving ingredients
+
Long lasting yet radiant-looking
+
Wand makes for easy application
First impressions
From the sleek chic tube to the, ahem, grown-up price tag there is no denying this foundation oozes sophistication. For the unfamiliar, this brand specialises in high-performance but low-maintenance makeup and this does seem to fit right into those parameters. The ingredients list contains skincare big hitters including Vitamin E and plumping hyaluronic acid, while the long lasting yet fresh finish should appeal to busy people with better things to do than top up their face on their lunchbreak.
Trying and applying
The first thing we noticed on testing this foundation was the giant doe foot applicator. Not only is this good fun to smooth the product on with, it actually makes a lot of sense. How many times have you pumped an unnecessarily large amount of base onto your hand, only needed a dab or two on your foundation brush then had to wash the rest down the sink? This cuts out the need for tools or wastage, and we found it picked up exactly the right amount and worked it beautifully into contours. The formula appears a little thicker than average, but blends nicely into a medium cover glowing finish. Despite offering a less expansive shade selection than others on the list, we found a match easily on several skin tones when testing.
What's it like to wear?
One of the nicest things about this base isn't how it looks, but how it feels. It has a flexible, comfortable weightlessness on the skin that's hard to pull off in a medium-cover foundation. It describes itself as cooling, and certainly never succumbs to that hot, clogged feel of so many longer-lasting bases. It also stayed looking fairly dewy a good six or seven hours after we first applied it. We'd still like to see more shades (more is more, people) and this will be too high cover for anyone who loves sheer BBs. It's also missing sun protection, although that's probably one of the reasons why it looks so great.
8. Jones Road The Face Pencil
The best foundation for on-the-go
Specifications
RRP: $25/£23
SPF: No
Shades: 25
Coverage: Medium
Finish: Soft matte
Skin type: Any
Base: Oil
Reasons to buy
+
Clear base great for darker skins
+
'Clean' formulation
+
Portable
+
Skincare ingredients
First impressions
This crayon comes from the brilliant mind of Bobbi Brown, who—ever the innovator—decided that sometimes we don't need to completely smother our entire face in liquid, maybe just a little bit of something creamy and flattering here and there is better?
Trying and applying
We don't disagree. The oil-rich formula of The Face Pencil gave it an easy blendability that made it a cinch to scribble on and smudge in with the warmth of our fingers. The coverage is light-medium with a sheeny finish that lasts well even on oily skin. Naturally, this makes it an excellent party makeup buddy to bring out instead of a big old glass bottle that'll spill inside your bag.
What's it like to wear?
Ingredients-wise, this is 'clean beauty', which means different things to different brands but to Jones Road it means it's made without parabens, PEGs, and cyclic silicones. It contains shea butter to nourish the skin and moisturizing castor seed oil. All good stuff. It also has a clear base pigment, meaning it won't look chalky or off on deeper skin tones. Are we really suggesting you scribble all over your face with this cute little crayon? No, we most certainly are not. What we are suggesting is you do as we did and scribble it on some areas of your face for a touch-up, to cover a little redness here and there, or to generally even things out on alleged 'makeup-free days' when you actually do need to wear makeup. Hopefully, that makes a little bit more sense.
9. MAC Studio Fix Fluid Foundation SPF 15
Best foundation for all skin tones
Specifications
RRP: $28.05/£20
SPF: 15
Shades: 67
Coverage: Medium
Finish: Soft matte
Base: Water and silicone
Skin type: Normal-combination
Reasons to buy
+
Best shade range on the market
+
Buildable, lasting coverage
+
Light fluid texture
+
Professional finish
First impressions
If you've ever been on a photoshoot or had your makeup applied by a professional in any capacity, you've probably seen MAC Studio Fix Fluid. This classic base is beloved by makeup artists and has been for decades. What's the secret? We'd say this foundation isn't trying to be everything to everyone. It's not trying to replace your moisturizer, so rather than including skincare, the formula is packed with ingredients that make a foundation work as hard as possible.
Trying and applying
It's got a loose, buildable formula, an outstanding shade range that keeps on growing, and a unique ability to give skin pro-standard polish without creasing, drying out, or ever appearing heavy.
What's it like to wear?
This is not trying to jump on the BB cream bandwagon and pretend to be particularly light; it feels like a legitimately proper foundation and gives skin a grown-up, "finished" quality that really lasts—another reason it's regarded as one of the best foundations for professionals. If you like a very sheer base, this might be a bit much, although we found it felt light and fluid-like on the skin. You might also be overwhelmed by the number of shades to choose from, but MAC has a handy Foundation Shade Finder (opens in new tab) tool to help with that.
10. BareMinerals Original Liquid Mineral Foundation
Best mineral foundation
Specifications
RRP: $35/£31
SPF: 20
Shades: 30
Finish: Radiant
Base : Water
Skin Type: Normal to sensitive
Reasons to buy
+
Skin-kind formula
+
Buildable coverage
+
Fresh look
+
Great shades
First impressions
This is not the only inclusion for Bareminerals on this list, but we'll make no apologies for doubling up—this brand makes some of the best foundations on the market, across the board. What's so special about Original Liquid Mineral Foundation then? Essentially it's the best of both worlds. A modern-feeling base that looks great and lasts the distance but, crucially, is made with mineral-based pigments that are a cosmetic lifeline to those whose skin doesn't get along with other makeup.
Trying and applying
This is unusual stuff. Generally, for sensitive types, there is a sliding scale between what is kind to their skin and what feels and looks like a sophisticated formula. It 'aint easy to formulate a foundation that does both. The slick twist-up packaging is pleasing and prevents dribbles, and the 30 shades run well in both light and dark directions. The only thing we didn't love about this was the (very faint) smell, which to us was like a cocktail of coffee grounds and spearmint. Some people might like the natural aroma, and we still found it 100% preferable to a honking great splash of artificial perfume.
What's it like to wear?
A healthy, fresh look is what this foundation is all about, so Ingredients aside we found that it looks great. It's medium-light in pigment and has a real glow about it while blurring over skin texture. You can build up the layers for a heavier effect, but unless you have something major to hide, why would you?

11. Clarins Everlasting Youth Fluid SPF15
The best foundation and skincare
Specifications
RRP: $42.99/£35
SPF: 15
Finish: Medium
Base: Water-Silicone
Skin Type: Mature
Reasons to buy
+
Skincare ingredients
+
Polished look
+
Classy bottle
+
Long lasting
First impressions
What an alluring name—everlasting youth in a bottle? Yes please. If anyone can make that happen, Clarins can. The French house has long catered for a chic, decidedly grown-up clientele with its makeup offering, which is why we now get excellent foundations like this little number. It's packed to the rafters with skincare ingredients, designed to protect and hydrate as you wear, and has a medium-bodied finish that will appeal to anyone who enjoys a 'polished' makeup look.
Trying and applying
Back to those ingredients. We've got the usual big hitters that we found gave the texture softness and our skin a nice hydration boost (hyaluronic acid, glycerin, apricot kernel seed oil) Then there are plenty of the unique plant extracts Clarins is known for including in their high-end skincare. There's chicory, with tone-boosting properties and red jania extract— a seaweed that encourages cell turnover to boost your natural glow. While that lot is getting to work behind the scenes you can enjoy a relatively lightweight, easy to spread texture and a full day of wear.
What's it like to wear?
The pigment is medium to full and the finish is satin, so if you want ultra-sheer this won't suit you. Otherwise, this more than lives up to the promise on that very classy glass bottle. We loved the combination of skincare and long-lasting coverage, which makes Everlasting Youth fluid one of the best foundations for time-poor types who enjoy post-work socializing without but hate hastily applying makeup at their desk.
12. Sisley Phyto Teint Nude
The best ultra light foundation
Specifications
RRP: $95/£68
SPF: No
Finish: Radiant
Base: Water
Skin type: Any
Reasons to buy
+
Easy to apply
+
Makes skin glow
+
Weightless feel
+
Luxe brand
First impressions
Wowza, you'd better check your account balance before you buy this. Can any makeup product, even the best foundation in the whole world be worth that spend? That's a rhetorical question by the way. It is if you can afford it, and if you can't, no worries! There's good stuff in your price range too.
Trying and applying
Now that's out of the way, let's talk about why this is our best ultra-light foundation. It is, unsurprisingly, extremely light on the skin. Truly, it feels like nothing, but it looks like something—a glowy, fresh, and hydrated complexion-of-your-dreams kind of something. The formula is water-based and extremely loose, so we spread it on with our hands and didn't worry about buffing and blending much at all, which is convenient. It contains blurring particles that smooth over pores and lines as well as mica crystal that reflects the light for an 'I drink green juice every morning and I've just had a very expensive facial' type of glow.
What's it like to wear?
For all that feathery-lightness it actually lasts surprisingly well. Oily skin types will need a top-up at lunch, most people by the end of the day but the cute squeezy tube (unusual for Sisley who normally favor glass doorstop-type bottles) makes it easy to carry around. Shade wise we'd like to see a few more, but they are sheer enough to adapt to most tones. If you want a matte, high cover formula or prefer to look 'done', this won't be for you. Otherwise, providing you can spend that kind of money on a foundation, you'll be glad you did on this one.
13. Dior Forever Skin Glow
Best glowing foundation
Specifications
RRP: $52/£39
SPF: 35
Shades: 31
Coverage: Medium to full
Finish: Radiant
Base: Water
Skin type: All
Reasons to buy
+
Hydrating
+
Glowy finish
+
Range of shades
+
Skincare benefits
+
Creamy texture
First impressions
The clue is in the name here—if you're looking for a glowy finish that lasts, here she is. Thanks to its hydrating but every so slightly soft-focus formula, we found this was a winner for most of our tester's skin types. Those with dehydration benefitted from the fact that 86% of the formula is hydration-preserving ingredients. The soft matte finish worked well on oilier skin types who wanted sheen without looking slick.
Trying and applying
The creamy formula blended into our skin with a luxurious feel and without sinking into our pores. And if you need more pigment, it can handle a second layer without any pesky pilling. The wide range of shades available also means that most skin tones can find something that works for them
What's it like to wear?
As for the coverage, it's fairly buildable. When it comes to staying power, this foundation did last quite well on testing, however it can sometimes see some transferring—especially in hotter or more humid environments. A touch of setting powder over the top of your foundation may come in handy, to make sure you're really getting the most out of this fantastic formula.
(opens in new tab)
Best high coverage foundation for dry skin
Specifications
RRP: $45/£33
SPF: 45
Shades : 20
Coverage: Medium-full
Finish: Dewy
Skin type: Dry
Base: Water, silicone
Reasons to buy
+
Buildable pigment
+
Skincare ingredients
+
Blurring finish
Reasons to avoid
-
High coverage
-
Runny texture
First impressions
Another foundation that promises superlative hydration, but this sits very much apart from water tints and tinted moisturizers et al. Beneath the veneer of juicy plumped skin lies a sophisticated full-coverage base. This combination is unusual in a market that generally swings from high-coverage mattes to light and silky sheers, but Futurist Hydra Rescue pulls it off. This should please those looking for one of the best foundations for dry skin but who also need solid pigment to cover rosacea, pigmentation, or hormonal breakouts. Similarly, this might be the best foundation for oily-combination types who like the idea of a sheer base but hate how it dissolves into nothingness by midday.
Trying and applying
The ingredients list is an impressive cocktail of the usual hydrating suspects: glycerin, hyaluronic acid, nourishing seed oils, and emollients like coconut-derived coco-glyceride. What is more unusual is that the carrier liquid of the foundation—AKA water—is ion-charged. What does that mean? According to experts at Estée Lauder, "Water is electrically charged via a process that physically changes it, creating two types of water that have different levels of pH and ion contents. The different pH levels and ion contents help improve the compatibility of the water to the skin."
What's it like to wear?
One surprise with Futurist is the texture, which was far looser than expected. (It's worth saying we tested this on a scorching hot week in August, which probably played a part) This runniness made blending a piece of cake, although we realize could also contribute to its fair share of spills, so cautious application is advised. Once spread, buffed, and blended, however, the finished effect really is the best foundation a full-cover fan could hope for: Glowing but not shiny, evened-out but not unnaturally so, and best yet, pretty much weightless all day.
See our full Estée Lauder Futurist Hydra Rescue review
(opens in new tab)
15. Bobbi Brown Skin Long-Wear Fluid Powder Foundation SPF20
Best foundation for oily skin
Specifications
RRP: $40/£29
SPF: 20
Shades : 28
Coverage: Medium
Finish : Soft matte
Skin type: Oily
Base: Water, silicone
Reasons to buy
+
Lasts extremely well
+
Soft matte finish
Reasons to avoid
-
Not for dry skin
-
Messy dispenser
First impressions
You can't have everything, but Bobbi Brown Skin Long-Wear Fluid Powder Foundation ticks enough of the boxes to make it one of best foundations for oily skin. This formula is designed to be the antidote to all those heavy, flat, matte foundations often peddled at those with oily or hot flush-prone skin. As the name suggests, it's loose water and silicone-based fluid that sets down into a soft powder finish designed to last. On top of the pigment and mattifying ingredients, this packs in sun protection and a "protein complex" that on inspection is comprised of whey/lactis protein, an excellent skin-softening, and collagen-stimulating ingredient.
Trying and applying
We found the texture surprisingly pleasant for the first few seconds; it slipped around with zero drag when buffed in with a firm brush but then did start setting quickly—not a lot of playtime here, so quick blending is advised. The coverage is medium, although you could get a lighter finish by applying it sparingly where needed—around the nose, for example, and blending outwards.
What's it like to wear?
It's the finish that really impresses: The slickest bits of shine on our noses and chins were dulled down but not completely mattified. Think more of a soft-focus blurring effect rather than totally sheen-free, which is far more flattering for most skins. Halfway through the day, this soft matte look was still very much ongoing. As a minor aside, the fluid comes in a nice lightweight tube but, with repeated use, does tend to dribble at the end of the nozzle. It's nothing major, but clean freaks will need to give it a wipe every now and then. It also goes without saying that this base isn't for everyone: Dryer skin types should avoid, as should those who just don't need the steadfast coverage that a powdery finish will provide.
(opens in new tab)
Best drugstore foundation
Specifications
RRP: $16.99/£12
SPF: 19
Shades: 12
Coverage: Light-medium
Finish: Radiant
Skin type: Any
Base: Water, silicone
Reasons to buy
+
Excellent value
+
Hydrating
+
Sun protection
Reasons to avoid
-
Limited shade range
-
May not suit sensitive skin
First impressions
There is a long-held belief among beauty editors that budget foundations are, on the whole, a lackluster bunch. This is in contrast to other makeup, where price often bears little relation to greatness (see: best cheap mascaras). But every now and then, an under-$15 winner like L'Oréal Paris Skin Paradise Water-Infused Tinted Moisturizer comes along and proves us all wrong.
Trying and applying
Skin Paradise Tinted Moisturizer is nearly everything you could want from a foundation: light and silky, with enough coverage to be worthwhile, and more than you would expect from the name of the product. On a lazy Sunday, we spread this on with fingers in a few seconds and enjoyed a healthy-looking complexion well into the afternoon. Still, no product is perfect: The shade range could use an expansion. It's fragranced, which sensitive skin may not like, and the pleasing "slip" of the texture comes from dimethicone crosspolymer—that may bother some silicone-refusers, although it's absolutely fine by us for a product we wash off at the end of the day.
What's it like to wear?
It sets down to a nice glowing sheen and packs in undetectable mineral sun protection. This is a water-based foundation, of course, and also includes moisturizing glycerin, aloe vera, and natural plant extracts with antioxidant properties to brighten. Such juiciness means it may not quite last the whole day, but that easy-going nature is part of the appeal. The only thing we'd really like to see here is a better shade range - as proven by our L'Oreal True Match Foundation review, this brand definitely has the technology to offer a shade for everyone.
See our full L'Oréal Paris Skin Paradise review
(opens in new tab)
Best long-lasting foundation
Specifications
RRP: $47/£34
SPF: 15
Shades : 45
Coverage: Full
Finish: Matte
Skin type: Normal to oily
Base: Water, silicone
Reasons to buy
+
Very long-lasting
+
Outstanding shade range
+
Comfortable
Reasons to avoid
-
High coverage
-
Fragranced
First impressions
Some skin types and some occasions that demand a hefty foundation: something that looks supremely polished, will truly cover what needs covering, and can be trusted to stick around when the going gets tough (meaning humid, rainy, sweaty, or all of the above). We can't think of a better foundation for the job than Lancôme Teint Idole Ultra Long Wear Foundation. This high-cover, long-lasting base is an absolute mega-seller. This is particularly true in France, where it's the number-one fluid foundation; it's also many a beauty ed's favorite, full-throttle, going 'out-out' non-cakey base.
Trying and applying
The main ingredients, along with a whole lot of pigment, are perlite and silica, both of which dial down shine without looking chalky. It also contains SPF 15, which we would file under better than nothing, and a flexible polymer makes it feel soft on the skin, as hard-wearing bases go. It also lacks drag when applying and crucially is extremely transfer-proof, even when we tested on a very hot afternoon. This is also unusually natural-looking. That may come down to the superlative shade selection—45 in total—which means just about anyone should find a seamless match.
What's it like to wear?
Naturally, in exchange for that robust coverage, you do have to accept a degree of feeling like you are wearing foundation. Not in a tight or chalky way, but just a light "I've got my face on" sensation. For the majority of us, this might make it more suitable for a special occasion. For anyone who wants or needs full coverage day-to-day, this will likely be a good deal more comfortable than many highly pigmented bases you've tried before. If we had to nitpick, we would say the fragrance is a bit strong. It's not unpleasant—it smells luxurious and very French—but if you're someone who avoids perfumed products, then it might put you off. That aside, this is a luxurious, thoughtfully-created classic that fits a need in the market and does so with style.
See our full Lancôme Teint Idole Ultra Long Wear Foundation review
(opens in new tab)
Best tinted moisturizer
Specifications
RRP: $47/£34
SPF: 30
Shades: 20
Coverage: Light-medium
Finish: Soft sheen
Skin type: Normal to oily
Base: Water
Reasons to buy
+
Light coverage that lasts
+
Skincare ingredients
Reasons to avoid
-
Limited deep shades
-
Less glow than original
First impressions
Few bases can truly call themselves iconic, but Laura Mercier Tinted Moisturizer makes the grade. This is the product that introduced the world to the concept of foundation-skincare hybrids back in the '90s and remains a firm favorite of makeup artists and consumers to this day. The formula has been tweaked throughout the years, and the latest reformulation saw the addition of improved sun protection plus extra shades. This has resulted in a few shifts in the feel and finish of the product.
Trying and applying
The texture is still hydrating and creamy thanks to hyaluronic acid and macadamia, and kukui seed oils. It also includes antioxidants vitamin E and C to protect skin from pollution and SPF 30 UV protection (up from SPF 20 in the previous formulation). This new iteration does feel slightly thicker and has more opaque coverage. This will be welcome for anyone with oily skin or who wants more of a pigment hit, but you might find it trickier to blend if you have very dry skin.
What's it like to wear?
Thankfully, this is still an incredibly flattering foundation. It blends nicely and doesn't dry out or settle into lines, thanks to those softening oils. Once applied, the finish is lightly sheeny, almost satin-like, with no sparkle or shimmer. If you're used to the previous formula, especially the Illuminating variant that has now been discontinued, you may find this lacks that obvious sparkling glow. But there is still plenty of dewy light reflection on the finish, so it shouldn't really be an issue unless you have particularly dehydrated or dull skin. It's great to see this classic base keeping up with the times, both in terms of ingredients and extending the shade range to 20 with a decent sweep from fair to very deep. That said, there's always room for improvement, and we hope to see the selection keep growing, especially the darker end of the spectrum.
See our full Laura Mercier Tinted Moisturizer review