Best foundations for mature skin: skincare-packed bases that won't crease or flake
Our expert guide to the best foundations for mature skin that offer a youthful, hydrated glow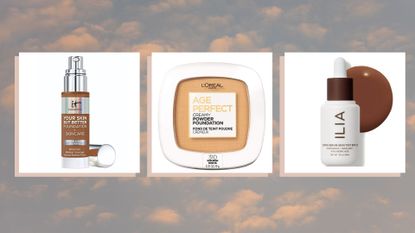 (Image credit: Future)
The best foundation for mature skin can seem like an impossible find, given that 'mature' looks different on everyone. Alongside your natural skin type, be it dry or oily, you may have concerns including fine lines, wrinkles, dehydration, and general loss of skin elasticity to consider.
Happily, there are foundations on the market that are made with mature skin in mind, boasting quality formulas that contain skin-first ingredients. Whether you're looking to blur enlarged pores, conceal pigmentation or make those teeny tiny forehead lines a little less noticeable, there exists the best foundation for every skin type, including yours.
From luxury investment buys to the best drugstore foundations at bargain prices, we've rounded up 10 of the most impressive bases for mature skin – and we're confident they will earn top-shelf status on your vanity.
How we tested the best foundations for mature skin
Why you can trust Woman & Home Our expert reviewers spend hours testing and comparing products and services so you can choose the best for you. Find out more about how we test.
For our best foundation for mature skin guide, we looked at each foundation's ingredient list first and foremost. If it had notable ingredients that worked to alleviate some of the main concerns this skin type deals with (fine lines, excess dryness or oiliness, sun spots, and thin skin), it passed our initial review. Beyond this, we looked at each foundation's consistency and considered how well it performed on dryness, oiliness, and sensitivity. The best cream foundations are often a better shout for mature skin than powders, for example, and took into account the coverage level of each foundation, as well as base type as this can vary between foundation vs CC cream, for example. Finally, we checked how long it lasted on the skin, and whether it had a liquid, cream, or powder formula.
The best foundations for mature skin, chosen by our beauty team
1. Pixi by Petra Beauty Balm
Best foundation for mature skin overall
Specifications
RRP: $22/£22
Ingredients: Ceramides, hyaluronic acid, adenosine, chamomile
Formula callouts: Paraben-free
Reasons to buy
+
Covers imperfections beautifully
+
Extremely lightweight feel
+
Natural finish
Reasons to avoid
-
Could use more shade variation
-
Hard to get the product out once you reach the end
This beauty balm is our best foundation for mature skin overall, and for a few good reasons. For one, it covers up blemishes, sun spots, and uneven skin tone beautifully, but does so without feeling heavy on the skin. In fact, our tester was looking to learn how to treat rosacea (and cover it up) and was dealing with bouts of flushing on her cheeks during testing. She was impressed with how well the foundation covered up her redness while still maintaining an ultra-lightweight feel.
Beyond that, this foundation contains skin-nourishing ingredients that mature skin will benefit from – ceramides to protect the skin from external factors, hyaluronic acid to replenish moisture, and chamomile to soothe inflammation. One thing to note: The product is in an upside-down tube with a pump, so it's a bit difficult to get the last bit out once you reach the end. We found that it was easier to twist the pump off and squeeze the tube to get everything out. We also wish it came in a broader range of shades to better suit more skin tones.
2. It Cosmetics Your Skin But Better Foundation + Skincare
Best luxury foundation for mature skin
Specifications
RRP: $40/£33
Ingredients: Hyaluronic acid, aloe vera extract, Vitamins E and B5
Formula callouts: Micro-fine pearl powders
Reasons to buy
+
Skin-like finish
+
Hydrating formula
+
Extensive shade range
This medium-coverage foundation from It Cosmetics is skincare first, makeup second. It's one of the best hyaluronic acid products in makeup form and is also formulated with an all-star list of ingredients like vitamin E to condition and aloe vera to blur fine lines and pores. Best of all, it layers nicely with moisturizer and primer (no pilling here!) and is meant to improve the look of your skin after two weeks of wear.
We're big fans of the large shade range, which is broken up into fair, light, medium, tan/rich, and deep (the site also has a handy shade finder if you're having trouble finding a match). When we tested this we found that the formula was lacking a long-wear finish – we were only able to get a few hours of wear time before it started to fade. Still, for shorter-term events, we think this formula is worth it.
3. Milani Glow Hydrating Skin Tint
Best budget foundation for mature skin
Specifications
RRP: $12/£14.25
Ingredients: Squalene, coconut water blend
Formula callouts: Vegan, cruelty-free
Reasons to buy
+
Dries down quickly
+
Moisturizing formula
+
Glowing finish
Reasons to avoid
-
Not high coverage if that's what you prefer
Many foundations targeted at mature skin boast an all-too-high price tag, but this pick from Milani proves you don't have to spend a fortune for an effective formula. At under $15/£15, the hero at play here is the inclusion of 29% squalene, a well-loved ingredient that plays well with mature complexions for its skin-smoothing, hydrating, and nourishing qualities.
During testing, we discovered that this foundation is light coverage and makes for a great everyday product. Because of this, we also feel it's an optimal spring or summertime foundation since it doesn't feel heavy or provide too much pigment. Despite having a dewy finish, we loved that this dried down quickly and didn't feel sticky to the touch post-application, making it one of the best foundations for oily skin that's also mature.
4. Kosas Revealer Skin-Improving Foundation SPF 25
Best foundation for mature skin with SPF
Specifications
RRP: $42/£38
Ingredients: Hyaluronic acid, niacinamide, peptides, squalane, Vitamin B5, arnica + caffeine
Formula callouts: Safe for sensitive skin, non-acnegenic, hypoallergenic
Reasons to buy
+
Applies well with different modes of application
+
Weightless feel
+
Radiant finish
Reasons to avoid
-
Can settle into pores after a while
When it comes to our skin, the sun is the culprit for many things: hyperpigmentation, fine lines and wrinkles, and redness, to name a few. You should be protecting your skin with the best facial sunscreen no matter your age or skin type, but those with mature skin definitely have more motivation to cover up, as this thinner skin is more vulnerable to the sun's damaging effects. Cue this foundation from Kosas, which infuses its formula with SPF25 to keep skin protected all while covering up imperfections.
It boasts a feather-light finish as well as natural-looking coverage and contains skin-brightening ingredients like niacinamide and caffeine to perk up dull complexions. It also has plumping peptides, which help make up for the loss of collagen and elastin that those with mature skin are likely to experience. In our testing sessions, it applied well with both a sponge and foundation brush, with buildable coverage and a moist finish.
5. L'Oréal Age Perfect Creamy Powder Foundation
Best powder foundation for mature skin
Specifications
RRP: $17 (US only)
Ingredients: Ceramide Antioxidant Complex
Formula callouts: Non-comedogenic
Reasons to buy
+
Multi-use formula
+
Doesn't cake up
+
Good coverage
Reasons to avoid
-
Could use more shade variation
It's hard to find a powder foundation that doesn't settle into every nook and cranny on the skin, but L'Oreal's Age Perfect Creamy Powder Foundation hit the nail on the head. Even though it's a powder formula it works well across all skin types – dry included. Our tester had several rough, dry patches and this powder glossed right over them without clinging or emphasizing them.
In addition to its easy application, we appreciate the fact that this formula is non-comedogenic (meaning it won't clog pores), which makes it safe for those who are looking for how to get rid of pimples with makeup. It's also a great multi-purpose product – we used it in several different scenarios (to blot and as an all-over foundation) and it worked well in all. As for mature-skinned folks who are dealing with the wrath of things like pollution, UV rays, and toxins in the air, this formula's unique ceramide antioxidant complex helps keep the skin protected.
6. Ilia Super Serum Skin Tint SPF 40
Best light coverage foundation for mature skin
Specifications
RRP: $48/£46
Ingredients: Hyaluronic acid, squalane, niacinamide
Formula callouts: Silicone-free, fragrance-free, oil-free, non-comedogenic
Reasons to buy
+
Luminous finish
+
Self-adjusting color
+
Multi-functional use
+
Has SPF 40
Reasons to avoid
-
Liquid consistency may not be right for oily skin
If you're looking for an everyday one-and-done option that brightens the skin without adding too much coverage, this dreamy formula from Ilia is a prime option. We were looking forward to putting it to the test after seeing that it's won several awards, and are happy to report that it lives up to its cult-like status. Think of it like your bare skin – but with a tint.
In addition to its serum-like consistency, which makes for a great lightweight, natural skin finish, it can be mixed in with any skincare product (like your moisturizer or serum) to give it some color. Plus, it has a high SPF of 40 that's mineral-based, which means it bounces off UV rays rather than absorbing them as chemical sunscreens do. For mature skin that is a bit finicky with ingredients, the use of zinc oxide makes it sensitive-skin friendly for reactive skin types. During testing, we found that applying it with a sponge soaked up too much product, so we recommend sticking with fingers or a brush. We also would advise you to be mindful of the formula's liquidy consistency if you have oily skin, as it may feel too slick upon application.
7. Hourglass Cosmetics Ambient Soft Glow Foundation
Best glowy foundation for mature skin
Specifications
RRP: $58/£46
Ingredients: Blurring spheres and light-diffusing pigments
Formula callouts: Vegan, cruelty-free, non-comedogenic
Reasons to buy
+
Easily blendable
+
Provides a natural glow
+
Long-wearing formula
Inspired by the iconic Hourglass Ambient Lighting Collection, this foundation provides the same ethereal, lit-from-within glow as the powders from that line. It's one of the best foundations for mature skin we've tried, as it features blurring spheres and light-diffusing pigments that work together to reduce the appearance of uneven texture, fine lines, and enlarged pores (great for anyone looking for the best pore minimizers).
Many foundations that have a glowy finish tend to highlight or draw attention to fine lines and wrinkles. But with this, our tester was impressed at how well it provided a skin-like finish. As for the application? The foundation was easy to blend and left no streaks behind, it also lasted extremely well without settling into lines. Top marks from us!
8. PUR 4-In-1 Love Your Selfie Longwear Foundation & Concealer
Best multi-use foundation for mature skin
Specifications
RRP: $36/£32
Ingredients: Lingonberry extract, green tea, ginseng, and vitamin B
Formula calouts: Vegan, cruelty-free
Reasons to buy
+
Large shade range
+
Dual applicator component
+
Matte, non-drying finish
+
Long-wearing
Reasons to avoid
-
Shade range could be overwhelming
We get it. Sometimes you just can't be bothered to apply your skincare, foundation, concealer, and setting powder. Thankfully, PUR's 4-In-1 Love Your Selfie Longwear Foundation & Concealer proves you don't have to spend hours on an intricate beauty routine. The dual-application component features a pump for foundation application as well as a twist-off wand when it comes time to use it as a concealer. During our testing, we really enjoyed both methods of application. We also didn't feel the need to use our best setting powders on top – the foundation had what felt like a self-setting finish and continued to last through the day.
It's available in 100 shades (the most out of any product mentioned here) and the undertones are spot on, though this many options can be overwhelming for some. And, despite being matte, it didn't accentuate any fine lines or wrinkles in our skin. We like that it protects against blue light (via lingonberry extract) and that it uses a blend of green tea, ginseng, and vitamin B to fend off signs of premature aging. Finally, this is the only foundation on our list that uses the well-loved skincare ingredients retinol, lactic acid, and shea butter – all of which help promote healthy-looking skin.
9. Beautyblender Bounce Liquid Whip Long Wear Foundation
Best longwear foundation for mature skin
Specifications
RRP: $40/£32
Ingredients: Hyaluronic acid, white birch extract
Formula callouts: Sulfate, SLS and SLES-free, vegan
Reasons to buy
+
Lasts 24 hours
+
Accessible price point
+
Broad shade range
Reasons to avoid
-
Better for combination to oily skin types
Looking for a formula that lasts through a torrential downpour and humid summers? That tempers oily secretions and quenches dehydrated skin? You've found it in this one from Beautyblender. No weather condition or skin type is a feat for this formula, as it's meant to last 24 hours without cracking or flaking.
We are huge fans of the whipped consistency - a little of it goes a long way, which makes this excellent value as well as easy to blend. It also offers heavy-duty coverage that, rather than leaving skin one-dimensional and flat (like many high cover foundations do), delivers a soft matte finish that looked incredibly natural on our skin.
10. Make Up For Ever HD Skin Undetectable Longwear Foundation
Best buildable foundation for mature skin
Specifications
RRP: $43/£35
Ingredients: Glycerin
Formula callouts: Non-comedogenic, waterproof, sweat-proof
Reasons to buy
+
The shade range is true to tone
+
Easy to blend
+
Blurs pores
Reasons to avoid
-
Not the best for dry skin
Think of this foundation from Make Up For Ever like an Instagram filter for your skin. While it's great for those who struggle with their foundation slipping off throughout the day, thanks to its waterproof and sweat-proof properties, the main feature we love about this formula is how buildable it is.
During testing, we tried applying it in various ways to yield three different coverages: sheer (with fingers), medium (with a brush), and full (with a beauty sponge). In all instances, our skin looked smooth, blurred, and more even. We did dock a point for the fact that it sometimes clung to dry patches, so be sure to use the best primers for dry skin if you're of the same skin type and worried about build-up.
---
How to pick the best foundation for mature skin
Finding the best foundation for mature skin isn't an easy task, but knowing what to look for is helpful. Here's what our experts recommend taking into account while shopping:
Your skin type: If you need skincare for dry skin, you'll want to look for a foundation formula that also replenishes moisture, says Manuel Espinoza, StyleSeat makeup artist. If you're sporting oily skin, look for words like "oil-free," "matte," and "longwear" on your foundation. You may also consider using a powder foundation, as this can help mitigate oil production throughout the day, Espinoza notes. Sensitive-skinned folks should be mindful of choosing a non-comedogenic formula that's free of possible irritants like fragrance.
Product texture: When it comes to product type, Kristen Fortier, makeup artist and Product Innovation Lead for Crunchi Cosmetics, recommends a liquid foundation, as they're typically easier to apply, buildable, and won't settle into fine lines and wrinkles. "Stick foundations tend to be too heavy for mature skin and powder foundations will typically dry the skin out too much and/or cause the skin to look flat," she says.
Ingredients: For dry, dehydrated skin, look for a formula that contains hyaluronic acid. "Hyaluronic acid is great in foundations and for mature skin types because it increases the skin's moisture while also helping to reduce fine lines and wrinkles," notes Espinoza. Fortier also recommends seeking out mushroom extract, glycerin, aloe, and jojoba oil. "These ingredients provide powerful antioxidants, restore hydration, and promote an even skin tone – not to mention, they also leave the skin feeling and looking radiant," she notes.
Ease of application: Fortier says that for mature skin types (and all skin types, really), you'll want to look for a foundation that's easy to blend. For mature skin, you should avoid a foundation that causes you to tug on the skin. When it comes time to apply, she recommends applying a small amount of foundation at a time, building up on only the areas that need more coverage to avoid creasing. "Typically, when the foundation is settling in fine lines it is due to the use of way too much product," warns Fortier. Remember: Less is always more!
Michelle Rostamian is a Los Angeles-based beauty writer with 10 years of experience in the beauty industry. She began her career as a publicist, content writer, and social media manager, representing beauty brands and industry professionals. Currently, she is an editor and writer on all things makeup, beauty, skincare, and lifestyle. Michelle graduated from the University of California, Los Angeles with a B.A. in Communications. She has bylines at Cosmopolitan, Elle, Marie Claire, Allure, The Zoe Report, HelloGiggles, Yahoo, Byrdie, Well+Good, Reviewed, Women's Health, Runner's World, The Girlfriend, and more.