The best pore minimizers that unclog congestion and refine skin texture
Our tried-and-tested guide to the best pore minimizers that offer a clarified complexion and smoothed-out appearance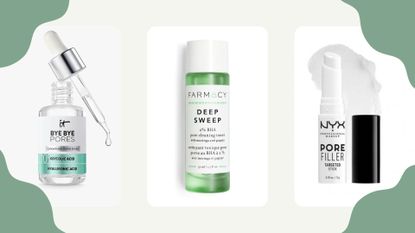 (Image credit: Future/Getty images)
Pores. We've all got them, and while some have larger-looking ones than others, most people would rather have a smooth complexion. Enter: the best pore minimizers.
Unlike learning how to get rid of acne, pores aren't something that can simply go away, no matter how much TLC you give them. "Pores are prominent openings on the skin that contain a hair follicle and sebaceous gland underneath them," explains aesthetic doctor, Dr Galyna Selezneva. They are an essential part of the skin that controls how much sebum, or oil, is released. There may not be a way to get rid of them completely, but there are products you can use to minimize their appearance.
The best pore minimizers come in a variety of different forms – toners, moisturizers, masks, and serums included. The product you choose will depend on what you're looking to accomplish, whether you want to unclog your pores, refine them, or minimize their appearance with the best primers for smoothing effects. To help you out on your pore-minimizing journey, we've tried, tested, and rounded up the top products to incorporate into your routine.
Key questions to help you find the best pore minimizers
Why you can trust Woman & Home Our expert reviewers spend hours testing and comparing products and services so you can choose the best for you. Find out more about how we test.
Can you ever reduce pore size? This million-dollar question has a pretty straightforward answer. "Of course minimizing pore size isn't possible since genetics determine how large or small they are," explains plastic surgeon Dr Osman Bashir Tahir. However, what you can do is reduce their appearance. Either by boosting collagen production to reduce age-related gaping, by cleaning out the debris that clogs them up, or by using makeup such as primers that smooth over the uneven texture.
What ingredients should I look for? The best pore minimizers come in many forms. Makeup products typically use silicones to blur the skin and create a smoother canvas. In skincare, alpha hydroxy acids (AHAs) and beta hydroxy acids (BHAs) should be your go-to. "Salicylic acid is great if you're looking to reduce the appearance of congested pores. It works by breaking down the bonds between dead skin cells so that they can release from the pore more easily, and breaks down oils, such as sebum," explains cosmetic doctor, Dr Parisha Acharya. According to makeup artist Victoria Stiles, enlarged pores and oily skin typically go hand in hand. To combat both, she recommends products containing retinol and vitamin E. "Retinol will gently exfoliate the skin while Vitamin E will nourish," she says.
What's my skin type? "Maintenance and pore care should include a thorough cleansing, exfoliation, and a time put aside for extractions," says Maura LaEardonn, esthetician at Face Haus Santa Monica. "The key is to control oil but still nourish with hydration." If your skin is dry or sensitive, LaEardonn suggests looking for the best cleansers that are milky or cream-like as well as rich, thicker moisturizers. Have oily skin? "Niacinamide helps to reduce and control oil, while those with combination skin will benefit from using salicylic acid once a week with a build-up to every other day."
The best pore minimizers, chosen by our beauty team
---
1. It Cosmetics Bye Bye Pores 10% Glycolic Acid Serum
Best pore minimizer overall
Specifications
RRP:: $29/£21
Best for: Dullness, uneven texture
Ingredient callouts: Glycolic acid, hyaluronic acid
Reasons to buy
+
Easy dropper application
+
Exfoliates skin for cell turnover
+
Good for all skin types
The It Cosmetics Bye Bye Pores 10% Glycolic Acid Serum has won the title of the best pore minimizer overall because it reduces the look of pores but keeps skin hydrated at the same time. That's all thanks to the fusion of exfoliating and cell-rejuvenating glycolic acid and ultra-hydrating hyaluronic acid in its formula. The two, when combined, make for an effective treatment for pores that leaves skin feeling smooth and supple.
We love that it's suitable for all skin types, whether you're dry, combination, or oily, and that its dropper applicator dispenses the right amount of product to ensure you don't over-or under-use. As with most things in skincare, results take time to see, and we found the same to be true when testing this product. While results were not immediate, we did notice less visible pores after a few weeks of consistent nighttime use.
2. Clarins Pore Minimizing Serum
Best luxury pore minimizer
Specifications
RRP: $58/£31.95
Best for: Clogged pores
Ingredient callouts: Vine flower cells, strawberry tree extract, tamarind pulp acid
Reasons to buy
+
Refines pores
+
Gives a blurring texture to the skin
+
Mattifies skin
Reasons to avoid
-
Can feel drying for some
If you're looking to control your pores and mattify your skin, this serum from Clarins is a winner. It uses a number of skin-benefitting ingredients, including vine flower cells to firm, organic strawberry fruit tree extract to mattify and tighten pores, and tamarind pulp acid to naturally exfoliate the skin and encourage cell turnover. After using it consistently twice a day, we found our skin looked radiant, blurred, and pores appeared less visible.
While the formula enhances texture and finish, it can leave the skin feeling a bit dry, especially if you're really looking for skincare for dry skin or your face is feeling dehydrated after, say, consuming alcoholic beverages. But, we learned that layering on one of the best face moisturizers helped to combat the formula's somewhat drying effects.
3. NYX Professional Makeup Pore Filler
Best budget pore minimizer
Specifications
RRP: $10/£8
Best for: Pre-makeup
Ingredient callouts: Silicones and polymers
Reasons to buy
+
A great quick fix
+
Easy to use
+
Portable, great for top-ups
+
Feels light on the skin
Reasons to avoid
-
Small, so will run out quickly
This is very much a 'does what it says on the tube' situation. As in, it visually fills pores by temporarily glossing over them, via a flexible silicone and polymer formulation. Swipe it onto clean skin after skincare but before any other makeup and it'll act much like a primer, creating a velvety layer and helping other products stick around on top.
One of the best things about this is how quick and easy it is to use. On testing we twisted it up, ran it over the pores on the sides of our nose and chin, and that was that. It swipes on a bit like lip balm although it has a velvety matte finish, and feels fairly weightless. We were also impressed with how well it stayed put under our foundation without moving around as we applied or pilling. Our most obvious pores were suppressed and smoothed out for the night. We found we didn't need to top up, but this is so portable you could always bring it with you.
4. Paula's Choice Skin Perfecting 2% BHA Liquid Exfoliant
The best classic pore minimizer
Specifications
RRP: $32/£31
Best for: Targeted oil-dissolving
Ingredient call-outs: Salicylic acid, green tea extract
Reasons to buy
+
The original and best BHA toner
+
Simple, efficient ingredients list
+
Contains green tea
Reasons to avoid
-
Not very glamorous, if that's important to you
Ask any skin expert or beauty editor what the best pore minimizers are, and there's a high chance this product will come up. It's an absolute stalwart on the skincare scene and boasts a proudly streamlined ingredients list as it essentially aims to do one thing, and do it very well: unclog pores. It contains 2% salicylic acid (an excellent amount to work hard, but not irritate) plus antioxidant-packed green tea leaf extract to boost skin tone, soothe and protect.
On testing we found the clear watery liquid to be pleasantly refreshing, although it did have a slightly tangy chemical odor. This will be a good thing in many people's books, as it means the formulation hasn't been filled with artificial fragrance. It sinks in fast, leaving only a lightly sheeny finish to the skin, but no residue or tacky feel, then you're prepped and ready to go in with a hydrating serum or cream. Like all BHA products, this is not a quick fix. But we did notice a reduction in blackheads and congestion after a few uses, and two weeks into testing our pore texture appeared significantly reduced.
5. Biossance Squalane + BHA Pore Minimizing Toner
Best pore minimizing toner
Specifications
RRP: $28/£24
Best for: Tightening pores
Ingredient callouts: White willow bark extract, caviar lime extract, squalane
Reasons to buy
+
Clarifies pores
+
Hydrates skin
+
Vegan formula
Reasons to avoid
-
Glass bottle not travel-friendly
You heard it here first: Biossance's Squalane + BHA Pore Minimizing Toner is a hit! Particularly so if you're looking to provide your skin with gentle exfoliation all while controlling sebum production. The formula relies on white willow bark extract to regulate oil as well as sugarcane-derived squalane to keep skin hydrated. As for the exfoliation aspect, the caviar lime extract in the toner helps clarify skin to reveal a smoother, brighter appearance.
During testing we tried pressing the toner into the skin with a cotton round as well as bare hands, and found that both methods were enjoyable. One caveat: the bottle is glass, so it may not be the best for taking with you in your travel makeup kit.
6. Farmacy Deep Sweep 2% BHA pore cleaning Toner
The best pore minimizer for daily use
Specifications
RRP: $30/£27
Best for: Clearing out trapped oil
Ingredient callouts: Salicylic acid, papaya enzymes
Reasons to buy
+
Gentle, clean formulation
+
Alcohol free
+
Refreshing on the skin
+
Contains two exfoliators
Reasons to avoid
-
Won't suit those with very dry skin
Farmacy is really making its mark in skincare for its effective formulas and natural-leaning ingredients, many of which are farmed by the brand themselves. This swipe-on toner aims to clarify the skin and therefore minimize pores in a gentler way. It contains a low percentage of salicylic acid to dissolve oil, as well as gentle fruit enzymes to shift dead cells and soothing botanicals for a multifaceted daily treatment.
We love the recyclable glass bottle and the handy little dropper that ensures just enough comes out to soak a cotton pad (reusable please!) Simply swipe it on and follow with the rest of your skincare. The watery liquid doesn't tingle as some acids do, and it didn't leave our combination skin feeling tight in dryer zones, which is often the trade-off for using salicylic acid on oilier bits. We used this every day for a few weeks and noticed cumulative changes on the blackheads around our nose, which feels like a more sustainable way to go at your pores than throwing huge amounts of acid at it in a one-off congestion-blitz.
7. Tatcha The Water Cream Oil-Free Pore Minimizing Moisturizer
Best pore minimizing moisturizer
Specifications
RRP: $69/£63
Best for: Anti-aging, hydrating
Ingredient callouts: Japanese wild rose, Japanese leopard lily, green tea, rice, and algae
Reasons to buy
+
Oil-free formula
+
Ultra-hydrating
+
Comes with spatula applicator
Reasons to avoid
-
Pricey for a moisturizer
Is the Tatcha The Water Cream Oil-Free Pore Minimizing Moisturizer worth the price? According to the over 2,000 5-star reviews on Sephora, the answer is yes, and after our testing of the product, we couldn't agree more.
The Japanese skincare brand is known for its uniquely formulated, gentle yet effective skincare products. This moisturizer is ideal for those looking to make their pores less visible, skin less oily, and complexion youthful and radiant. It uses the brand's signature blend of nourishing and skin-calming green tea, rice, and algae, along with Japanese botanicals to combat dullness, uneven skin texture, and visible pores. Plus, we love the fact that the moisturizer comes with a tiny spatula applicator (and that the lid stores said applicator beautifully on top!)
8. Glow Recipe Watermelon Glow PHA +BHA pore tight toner
Best pore minimizer for dry skin
Specifications
RRP: $34/£31
Best for: Hydration and pore clearing
Ingredient callouts: Beta and Poly-hydroxy acids
Reasons to buy
+
Gently exfoliates
+
Very hydrating
+
Lovely, slippy texture
+
Gorgeous bottle
Reasons to avoid
-
Perfumed, so may not suit sensitive skin
While pores and oily skin types tend to do hand in hand, dry skins can experience pore problems too. This in itself presents a further problem as most of the best pore minimizers are all about dissolving natural oils, which is the last thing naturally dry skin needs. The solution? This Korean skincare inspired product, which is half pore-clearing toner and half ultra hydrating essence. It combines a natural form of BHA called willow bark with gentle acid PHA and all sorts of lovely moisturising ingredients like glycerin, hyaluronic acid, watermelon, cactus and cucumber extracts.
We noticed the texture of this product right away, as it's so unlike other toners on this list such as the ones by Paula's Choice and Farmacy. It's thicker and more viscous, giving skin a juicy glow right away. It also smells very fruity, which we loved although we know fragranced skincare isn't for everyone. We dropped it straight onto our hands and patted it into our skin morning and night. In return, we experienced pore-disguising plumpness, plus our skin wasn't crying out for hydration the way it can after other toners. This may not offer the most instant bang for your buck of any product here, but for very dry or sensitive skins that will be a good thing.
9. Peach & Lily Glass Skin Refining Serum
Best pore minimizing serum
Specifications
RRP: $39 (US only)
Best for: Dry patches, acne, anti-aging
Ingredient callouts: Peach extract, niacinamide, East Asian mountain yam, madecassoside, peptides, and hyaluronic acid
Reasons to buy
+
Easy-to-use pump applicator
+
Hydrating formula
+
Has multifaceted skin-improving benefits
Reasons to avoid
-
Can cause redness in sensitive skin types
Glass skin and refined pores? That's exactly what this serum from K-beauty brand Peach and Lily aims to deliver, with ingredients like vitamin-rich peach extract, East Asian mountain yam extract, and hyaluronic acid to boot. The formula also makes use of niacinamide, which can help curb redness in inflamed breakouts and douse your skin with antioxidant benefits. If you're into multipurpose products, you, like us, will love the fact that this includes a collagen-boosting peptide complex to smooth out fine lines and wrinkles.
Those with sensitive skin may find that the formula causes redness and a tingling sensation upon application, so you may want to apply this every few days to build up a tolerance to it before bumping it up to nightly use.
10. Pur See No More Blemish and Pore Clearing Cleanser
Best pore minimizing cleanser
Specifications
RRP: $24/£24
Best for: Anti-aging, brightening
Ingredient callouts: Lactic acid, salicylic acid, green tea, ginseng, vitamin B
Reasons to buy
+
Unclogs pores
+
Plumping formula
+
Reduces the look of blemishes
+
Sulfate-free
If you're dealing with enlarged pores and blemishes, this gel cleanser from Pur is a great one to add to your routine. It's chock-full of skin-boosting ingredients like lactic acid and salicylic acid to exfoliate and ward off breakouts as well as Indian ginseng and fructose, which protect the skin against blue light damage (perfect for those addicted to their electronic devices).
This formula is infused with peppermint oil, which for some makes for an invigorating, spa-like scent but for others can be off-putting, so bear this in mind if you're sensitive to scents in your products. Overall, we found this to be a gentle exfoliating cleanser that's a great first step in any pore-minimizing skincare routine.
11. Innisfree Pore Clearing Clay Mask
Best pore minimizing mask
Specifications
RRP: $15 (US only)
Best for: Dullness, uneven texture, oiliness
Ingredient callouts: Lactic acid, volcanic clusters
Reasons to buy
+
Affordable price point
+
Deeply exfoliating
+
Draws out impurities from pores
Face masks are often known for only providing temporary solutions—be it dousing your skin with hydration or soothing redness for sensitive skin. But, this option from Innisfree proves that you can reap both instant and long-term benefits. During testing, we found that it did a great job of mopping up excess oil on the skin. Over time, it also helped to refine pores, promote skin radiance, and even out rough skin texture on the odd dry patch. Not to mention, the price is accessible and a little goes a long way, which means the jar is likely to last you a while.
12. Dr. Brandt Skincare Pores No More Pore Refiner Primer
Best pore minimizing primer
Specifications
RRP: $45/£18
Best for: Pre-makeup
Ingredient callouts: Red clover flower extract, salicylic acid derivative
Reasons to buy
+
Preps skin for makeup
+
Mattifying formula
+
Convenient pump applicator
Not only is this one of the best pore minimizing primers to reduce shine and mattify the skin, but it makes whatever makeup product you apply on top glide on and appear as smooth as butter. And, because it's slightly tinted, we found it to be the perfect pre-makeup step for creating an even skin tone. Although the product is scented, it's not overpowering and the scent tends to disappear once you apply your other products. During our testing, we loved the fact that we only needed less than a pea-sized amount to cover the skin, which makes the near $50 price tag worth it for such a hefty tube. Pick this up if you're looking to (temporarily) send your pores packing.
13. Origins Pore Purifying Toner With Saw Palmetto & Mint
Best pore minimizer for acne
Specifications
RRP: $25/£19.50
Best for: Oiliness, blemishes
Ingredient callouts: Saw palmetto, mint, salicylic acid
Reasons to buy
+
Mattifies skin
+
Gets rid of excess oil
+
Vegan formula
Reasons to avoid
-
Opening of bottle is too big
-
Strong scent
Vanity-worthy aesthetics aside, we love that this formula targets blemishes, oiliness, and pores all at once. It's enriched with ingredients like salicylic acid to clear pore-clogging bacteria that would otherwise lead to a blemish. And, it boasts a seriously clean scent that we found quite refreshing. While the formula feels clean and mattifying on the skin, it didn't leave our skin feeling parched afterward. One thing to note is that the opening of the bottle is too big and deposits more product than needed, which can lead to waste. But, a little bit of care is all that's required. All in all, if your skin is in major need of decongesting, add this toner to your cart stat.
---
What does Pore Minimizing mean?
We've established that pores can't be permanently shrunk, but that pore minimizing is indeed possible. How so? Because pore minimizing simply means reducing their appearance to the eye. This can be done by keeping your pores clear of any debris that would make them appear larger or by using blurring makeup to temporarily (and often very effectively) smooth over their appearance. In the longer term, products and treatments designed to increase collagen production such as Ultherapy can help create a firm and well-supported skin structure that will also minimize pores.
What is best for reducing pores?
That depends on the reason for your large pores. If they are the result of short-term clogging, the pore minimizers we have recommended in this guide with ingredients like BHA and Glycolic acid will suit.
If your pores have become larger with age, a collagen-boosting in-clinic treatment could be the way to go. "Collagen is particularly important because of the fact that it supports your skin and provides structure. It also helps your skin look firmer, thus minimizing the appearance of pores," explains Dr Galyna. "One of the most effective - and indeed most popular - treatments isThermage FLX - a treatment that relies on non-invasive radiofrequency to tighten and smoothen the skin, minimizing the appearance of pores alongside a host of other age-defying benefits."
For chronically oily skin that's prone to congested pores, Dr Parisha recommends chemical peeling. "Professionally applied peel solutions exfoliate dead skin cells and help healthy skin cells rise to the surface. These treatments allow deeper layers of fresh and untouched skin to be revealed. The result of monthly treatments can even skin tone, clear acne, improve the appearance of ageing skin, and of course reduce the appearance of your pores - making them appear smaller."
Michelle Rostamian is a Los Angeles-based beauty writer with 10 years of experience in the beauty industry. She began her career as a publicist, content writer, and social media manager, representing beauty brands and industry professionals. Currently, she is an editor and writer on all things makeup, beauty, skincare, and lifestyle. Michelle graduated from the University of California, Los Angeles with a B.A. in Communications. She has bylines at Cosmopolitan, Elle, Marie Claire, Allure, The Zoe Report, HelloGiggles, Yahoo, Byrdie, Well+Good, Reviewed, Women's Health, Runner's World, The Girlfriend, and more.