Ultherapy review: I tried the non-invasive 'lunchtime facelift' and these are my honest thoughts
Our Beauty Editor's Ultherapy review reveals all about the skin-tightening treatment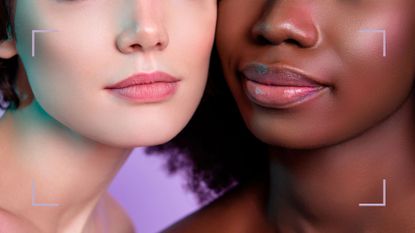 (Image credit: Future/Getty images)
If you've read any Ultherapy reviews, you'd be forgiven for thinking it sounds a bit too good to be true. A non-surgical, non-invasive treatment that can achieve what no cream, laser or needle has managed before – tightening loose skin.
We all know the rule in beauty, as in life, is if something sounds too good to be true then it probably is. But do you know what else didn't sound realistic before it mainstream? An injection that freezes wrinkles, or a plastic mask that plumps lines while you kick back with an episode of Love Island (hello red light therapy devices!)
So try to suspend disbelief, because there's a reason Ultherapy is a talking point. It promises great things and, along with microneedling and the Aquagold facial, is a darling of the aesthetic scene with Jennifer Aniston a reported fan. Then again, as with any tweakment, it's important to be realistic. Realistic about results, about costs, and – I'm sorry to say – realistic about pain. Don't be scared. Read my Ultherapy review and discover if the 'no-scalpel facelift' could be right for you.
Ultherapy review: what you need to know
What is Ultherapy and how does it work?
"Ultherapy is a non-surgical alternative to a facelift," explains Cosmetic doctor Dr. Rekha Tailor (opens in new tab). "It's used to counteract signs of aging like skin sagging and wrinkles on the face, neck, and chest as well the brow area." There are no needles; nothing freezes, nothing fills. instead, an ultrasound wand is applied to the skin and the resulting heat, produced by targeted sonic waves, kickstarts lazy collagen into frenetic healing activity; this tightens, lifts, and plumps from within.
Aside from the obvious appeal of a lack of needles or knives, Ultherapy is booming due to its versatility and life-friendly appointment time – from 20 minutes for one small area to about 90 for a full face and neck. "I love this treatment for many age categories as it is a one-time, one-hour treatment with excellent long-lasting results," agrees oculoplastic surgeon and facial aesthetics specialist Dr. Maryam Zamani (opens in new tab).
However, patience is required. Expect to see effects from three months after treatment, once that new collagen has formed. Improvements continue for several months after that and last around a year.
Is Ultherapy painful?
If you've ever had a cosmetic treatment, you know the drill: If they say it's "relaxing," it's all good, "comfortable" means tolerable, and if they say you will feel "some discomfort" expect pain. The bad news is Ultherapy, by all accounts, involves discomfort. This can vary depending on the area treated and how long it takes, the depth of the skin targeted, and of course, your own tolerance for pain.
The good news is that clinics have devised plenty of ways to make it tolerable, from topical numbing cream to pain relief medication, anti-inflammatories, and cooling devices. The beauty of this treatment is its ability to be tailored, so the pro carrying it out can respond to your comfort levels, adapt the depth, and take breaks when treating larger areas.
Ultherapy review: what happened during the appointment
If the gamut of treatments runs from pampering facial to full-on facelift, I'm parked halfway up that hill. At 36 years old, I haven't had any baby Botox or filler (yet!) but definitely favor results-driven peels, and micro-needling over a bit of massage and face oil. My skin is well taken care of, but my Instagram grid suggests that my lower face isn't hugging my jawline quite as tightly as it did back when I thought Smirnoff Ice was an acceptable aperitif. So when the opportunity to do an Ultherapy review presented itself, I did not have to be asked twice.
I booked in with Dr Alexis Granite (opens in new tab) at Skinesis Medical (opens in new tab). This is crucial information because aesthetic treatments are only as good as the expert who administers them, and Dr Granite is as expert as they come. I sent photos in advance and was told I was a good candidate (still not sure if I should be pleased about that) and was advised to take a pick 'n mix of ibuprofen and paracetamol before my appointment and arrive early for numbing.
A little foreboding on the pre-care front, but the beautiful clinic and friendly vibe put me at ease. I asked everyone I encountered to level with me on the pain and responses ranged from, "It's one of the most painful treatments you can have," to "some people don't even flinch." When the numbing cream kicked in, Dr Granite took before photos, marked my face into zones, and I lay down with my neck stretched back and a stress ball in hand to begin treatment.
And how did it feel? Honestly, a pleasant surprise. As the wand moved from zone to zone I felt a thrum of heat, a sort of clicking sensation, and occasional sharp zing. It was toothache-like near my jaw but that came and went quickly and my 90-minute treatment felt more like 45. Obviously, everyone's tolerance varies, but if you've ever had a tattoo or laser hair removal, you will definitely be able to handle Ultherapy. Afterward, I was a little red and my jawbone a tad sensitive, but I definitely could have gone out that night without anyone noticing. I opted to slather on some soothing skincare and have an early night instead.
Our beauty editor recommends...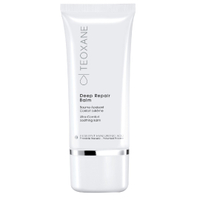 (opens in new tab)
Teoxane Deep Repair Balm | RRP: $49.85/£22.99
Medical skincare brands are a good bet post-treatment. While Ultherapy doesn't generally have downtime, this deeply soothing and powerfully replenishing balm will help calm any inflammation and replenish the skin, which is always a good thing.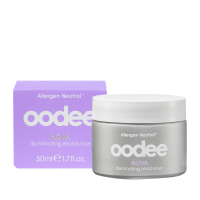 (opens in new tab)
Oodee Nova Illuminating Moisturiser | RRP: $69/£55
You can trust this won't cause so much as a whisper of irritation after Ultherapy as Oodee products are free from over 40 known allergens. As well as what it leaves out, this silky moisturizer is notable for what it packs in – namely antioxidants from Vit C, fermented rice and buckwheat sprouts as well as nutrient-rich kelp to restore and replenish.
Ultherapy results
Drum roll please! At three months post treatment, I am pleased to report that the results are very much in, and I am beyond happy. My jawline is sharper and more defined and those sad little downward-turned creases at the sides of my mouth are less pronounced. That rush of fresh collagen has given everything a pleasing plumpness boost that will continue to improve for the next few months, then should last the year. Happy days!
For me, the beauty of Ultherapy is that it's not the sort of treatment that would tip anyone else off that you'd had 'something done.' The results are clear as day to me, but they are also gradual and natural-looking. It only works with what you've got rather than adding anything artificial into the mix. This means if you want a dramatic 'what have you had done?' change, it may not be for you. As for me, and I suspect the majority of people considering Ultherapy, this is the holy grail of subtle facial rejuvination ("discomfort" aside, that is)
Ultherapy costs
This is not a cheap treatment. You can expect to pay at least $1300/£1000 for treating a substantial area. The official line from Ultherapy is that "Prices start at roughly $700/£500, though pricing can vary depending on the treatment protocol and will be discussed during your consultation. Treatment pricing will vary based on individual treatment plans as Ultherapy is customized to individual needs."
As with any tweakment, from Botox to body procedures like EMSculpt Neo, the price varies depending on who performs your treatment and which areas are being treated. Clearly, thousands are not pocket change, but many people require only one session of Ultherapy, rather than a course as is the norm with treatments such as laser. And of course, a few grand actually is pocket change compared with surgical facelifts, which run into the tens of thousands.
Ultherapy near me
Ultherapy is available nationwide, but as with any aesthetic treatment, it's crucial to do thorough research on the clinic or practice you are planning to visit. To find a list of GMC registered doctors and dermatologists, visit gmc-uk.org
Keep the following in mind before booking:
Only have Ultherapy by a medical professional, ideally, a physician who specializes in skin and never a beauty therapist or a salon worker.
Do your research. There is never any emergency cosmetic treatment. Take your time and investigate who you're going to see, go to several people or clinics to decide.
Be wary of special offers, chains with two-for-one deals, or persuasive staff. If you feel under any pressure at all, walk away.
---
Ultherapy with Dr Alexis Granite costs from £600 for the brow area to £2400 for the lower face, for more information visit www.dralexisgranite.com
Beauty Editor, womanandhome.com
As woman&home's Beauty Channel Editor, Fiona Mckim has tried more products than she's had hot dinners and nothing makes her happier than raving about brilliant finds on womanandhome.com or her instagram grid (@fionamckim if you like hair experiments and cute shih-tzus). Fiona joined woman&home as Assistant Beauty Editor in 2013 under industry legend Jo GB, who taught her everything she needed to know (learn about ingredients and employ extreme cynicism). She has since covered every corner of the industry, from interviewing dermatologists and celebrities to reporting backstage at Fashion Week and judging the w&h Beauty Awards.