Ultherapy: all the facts about this 'no-scalpel facelift'
Ultherapy is the skin-tightening treatment everyone's talking about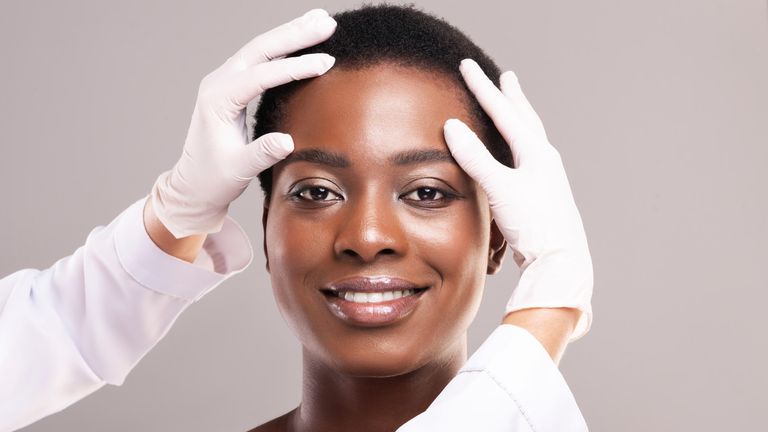 (Image credit: Getty images)
On first impressions, Ultherapy sounds a bit too good to be true. A non-surgical, non-invasive treatment that can achieve what no cream, laser, or needle has managed before - tightening loose skin.
We all know the general rule in beauty, as in life, is if something sounds too good to be true, it probably is. But do you know what else didn't sound realistic when it first hit the mainstream? An injection that freezes wrinkles, a chemical solution that turns black hair blonde, or a handheld device that blasts hair dry and sets it into a shape of our pleasing. You'd have to go a long way back for the best hair dryers to be considered pure futuristic fantasy, but you get my point.
What I'm saying is, there's a reason interest in this non-invasive skin tightening procedure is on fire right now (internet searches for Ultherapy are up 234% in the last 12 months). It promises great things and, along with microneedling and eye lift surgery, is a darling of the aesthetic scene with fans reportedly including Jennifer Aniston and Bobbi Brown. Then again, as with any 'tweakment', it's important to be realistic. Realistic about results, about costs and - I'm sorry to say it, but in this case, it's a crucial factor - realistic about pain.
Don't be scared. Let's dive in and discover if what's been dubbed the 'no-scalpel facelift' could be right for you.
Ultherapy - everything you need to know
How does Ultherapy work?
First things first, what exactly is Ultherapy, why is it one of the best skin tweakments, and if there's no scalpel involved, what exactly is doing the heavy lifting?
"Ultherapy is a non-surgical alternative to a facelift," explains Cosmetic doctor Dr. Rekha Tailor. "It's often described as a lunchtime facelift because of the speed and effectiveness of the procedure. It's used to counteract signs of aging like skin sagging and wrinkles on the face, neck, and chest as well as drooping of the brow area."
There are no needles with Ultherapy; nothing injected, nothing stiffens, nothing fills. All that happens is an ultrasound wand is applied to the parts of the face from which collagen is rapidly departing, the neck, the cheeks, the brow, and of course, the jawline. The resulting heat, produced by very targeted sonic waves, kickstarts lazy collagen into frenetic activity; this ultimately re-tightens and lifts the face."
Aside from the very appealing lack of needles or knives - who doesn't love that? - Ultherapy is booming due to its versatility and life-friendly appointment time. "Once lockdown lifted, I had a waitlist of patients ready to have their Ultherapy treatment, and I predict we'll continue to see a rise due to its natural results, longevity, and zero downtime," Says oculoplastic Surgeon and facial aesthetics specialist Dr. Maryam Zamani.
"Ultherapy has the benefit of stimulating collagen production and therefore leads to glowing, healthy, more taught skin. I love this treatment for many different age categories as it is a one-time, one-hour treatment with excellent long-lasting results."
However, these results won't be immediate. You can expect to see the best effects around two to three months after the treatment once all that lovely new collagen has formed. Things can keep improving for several months after that and last around a year.
Pretty convincing stuff, isn't it? And for every glowing report by a medical expert who performs Ultherapy, you'll find just as many happy patients who've had it performed upon them. But there is one aspect of Ultherapy that doesn't always receive such high praise, and that's comfort levels during the treatment.
Is Ultherapy painful?
If you've ever had a cosmetic treatment, you know the drill: If they say it's "relaxing," you're in the clear, "comfortable" means tolerable, "tingling" can be anything from a mild prickle to a scorching burn and if they say you will feel "some discomfort" expect pain.
Ultherapy, by all accounts, does involve a level of discomfort. This can vary hugely from person to person, depending on the area treated, the duration of the treatment, which can be anything from 20 minutes for one small area to two hours for a full face and neck. The depth in the skin that is being targeted affects comfort levels as well, and of course, so does your own tolerance for pain.
Some people describe it as being like a toothache when going over the jaw. It's also been likened to a buzzing sensation, while some say they only felt the heat. The best way to get a sense is to visit Internet forums such as the very useful Real Self, which is essentially Tripadvisor for cosmetic procedures with a huge variety of first-hand accounts.
Here's the bad news. In order to do its job, Ultherapy delivers heat to stimulate collagen within the skin, which might hurt a bit. The good news is that clinics have devised plenty of ways to make it more tolerable, from using a topical numbing cream when targeting a superficial layer of the skin to over-the-counter pain relief medication, anti-inflammatories, and cooling devices.
Also, the beauty of this treatment is its ability to be tailored to your needs, so the medical professional carrying it out can respond to your comfort levels, adapt the depth, and take breaks when treating larger areas.
Ultherapy before and after results
They say a picture speaks a thousand words, and in the case of aesthetic treatments, that probably rises to a million. So how about I stop writing for a minute, and you take a look at some of the most compelling Ultherapy before and after shots on social media before you learn about costs and downtime? You're welcome.
Ultherapy costs and downtime
Naturally, this varies depending on where you go for your Ultherapy, who performs it, and which areas are being treated. That said, the official line from Ultherapy is:
"Prices start at roughly $700/£500, though pricing can vary depending on the treatment protocol to achieve your desired results and will be discussed during your consultation with your aesthetic practitioner. Treatment pricing will vary based on individual treatment plans as Ultherapy is customized to individual needs."
Obviously, upwards of half a grand is not pocket change, but this makes Ultherapy a relatively affordable 'tweakment.' This is particularly true considering that many people require only one session, rather than a course as it is the norm treatments such as laser. And of course, $700/£500 actually is pocket change compared with surgical facelifts, which run into the tens of thousands.
In terms of downtime, aka visible aftereffects that force you to cancel plans (or not cancel them but turn up wearing a giant hat and veil in the style of Sex & the City's Samantha Jones), that's minimal too. Mild skin flushing, tenderness, or slight swelling in the area is normal, although this usually subsides within a matter of hours or at most a day or two.
Essentially, you may not want to make plans that evening, but unless you're very reactive or unlucky, you can probably fill your calendar the next day.
Ultherapy near me
Ultherapy is available nationwide, but as with any aesthetic treatment, is only as good as the professional who administers it.
The Cosmetic Skin Clinic in Buckinghamshire and London is renowned for Ultherapy treatments and has been awarded the UKs only Ultherapy Centre of Excellence.
Elsewhere, do thorough research on the clinic or practise you are planning to visit. Keep the following in mind before booking:
Only have Ultherapy by a medical professional, ideally, a physician who specializes in skin and never a beauty therapist or a salon worker.
Do your research. There is never any emergency cosmetic treatment. Take your time and investigate who you're going to see, go to several people or clinics to decide.
Be wary of special offers, chains with two-for-one deals, or persuasive staff. If you feel under any pressure at all, walk away.
For more information, and to find a list of GMC registered doctors and dermatologists, visit gmc-uk.org