Biab nails: what are they and how long do they last?
Nail pros explain all about BIAB nails – plus our beauty ed tests this strengthening 'builder' mani that lasts for weeks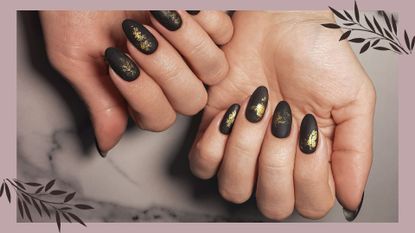 (Image credit: Future/Getty images)
woman&home newsletter
Sign up to our free daily email for the latest royal and entertainment news, interesting opinion, expert advice on styling and beauty trends, and no-nonsense guides to the health and wellness questions you want answered.
Thank you for signing up to . You will receive a verification email shortly.
There was a problem. Please refresh the page and try again.
You may not have heard of BIAB nails until now, or perhaps the word is vaguely familiar but you aren't sure what's actually involved.
This trending technique is increasingly on the lips of those in the know and destined to be one of the top nail trends 2023 will give rise to – with very good reason. BIAB promises a nail-strengthening treatment, topped with anything from neutral nail designs to sparkly nail art, that's more hard-wearing yet also gentler to your natural nail than gels.
This is a strong claim because most nail services fall into one of two categories: Traditional polish offers superior nail care but can chip within days or even hours – and who has time for that? Or, you can choose between dip powder nails, gel or acrylic nails, all of which are hard-wearing but potentially nail-knackering in the long term. BIAB'S promised combination of kindness and endurance certainly sounds like the holy grail, so we tried the service for ourselves and asked expert nail technicians to answer all your BIAB questions.
BIAB nails: a complete expert guide
What are BIAB nails?
"BIAB is a soak-off gel that is harder than regular gel polish," explains Treatwell Nail Expert Laurie Nicholl, (opens in new tab) from Lacquered & Stripped Salon. If you're wondering where the name BIAB comes from, it's an acronym created by The Gel Bottle, a British-owned brand that invented the service. "Builder In A Bottle aka BIAB, are a range of soak-off gel builders ideal for creating strong overlays and as a strengthening barrier for natural nails." explains nail expert and The Gel Bottle content creator, Tiffany Abbigaile (opens in new tab).
In terms of appearance, you can expect a smooth, plump, and robust nail, in a limited range of colors. "BIAB usually comes in clear or colors like pink," says Nicholl. But if you are a gel mani fan you can combine the two. "A gel nail color can be painted directly on top of BIAB or you can make the most of our BIAB shade range and simply top coat for beautiful nude nails," explains Abbigaile. This means you can achieve pretty much any look you like, from a simple pink nail design to getting creative with nail art if that's your thing.
What happens during a BIAB nails appointment?
In order to test the service, I booked the service at Lyttle Minx in London, a Treatwell (opens in new tab) Partner salon. While the treatment definitely takes a little longer than your usual gel mani (block out 1.5 hours to be safe) if you've ever had salon Shellac or are au fait with how to do gel nails at home, a BIAB appointment will feel like familiar territory, with a few key differences. Tiffany Abbigaile explains:
Prep: "Firstly we will perfectly prep the nails, this includes pushing back the cuticles, cuticle trim, buffing, and filing the nails into shape. We will then ensure no dust is left on the nail plate with a nail brush, then a wipe of acetone on a lint-free pad."
Base: "Working on one hand at a time the next step is to apply a thin layer of BIAB on all five nails and cure on low heat mode for 99 seconds."
Gel: "We then work on one nail at a time. Apply another thin layer to the nail, whilst this is still wet we pick up a small bead of gel and place this near the cuticle and work this down the nail side by side. We turn the nail upside down to create an apex then cure for 99 seconds and repeat these steps on all nails."
Finish: "You can then choose to either topcoat, apply gel color, or nail art. Finish off with cream and cuticle oil." This top coat is instantly dry, like gels, which will be a bonus for anyone seeking to learn how to dry nail polish fast.
Who are BIAB nails best for?
The world can be divided into a few nail personalities. There are those who like to keep things short, clean, and au naturale. There are those for whom knowing how to paint your nails means a cute squoval nail shape in a single on-trend color, then there are acrylic addicts with long, nail-art adorned talons. Luckily BIAB is a fairly adaptable service for almost any nail preference.
"BIAB is perfect for clients with weak natural nails who want to grow them out, or clients who want the strength of extensions without the length," explains Nicholl. We recommend applying BIAB on natural nails as we find it's great for clients who want to keep their natural length. For regular gel polish wearers, we recommend switching to BIAB if you find the gel removal process has weakened the natural nail."
How long does BIAB last on nails?
As for the million-dollar question, how long does BIAB last? Experts agree that up to four weeks is the industry standard, although they can last longer. I can report that a fortnight on from my appointment my BIAB is still 100% perfect, with no chipping, or lifting of the shellac on top. The best thing is how trustworthy BIAB feels, my nails seem unusually strong and robust. I've been opening cans of Diet Coke worry-free and enjoying the satisfying 'clack' of drumming them on hard surfaces to communicate impatience when the occasion calls.
If you want to extend the life of BIAB, you can have an appointment for infill of the regrowth, which is actually one of the key benefits for nail health. "Since the product can be infilled, it reduces damage to the natural nail caused by removing gel polish," explains Nicholl. I'm enjoying my stronger, longer nails so much I fully intend to have my BIAB filled in so they will see me through another month.
Does BIAB damage your nails?
In short, no! BIAB works to strengthen the natural nail and prevent breakage or weakness that is typically caused by acrylic extensions or naturally brittle nails. If you are a nail-biter, it will help you to kick that habit too, as BIAB is too strong to bite through. It also won't chip or break, so the nail underneath remains protected and is able to grow.
How are they removed?
Unsurprisingly, every expert we spoke to stressed the importance of professional removal, to preserve the health of the natural nail. "The bulk of the product needs to be removed first by either a nail file or electric nail file. We will then soak a cotton pad with acetone, place it on the nail then wrap it with foil," explains Abbigaile. "After a few minutes, the foil can be removed one nail at a time, by gently scraping away the product with a metal cuticle pusher."
This doesn't sound like it would be the healthiest move for your natural nail (ask any expert is acetone bad for your nails and the reply is a resounding yes) but steps are taken to ameliorate any damage. "Once removed, we rehydrate the nail with cream and oil," explains Abbigaile.
Are BIAB nails better than acrylic?
The answer to this question depends on what you want to achieve with the look and feel of your nails. In terms of nail health, BIAB is definitely a better alternative to acrylic as it provides increased strength without compromising the natural nail.
When it comes to extensions, the answer is trickier. Whilst extensions can be done with BIAB, they typically won't be as long as acrylic ones. "BIAB can be applied on acrylic or UV Gel; however, it won't enhance the result of the extensions. With BIAB, you can do very short extensions, but they usually need to be done with tips, not sculpting," explains Nicholl.
If you want to work on growing your natural nails and eliminate extensions altogether, BIAB is definitely the best option for you. If you are consistent with BIAB and get regular infills, it won't take long for your natural nails to grow long and healthy.
How much do BIAB nails cost and where can I try it?
If you like the sound of BIAB and are keen to try the service for yourself, it is currently available at selected The Gel Bottle partner salons nationwide. The best way to find one is to check your local nail bar on Treatwell (UK) (opens in new tab) or Booksy (US) (opens in new tab)
The costs will vary from salon to salon but expect to pay around $65/£45 for your first set, the same again for infills, and $20/£15 for removal.
"BIAB is growing in popularity amongst our customers. We definitely expect to see more salons adding it to their treatment menu," says Nicholl. And we say, bring it on!
Can I do BIAB nails at home?
As with most beauty treatments, going to a professional will always garner better results than doing it yourself. However, if you are very skilled at DIY nails and have the right equipment, it is possible to do BIAB nails at home.
BIAB functions much like regular gel polish in terms of prep and method, so is painted on as a base coat that then has to be cured with a UV lamp. However, due to the thick and gloopy texture of BIAB, it can be difficult to control and apply correctly, which is where professional skill is needed. If you want to achieve the look of BIAB from home but lack a nail tech diploma you could use one of the best at-home gel nail kits to replicate the effect. There are a host of products available that are easier to use and will help you fake it.
Our beauty team recommends...
---
Beauty Editor, womanandhome.com
As woman&home's Beauty Channel Editor, Fiona Mckim has tried more products than she's had hot dinners and nothing makes her happier than raving about brilliant finds on womanandhome.com or her instagram grid (@fionamckim if you like hair experiments and cute shih-tzus). Fiona joined woman&home as Assistant Beauty Editor in 2013 under industry legend Jo GB, who taught her everything she needed to know (learn about ingredients and employ extreme cynicism). She has since covered every corner of the industry, from interviewing dermatologists and celebrities to reporting backstage at Fashion Week and judging the w&h Beauty Awards.