BIAB vs gel nails: What's the difference? Plus, how to choose the best manicure for you
Our expert guide weighs up BIAB vs gel nails to help you settle on your next salon treatment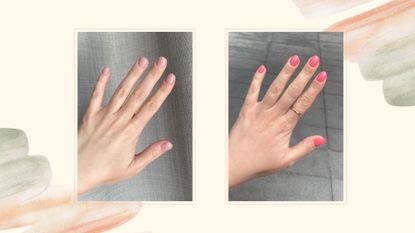 (Image credit: Lucy Abbersteen)
woman&home newsletter
Sign up to our free daily email for the latest royal and entertainment news, interesting opinion, expert advice on styling and beauty trends, and no-nonsense guides to the health and wellness questions you want answered.
Thank you for signing up to Woman & Home. You will receive a verification email shortly.
There was a problem. Please refresh the page and try again.
The nail salon treatment menu is an ever-growing entity, and there are now more manicure options than ever before. Each comes with its own benefits and downsides, but in this particular woman&home guide we'll be comparing BIAB vs gel nails.
The gel manicure has been around for decades, while BIAB nails involve a type of builder gel, a newer category that has surged in popularity over the past few years and cemented itself as one of the biggest 2023 nail trends. And while both are brilliant options that have amassed legions of loyal fans, there are key differences between the two, and you may be undecided as to which is the best choice for you.
To help you decide which one is the best manicure option for your lifestyle and budget, we spoke to three nail experts to get their qualified insights into the pros and cons of each to compile this dedicated guide. Here's what you need to know about BIAB vs gel nails...
BIAB vs gel nails: our expert guide
What are BIAB and gel nails?
A gel manicure involves painting the nails with colored polish that has to be cured under a lamp to harden. Available in just about every shade you could wish for, including on-trend summer nail colors, these polishes are more durable than the kinds you can pick up in Walmart or Boots and can therefore last as long as two weeks.
A type of builder gel, BIAB, on the other hand, stands for "Builder In A Bottle", with the acronym trademarked in the UK by The GelBottle Inc. "BIAB is a medium viscosity builder gel designed to be used as a natural nail overlay, mimicking the nail's natural apex and providing strength to the nail plate underneath any gel color or top coat," Giorgia Cappella, the brand's training and education manager, tells woman&home. "Unlike a regular manicure, this service can protect the natural nail against breakages by providing structure to the nail's stress point."
It's this last point that has caused builder gel manicures to surge in popularity over the last few years, as the protection allows many to grow their natural nails.
BIAB vs gel nails: Key differences
Appointment length: BIAB requires more sculpting and building of the layers to create structure and durability and therefore takes longer if colored polish is also applied over the top. Expect to allow up to an hour for a gel manicure and an hour and a half for BIAB nails.
Colors: The choice of colors, though growing, is more limited with builder gel formulas, though manicurists normally get around this by using a clear or light builder gel base with gel or regular nail polish over the top.
Durability: As with acrylic or dip powder nails, BIAB is more durable than regular gel polish and therefore more hard-wearing, so you are less likely to chip or break a nail.
Feel: Similar to the above, there's a difference in how these treatments feel on your nails. Depending on how strong they are naturally, your nails can still feel a little flexible with regular gel polish, but not with builder gel as it's applied in a thicker layer and is stronger.
Look: Because builder gel is and is sculpted into a protective overlay, and has a denser consistency to more fluid gel polishes, BIAB nails look thicker, too.
Price: Because of differences in appointment length and technique, gel manicures cost less than BIAB nails, usually by at least $10.
Is BIAB the same as gel?
Though BIAB is a type of builder gel, it is quite different to gel nail polish or shellac nails. "BIAB is a strengthening gel that contains pigment, which means it can be built up on top of your natural nail to create a beautiful, shiny manicure," says Aussie Parnell-Raghnal, nail technician at Duck & File Mayfair. "Gel polishes are a liquid form of polish cured under a UV lamp, whereas BIAB has a much thicker consistency with a stronger base."
Because of its thicker consistency, builder gels like BIAB are also applied very differently, manicurist Alex Philamond adds. "It also cures differently under the lamp and so it's important that it's done so on a low heat setting for the prescribed amount of time," he explains.
"Because it is a fairly new product, the color ranges aren't nearly as extensive, with most builder gels being available in nudes or neutral colors, but this is advancing so quickly as brands launch new collections," he continues. "Regular gel polish can be painted over the top, however, so this shouldn't curb your choices too much."
Does BIAB last longer than gel?
Yes, BIAB does tend to last longer than the two-week lasting time of a gel mani. "It's applied with a thicker layer to your natural nail, while gel polish is usually applied as a thin layer," says Parnell-Raghnal. "It is more durable, so [can last] three-to-four weeks."
"That's the innovation behind it that has created its spike in popularity," Philamond says of the durability of builder gels like BIAB. "Most manicurists would not prescribe leaving more than three-to-four weeks between appointments in order to preserve the health of the natural nail. Builder gel can either be soaked off, or infilled by removing old, lifted product and applying fresh gel over the top."
Are there any downsides to BIAB vs gel nails?
BIAB is brilliant, but there are a couple of reasons that a gel manicure might be a better choice for you. For one thing, the longer technique and time means that the service tends to cost around 10 dollars or pounds more than gel polish alone. "There are barely any downsides, bar the fact that due to its thicker consistency, it can take an extra couple of minutes to soak off and remove [compared to gel polish]," Philamond adds. "It is important for your manicurist to have enrolled in the correct training in how to apply builder gel, as it's a technical application process that differs greatly from regular gel polish. Enquire that your manicurist is proficient and experienced in builder gel before booking in, to ensure you receive the best and longest-lasting results."
BIAB vs gel nails: the woman&home verdict
When weighing up BIAB vs gel nails, this debate really comes down to your priorities. If you are looking to grow your natural nails or need something that is that little bit more hardwearing, but you aren't keen on acrylic nails, builder gel is without a doubt the best choice. The sturdy overlays protect nails from the environment and significantly reduce the chance of them splitting or peeling – and I say that as someone who has only ever grown their natural nails to an extension-worthy length thanks to BIAB.
For those who want to spend less on a shiny manicure, however, gel or shellac is still a great choice as it is fairly chip-resistant and lasts for around a fortnight – which is still far longer than most people can make a manicure with traditional nail polish last. The generally shorter appointment length, for both application and removal, is also a plus for those who struggle to fit in a salon visit. Ultimately, think about your manicure needs from a time, cost, and lifestyle perspective to work out which is best for you – and, if don't need to commit to trying just one in the next few weeks, give both a try to compare for yourself!
Sign up to our free daily email for the latest royal and entertainment news, interesting opinion, expert advice on styling and beauty trends, and no-nonsense guides to the health and wellness questions you want answered.
Lucy is a UK-based beauty journalist who has written for the likes of Marie Claire, Cosmopolitan, OK!, Women's Health and more, as well as contributing to woman&home. Her work covers everything from expert skin and haircare tips to the latest product launches and the show-stopping beauty looks spotted backstage at London Fashion Week. During her career she's interviewed some seriously famous faces, from Little Mix to Drag Race royalty The Vivienne, as well as chatting to the industry's leading hairdressers, dermatologists and make-up artists.