Dip powder nails: everything to know about the gel manicure alternative
Intrigued by dip powder nails? We explain this salon technique, from how they differ to gel nails to how long they last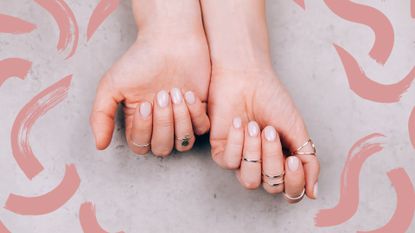 (Image credit: Future/Getty images)
You've heard of the classic gel manicure and acrylics, but dip powder nails are a lesser-known method among the masses.
While this technique isn't exactly new, dipping has seen a bit of a resurgence in recent years with dip powder nail designs popping up all over social media. "Dip systems have been around for a number of years and have become popular again recently," says nail health expert and OPI education manager Belinda Price . "New technology and design options such as ombré effects have been partly responsible for the demand for this service."
So what are the benefits of dip powder nails when compared to a gel or acrylic manicure? Are there any drawbacks to know about before you book in? If you're intrigued by the prospect of changing up your go-to manicure, here's what you need to know to find out if they're right for you.
Dip powder nails: your complete guide
What are dip powder nails?
Dip powder nails get their name from the method: your nails are dipped into or brushed with powder pigment, rather than painted with more traditional polish. Some technicians may apply a single layer of top coat at the end but, unlike BIAB nails, this treatment is otherwise UV lamp-free. The powders can be applied both to your natural nails or with extensions, depending on your preference.
Dip powder is often referred to by the brand name SNS nails, but is also available in-salon from other brands, "OPI's Powder Perfection professional dip system is perfect for those who need a little more support on their nails than gel polish alone provides," Belinda tells us. "The nail is covered in a layer of base coat, then dipped into the powder (or, sometimes, the powder is poured on), which is built up in layers to give a protective, strong enhancement."
It varies from brand to brand, but dip powder is available in a broad range of shades, so depending on your salon you should be able to choose your go-to classic shade or dip into seasonal trends like ombre nails or fall nail designs and colors without any problem.
Is dip powder good for your nails?
If applied and removed carefully and properly, dip powder shouldn't have a long-term negative impact on your natural nails. In a similar manner to the way that gel overlays can actually help to protect your natural nails from breakage, a dip powder manicure also acts as a protective "shell", allowing them to grow.
As with learning how to remove gel nails, it's best to have your dip powder manicure removed in-salon to keep the impact on your natural nails to a minimum – though removal will often involve soaking the nails in acetone. We recommend investing in one of the best nail strengtheners to give your nails a bit of TLC post-removal.
Are dip powder nails better than gels?
The main advantage that dipped nails have over their gel counterparts is that many people find that they also last longer than acrylics. "When correctly applied and taken care of, dip powder nails are better than gel polish for durability and can last up to four weeks," says Laura Jones, founder of nail powder brand Dipped.
I've personally found that the main noticeable difference in the finish of a dipped powder manicure, when compared with gel, is that your nails feel much stronger and have pretty much no "bend" to them.
Laura also notes that those who develop allergies to gel polish will often turn to dipping powder because many systems are HEMA-free (but if you fall into this camp, always do your due diligence and check before application). She adds that although allergic reactions are rare, "Like all nail products, on occasion users may have an adverse reaction to either the liquids or the dip powder." If you notice anything unusual after a dip powder manicure, always consult your doctor.
What do dip powder nails look like?
To see the results on my very own hands, Treatwell, a booking site and app that allows you to filter by service and by location, booked me in to try dip powder nails. (It's currently only available in the UK and select European countries, but US readers can try Booksy)
You can choose from whatever colors your chosen salon has on offer, and single colors such as white nail designs are popular, but I opted for a classic nude pink nail design by OPI. Understated, sure, but it goes with everything and I'm quite into this "no manicure manicure" trend, fuelled by Hailey Bieber's viral signature manicure. My own nails are quite weak, so I chose to have short extensions applied with my dip powder nails – and the results look suitably chic if I do say so myself.
At the time of writing, one week on my nails are still looking almost as fresh as when they were first applied, save for a small gap at the base where my natural nails have grown out. Perhaps more importantly, though, they don't feel any weaker and still have next to no "bendiness".
What happens at a dip powder nails appointment?
First, your technician will remove any existing polish from the nails – be sure to book this service as an add-on if you have regular or gel polish on, for example.
"Following thorough nail prep, nails are coated and dipped one at a time in base coat and [colored] powder," OPI tells us. Any excess is dusted off, with the process repeated a few times to build up layers of powder for that durable finish. "The activator sets the product, then it is filed and shaped and top coat applied."
The appointment will probably last you up to an hour, give or take – longer if you are having soak-off removal first, but potentially less if you are only having dip powder applied to your natural nails.
Can you apply dip powder nails yourself?
Yes, but it requires a bit of practice. As with the best at-home gel nail kits, it is also possible to apply dipped powder nails yourself, If you're feeling adventurous. You can use products from brands like Dipped – who have several handy how-to guides online. Just be sure to familiarise yourself with all the relevant safety information and make sure you have a clean, well-ventilated workspace with sterilized tools, of course.
"Beginners may not apply enough dip layers while being cautious to avoid their nails becoming too thick," Laura tells us. "Thinly dipped nails can crack or chip as there would be no structure to the finished nail. We always recommend one dip layer thicker than you think you need, as you can always file and buff down to shape," she adds. "Another handy tip is to ensure your activator has not been used for more than three months."
Are there any downsides to dip powder nails?
Despite their name, when dip powder nails are applied in salon the powder should either be brushed or dusted onto the nail, or powder should be decanted into a clean, separate pot for dipping. Your nails should not be dipped straight into the main pot – this is very important from a hygiene perspective, otherwise, there's a high risk of bacteria and potentially even infection.
"To use a dip system hygienically, we recommend decanting the powder into a small pot, such as a small shot glass-type pot or plastic medicine cup, that contains powder for that customer only," Belinda says. "The cups or glasses can be reused if washed and dried thoroughly. The nails can then be dipped into that product and any left in the glass can be disposed of." Alternatively, the powder can be poured on to the base coat while wet, ensuring no contact with the original container, to minimise waste.
Good salons will already know this, of course, but if you're at all unsure don't be afraid to ask your technician how they apply dip powder nails and ask for the above processes to be followed. It's always better to be safe than sorry!
Sign up to our free daily email for the latest royal and entertainment news, interesting opinion, expert advice on styling and beauty trends, and no-nonsense guides to the health and wellness questions you want answered.
Lucy is a UK-based beauty journalist who has written for the likes of Marie Claire, Cosmopolitan, OK!, Women's Health and more, as well as contributing to woman&home. Her work covers everything from expert skin and haircare tips to the latest product launches and the show-stopping beauty looks spotted backstage at London Fashion Week. During her career she's interviewed some seriously famous faces, from Little Mix to Drag Race royalty The Vivienne, as well as chatting to the industry's leading hairdressers, dermatologists and make-up artists.