30 pink nail designs that will brighten up your winter manicure
Embrace vibrant and natural hues with pink nail designs for all shapes and lengths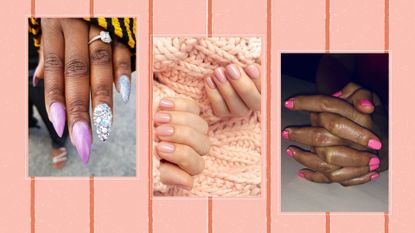 (Image credit: Future/Getty images)
Pink nail designs will never go out of fashion in our book. This beautiful hue offers incredible versatility, as well as injecting some much-needed fun into an everyday manicure.
From deep fuchsias to muted baby pinks, the options for nail designs are endless with pink. A color that works year-round, and for almost any occasion, there is no going wrong here. However, the versatility of pink nail looks can make choosing just one overwhelming, which is why taking inspiration from our expert roundup of looks can help you avoid that tricky deliberation stage at the salon.
As we approach party season, we can expect to see glitter nail designs in particular making waves. One trend manicurists are seeing for AW22 is the classic pink French tip, reinvented. "French manicures are trending so much this year. As party season is upon us, we'll see a lot more glitter French manis," predicts Tinu Bello (opens in new tab), Senior Ambassador at Mylee. So whether you opt to keep things classic with your pink nail designs, or push the boat out with sparkles and ombre nails, pink will make a beautiful statement this season.
30 pink nail designs to inspire your next salon visit
1. Pink French tip nails
You can never go wrong with classic French tip nails, but it doesn't hurt to switch up the color scheme in favor of something bolder. Keep your natural nail color underneath and opt for a bright Barbie pink for a unique yet versatile look.
2. Pink accents nails
To make your pink nail design's accents truly stand out, pair them with contrasting colors. Green is opposite pink on the color wheel, so the two combined make for a delightfully punchy combination. We recommend investing in a detailing brush to achieve razor-sharp lines like these.
3. Pink marble nails
Marble nail designs are rising in popularity, and this pink design confirms why. Opt for a marble accent nail to make the design pop, or go bold with the pattern on every nail. Use a darker glitter polish to add accents for a textured feel.
4. Pink glazed donut nails
Glazed nails went viral this year thanks to model Hailey Bieber, and the chrome effect is perfect for winter pink nail designs. This holographic style tends to color shift, so is ideal for those who want a subtle pink, with some added interest. Use an extra shiny top coat to really make your nails gleam.
5. Classic baby pink nails
Sometimes simple is best. This gorgeous baby pink hue compliments shorter nails perfectly and is sure to match every outfit. On natural nails, especially when using gel polishes, it is worth "applying cuticle oil daily to keep your nails super healthy," says Bello.
6. Pink aura nails
Aura nails are a new take on ombre styles, where the fade is spherical. This design is soft and muted but still packs a punch, and can be done with any colors of your choice. Begin with a neutral base color to make your chosen aura color really stand out.
7. Pink nail art
When searching for nail designs for short nails, it can be tricky to find achievable styles. We love this simple floral design as it can be done on any length, and will look just as good glossy as it does matte. If you don't have nail tools to hand, use the end of a hairpin to create dots and lines.
8. Milky pink nails
For a natural take on pink nail designs, we love this light milky color. Giving a your-nails-but-better effect, it works on all skin tones and nail lengths. If you do your nails at home, try mixing pink, white, and a shiny top coat to achieve a totally customized look.
9. Pink glitter nails
"Glitter lasts much longer than most nail polish," says Bello. "Encapsulate glitter with builder gel or magic extender gel for a strong overlay on your nails. This will stop any chipping and give it a smooth finish."
10. Contrasting pink nails
Can't decide between dark or light pink? Have both! Experiment with different ways of separating the colors using glitters or an ombre fade; the options are endless. When using jewels, seal them in with a gel top coat for long-lasting bling.
11. Pink detail nails
Add details like swirls and lines with various pink hues for a unique yet versatile look. We love the pairing with orange for a statement, but you could equally replace it with white for a toned-down take on the style. Use a taupe-colored base to make the small details pop.
12. Pink ombre nails
Ombre doesn't just have to refer to a gradual fade on each nail. For an easy at-home look, use varying shades of pink to create a horizontal ombre across your hands. Add glitter or some nail art to level up the look.
13. Pink polka dot nails
Another simple DIY look, all you need for polka dots is something small and round to stamp the polish on. Adaptable for all nail lengths, this is a truly foolproof style. Try applying a white base coat and adding bright pink polka dots to create a statement pattern.
14. Pink glitter french tip nails
Glitter French tips are all the rage this season, and we love how they look with pink tones. Adaptable for square or round nail shapes, this style is a great way to add a hint of glitz to your manicure. Use a fine nail brush to get crisp smile lines for the perfect tip.
15. Matte pink nail art
If pink makes up the plainer part of your manicure, add a matte top coat to create some texture and liven up the design. We love how this bright color makes the marble design stand out, which is ideal for party nail designs.
16. Diagonal french tip nails
Had enough of the classic French tip, but still not ready to abandon the style altogether? Try a diagonal tip, a unique design we've not seen on very many people's radars yet. For added luxury, add a gold or silver transitional polish.
17. Pink chrome nails
Chrome is a glossy alternative to glitter, ideal for something slightly more toned-down that still has party appeal. We think chrome polishes look best in light colors, so opt for a baby pink hue for a bright and beautiful mani.
18. Short pink french tip nails
French tips aren't just reserved for long nails. The style can be achieved on any length, and we love this natural and refined look. Bright pinks will stand out against your hands, meaning this gorgeous design will draw the eye despite the shorter length.
19. Pink animal print nails
Leopard is one of our favorite prints, and it works perfectly for pink nail designs. Use pink either as a base shade, or use varying pink tones to build the design. From mattes to glitters, there are hundreds of ways it can be interpreted.
20. Pink matte glitter nails
To make your accent nail even more statement, try out matte glitter. This can be done with a matte polish, or by applying a matte top coat to normal polishes. For a textured look like this one, ask to try dip powder nails next time you go to the salon.
21. Pink marble tips
A combination of two of our favorite pink nail designs, these marble tips are a true statement look that will set you apart from the crowd. This is probably best achieved in the salon, where your artist can embrace the uneven lines to get a completely bespoke finish.
22. Pink stripe nails
Combine ombre, French, and stripes for this totally transfixing pink nail design. Nail prep is key to getting this design to look as clean as possible, so ensure to cleanse the nail with acetone and push back cuticles before you begin painting.
23. Pink Christmas nails
Don't think you can only stick to reds and greens for Christmas nail designs. There are infinite ways to make pink a festive color, and we love this snowy design. If painting snowflakes is slightly beyond your capabilities, invest in some nail decals that can be easily stuck on.
24. Abstract pink nails
This design is ideal for those who struggle with intricate nail art but still want to create an eye-catching pink nail design. No need to invest in small nail brushes, just use the built-in brush on its side to create these flowy shapes.
25. Minimalistic pink nail details
Add subtle hints of pink through minimalistic details like hearts. Paint as many or as few as you like, or try adding an ombre effect by using different shades of pink on each nail. For a cohesive look, use a very light pink base coat.
26. Pink croc print nails
If leopard print isn't your speed, give croc print pink nail designs a go. Whether you prefer French tips, accent nails, or a uniform design, croc print can be incorporated into all of them. Stick to a skin-colored base coat to let the design shine.
27. Pink frame nails
This pink framing style is a beautiful twist on the classic French manicure, without moving too far away from it. Begin with your usual French style, and use your pink of choice to trace around the edges. You can also try this with glitter polishes for an extra pop of sparkle.
28. Pink squiggle nails
This artistic look is one of our favorite pink nail designs, and it will work for all nail lengths and shapes. Plus, it's super easy to achieve from home. Begin with a clear base coat, then apply two layers of each squiggle for an opaque finish.
29. Pink embellished nails
Add gems and pearls to create a 3D element in your pink nail designs. Stick gemstones onto wet nail polish and seal in with a top coat to ensure maximum lasting power. Opt for pink gems to really lean into the color palette, or go for whites and silvers to add some brightness.
30. Natural pink manicure
You really can't beat classic baby pink nail designs. For a minimalistic look that will never go out of style, natural nails with a muted block color is our go-to. Seal with a shiny top coat and you're ready to go.
Amelia joined woman&home after graduating with an MA in Magazine Journalism from City University in 2022. She specialises in lifestyle journalism and throughout her undergraduate degree she wrote for a variety of student publications, where she developed a love for all things style, beauty and sustainable fashion. She has previously written for titles including OK! Magazine, New! Magazine and Notion before she started her career as a lifestyle journalist with woman&home after completing an internship with the brand.