Fresh nail designs for short nails, from bold colors to cute nail art
Size isn't everything! Or edit of nail designs for short nails will inspire you to try something new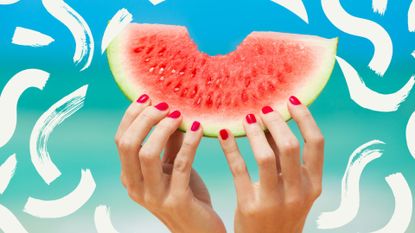 (Image credit: Getty / Future)
Contrary to popular belief, nail designs for short nails don't have to involve a single shade only, or be plain old nude in order to 'extend your fingers' (which always sounds a bit creepy and witch-like to our ears)
In fact, if you struggle to grow your nails or simply prefer to keep them short, there are bucketloads of nail designs available to you, from on-trend French tip nails to juicy brights that'll enhance your neat nail shape. "Bold colors work amazingly on short nails," agrees Elegant Touch Nail Technician Sara Sordillo. "Short nails can really pull off punchy vibrant colors as they don't detract from your finished look. Or, opt for dark and jewel tone colors on short nails for real rock and roll twist." These also make excellent fall nail designs and colors, if you like to switch up your mani seasonally.
As with any manicure look, picking nail designs for short nails comes down to your personal taste, mood, occasion, and the shape and skills you're working with. Here's how to get it right.
Choosing nail designs for short nails
Consider nail shape: "This largely depends on how much of a free edge there is (this is the part of the nail which is not connected to the finger)" explains Sordillo. "Great shapes for short nails are square, squoval nails, oval or round as shapes will grow out easily. Short and pointed is possible if there is enough free edge but with a tapered tip you are always more likely to break a nail. I would recommend going for an almond shape as this style has less of a fine tip on a shorter nail."
Go simple and striking with nail art: "Ombre nails. and abstract nails are an easy way to feature nail art on short nails," says Sordillo. "Create swirls and block shapes in bold color on each nail. This means every nail is different and the best part is, you don't have to create perfect shapes," she continues. "Or, a '90s influence is still going strong with daisy patterns. Simply make random dots in yellow color with spacing between them, then dot five spots around the yellow to create petals – voila!"
21 short nail designs to inspire
1. Fruity Nails
Step into summer with these bright lemon nails, the perfect yellow to welcome warmer days. For more nail art, ask your stylist to distribute the pattern throughout your nails, or scale it back by opting for mostly color-block. Either way, these nails are the ultimate holiday design.
2. Minimalist Nail Art
If you're new to nail art, looking for something more paired back, or just want to try a design at home, minimalist nail art against a nude base is your first stop. Nail care is key, so ensure your nail beds are properly primed by tending to cuticles before applying a good quality base coat and nude shade. Using a small makeup brush, trace the heart design on the nail and finish with a clear top coat.
---
3. Matte with Simple Art
This elegant and simple design is perfect if you're looking for garden party nails and can easily be recreated at home. Begin with a couple of layers of a matte green color to build the base (or try dip powder nails, which tend to have a matte finish) Then using a small makeup brush, apply dots to create the minimalist daisy look. Not sure you've got the skill? Follow Sara Sardillo's quick cheat, "If you want an easier solution opt for Elegant Touch Crazy for Daisies press-on nails, which can be applied in a jiffy and will give you ping-proof nails that last for up to 10 days."
---
4. Pretty in Pink Nails
Pretty pink pastel nails are a great choice for short nails, especially when filed into a squoval shape (square oval). Keeping it classic with a baby pink ensures that your manicure will go with everything. Just ensure your nails are properly prepped beforehand as a simple design means your cuticles will be the focus!
---
5. Sunset Ombré Nails
Whilst of course you can go to the salon to achieve your ombré print dreams, this dreamy sunset color combination is actually easy to recreate at home. Paint orange and pink on your nail in two horizontal lines. Then, using a beauty blender or sponge, blur the two colors together. If you want to scale back this look, opt for ombré on just a few nails.
---
6. Sunny Sunflower Nails
Floral designs always look elegant and sophisticated, and we love this summery sunflower design. We recommend visiting the salon for this look to achieve an expert finish. However, if you have the skills or didn't quite manage to make an appointment in time for your event, this look can also be achieved with a small makeup brush, Q-tip, and patience!
---
7. Abstract Tips
If you like abstract nails but are looking for a more simplistic design, scale it back by opting for abstract tips. Marry your favorite colors and customize this look by selecting a palette that suits your mood.
---
8. Summery Watermelon Inspired Nails
We love the watermelon theme of these nails! They introduce a pop of color to the end of your fingertips that perfectly suits summery weather and travel plans. Ask your stylist for intricate detailing to maximize the bright pattern.
---
9. By-the-Sea Nails
Seaside-inspired nails are a great option for summer and we love this elegant design that isn't too extreme. Recreate this look at home using three colors and a small make-up brush. Add more print than block color if you're looking for something more extravagant.
---
10. Neon Nails
Neon nails pair excellently with a tan during the summer months and we love the variation of hues across these nails. This design shows that simple nail designs for short nails don't have to be less impactful. Ensure a glossy, opaque finish by using one of the best at-home gel nail kits and paint at least two coats of each color.
---
11. White Square Nails
White nails are a recurring trend and we love seeing them! Although this design is simple, it packs a punch and ensures that your nails will team well with any outfit. The square shape is a great choice for shorter nails and looks amazing created using the Bio Sculpture nails technique if you want a smart, sophisticated, and tidy look.
---
12. Hot Pink Nails
Glossy hot pink nails will never disappoint. We love pairing striking nails with neutral outfits to let the design stand out. Perfect for an evening and easy to recreate at home, you can never go wrong with fuchsia!
---
13. Color Block Nails
Color block nails are a great choice if you're a novice in the nail art department and looking to add some color to your fingers. We love this sage green color, reminiscent of balmy evenings and summery garden parties. Paired with creams, whites, and baby blues, these nails will be the perfect accessory for your summer outfits.
---
14. Stripy Nails
Marrying bold colors in chunky stripes is a great option if you're looking for bright summer nail designs for short nails. Pick your two favorite colors and divide your nail in two with tape, and start painting one half. Let it dry then carefully tape over the join and paint the other half, before finishing with a top coat.
---
15. Daisy Chain Nails
Pastel colors and floral patterns will always be a firm favorite during the summer months. This elegant pinky-lilac color acts as the perfect base, then choose your favorite floral design to add on top. We love these daisies for their elegant look, which can also be created using a Q-tip for a chic finish.
---
16. Smiley Nails
Keep it cheeky and fun with these smiley nails. Use a nude base to create a neutral canvas and then, using a cotton bud, draw out the smiley faces and add the detail with a small makeup brush dipped in black nail polish. Secure with a glossy top coat to keep these nails looking fresh.
---
17. French Tips
Having shorter diesn't mean you have to miss out on a classic French manicure. This barely-there design is the perfect look if you want an elegant look that fits every occasion. Seal it in with a shimmery top coat to create a sparkly finish.
---
18. Mix-Match Print Nails
As nail art continues to trend, opt for striking printed nails of your choice. Whether you want cow print, a fruity or floral design, or summer theme, ask your nail technician to go bold with bright colors for maximum impact. This looks especially brilliant pool-side!
---
19. Subtle Glitter Nails
If you're searching for a classic nail design for short nails, aside from the French tip, opt for a glittery look that adds a dazzling edge to your nails. Recreate it at home using sparkly polish and a good neutral base coat, it's a hassle-free way to indulge in a disco vibe.
---
20. Abstract Nails
Abstract designs are a great way to create a bold look on shorter nails. Completely customizable, this look can be replicated with many different shapes and colors. Unleash your inner artist and try DIY-ing this look or ask your local salon to improvise creating a completely unique design.
---
21. Nude Nails
For the most classic nail design, nude nails pair elegantly with any outfit. Ensure that your cuticles and nail beds are correctly prepped before applying the varnish to ensure a professional finish.
---
Beauty Editor, womanandhome.com
As woman&home's Beauty Channel Editor, Fiona Mckim has tried more products than she's had hot dinners and nothing makes her happier than raving about brilliant finds on womanandhome.com or her instagram grid (@fionamckim if you like hair experiments and cute shih-tzus). Fiona joined woman&home as Assistant Beauty Editor in 2013 under industry legend Jo GB, who taught her everything she needed to know (learn about ingredients and employ extreme cynicism). She has since covered every corner of the industry, from interviewing dermatologists and celebrities to reporting backstage at Fashion Week and judging the w&h Beauty Awards.