Squoval nails: what they are and how to file them on any nail length
Expert nail techs explain how to create squoval nails – the most flattering nail shape around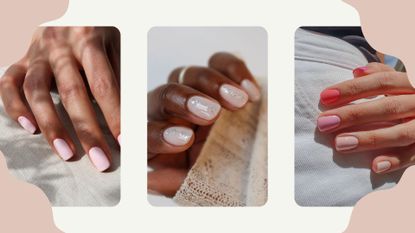 (Image credit: Future/MyTownhouse)
Squoval nails are having a moment. As seen on countless celebrities and influencers, this trending nail shape has quickly become one of the most requested in-salon. Softer than square, sharper than oval, squoval nails are elegant, chic, and universally flattering.
There are several decisions involved when having a manicure. Do you want nail art or no nail art? How about a pastel polish or something bright? And what about nail shape? Before your appointment, it's always good to do some research and scroll through fresh nail designs that will inspire your next nail look. And as for nail shape, why not consider the famous squoval.
Sitting somewhere between square and oval, squoval nails are the best of both worlds. "Squoval is an extremely popular shape and a favorite among nail techs, too," says Sophie Louise Martin, luxury gel manicurist, and natural nail specialist, "it's the perfect shape to create an effortless, chic manicure." It's also easy to do DIY. Here, we break down everything you need to know about squoval nails, including a step-by-step guide to nailing this shape at home. You're welcome!
Your complete Squoval nails guide
What nail shape is squoval?
Squoval is the goldilocks of nail shapes. Not too round and not too square – squoval sits somewhere in the middle. "The squoval nail shape is square with soft, rounded edges," explains Juanita Huber-Millet, founder of award-winning London nail salon, Townhouse, "which is why it's the ultimate crowd pleaser."
"It takes the boldness of the square edge and combines it with the softness of oval corners," continues Juanita. Increasingly popular in-salon, Juanita believes this is down to its sophisticated look as well as, "the fact that it suits most hands, nail art trends and polish colors."
What length works best with squoval nails?
The beauty of this look is that it suits everyone and every nail length, but a squoval shape works especially well with nail designs for short nails. "It's a shape that works well for most nail lengths," confirms Huber-Millet, "versus almond, stiletto, and ballerina shapes which are better suited to longer nails." According to Martin, "the best length for a squoval shape is short and neat with a little bit of length above the smile line."
Benefits of squoval nails
As well as suiting different lengths, squoval nails work well with most nail techniques, including dip powder nails, gels, and acrylics, plus they suit a variety of colors. "Both light and dark colors look great on squoval nails," says Huber-Millet. "Personally, I love classic colors such as vibrant reds and dark licorice black for squoval nails," adds Martin.
It's the perfect shape for nail art, too. "We love to liven it up with nail art as well – the squoval sides provide more surface area for gorgeous designs," continues Huber-Millet. Which is great news for anyone considering French tip nails. Nail design aside, "squoval nails are a lot more structurally sound than an oval or square," says Martin. "Ovals can be quite weak in the middle as they are missing the support of the corners, while squares can catch on the corners, causing chips." Essentially, squoval is the perfect middle ground, and an ideal shape if you've weakened your natural nail with harsh removal methods (ask any expert is acetone bad for your nails and the reply is a resounding yes)
How to file squoval nails
Another bonus of the squoval shape is that it's easy to nail at home. "All you need to create squoval nails are some nail clippers, a buffer, and a nail file," says Huber-Millet. Follow this step-by-step guide:
Step 1: "Use your clippers to cut straight across your nails to create a square shape at your desired length," says Huber-Millet. If your nails are already short, skip this step.
Step 2: "Take your nail file and file straight across the top of the nails and down the two sidewalls to create the perfect square," says Martin. "Note that it's always best to file with long strokes rather than a seesaw motion," adds Huber-Millet.
Step 3: "Using long, gentle strokes, pull your file to the centre of the nail from the sidewall to round the edges," says Martin. "This will remove the sharpness," adds Huber-Millet. Top tip? "Only do this a couple of times – as you don't want to turn the nail into a round shape," warns Martin.
Step 4: "Take your buffer and gently buff away any frayed edges of the nail for a super smooth finish," says Martin.
Our beauty team recommends...
Sign up to our free daily email for the latest royal and entertainment news, interesting opinion, expert advice on styling and beauty trends, and no-nonsense guides to the health and wellness questions you want answered.
Emma Stoddart is a freelance beauty journalist and self-confessed skincare aficionado with over five years' industry experience. Emma has worked for some of the UK's top women's titles including Net-A-Porter, Stylist and Grazia. Her experience spans online and print as well as producing editorial shoots with some of the industry's biggest artists, including Val Garland. Asides from working with them behind the scenes, she's also had the chance to interview the likes of Patrick Ta, Pat McGrath, and Sam McKnight for all their insider tips and tricks.