35+ nail designs to try in 2022, from color trends to unique nail art
Get inspired for your spring-summer manicure with our ultimate nail designs guide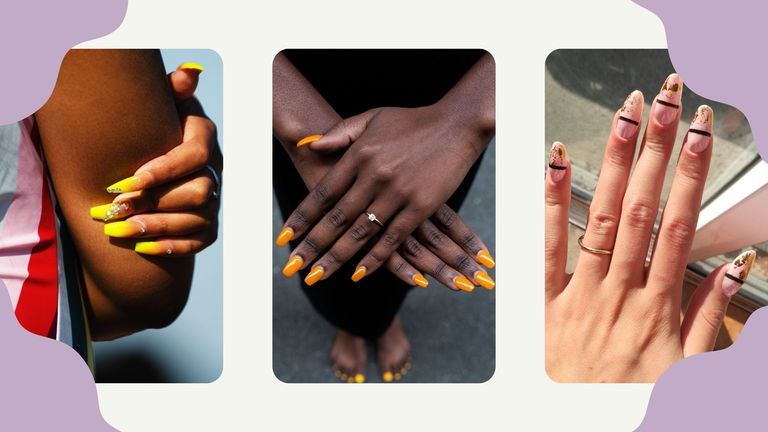 (Image credit: Future/Getty images)
There are so many nail designs to choose from that it's understandable if you draw a blank when trying to settle on just one. Luckily for you, we're here to help you pick your next manicure, whether you opt for a DIY job or salon appointment.
As the weather finally warms up, treating yourself to fresh spring nail designs or on-trend summer nail colors is an ideal way to brighten up your look—and we're sure you'll agree that doing so makes you feel polished and more cheerful. "The most popular nail trend right now is the stylish but ultra-wearable French mani," says Juanita Huber-Millet, founder of luxury nail bar chain Townhouse. "It's super versatile in the ways that you can customise it, be that with a micro-French tip or with a bold color pop. This design is the perfect way to add a splash of color to your summer look."
Once you've settled on your color of choice, the next step is to settle on polish type. Regular nail varnish is very easy to remove yourself at home, though is less durable than shellac or gel polish. Hard gel overlays will really protect your manicure from chips, though they need to be applied and removed properly, usually at the salon. And if you like longer nails but aren't blessed with lengthy natural ones, you can opt for a builder service like Biab nails or gel or acrylic extensions to enhance your nail design. The choice is yours!
36 nail designs we love for every nail shape
Simple nail designs
Simple nail designs add a little extra 'something' to your look without being as intricate as full-blown nail art, although they're a good chance to play with color. According to Michelle Humphrey, celebrity manicurist and Vitabiotics Perfectil beauty expert, green is one of the most popular color choices at the moment.
"It's such a varied shade that you can tailor it to suit any season, darker in the winter, lighter in the summer," she says. "This season fresh-toned greens will be popular—opt for a spring or lime green and be sure to choose a shade with more yellow undertones, as they always freshen and brighten up a green. Sage green is beautiful, but I prefer that in the winter months as it's cooler." Juanita agrees: "As the weather gets warmer, it will be all about brights (especially for pedicure ideas!) and perfect pastels in fashionable tones of green, lilac, and blue."
1. The classic French mani
It may feel a little like we've gone back in time to 2003, but classic French tip nails have cemented themselves as the most popular nail trend again. Anything goes with regards to shape and length, but the aforementioned micro French mani (delicately short tips) is proving very popular for an understated everyday look. Because it's on the shorter side, it works very well with your natural nails.
---
2. The single line design
If you don't want to commit to a full-blown nail art design but you want to add a little something, a single white line on a nude pink is a very chic option. For DIY manis, you'll need a steady hand and a thin nail art brush, but your local nail salon should be well equipped to create it.
---
3. Bold orange nails with a square tip
Few colors are as bright and sunny as a bold orange, and it's the perfect choice for the warmer months. Historically the color has been said to suit those with warmer undertones to their skin best, but it can work on pretty much anyone—and we say wear whatever makes you happy!
---
4. Tiny dots
Elevate your classic pinky nude manicure with the addition of a single dot of color at the base of the nail for a really elegant design. If you go for DIY you'll need a really thin brush to keep the dots nice and small.
---
5. The American manicure
A less popular choice than the French manicure (but by no means less chic) that's having a resurgence is the American. "Nineties and noughties nostalgia is here to stay," says Michelle. "The American manicure is the cousin of the French—it's different because it has a much softer white tip and a glowy pink nail plate."
---
6. Lilac on squoval nails
Lilac is both pretty and very spring appropriate, and it's a very popular nail shade with the Gen Z crowd right now. If you like a square tip but prefer a softer edge like this example, opt for squoval (square and oval) nails at the salon, or if you're time-poor learn how to dry nail polish fast for a quick at-home manicure.
---
7. Pastel French tips
A classic French manicure with white tips is great, but at the moment there's a real trend for putting a twist on the look with colored tips. And who says you have to opt for one color when you can choose a pastel rainbow, like these French tip nails? Anything goes when it comes to color combination.
---
8. Periwinkle nails
"Periwinkle blue, aka Pantone color of the year, feels like it was made for this season," says Michelle. "Try Sk8 with Destiny by Essie. It's a quick-dry formula—who doesn't love that?—and the purple undertones of this soft blue make it dreamy and fresh for spring. I'm a massive fan of this color and will be wearing it myself!" If you do opt for this at-home Essie shade, read our guide on how to paint your nails like a pro for some failsafe tips.
---
9. Green and white reverse French mani
A fun two-tone take on the reverse French mani trend, which features a line of color at the base of the nail rather than just the tips, seen here on square-shaped natural nails. You can opt for a single line of color or double up, as seen here, but to recreate it yourself you'll need thin nail art brushes.
---
10. Terracotta nails
Terracotta nails are a warm, rusty shade that just screams summer. It'll suit most complexions and it's gorgeously rich, but it's a particularly flattering color on dark skin tones.
---
11. Tiny love hearts
Who said love hearts were for valentines manicures only? The tiny shape adds a sweet element to nail designs of just about any color, but this red-and-nude color scheme is a classic. If you're doing it yourself, practice painting your love hearts on a scrap of paper before you take it to your nails to save fiddly removal.
---
12. Mix and match
If you're torn between French tips and classic block color, why not get both? This design mixes the two on square nails in a very summer-appropriate orange-yellow shade.
---
Nail art designs
Consider this your friendly reminder that nobody—nobody—is too old to enjoy a bit of nail art. It's a really fun way to elevate your look, whatever your age, and the possibilities are endless. Choose from floral nail designs, swirls, dots, half moons, zig-zags, stars… the list goes on.
"There's so much abstract nail art going around at the moment, and I'm here for it. From color blocking to negative space designs, it's always a good shout," Michelle says. Swirly designs are bang on trend this season. "For those who prefer a show-stopping look, our 'Print Clash' design from the Townhouse SS22 Collection is perfect," Juanita says. "With a colorful swirl look inspired by fashionable street styles of cosmopolitan cities, this design is bold and stylish."
---
13. White swirls
White swirls on a sheer neutral pink backdrop are one of the most popular nail art trends to the season. Although it's seen here on longer on round nails, it's a very versatile design and can be adapted to any length and shape. If you're going to try DIY, thin nail art brushes are your friend here for getting the sharp edge to your swirls.
---
14. Neon stripes
Vertical stripes are also a super popular simple nail art design, and you can't argue that neon yellow isn't a really cheerful shade for this time of year. Mix up the widths of your stripes with a color block nail or two for a really unique look.
---
15. Abstract patterned nails
A bespoke abstract nail art design with a tonal palette is a really nice way to completely personalize your manicure. This will require an above average skill level, so is probably best left to your nail technician—unless you're feeling confident and up to the challenge!
---
16. Flowers on natural short nails
Thanks to its neutral pink base this nail art design is pretty yet understated, and if you want to give it a go yourself it's actually quite easy to recreate using a dotting tool. Start with the middle of the flower and then space the petal dots one at a time around the edge.
---
17. Big red spots on pink polish
Red and pink is such a fun bright color combination. Because of the size of the giant polka dots, this particular design works better on a longer nail bed, but could be adapted to fit on smaller nails too.
---
18. Pastel airbrush nails
"Because the nineties and noughties are trending right now, it's bringing back trends from that era, and I absolutely love an airbrushed mani right now," Michelle says. "You can't fault the blended effect." To recreate the look yourself, you'll either need to invest in a dedicated airbrush kit or hit up your favorite nail bar for a more expert hand.
---
19. Half moon mani
A half moon manicure is an excellent choice of simple nail art design. The best bit? Thanks to the negative space used in this specific design, it's not noticeable when it starts to grow out, and it can work on any nail shape.
---
20. The single feature nail
Of course, there's no saying that your nail art has to take over all ten of your nails—many people opt for an elevated design on the ring fingers only, as seen here with these diagonal lines. To improve the durability of an at-home mani, apply one of the best nail strengtheners to fortify your natural nails.
---
21. Sunshine print
Pastel yellow makes dark navy pop, and there are few designs more spring-summer appropriate than this sunny silhouette. This one would take a steady hand to recreate yourself, so visit a salon for the design if you don't feel confident in your detailing skills.
---
22. Diagonal colored tips
Colored tips aren't limited to your nail shape, as a diagonal stroke of color on a nude base looks really cool, too. The sharpness of the stiletto nail shape seen here really offsets the design.
---
23. Thick swirls
Thicker swirls work in just about any color, and a neutral base will really make your chosen shade pop. If you're recreating the design at home, trace the outline of your lava lamp-like swirls with a thin brush before filling them in.
---
24. Completely bespoke
Of course, you could throw out the rule book completely and get a different pattern or motif on every single nail for a look that's completely unique to you. Choose from checkerboard, smiley faces, swirls, lightning bolts—the world's your oyster! If you're nowhere near an expert nail artist, just make sure you check in advance if your salon offers bespoke designs.
---
Nude nail designs
From hints of pink to cool taupes and warm browns, there are so many neutral and nude nail shades. The great thing about nude shades is that they run from creamy beige to deepest ebony so lend themselves to most skin tones and go with most outfit choices. A timeless and classic manicure option.
"Tones of pink, beiges, and milky whites are popular requests for spring and perfect for wedding season," says Juanita.
---
25. Natural pink on square nails
A hint of pink is a classic shade that works for any occasion and with pretty much any outfit and skin tone. You'll need to build up a few coats to get a really opaque finish.
---
26. Peachy nude on round nails
A sheer nude polish with a peach hue really compliments warmer and darker skin tones. This color is a nice added nice touch of something pretty, while still being enough of a neutral that it works for every day and every outfit.
---
27. Warm brown square nails
Browns are gorgeous warm shades at any time of year, and they can look especially chic on tan and deep skin tones. As with any single color manicure, this style works with nails of every length.
---
28. Barely there nude
A nude shade of polish that is very similar to your skin tone is a great choice for when you want your nails to have a high shine, polished look but not a noticeable color. If you're painting your nails yourself, don't forget to apply a top coat to help prevent chips.
---
29. Gradient nude nails
Why settle for one nude shade when you can have five for a tonal take on the color scheme? A gradient look is a great way to make a neutral manicure more exciting—though it's worth pointing out you'll need to own all five nail polishes if you're recreating the look at home.
---
30. Peach coffin tips
The coffin nail shape is really popular among those who like a longer length. Although the blunt squared-off tip is most commonly created on extensions, if you're on top of your nail care and your natural nails are strong, you could pull it off on longer nails. Remember to strike your nail file in one direction as this will help prevent breakage.
---
31. Sheer pink on almond nails
An almond shape with a sheer, pale pink make longer nails look really pretty. Struggling to grow your natural nails? Michelle recommends wearing gloves while gardening or washing up, oiling your cuticles and nail plates, and taking a daily supplement. "I love Perfectil Nails Extra Support," she says. "It contains selenium and biotin among 25 other nutrients, which contribute to maintaining healthy nails; I take mine with my main meal."
---
32. Subtle glitter
Glitter, when done right, is more wearable than you might think. The addition of a little of the sparkly stuff here makes this nude pink really catch the light, while still maintaining a subtle overall look.
---
33. Neutral toned swirls
Although nail art fans often get psychedelic swirls in bright colors, they work really well with nude tones too. The square tips make the design look really sharp, but it'll lend itself to any shape.
---
34. V-shaped tips
A twist on the micro French mani here. Sharper, V-shaped tips are sharp and elegant and can be created to any thickness. It's actually surprisingly easy to recreate this with a thin nail brush—you just need patience and a very steady hand!
---
35. Ombre nails
Few looks are more classically chic than ombre nails with a gradient from your natural nail color to white. You may need need to practice your blending skills alongside a YouTube tutorial to perfect the undetectable ombre look yourself at home, or a nail technician can do the hard work for you in-salon.
---
36. Negative space French tips
The outline of a French tip can be traced using two thin lines that aren't filled in for a very chic negative space nail design. In even better news, it lends itself to just about any neutral color as your base, as a bright white will stand out against pretty much any nude shade.
---
woman&home thanks Juanita Huber-Millet and Michelle Humphrey for their time and expertise
Lucy is a UK-based beauty journalist who has written for the likes of Marie Claire, Cosmopolitan, OK!, Women's Health and more, as well as contributing to woman&home. Her work covers everything from expert skin and haircare tips to the latest product launches and the show-stopping beauty looks spotted backstage at London Fashion Week. During her career she's interviewed some seriously famous faces, from Little Mix to Drag Race royalty The Vivienne, as well as chatting to the industry's leading hairdressers, dermatologists and make-up artists.