33 inspiring ways to try French tip nails in 2023
Our favorite designs end expert tips to give classic French tip nails a modern twist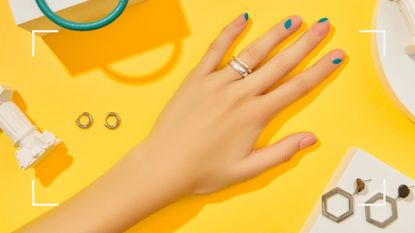 (Image credit: Future/Getty images)
woman&home newsletter
Sign up to our free daily email for the latest royal and entertainment news, interesting opinion, expert advice on styling and beauty trends, and no-nonsense guides to the health and wellness questions you want answered.
Thank you for signing up to . You will receive a verification email shortly.
There was a problem. Please refresh the page and try again.
What's not to love about classic French tip nails? They're sophisticated, go with everything and suit every occasion. However, if you fancy updating your go-to nail look, then stick with the concept of a French manicure but change it up just a touch. From fun colors to a flash of nail art and varying shapes, there are so many ways you can give French tip nails a 2023 shake-up.
"French manicures were huge in the '80s and as with all great trends, they come back around again," says celebrity nail artist, Robbie Tomkins. "But what's great about French manicures right now is that you've got the Gen Z generation discovering these nail designs for the first time and wearing it with the traditional block pink base and block white tips. Whereas those that remember it from the first time around (myself included!) are experimenting with newer ways."
That could be as complex as incorporating floral spring nail designs or as simple as a short and modern baby French manicure—the world of French tip nails is truly your oyster.
How to do French tip nails at home
If you know how to paint your nails and want to give new-gen French tip nails a whirl, Tomkins' tips will keep you right. "Just like natural make-up looks, a great nail look is only as good as the prep, and with a French manicure, that's quite intricate, it's even more essential."
Prep steps:
Although it's possible to work French tips into nail designs for short nails, a little bit of growth goes a long way, according to Tomkins, "Any nail length can wear a French manicure, however, to really see the impact of the two colors you do need a bit of length to your nail." If you struggle to grow your natural nails long, a builder treatment such as Biab nails could be a good option.
He also advises buying one bit of kit, saying, "even I can't do a French manicure using the brushes that come with the polish. Use arts and crafts or eyeliner brushes instead." Finally, take your time, "You need each layer of polish to have dried fully before applying the next so this is not a quick style to do."
Got everything ready? It's time to paint:
Step 1: "Push back your cuticles using a rubber or wooden cuticle stick, as these will cause the least amount of damage to your nail plate. Please do it gently!"
Step 2: "The easiest French manicure is a 'negative space' style where you leave your nail bed completely natural and just paint on a white tip (using a thin brush). I recommend not choosing a bright white polish, go for a milky shade as it gives you more room for error."
Step 3: "Keeping your hand as steady as possible, paint on your white tip. Use your natural tip as a guide. If you have longer nails then you can take the white tip down the side of the nail, for shorter nails create a small curve."
Step 4: "It takes years of practice to get it perfect. Have a clean brush, dipped in nail polish remover to hand to help clean up your line as you go."
Step 5: "Once the white is completely dry (this takes at least an hour, so pop Netflix on while you wait) apply a couple of layers of a glossy top coat. Again, let that dry fully before doing anything. You don't want to ruin all that hard work." Time poor? Our guide on how to dry nail polish fast can help you hurry things along a bit.
Once you're confident this look can also be combined with other trending designs like marble nails, or graduation of color if you know how to do ombre nails. Looking for French tip nails with a twist? Keep scrolling for your 2023 nail inspiration.
French tip nails: 33 looks we love now
1. Muted tips
If you just can't be parted with classic French tip nails then simply switch up your usual white for other muted shades. For best results, follow our 11 essential nail care tips ahead of your manicure to get your nails in tip-top shape.
---
2. Pretty in pastel
Pastel nails have to be the perfect French manicure idea for spring. Choose a different soft pastel shade for each finger. And the great news is that your regrowth will be really subtle so the design will last much longer.
---
3. Double tips
If you're unsure about changing up your usual nail look, then this gorgeous baby pink design is a great place to start. It has the oval tip of a classic French manicure and then a simple, thin line mimicking the shape of the tip across the middle of the nail. In salon you could combine this with the trending Bio Sculpture nails technique for extra health points. Simple but so effective.
---
4. Negative space
Sometimes the detail is in what's not there, rather than what is. And we love this super simple French tip nails idea that uses just two lines to frame the top of the nail. Choose whichever color you love, but there's something quite dreamy about this sky blue shade.
---
5. Glitter tips
You might think glitter is reserved for Christmas nails only, but we say it's an all-year-round vibe. We love how the sparkle is taken slightly further down the squoval nail shape, a great option if you don't have particularly long nails to create the illusion of length. This one is super easy to DIY too, as there's no neat line to adhere to.
---
6. Fluoro tips
A great way of experimenting with bright, full-on fluoro shades—especially if you are a little color shy—is to opt for just a hint on the tips of your nails. This looks fabulous all year round but pops of neon always make for truly perfect summer nail colors.
---
7. In the nude
Whilst the classic white tip of a French mani is ultra-elegant, there's something about a nude-toned tip that actually makes a lot more sense. It seems more natural, blends in with your hand more seamlessly, and looks ultra-chic.
---
8. Moment of metallic
Like the idea of change, but not too much change? This is the French tip nails look for you. Keep your classic French manicure exactly as is and simply add in a thin line of a metallic color between where the white ends and your base color starts.
---
9. Reverse French mani
Looking for a fresh French manicure idea that stays true to its roots? Simply reverse what you've always been doing. Take your white tip down to become a white half-moon and then paint your base color up to the top of your nail. Not only does it look great, but it's super easy to do yourself.
---
10. Classic ombré
This is a look best left to the professionals as it requires a steady hand and some serious gel or acrylic manicure know-how, but how gorgeous is this ombré French manicure? It has all the classic status of the original French tip but the softening and gradual fading between the white and base color gives it a modern feel.
---
11. Two tone tips
Why wear one color on your tips when you have two? A great option for when you can't choose which color to go for, which happens every time we're at the nail salon. We also love the pointy nail shape to really accentuate the different hues.
---
12. Gothic tips
Fancy a darker and moodier approach to your French manicure look? Swap out the usual white tips for gothic, black ones instead. It looks spectacular on long coffin-style nails, which your nail technician can create using false tips or acrylics if you're not blessed with nails that happily grow long and strong.
---
13. Animal print
If you love an animal print, then why not sport it on your tips? You'll need long nails—natural or fake—to have enough space to show it off, and a skinny nail striping brush to create those intricate patterns and replicate this wild style.
---
14. Go green
Green is the perfect spring nail color and also makes a lovely, fresh alternative to a French manicure tip. The paler your skin tone, the brighter green you should go. Deeper skin tones suit highly-saturated cactus and forest green tones.
---
15. Pastel candy stripes
We love everything about this nail look. The pastel-hued candy cane stripes give the nails a fun edge and we're immensely enjoying the asymmetric weight of the French manicure tips.
---
16. Gold fingers
This is a statement look without being too much of a statement. By having gold tips instead of the usual white, your French manicure suddenly gets a very luxe look that works for every occasion.
---
17. Lovely lilac
Fancy a nail look that sums up spring? Then this is that: gorgeously soft, lilac tips. If you are nail savvy then this is an easy look to do yourself. It's also a fairly exposing look, so ensure you've taken some prep steps to repair damaged nails so your polish goes on as smoothly as possible.
---
18. Framing tip
Take your usual French manicure tip around your entire nail with this gorgeous picture frame style. It will take a very steady hand but it's totally worth it. And for extra oomph, learn how to style rings and stack them up to match your nails.
---
19. Give a little love
This nail design works as Valentine's Day nail inspiration thanks to the red tips and pink base. But if it's months away from V Day, or you're just not into it anyway, no matter! You can rock these red, pink, and white tips any time.
---
20. Checked tips
A bright and beautiful design. This one requires ultra-fine painting skills, so we recommend screen-grabbing this picture and taking it with you to an appointment at your go-to nail salon.
---
21. Psychedelic tips
Take a walk on the retro side with this gorgeous swirling design. This French tip nails design is almost certainly more suited to being applied by the pros, but we can't resist how bright, happy, and joyful it is—everything that great nails should be.
22. Flower Power
Truly get into the summer mood by adding a floral finish to the tips of your nails. This will work best on slightly longer nails so there is more room to create the flowers and for their detail to really be appreciated.
---
23. Polka Dot Dream
Adding polka dots to your French tips is a great way to sprinkle some fun into your look. You can go crazy and try an array of colors, or more understated with a neutral, uniform color. They look impressive but are actually pretty easy to do from home, all you need is a dotting nail pen.
24. Triangular Tips
One of the most popular nail styles right now is to these sharp, triangular French tips. You can do this at home by placing tape on your nails to get that neat, angular style.
---
25. Alternating Colors
Who said your nails had to match? Why not try switching it up and have a different color tip on each nail? You don't need ultra-long nails to rock this look, it looks great on any nail length and shape.
---
26. Head in the Clouds
This design is simply to die for! Adding some cute clouds over your French tips gives an ethereal look that will have everyone in awe. Ask your nail technician to paint lighter clouds on top of blue tips for a stunning sky scene. This design is intricate so is best on longer nails in order for more detail to be added and seen.
---
27. Top and Tail
French manicure the top and bottom of your nails for this cool double tip effect. Have them all the same color or add a pop by contrasting various shades on each nail. It's best to make the tips fairly square to recreate this modern look.
---
28. Stop Halfway
Go against expectations and stop the tip halfway when you next try a French manicure. It can either have a sharp edge like this cool design, or you can blend and trail off the edge at the middle. With the right tools and skills, this is an easy one to do at home.
---
29. Sweater Weather
Add some dimension to your nails by creating this cute cable-knit look. You'll need to visit a professional who can use builder products (such as Biab nails) to create various textures on the tips. Prepare to spend some extra time in the salon, but it will be so worth it.
---
30. Color Block
This style is so retro! Instead of leaving the majority of your nail clear when getting a french manicure, paint the area of your nail under your tips a striking color that contrasts with the tip. Pair with some fun, bright rings for extra groovy appeal.
---
31. Shape Shifter
The classic French tip but with a twist. Instead of leaving a neat edge, add some curves and dips to make an oblong-shaped tip. This is great to do at home and it doesn't matter how artistic you are, the less perfect the better with this design.
---
32. Heart Tips
Add a bit of love to your look with some heart-shaped tips. Simply paint two lines in a V-shape and then curve the edges, leaving a little point in the middle. Choose any color you fancy.
33. A Bit of Bling
Who doesn't love a bit of bling? This is so effective yet so simple to create. All you need are some nail sequins, then just add them here and there over your French manicure and watch them sparkle!
---
woman&home thanks Robbie Tomkins for his time and expertise.
Freelance Beauty Director
Sarah-Jane Corfield-Smith has worked in the beauty industry for more than 15 years and, as well as woman&home, has contributed to titles such as Stylist, The Daily Mail and The Times.

As a mum of two little girls she has limited time to spend on herself, so if you're looking for hard-working multi-tasking products, she's the one in the know.

Her top three products she has on her at all times are a glow-giving tinted moisturizer, brow pencil and a tinted lip balm. Oh, and she's never far away from a hydrating face mist.