How to do negative space nails: the most versatile mani trend of the summer
We asked the pros for a step-by-step guide to negative space nails - with plenty of design inspiration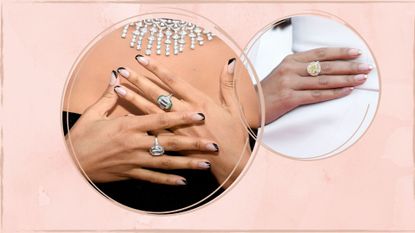 (Image credit: Future/Getty images)
woman&home newsletter
Sign up to our free daily email for the latest royal and entertainment news, interesting opinion, expert advice on styling and beauty trends, and no-nonsense guides to the health and wellness questions you want answered.
Thank you for signing up to Woman & Home. You will receive a verification email shortly.
There was a problem. Please refresh the page and try again.
Negative space nails are an enduring trend that's been spotted on the hands of A-listers Margot Robbie and Kendall Jenner, as well as countless manicure fans worldwide. But what is this look exactly, and is it possible to create it at home?
Another day, another catchy name for a trending nail design. This time, it's negative space nails. "Negative space is where a nail art design includes gaps or 'windows' where you can see the natural nail underneath," explains celebrity manicurist Robbie Tomkins. Unlike other 2023 nail trends, such as milk nails and marble nails, negative space windows are not prescriptive, which means they can easily be adapted for all nail shapes and lengths. "Anyone can get negative space nail art, as after all, it's just a design that requires you to have some empty space around it," says pro nail artist Iram Shelton.
Want to give it a go for yourself? We've spoken to top-tier nail pros and scoured the internet for inspiration to bring you the lowdown.
Negative space nails, explained by the experts
What are negative space nails?
Negative space comes in many forms, but the classic look involves a nude base with a contrasting design over the top. "You've probably seen many designs that have a nude base and then nail art on top," explains Shelton. "For example, a French manicure can be negative space, a cut-out shape can be negative space and even swirl or abstract designs can be considered negative space designs."
"I think it looks amazing on natural nails, but it also looks great on longer nails. You can make it work on all nail shapes and lengths," adds Shelton. This is ideal for anyone looking for nail designs for short nails who finds themselves frustrated when they can't try a trend.
Equally, you can get involved whether you have BIAB nails, a gel or acrylic manicure, or prefer to DIY your nail art with regular polish at home. "It's a technique that allows for pure creativity," says Tomkins. "I love that it allows for tiny mistakes, which is great news for anyone wanting to have a bash at the technique at home."
How do you do negative space nails?
Keen to learn how to do your own negative space nails? Follow our expert-led guide for a salon-worthy finish at home.
Step 1: Prep your nails by filing them into your desired shape. Buff them to create the smoothest possible canvas for your nail art.
Step 2: Apply a clear or nude base coat. "My preference is a nude base like OPI Bubble Bath or Chanel Nail Polish in Ballerina," advises Shelton. "This allows you to add art on top and give depth to your manicure without it looking too much."
Step 3: Take your time and get a feel for the design by drawing it on paper first."My top tip is to opt for a design that doesn't sit right up to the cuticle line. Something like side swirls or anything that leaves the area around the cuticle bare," advises Tomkins. "This will make growth more bearable and extend your manicure by at least a few days."
Step 4: Now paint. An old eyeliner brush will allow you to draw a narrower line than a traditional polish brush. "Make the space as narrow or as thick as you like, so you can leave room for dotting, gems, and nail art." advises pro manicurist and Mylee Ambassador Tinu Bello.
Step 5: Is your negative space nail missing a little something-something? Shop for accessories in your local drugstore, or think outside the box with arts and crafts materials. "To add an extra element, I love to raise the outline with resin, so it becomes 3D," says Bello.
Are negative space nails still trending?
Given it covers so many potential looks, negative space nails feel like more of an ongoing classic than a passing fad. "It's always going to stay in fashion, and it's not a look that will ever get old," explains Shelton. "I definitely think it's more of a staple than a trend."
The question then, is where will the look go next? "As nail artists continue to experiment and push the boundaries of 3D nail art, I predict more designs featuring embellishments and gel sculptures over naked nails," says Tomkins. Negative space nail art isn't going anywhere thankfully, and I'm excited to see the next evolution."
12 negative space nail designs we love
1. Rainbow dots
We love the playful, just-dipped-my-nails-in-the-paint-pot feel of this negative space nail look. It can be achieved on all nail lengths – just adjust the size of the dot accordingly. Choosing a polish with a rounded brush will help you to create a perfect semi-circle without the need for stencils.
2. White stripes
A gorgeous neutral nail design that feels elegant and modern all at once, this one is easy on the eye but a little bit harder to achieve. We recommend using a stencil for the larger top section and relying on a steady hand with a narrow brush for the line below. Once the initial semi-circle is in place, it will be easier to follow the lines.
3. Neon lines
This abstract negative space design is gallery-worthy. We love the fluidity of it, using lines of different widths and a mixture of colors to create a bespoke finish. It works especially well here on longer acrylic nails, with the rounded shape amplifying the curved detailing.
4. Graphic red
Red nails are a true classic, and this is one way to give them a modern update. To copy the look at home, add the creamy nude first, and only build the red on top when it's completely dry. You'll probably need the help of a stencil or guide to get the tight right angle on the corner.
5. Mixed greens
In a hurry? No problem. By mixing and matching block-colored nails with a couple of negative space nails, you won't have to spend too much time on the detail. Sticking to just two shades of green stops this design from feeling too out there.
6. Multi-shade swoosh
Unless you're also moonlighting as an actual artist, we think this design might be best left to the professionals. If you're worried about your mani growing out too fast (and you're going to want to get your money's worth from this one) then ask the technician to start the point of the swoosh slightly further up the nail.
7. Half-moon mani
Half-moon manicures have been making a comeback for a little while now, and take their inspiration from Hollywood. It works for all nail lengths, but the longer your nails are, the more of the color you'll be able to see. If mixed pastels aren't your thing, then stick to just one shade instead.
8. Simple swirl
Simple but very effective, there's not a lot of detail on these nails, but they still make a big impact. Copy their look by dipping two eyeliner brushes in complementary shades and wiggling them across long the nail from the tip one by one. We think the design looks best if the swirls aren't matching or uniform on each nail – which makes it easier to achieve too.
9. Barely-there peach
Not a fan of attention-grabbing nail art? Our advice is to dip your toe in with subtle shades to begin with. Use your skin tone as a starting point, and stick to nudes or pastels that are only a couple of shades away. To re-create this look at home, use a narrow brush to form the bottom line of the semi-circles first, fill them into the tip, and then go back and add the swirls beneath.
10. Ladylike ladybug
We've already said you can't get more classic than a red mani, and we love how these negative space nails are pushing those boundaries. The half-and-half shape is easy enough to replicate at home, and the dots can be added using the pointed end of a cuticle stick.
11. True blue
This mismatched blue design is a perfect example of someone who's having fun with their negative space nails. If you're not confident using nail polish, this look could be achieved by cutting block-color nail transfers into shape. Press them on before layering on a top coat to seal them in place.
12. Eclectic neons
The sharp edges of these square nails contrast perfectly with the wiggly shapes on the design. We particularly love the fresh take on French tip nails on the middle finger and thumb, with the turquoise shade dialing down the punchiness of the lime green.
Sign up to our free daily email for the latest royal and entertainment news, interesting opinion, expert advice on styling and beauty trends, and no-nonsense guides to the health and wellness questions you want answered.
Jess Beech is an experienced fashion and beauty editor, with more than eight years experience in the publishing industry. She has written for woman&home, GoodtoKnow, Now, Woman, Woman's Weekly, Woman's Own and Chat, and is a former Deputy Fashion & Beauty Editor at Future PLC. A beauty obsessive, Jess has tried everything from cryotherapy to chemical peels (minus the Samantha in Sex and The City-worthy redness) and interviewed experts including Jo Malone and Trinny Woodall.