Milk nails are the chic, trending mani you need to know about
Perfect for spring and simple to recreate – we reveal why milk nails are ideal for all nail lengths and shapes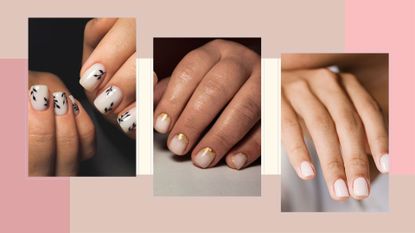 (Image credit: Getty/Future)
If you're seeking new season manicure inspiration, look no further than milk nails. Boasting the universal appeal of neutral styles with a little bit of flair, this trending style is set to be huge.
Looking at the 2023 nail trends so far, short and shiny styles are firmly in. With the rise of simple beauty looks, there has never been a better time to experiment with styles that enhance all nails, regardless of length or shape. And the best thing about milk nails? "It goes with every season and outfit," says Tinu Bello, celebrity manicurist, and Mylee Senior Brand Ambassador.
There's no going wrong with classic white nail designs, but opaque block colors aren't always to everyone's taste. Thankfully, milk nails offer a gorgeous alternative. With the same shiny finish as lip gloss nails and a cool, cloudy finish, this look is natural without being too plain. Here's everything you need to know about the trending style, including how to recreate it at the salon or from home.
Milk nails, explained by the experts
What are milk nails?
"The milky manicure is a shimmering white that has a sort of chrome effect to it," says Bello. "It's a softer version of a stark white manicure but adds a bit more color than a sheer nude. It's popular because it is simple, yet eye-catching and bright. It also makes your nails look clean and polished."
If styles like ombre nails are slightly too bold for your personal taste, or you prefer to keep things pared-back for your professional life, milk nails are an ideal solution and perfect for pairing with a natural makeup look.
What to ask for at the salon to get perfect milk nails
"It's super simple," says Bello. "Just ask your manicurist for a light, soft white polish and ask them to apply two to three coats. Just make sure to tell them that you want a semi-translucent finish, rather than a stark white." Though this look is not typically finished with arty nail designs, you can add these on top too.
The key to getting milk nails just right is to get the ideal consistency and opacity that gives a liquid, milky finish. But the beauty of a salon visit is that you can let the professionals do all the hard work. Whether you want to keep the look simple or pair it with another style like French tip nails, we recommend taking a reference photo along to your appointment to get exactly what you want.
How to do milk nails at home
The easiest way to get milk nails from home is simply to invest in a milky white polish. It should only take a couple of coats to get the semi-sheer look. Gel polishes typically work best for milk nails due to their thick consistency and shiny finish. Invest in one of the best at-home gel nail kits and read our guide to how to do gel nails at home for a salon-like finish. However, if you prefer to stick to regular nail polish, you can also get a milk mani with the right polish.
Our beauty writer recommends...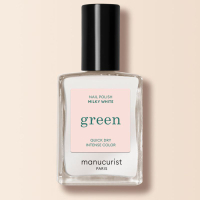 Manucurist Milky White Natural Nail Polish | RRP: $14 / £14
Made with plant-based ingredients, this creamy white nail polish will give you perfect milk nails in an instant. To get an extra shiny look, finish with a top coat.
What polish shades are best for milk nails?
For a true milky look, your best bet is to stick with whites or creams. If you want a slightly more neutral look, opt for a pink-toned nude or a taupe hue. Bello's top tip for getting the milk nails look, regardless of shade, is to "mix some of your color with a base coat to sheer it out and give a milkier effect. This can be done with any color like a pastel or with a standard white nail polish," she says.
Our beauty writer recommends...
Milk nails vs glazed donut nails
Wondering what the difference is between the two? Although milk nails and glazed nails do have some similarities, both looks are actually quite distinctive. "Unlike glazed donut nails which have an iridescent, pearlescent style finish, milky nails fall somewhere between an opaque and sheer white color," explains Bello.
"The main difference is the finish. Milk nails are creamy and almost translucent, without any sheen." Despite the difference between the two, you can certainly incorporate elements of both into one look by opting for an extra shiny top coat.
Is there anyone milk nails won't work for?
No! The reason this is one of the top summer nail designs 2023 is its versatility. "This is universal as white-toned nails are flattering for every skin tone," says Bello. "They also fly low on the radar, so while they are super on-trend, they also work perfectly for most jobs and lifestyles." Due to their creamy tone and chic finish, milk nails also make an excellent choice for a wedding nail design.
Whether you prefer shellac nails, polygel nails, or regular polish, you can achieve the milk look. "You also don't need to grow out your natural nails or sign up for extensions for milky nails to look great. This manicure looks good on all nail types whether it be short nails, almond shaped, etc," says Bello. If you want to try out squoval nails or you're ready to embrace the shorter, natural look, milk nails will work for you.
5 milk nails styles we love
1. Classic milk nails
If you've been eyeing up Biab nails, the classic milk nails look is the style to try out. Easily created with neutral builder gel that looks gorgeous on all nail lengths and skin colors, this uniform shade and subtly rounded style is the best way to test the waters with this trend.
2. Gold accent milk nails
For those who like a natural look with subtle accents, this is the milk style for you. We love the gold fleck details near the cuticle that brighten up the whole nail whilst adding some glitz and glam. This look will work with gel or acrylic nails, but we recommend a glossy top coat to really make the details pop.
3. Matte milk nails
Matte milk nails are a fun and unique way to play into the trend. Nail designs for short nails aren't always easy, but playing around with texture is a surefire way to add some interest to your look. Use a matte polish, or invest in a mattifying top coat to turn any shade into a matte in an instant.
4. Embellished milk nails
Another quick and easy way to upgrade your manicure, these small embellishments will only take seconds to stick on but they totally transform your look. When your milk nails are 80% dry, use the tackiness of the top layer to stick your 3D elements down before sealing in with a top coat. Our guide to how to dry nail polish fast will help you get your gems sealed in place.
5. Patterned milk nails
This style may need an expert touch, but it can be recreated from home using a fine detailing brush and a dark polish. A gorgeous style for all skin tones, the leafy accents can be done in any color of your choosing - from summer nail colors to neutral browns. Ensure your milk color is fully dry before painting details on top and finish off with a top coat.
Amelia joined woman&home after graduating with an MA in Magazine Journalism from City University in 2022. She specialises in lifestyle journalism and throughout her undergraduate degree she wrote for a variety of student publications, where she developed a love for all things style, beauty and sustainable fashion. She has previously written for titles including OK! Magazine, New! Magazine and Notion before she started her career as a lifestyle journalist with woman&home after completing an internship with the brand.