What are shellac nails and are they different from regular gels?
They're hugely popular in-salon, but what are shellac nails, exactly? We've asked the experts for an in-depth breakdown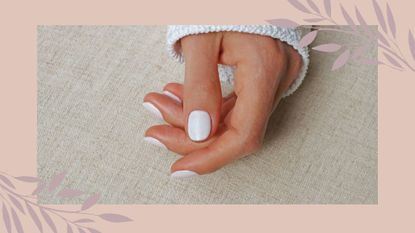 (Image credit: Future/Townhouse)
They've dominated the nail industry for years, but what are shellac nails? And how do they differ from other manicures?
Shellac is one of the – if not, the – most popular salon treatments. Hailed for its long-lasting results, many of us will have tried or at least heard of shellac polish. Different from regular gel and other techniques such as BIAB nails, polygel nails and bio-sculpture nails (all of which have recently gained traction), shellac is a patented polish by the nail brand Creative Nail Design, more commonly known as CND.
Contemplating whether to book in for shellac, gel or acrylic nails? Let us help you as we ask expert nail technicians to answer all your burning shellac questions – including what it is, how it differs from other manicures, and how long it lasts. And as I've personally tried shellac many times, I bring you my honest thoughts on the treatment, too.
What are shellac nails? The pros explain all
What are shellac nails?
Firstly, the big question: what are shellac nails exactly? As mentioned, shellac is a polish that was created by CND, and is the brand's trademark. "Shellac is a hybrid gel polish," says Juanita Huber-Millet, founder and creative director of Townhouse nail salons. This means it combines gel, for wear and protection, with traditional nail polish, for shine and ease. "It's the best of both worlds," adds Natalia Mihailova, head of education at DryBy Salon and CND ambassador, "it goes on like a polish and wears like a gel."
The service is available at countless verified salons across the globe and is hugely popular. With over 100 shades available, from subtle neutrals for every skin tone to joyful summer nail colors, we can understand why.
What is the difference between gel and shellac?
"Gel and shellac are both types of long-lasting nail treatments, but they have different compositions," notes Huber-Millet. While shellac contains traditional nail polish, gel does not. Instead, gel polishes are made up of liquid gel and are available from multiple different manufacturers.
Choosing between the two comes down to personal preference. "Both products are cured under a UV or LED lamp to create a durable and long-lasting finish," says Huber-Millet, who adds that, "shellac polish tends to be more flexible than gel polish, which is slightly thicker in consistency." Another consideration, particularly for those following a vegan beauty routine, is that CND Shellac is not vegan.
What happens during the treatment?
Over the years, I have had several shellac manicures at various salons including Townhouse and DryBy. Following a similar process, the nail technician will always begin by prepping your nails. "Prep is key," agrees Mihailova. This nail care usually includes buffing, shaping, and cuticle work to "create a pristine, clean environment to make the service last."
Next, a base coat is applied followed by two coats of shellac polish in your chosen color and a topcoat. "After applying each layer, the nails are cured under an LED lamp to ensure proper setting," says Huber-Millet. The entire treatment (if you opt for a standard manicure with shellac polish) will take around 45 minutes, often including a dreamy hand massage at the end.
Does shellac damage your nails?
So, what are shellac nails like from a nail health perspective? "Shellac is safe and non-damaging to your nails provided it is applied and removed correctly," assures Huber-Millet. With that said, "improper removal can cause damage to the natural nail bed and weaken the nails over time," she continues. By improper removal, we mean picking off your shellac nails at home.
Although the temptation can be hard to resist (we've all been there), picking off your shellac can remove the top layer of your nail – weakening the nails and making them more prone to breakage. "It's important to always have shellac applied and removed by a professional," adds Huber-Millet. If your nails are naturally weak, consider a builder treatment like BIAB, which can be applied under your shellac.
How long do shellac nails last?
Both experts say that shellac is designed to last for up to two weeks without chipping or peeling. "However, its longevity can vary depending on factors like your natural nail health and daily activities," notes Huber-Millet. "With proper care, you can extend the life of your shellac polish and enjoy a glossy, long-lasting finish."
From personal experience, I've found that shellac lasts well for around seven days (sometimes ten) before it begins to chip and peel. And if I've had a shellac manicure just before going on holiday, it will usually last for five or six days max – which is probably due to the sun, sea, and several applications of my best facial sunscreen.
Can I remove shellac at home?
If you've learned how to remove gel nails at home and are wondering if the same technique can be applied to shellac, we've asked the pros. "It is possible to remove shellac at home," says Huber-Millet, "however, I always recommend removal by a professional to avoid damaging your nails."
Can't make it to the salon? Follow Huber-Millet's advice: "buff the shellac first then soak your nails in acetone for 10-15 minutes to loosen the polish, then very gently scrape it off with an orange-wood stick or lightly buff off with a nail file." Finish by applying your best hand cream to rehydrate the nails and skin around them.
Shellac nails: our w&h verdict
Now we're all au fait with what shellac nails are, the question is, should you choose this treatment next time you're in the salon? If you're after a long-lasting manicure with a high-shine finish, you can't go too wrong with shellac. Durable, flexible, and thinner than most gels – shellac lends nails a natural-looking finish (especially when opting for neutral or sheer shades). Regarding shades, there are also 100+ colors to choose from with something for everyone.
The downside? Because it's made with traditional nail polish, it's not as durable as gel, dip powder nails, and bio-sculpture. If you're after a manicure that will last for two weeks (or longer), opt for one of these treatments instead. With that said, shellac is one of the easiest polishes to take off with the entire professional removal process taking a mere 15 minutes. So if you're short on time it'll save you precious minutes in the salon.
Emma Stoddart is a freelance beauty journalist and self-confessed skincare aficionado with over five years' industry experience. Emma has worked for some of the UK's top women's titles including Net-A-Porter, Stylist and Grazia. Her experience spans online and print as well as producing editorial shoots with some of the industry's biggest artists, including Val Garland. Asides from working with them behind the scenes, she's also had the chance to interview the likes of Patrick Ta, Pat McGrath, and Sam McKnight for all their insider tips and tricks.